These iPad activities for Thanksgiving are perfect for that hectic week before Thanksgiving – whether you work up until the Wednesday before, have some sort of half-days, or get week off.  Easily integrate technology into your seasonal lesson plans with Thanksgiving iPad activities using free apps!  Also be sure to grab the free download too.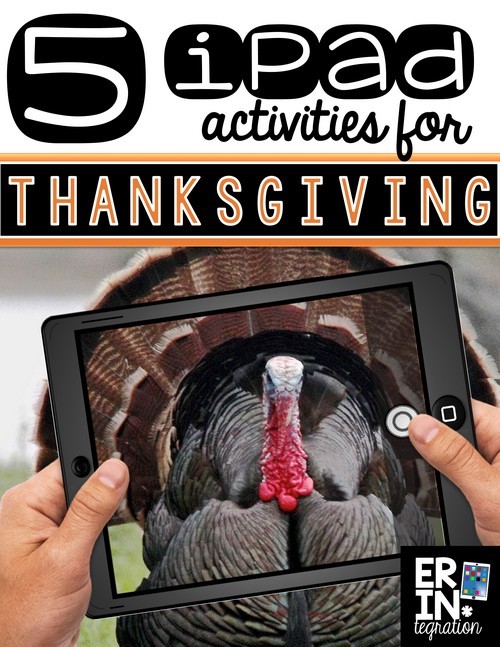 Feeling Thankful – here are some iPad Activities for Thanksgiving!
With Thanksgiving just around the corner, I'm feeling especially thankful for the access to technology my students have in our classroom.  We have a cart of 30 iPads to share with the two other third grade classes, a laptop cart we share with our floor and access to a computer lab twice a week.  I also have a SmartBoard and an Apple TV in my classroom that we use daily for both small group and whole group instruction.
While we are not one-to-one by any means, I love that we have a lot of options.  I believe very strongly in the idea of technology fluency as a skill to be taught and by having access to many devices, my students are becoming very apt in the language of tech across multiple platforms and devices.  A lot of our technology is funded through our PTA so I'm especially thankful for our PTA and the various ways they raise the money each year to support our technology integration initiatives.
Finally, if you are reading this, then I am thankful for your support too!  To show my gratitude, here are a few fun ways to integrate iPads and technology into your Thanksgiving plans plus a free download.
5 Creative iPad activities for Thanksgiving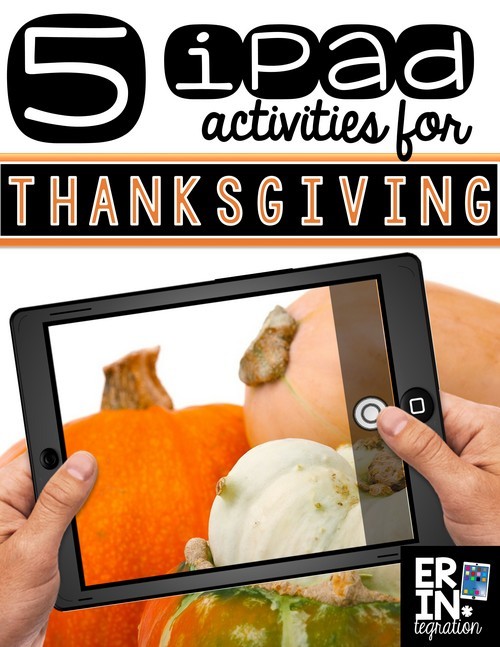 1. Have students write something they are thankful for on Quozio
Quozio is a free website for showcasing text in a creative way.  It tends to look best with a sentence or two of text.  The interface is VERY simplistic, which makes it very student friendly.  Even younger students could do this activity.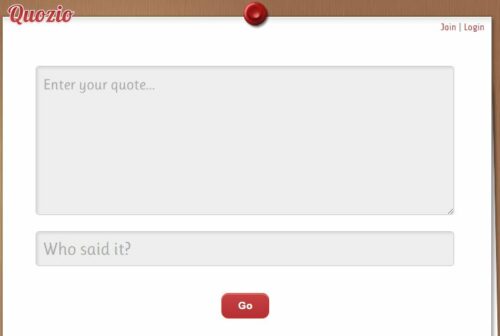 Students simply type what they are thankful for into the quote box and sign their name where it says "Who said it?"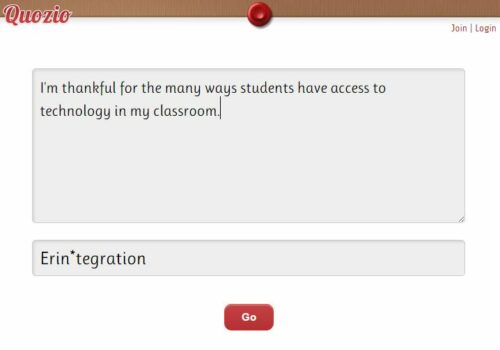 Students can select from a several backgrounds and fonts.  They can't really customize beyond what is provided though.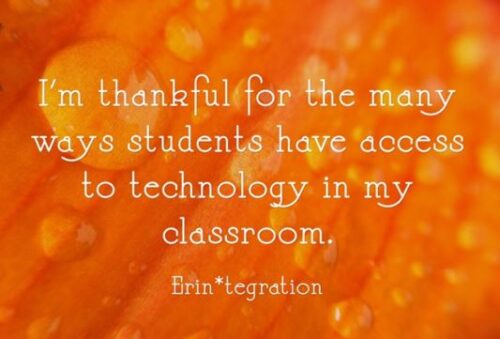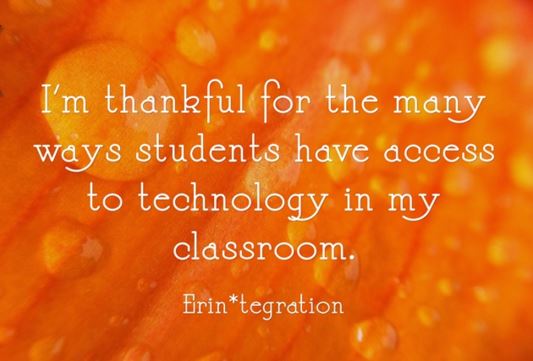 Students can take a screenshot and crop to save and upload their thankful statement to their blog or other sharing site.  Or upload images to Google Drive and create a QR code that links to each image for a quick and ink-saving display!  This site works on Chromebooks and PC too!
2. Use PicCollage to fill a cornucopia.
We love PicCollage and use it for a variety of iPad activities.  It is my go-to app for my iPad Scoot games and I am so thankful for the developers including so many free features and for making it kid-friendly.  Fitting then to use PicCollage to make some Cornucopia's of Thankfulness.
Using my iAm Thankful packet, students scan the included QR code and download the empty cornucopia.  They set this as the background on PicCollage.  Next, students can either fill the cornucopia with text of things they are thankful for or use image search feature to add images.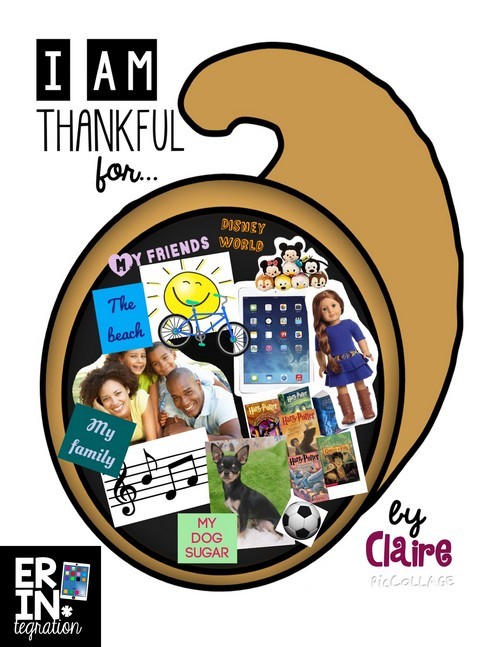 Since text can be resized and images can be easy be trimmed on PicCollage, students will be able to fill the cornucopia with many ideas.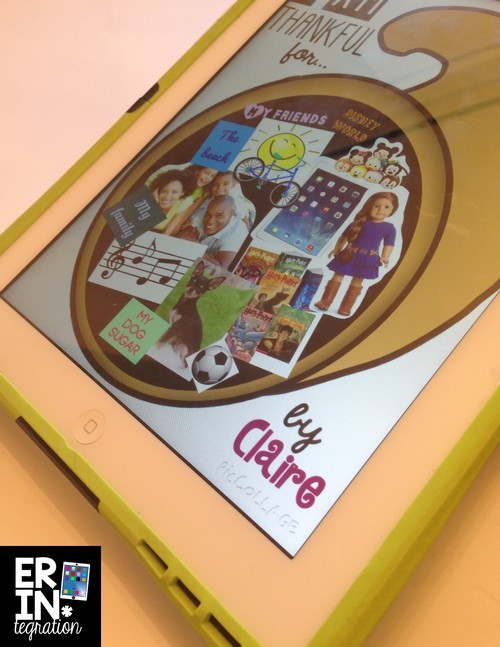 This resource is available in my store and includes all step-by-step visual direction sheets for using the app PicCollage plus the QR code for students to scan of the background image shown.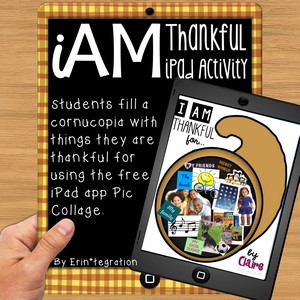 3. Use a free turkey calling app for storytelling.
Ok bear with me on this one – I did title this list "creative" ideas after all!  Similar to a fun project we did for Halloween for spooky sound rebus stories, I found a few free apps that hunters use to call turkeys.  Each app has several different sounds the turkeys make.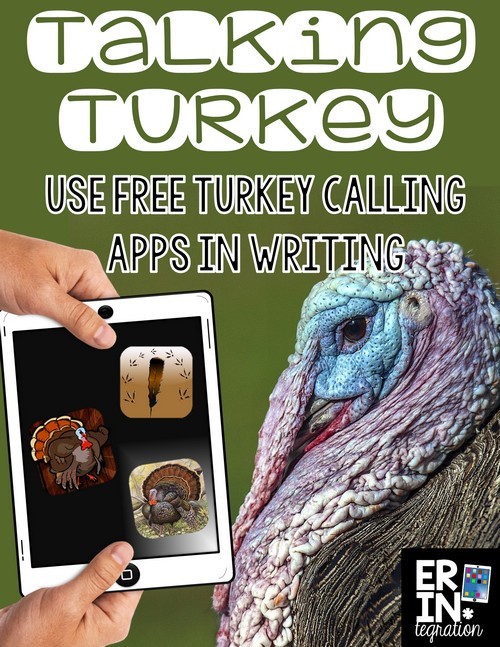 The three free apps I found are Free Turkey Calls, Turkey Callin, and Turkey Calls Free.  They all work just about the same, although the second, Turkey Callin, was the most simple.  The Turkey Calls Free includes videos of a man showing how to make the turkey call with your voice, which is fun too.
Download this free "Talking Turkey" story and sentence paper and have your students write either sentences that a turkey could say or a story about a talking turkey trying to avoid being caught for Thanksgiving.  Students just draw the icon or write the name of the sound the turkey makes so they know which button to press.  The turkey calls all have different names – something I just learned – so this activity could also be a way to practice dialog tags too!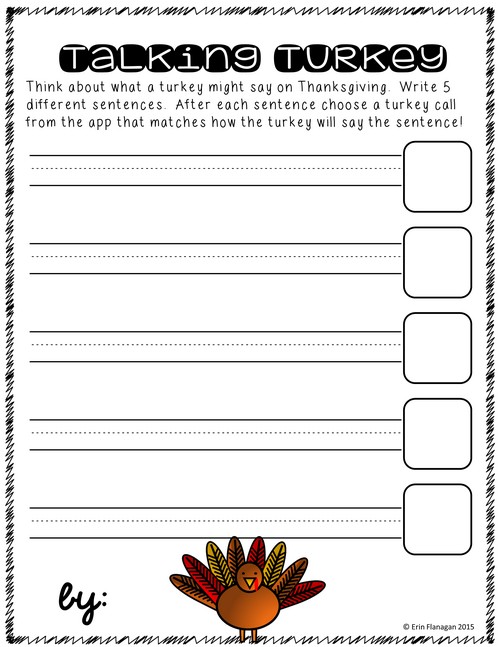 Just don't mention the irony of using a hunting turkey app unless you are teaching that literary device!
4. Create a Thanksgiving Meal on a free app then solve word problems and write about it.
I created a differentiated activity for my students to complete the half day before Thanksgiving.  That day is always a little touch-and-go since some students are absent, others are very excited, and it is a half day so our schedule is a bit chopped up.  Keeping that in mind, I wanted my students to still do something meaningful while also fun and independent.
This resource first has students following visual directions to create a Thanksgiving meal using Pic Collage.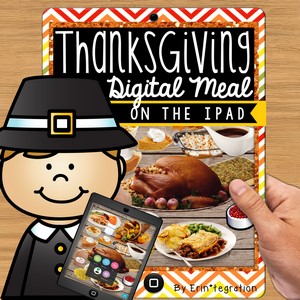 After designing their meal, they use the included activities to make a tally chart and pictograph of items used in the app, price out their meal, determine the elapsed cook time, and write about it (either an opinion piece or descriptive paragraph) all inspired by the choices they made using the app.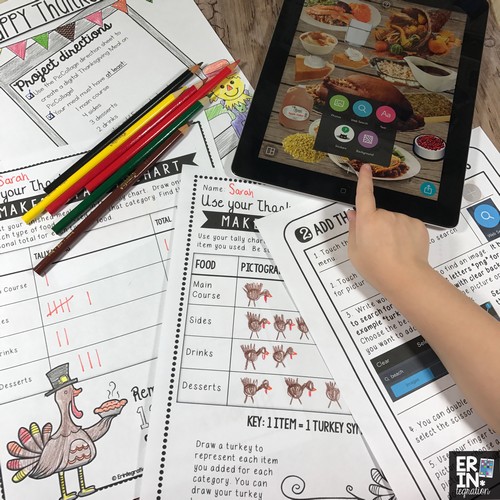 I included different levels of the math activities and writing activities so that students can all be working on the same activity but at their own ability. It also includes an additional writing activity and a write and solve your own word problem activity for some critical thinking.
Just a fun aside, this was one of my first resources I created for Teachers Pay Teachers and one of the reasons I got into sharing and selling on the site – I was looking for something a little different right around the holidays for my students to do on their iPads that could still reinforce what we were learning but tie into Thanksgiving.  So I'm definitely attached to this resource because it does stand for a lot of what I hope to accomplish via my blog and site.
5. Use the free app Hand Turkey to inspire creative writing.
So I'm cheating a bit on my list because this idea is not my own, but it is so cute and creative, I just had to share.  Julie, The Techie Teacher, has an activity including a freebie on her blog using the free app Hand Turkey.  I'm thankful for having connected with Julie and other teachers in my #techwithus tribe and #tptchat crew!  Click the pic to jump over to her blog to learn more and to download her freebie.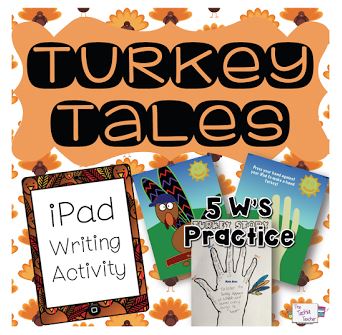 Also, see that Turkey iPad she used in her blog image?  It's one of my mine!  Grab it and other holiday iPad clipart for free here.
---
I hope you have been inspired to Erin*tegrate iPads and technology into your Thanksgiving week!  I have other seasonal and Thanksgiving iPad activities (and resources for Google Classroom, Google Drive, and more!) here.