Learn how to use the valuable iPad wallpaper space on iPad backgrounds and lock screens to organize classroom iPads and reinforce rules for using them.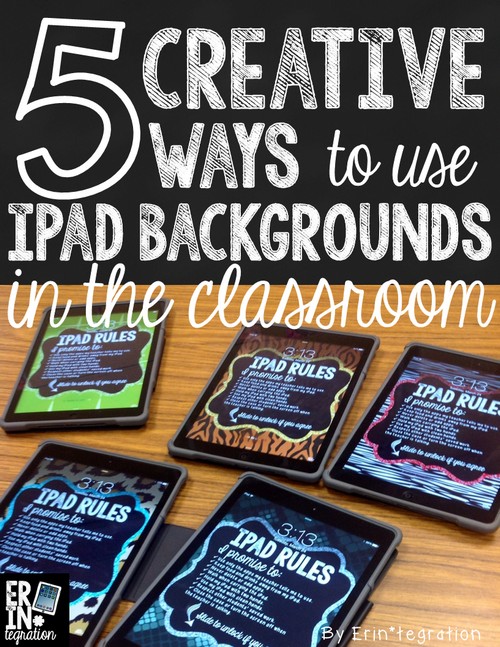 You may not have thought much about the iPad background screens or lock-screens of student iPads.  Whether you share a cart with your grade level or have a small set to use or even have 1:1 iPads in the classroom, the iPad background screen and the lock-screen is key real estate that you want to integrate into your iPad management plan.  Students look at the lock screen every time they open their iPads and the background whenever they switch apps.
Here are 5 ways to better utilize the iPad wallpaper space in the classroom:
1.  Use custom iPad wallpaper backgrounds to number the iPads.
Students will always know which iPad is theirs.  We have stickers on the back of our iPads, but with case changes and heavy use, the sticker can peel off and sharpie marker fades out.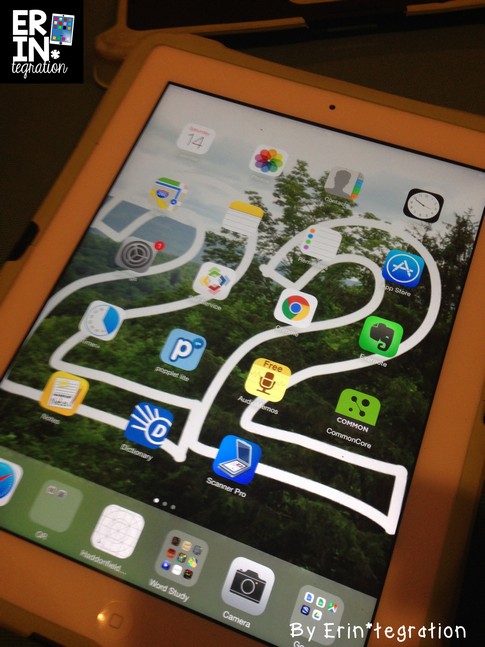 Numbering the background wallpaper screen is an effective way of labeling that iPad.  Plus students only need to touch the home button to check that they have the correct iPad – versus flipping the iPad over.Teachers can get a quick visual to make sure students are using the correct iPad at a glance.   Try out a free set of iPad numbered backgrounds here.
2.  Group students in collaborative groups by iPad numbered background.
Use numbers, colors, or themed iPad backgrounds to quickly set groups of students to work together. For example, maybe numbers #1-5 work together one day and the next day all iPads with striped backgrounds, or those with blue backgrounds.  Collaborate grouping when using iPads is one way to take some of the troubleshooting pressure off of yourself.  Allow students to get help from the others in their group first and avoid students walking around the room carrying iPads.  This week, I had all of my "wild animal" numbers work together.  Get this set of editable Animal Print iPad wallpaper images here.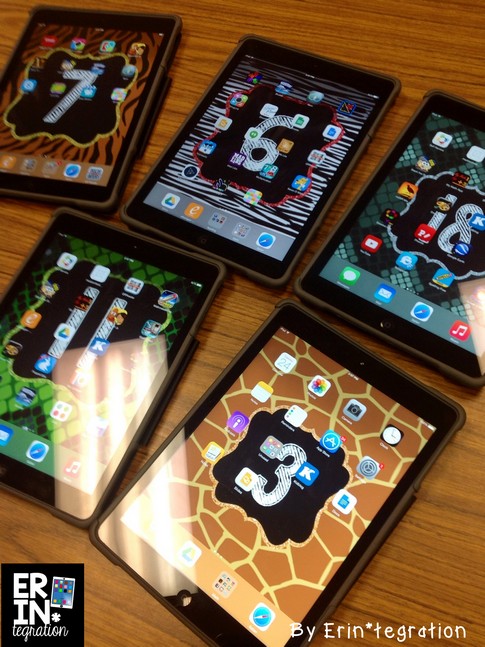 3.  Review the iPad rules and expectations each month and change out iPad wallpaper backgrounds afterwards.
Be proactive and review the iPad expectations and rules each month with a mini lesson.  Each month we have been swapping our iPad backgrounds for new ones and we use that time to review the how-tos and what-not-to-dos.
Swapping each month also allows us to mix up groups (see tip #1 and #2).  Since the mini lesson may not be the most inspiring or exciting lesson – but a necessary one – the promise of a fun new numbered background has made it more exciting in my classroom.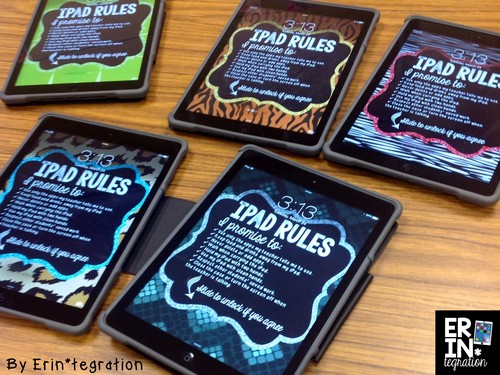 4. Use numbered iPad background screens to choose students to share via Apple TV or another projection hook up.
After completing a project, I pick a number randomly and whoever has that numbered screen can use AirPlay to project it onto our Apple TV.  If you don't use an Apple TV, students can present right form the iPad.  This is also a good system for checking in with students.  A process share is when I pick numbers and the students stops what he or she is doing, projects it and tells the class what they are currently working on and what decisions they are making.
5. Set iPad wallpaper lockscreens to display the rules and expectations of the iPads that way every time students "Swipe Right" or "Press to unlock" they are agreeing to those rules.
Hold students accountable each time they use the iPad.  My students love choosing their own iPad wallpaper lockscreen designs, too.  I notice my students pausing at the lockscreen now and I know they are thinking about our agreed upon procedures for using the iPads.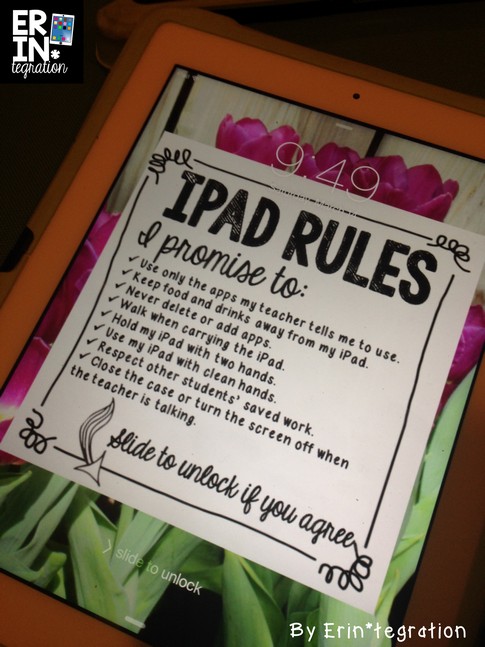 The best part – my packs all come with QR codes and student friendly directions so that your students can set their iPad screens themselves.  Since we currently have 30 iPads in our cart, that saves a lot of time.  It takes my students about 1 minute to scan the QR codes and set their iPad screens completely on their own.
All of my premade iPad wallpapers feature editable rules too!  Here is the catalog of what I have in my store at this time:
If you decide to make your own, I recommend using Powerpoint. You will need to play around a bit with the resolution you save in as well so the images stay crisp.  I also recommend saving each of your slides as a .png file instead of a .jpeg to up the quality.
All of my iPad wallpaper background and rules packs are updated for iOS 10 and have the iPad lockscreens that say "Press" to unlock now too instead of just "Swipe."  I'm not sure if I like the switch yet – my students have some trouble getting the press just right – but at least they are having to still pause to look at the rules each time!