Even though I wrote this post several years ago, we still use Popplet during reading to organize our thoughts as we read. We have also branched out and used Popplets in math, writing, and more! Popplet has continued to support teachers with more features such as class accounts and by sharing lesson ideas on their blog! If you are just getting started with Popplet read on to learn how to integrate the free iPad app Popplet into the classroom to teach reading strategies.
What is Popplet?
Popplet has become one of our go-to graphic organizer apps during Reading Workshop to teach reading strategies.  The basic version of the app is free.  When using the basic version, students are only able to create one popplet at a time.  Since we use it during workshop time, I limit the activities so that they can be completed in one session.
Popplet allows students to make boxes, called"popples" on a blank canvas.  They can move popples around or connect them together to make chains and webs.  Students can type, draw, or add images from the camera roll to their popples.
Since the app is so open-ended, any reading strategy can be addressed.
I am so impressed with how easy Popplet is for the students to use.  Popplet's interface is very intuitive for iPad users.  All menus are accessed in a way that makes sense and it utilizes the touchscreen beautifully.  I also used the materials available in my Popplet packet to set up at a center with instructions and my App unwrAPPed reference laminated and displayed.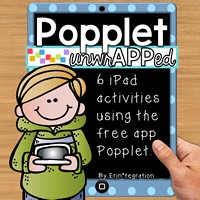 I did not get asked ONE "How do I…" question from the students working at the center, which convinced me even more that the power of integration is to place it in the students' hands!
How to use Popplet to practice reading strategies:
1. Use Popplet to create character trait webs.
We followed the directions in activity two to create character trait maps.  Each popple connected to the character popple had to include either picture or text evidence of the character exhibiting that trait. This can be differentiated easily enough to suit your students' needs by adjusting the amount of traits needed or the type of evidence.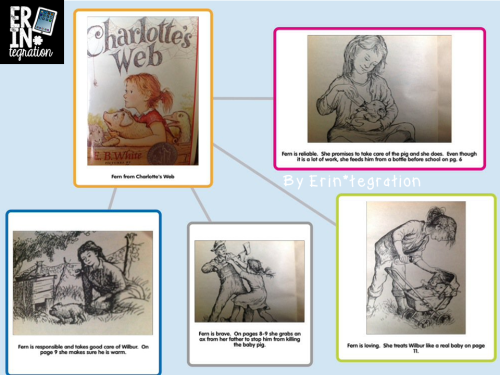 ---
2. Use Popplet to practice cause and effect.
I have a million graphic organizers for cause and effect.  I find all of them very limiting in that students fill in the spaces and then stop when the organizer is full.
Using Popplet is one way around that problem.  I had the students write the Effect in one popple then they had to connect additional Cause popples to it.  I also had them take pictures of where they found the information in the text and insert it into the Cause popples.
What I liked about using this app is that students were not limited by boxes on a paper.  They could create multiple chains of causes leading up to the big effect.  They also could see that there are different causes for the same effect.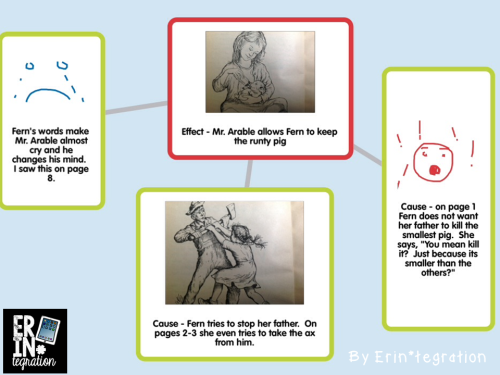 ---
3. Use Popplet to make a vocabulary web.
During our Reading Workshop, students are to "tune in" to interesting and unknown words.  They look them up and create a "growing" portfolio of all of the words in Haiku Deck all year long. However, some words I have them dig even more deeply into by creating webs on Popplet.  They link pictures, sentences, and the definition to the word.
---
Follow my Reading board on Pinterest for my favorite reading workshop ideas and activities:
Follow Technology Erintegration's board Reading on Pinterest.
I know there are many more ways to use Popplet!  Share some more below!