Fluency is one of the foundations of a solid reading program.  All of my students have fluency goals – most of which are met during guided reading groups or when reading independently – but some of the students do need more fluency practice.  There are several iPad apps and activities for fluency practice that I recommend.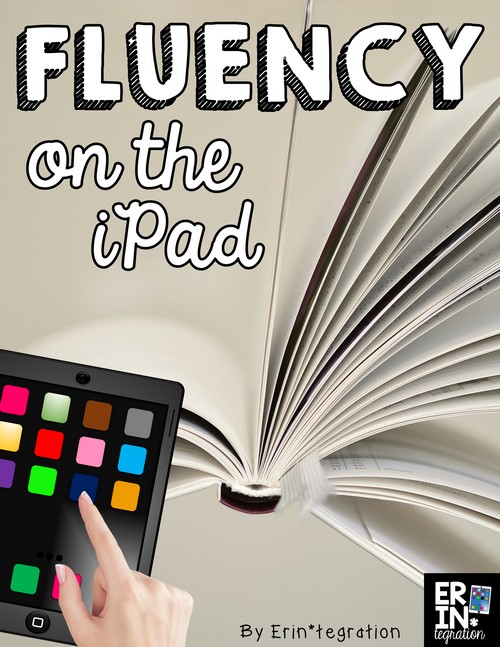 Organizing the iPads for fluency practice
First you will want to figure out how your students will be using the iPad apps and activities for fluency practice in your classroom.
I would assign my students specific fluency activities that they needed to accomplish each day. Each activity would be approximately 5 minutes.  Before we had multiple iPads, I set up a single iPad in a center for students to access.  To make sure my students each had time to use the iPad, I created a fluency menu of the activities so students could choose an activity and do them in any order all week that way they would not be scrambling to use the iPad all at once.
The menu was a mix of iPad and non iPad activities. I highly recommend checking out the ideas in MsJordanReads Fluency Bootcamp post.
Even with more iPads on hand, I will still continue to use the fluency menu as I found it helpful for my students who needed that intervention.
4 iPad apps and activities for fluency practice on the iPad.
1. Ask Siri.
Students used several books of questions I had in the classroom and read the questions into Siri.  I recommend both of these:
If you have used Siri before, you know how important it is to be clear and read with steady pacing and expression.  To access Siri, students hold down the home key on the iPad.  When the lines are wavy, they can speak into the iPad.
We found that Siri was able to answer most of the questions we asked from the books.  If you do not have question books in your classroom, you can write various questions on index cards for students to use.
2. Read to a repeating Hippo.
Talking Baby Hippo is a free app that is similar to many other "My talking" free apps that do the same thing.  We settled on this one because it had less ads and it seemed to be the most kid-friendly.
Basically students read passages into the app and the Hippo repeats it in a funny voice.  Simple, but it a great tool to motivate students to reread.  I used the Reading Resource Fluency Phrases described at the link.
I printed them and stuck them in a binder with plastic sleeves.  Students selected a page and read that to the Hippo and the Hippo would repeat it.  With students that read at a slow rate, you will notice that at first they will not be able to finish the page before the Hippo interrupts.  However, usually by the second or third read they will be able to finish reading.
3. Use the dictation feature on Notepad
For this one, students used a page from their book or a passage I printed.  They open the Notepad app – included with all iPads – and touch the microphone icon on the keyboard to dictate their passage into the Notepad.  Just like with Siri, reading clearly at a steady pace is best so students will need to practice to get the hang of it.  Students may need to reread sentences to get them just right.
You do need a newer iPad to access this feature.  If you are not seeing the microphone icon on the keyboard, try opening the Settings app and selecting Settings > General > Keyboard > Dictation = ON.
4. Practice reading sight words with the free sight word app.
The Sight Words List app includes lists of common sight words.  Students open the app and read words on the list.  There are also games and the option to create your own lists.
How do you practice fluency in your classroom?
---
Advertising Disclosure: Erintegration may be compensated in exchange for featured placement of certain sponsored products and services, or your clicking on links posted on this website.