The 100th day of school is a big deal in elementary.  First of all, the number 100 seems HUGE to kids so saying, "I have been in school 100 days" seems like a lot to them.  Upper elementary students will see it more as a halfway point and something to celebrate as a milestone towards the countdown to summer.  As a teacher, I see it as 100 days of learning and growth.  No matter your perspective, I think it is worth celebrating in the classroom.  Here is a quick and easy paperless iPad project using the free iPad app Aging Booth for celebrating 100 days of school!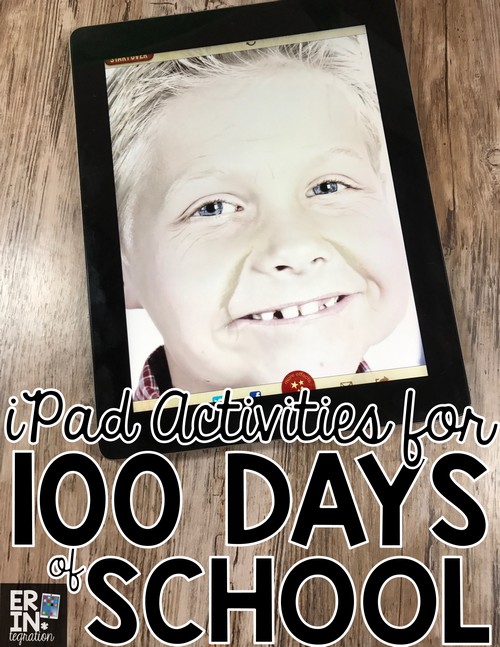 Use the free iPad app Aging Booth
We used the Aging Booth app to "age" pictures of the students to use on the 100th Day of School.  Aging Booth is a free app.
The Aging Booth app is very simple to use.  Just upload a large, clear, portrait of the subject.  You then have to align the eyes, mouth, and chin.  The aged portrait can be saved to the camera roll.  My students loved the mini counter that flips years as the app loads the new image.
Even though the students could have done this themselves, there are advertisements to the company's other apps which are not as student friendly.  Since the whole process only took a minute per student, I was able to use 1 iPad to finish all portraits in a short time frame.
Write about Aging Booth picture in a Google Doc
From there I uploaded the pictures to Google Drive.  My students then inserted their portrait into a blank Google Doc and wrote a descriptive paragraph about what they will be like in 100 years.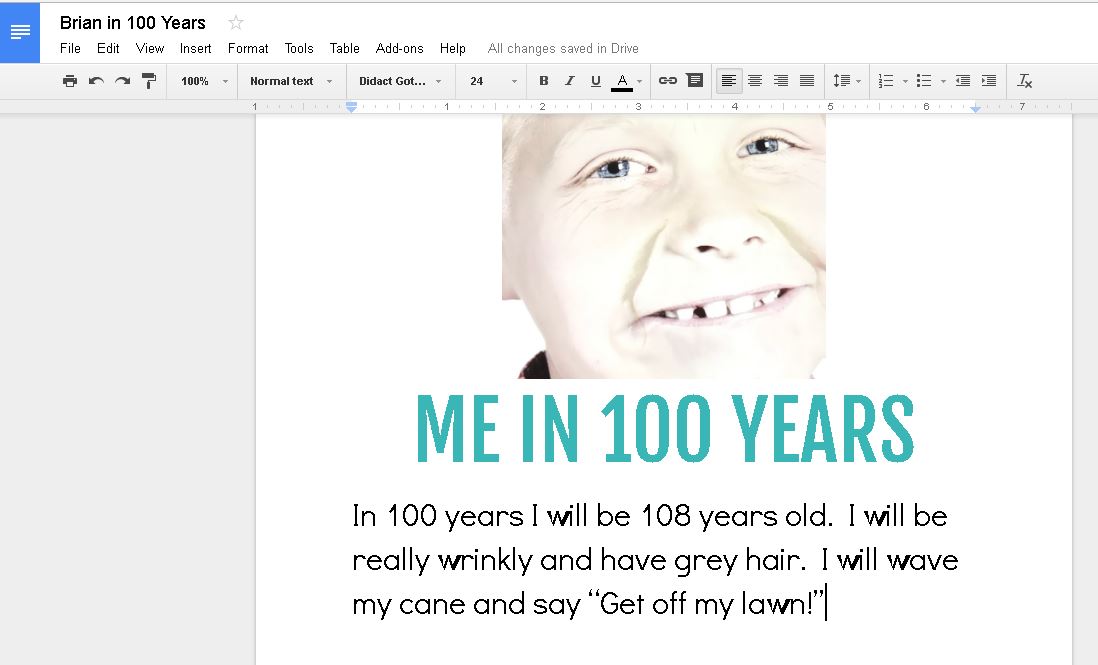 We used a Google Doc on our laptops so it was some typing practice too. But you can just as easily create the Google Doc and write on the iPad too.  You could even have the class collaborate on a class book by assigning a Google Slide via Google Classroom.
Check out the Techie Teacher's post for more 100th Day of School idea using technology.  How do you celebrate the 100th day of school?  Have you used the app Aging Booth (hint…do not use it on yourself unless you want to get seriously bummed out!)?