Using Emojis in the classroom is a fun way to tie recognizable visual elements into activities that all students will enjoy.  I've rounded up 10 ways you can use Emojis in the classroom, including a free a Emoji character emotion reading anchor chart and writing activity, and free Emoji matching cards and more!  Emojis are easy to use, and judging by the question, "Can we use Emojis?" I get any time we do a project on the iPads, students love them!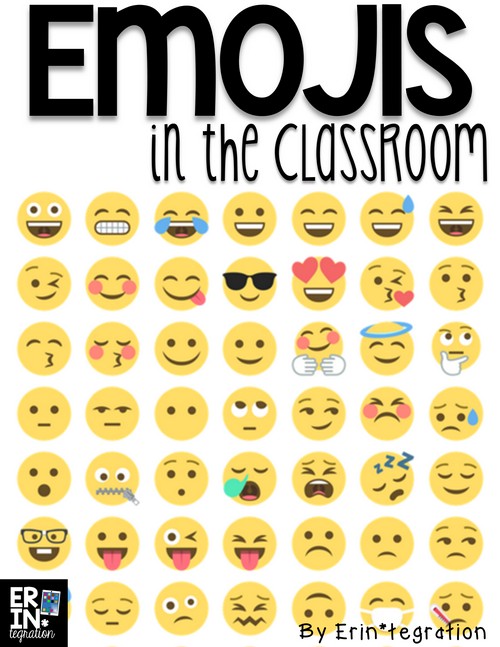 Set up Emojis on PC's, Chromebooks, iPads or Print & Use
A quick note before trying out the ideas for integrating Emojis in the Classroom- Emoji's must first be turned on the iPad before you can access the Emoji Keyboard.  Follow the steps here to turn on the keyboard on the iPad.  They can also be used on Google Docs by following this series of steps.  Or even easier, install the free Emoji Keyboard Chrome plug in.  With the plug in installed, simply click the Emoji icon that will now be available on your Chrome toolbar.  Use the pop out menu to select the Emojis to add.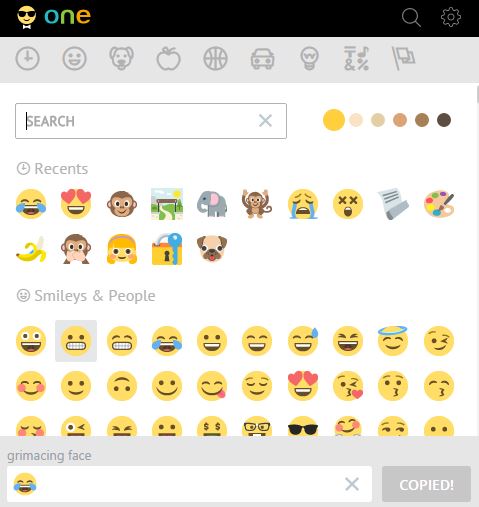 This plug in will work on Google apps and all over the web! Learning In Hand also shared that using Emojipedia works the same way. Simply search the Emoji needed, copy, and paste where you want it to go!
Using Emojis in the Classroom
1. Emoji Summaries.
Students can use the free notepad on the iPad or a Google Doc (if using Chromebooks) to write a summary of the days' reading using just Emojis.  First have students write the title of the book followed by the 5-10 emojis that best sum up the events in the story they read that day.  This would also work for lessons about finding the main idea and theme!
My students used my Emoji Summary resource to write their summaries in PicCollage using the differentiated graphic organizers included in the download.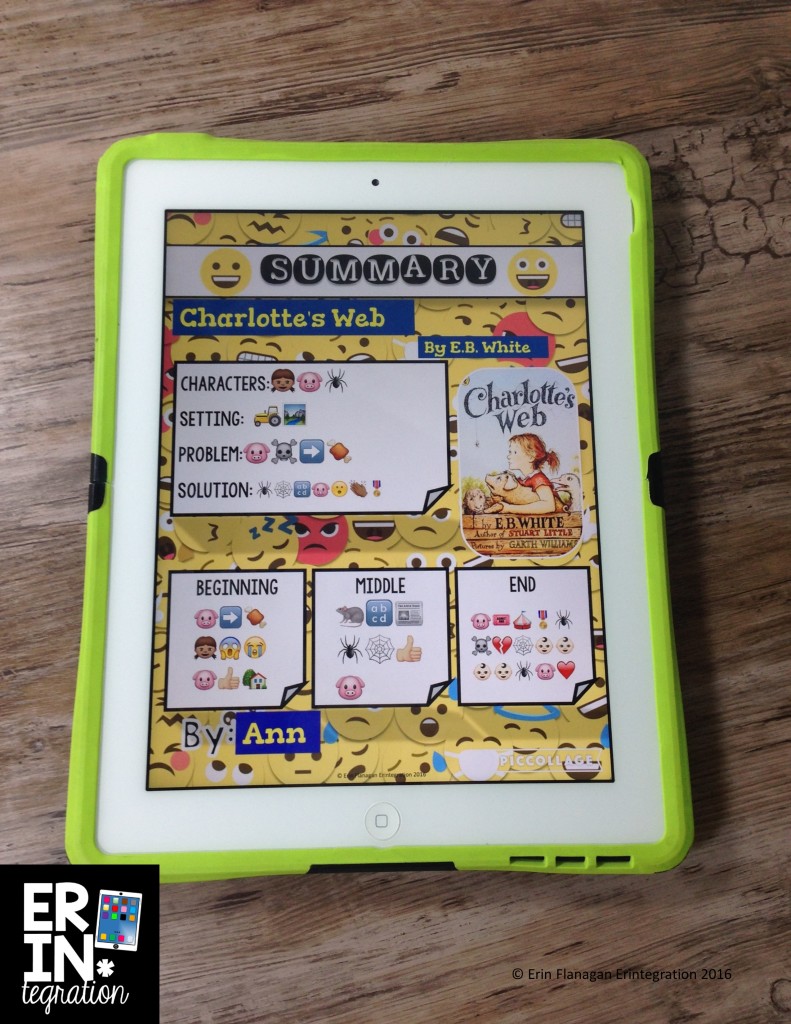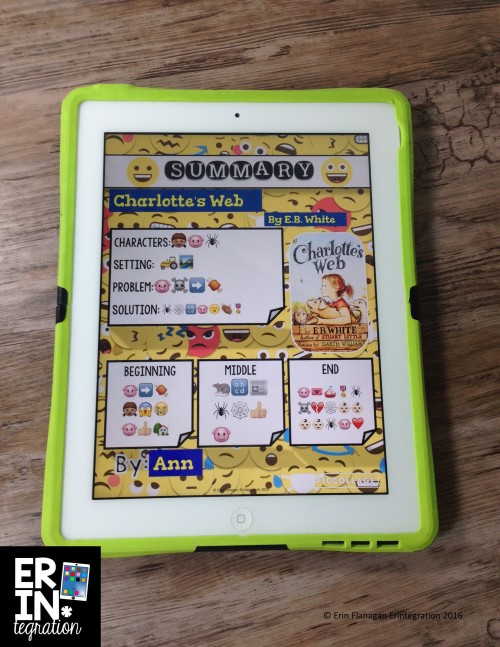 Using Emojis to pair down their ideas into icons required critical thinking and really helped them understand main idea.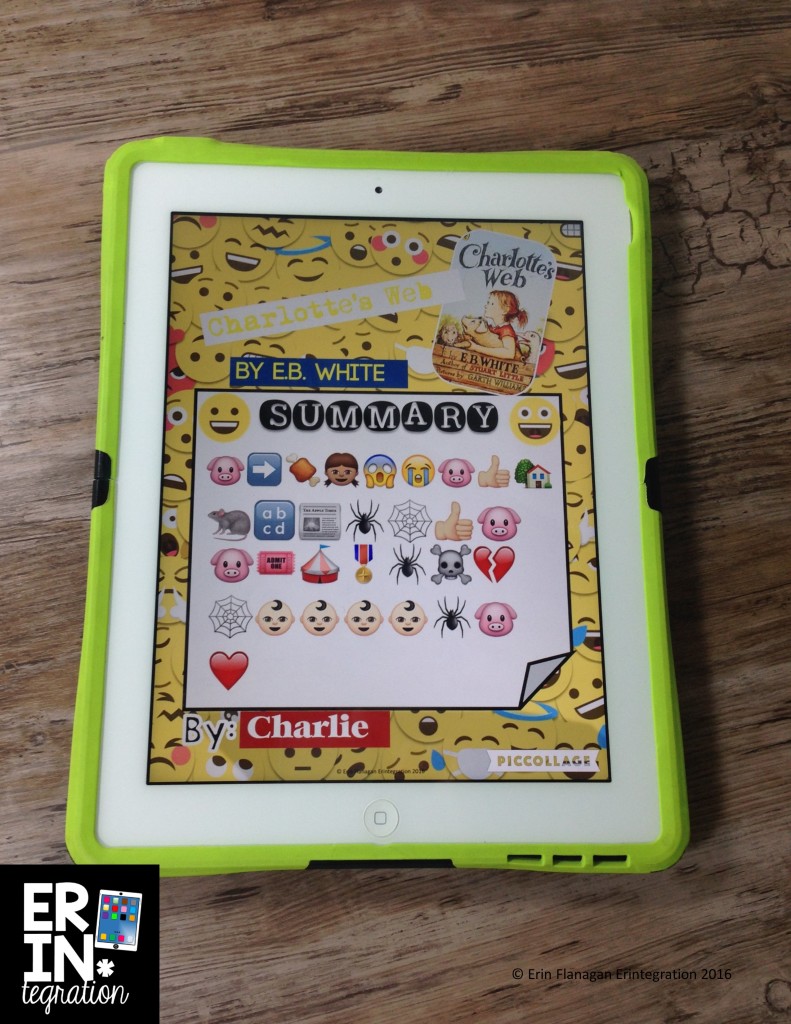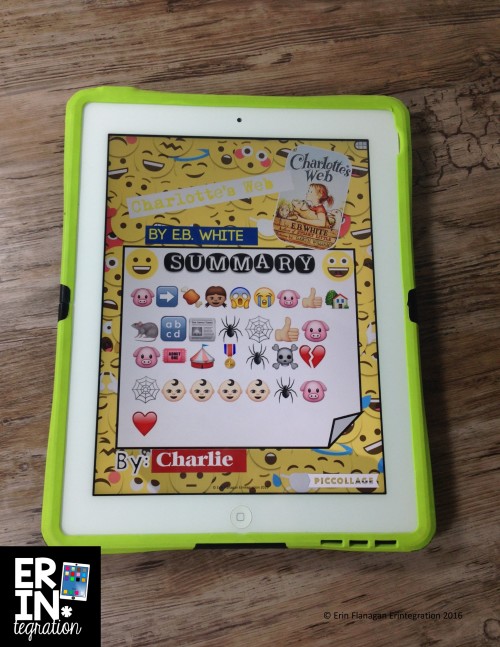 Here is a sample we made using Google Drive and the Emoji Keyboard Plug in mention above: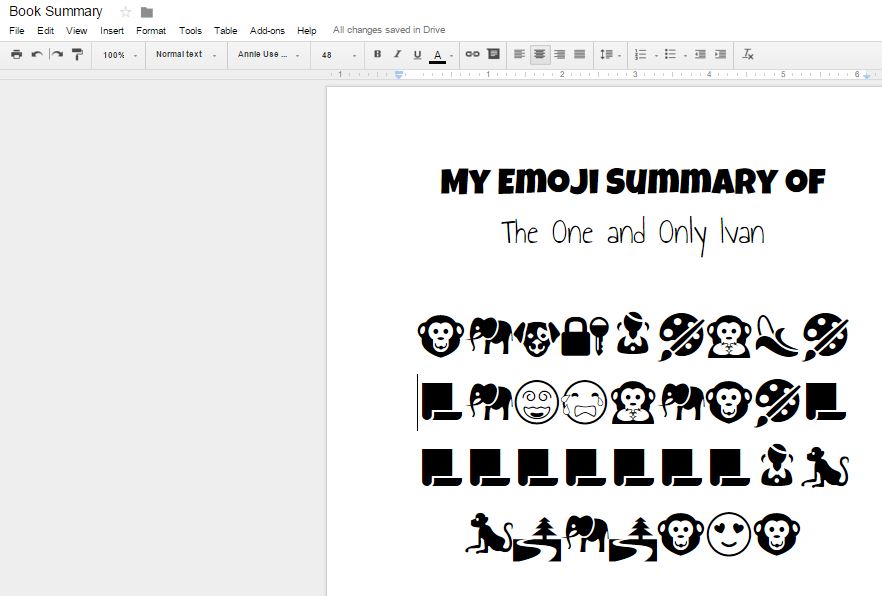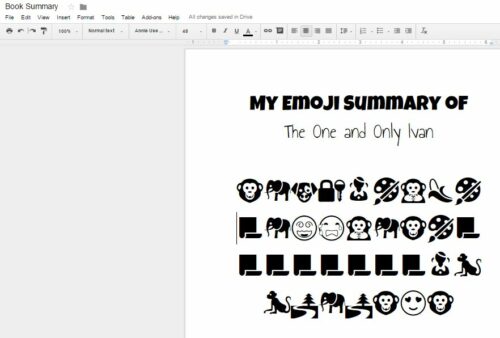 Google Emojis will insert as black and white.
2. Design an Emoji
The Techie Teacher has this fantastic writing resource for using Google Draw and Google Docs to design an emoji using the drawing tools.  Included in the download are reading passages about the origin of emojis too.  My students loved creating their emojis and then writing a descriptive paragraph about them.  The Techie Teacher goes into more detail about the project here.
3. Emoji Exit Tickets
Pump up your students metacognition skills by using exit tickets with Emojis for students to select in addition to telling what they learned.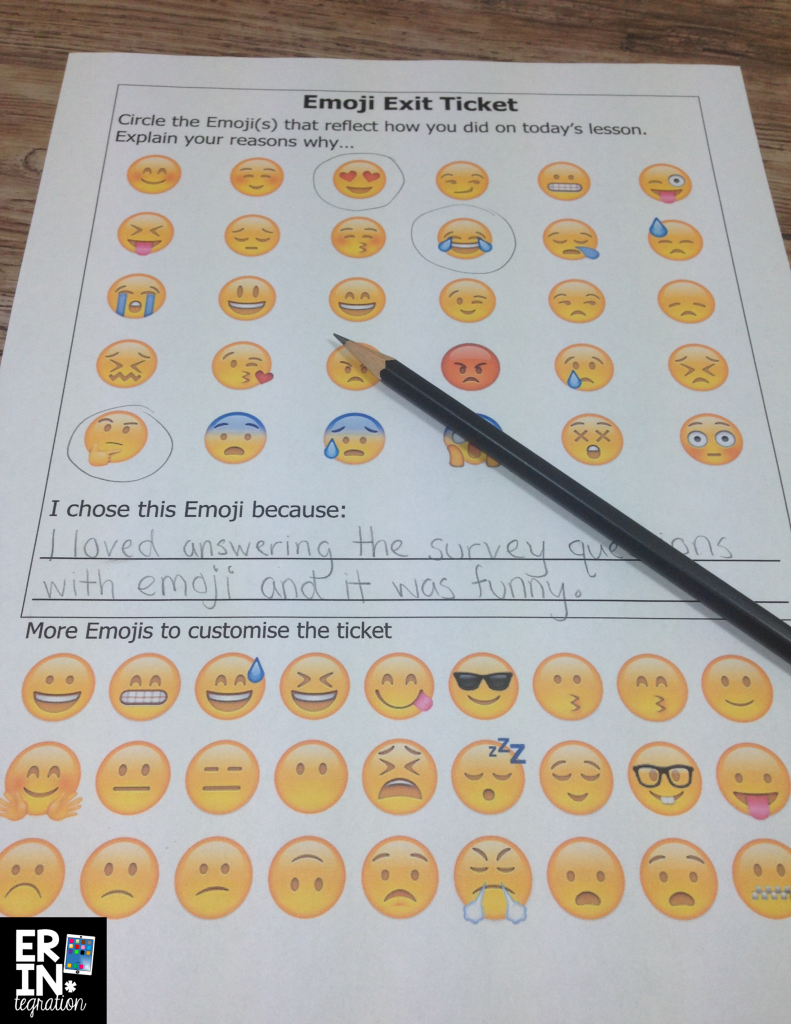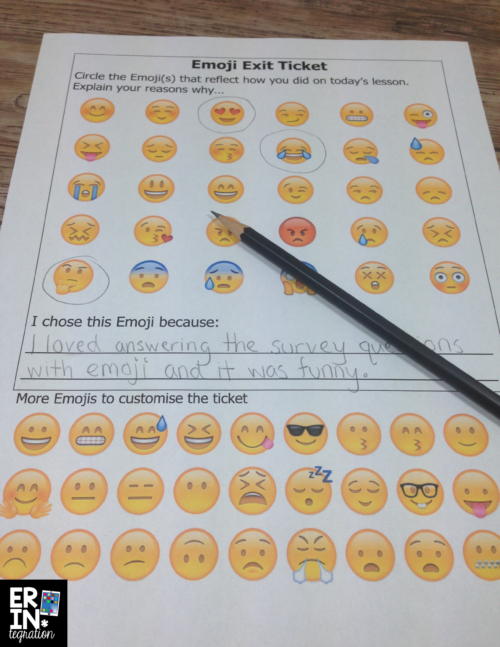 This quick check allows you to get a sense for how confident your students are with the material you just presented and also helps students reflect on their own understanding.  I first saw these on LovetoTeach's Twitter @87history.  Grab a printable version here or if using Chromebooks, Doug Saunders from the Holman Technology Blog has created this fabulous & free drag and drop version for Google Slides.  If you are looking for more specific exit slips, Ford's Board has a very detailed set here.
4. Write a Rebus Story with Emoji
A rebus story is when a picture is substituted for a word.  You have most likely seen a rebus story in Highlights magazine. Students can write their own rebus stories using Emojis to substitute for some words. Mr.P has some examples on his blog here.  Popular TV Shows and movies written with Emojis can be found here for reference – some of the examples are NOT kid friendly but fun to look at for teacher inspiration!
I suggest having students retype an existing story and then substitute in the Emojis rather than make it up as they go.  Or have students write a rebus story of a very familiar story like a fairy tale the way this teacher does.
You can also have students write rebus sentences using spelling words with Emojis.  My students dread writing sentences for spelling, but practicing writing the spelling words is so important. Adding Emojis to their sentences will make a dreaded activity more fun and engaging.
5.  Use Emoji When Close Reading
Students can use Emojis to help them make inferences about how characters feel in a story.  I display the anchor chart shown below in our guided reading area to generate discussion during our groups.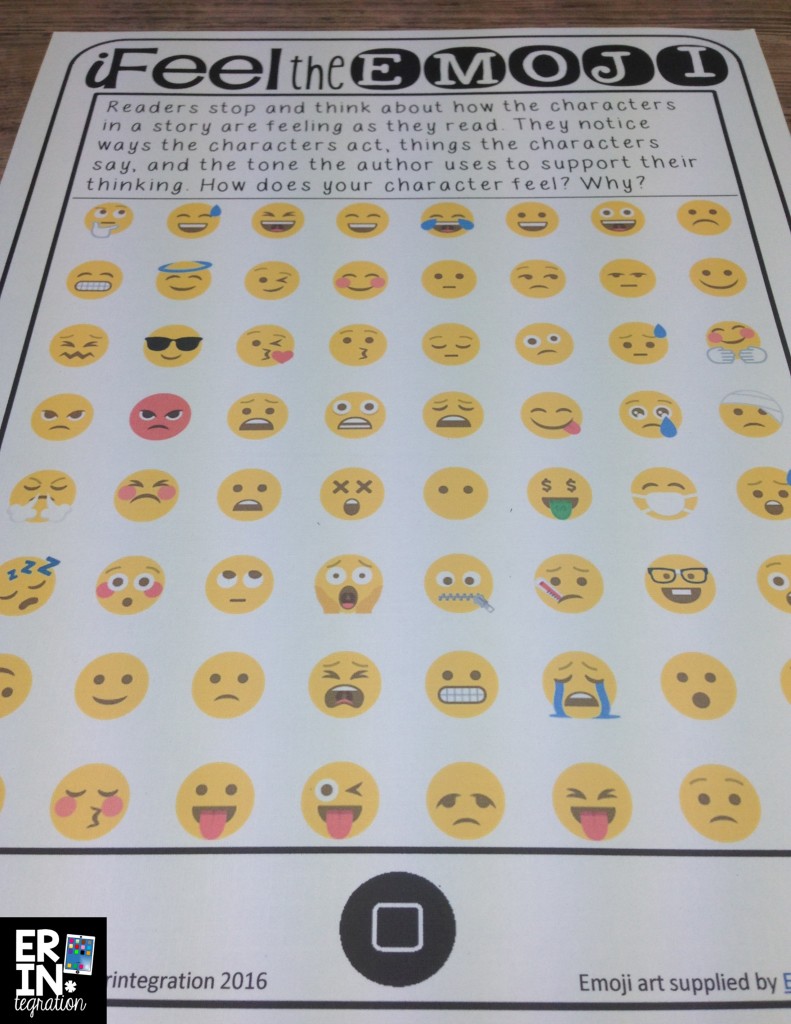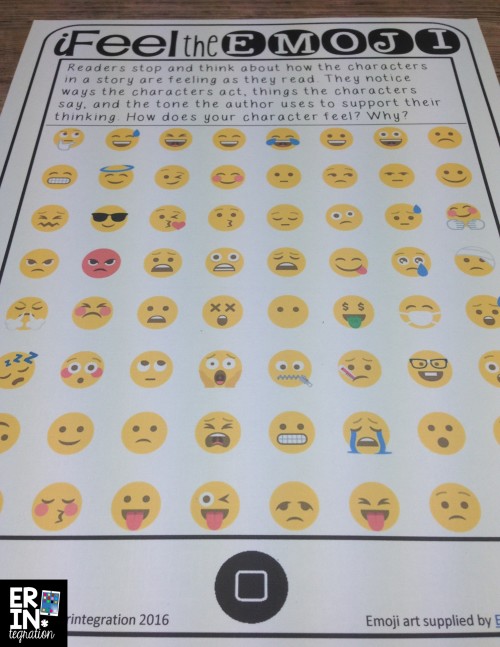 We select Emojis to show how a character feels in the text at any given moment.  We circle the Emoji feeling then prove it with information right in the text.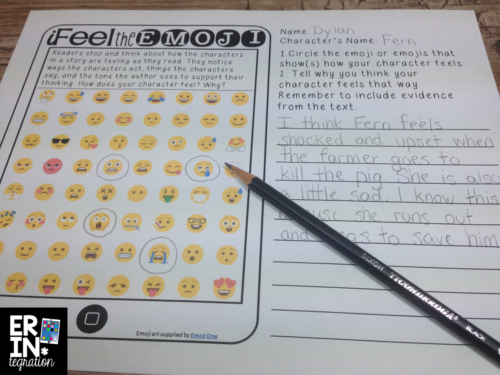 Thanks to Emoji One for the set of graphics.
Get the printable iFeel the Emoji chart and recording sheet FREE:
6. Use a Random Emoji Generator for Writing Prompts
If you have students who have trouble thinking of what to write about, visit Emoji Prompts and have the student click to generate a random set of Emoji to write a story about.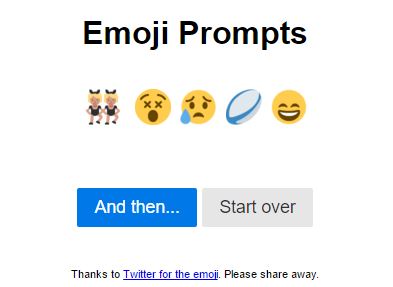 Just like with Rebus stories, this works well for sentence writing too!  Or use the generator for talking points during morning meeting or even oral story telling!
7. Emoji Matching
Print a free set of matching cards here to play Emoji memory, use as a "how am I feeling?" prompt, or even use to select partners for group work.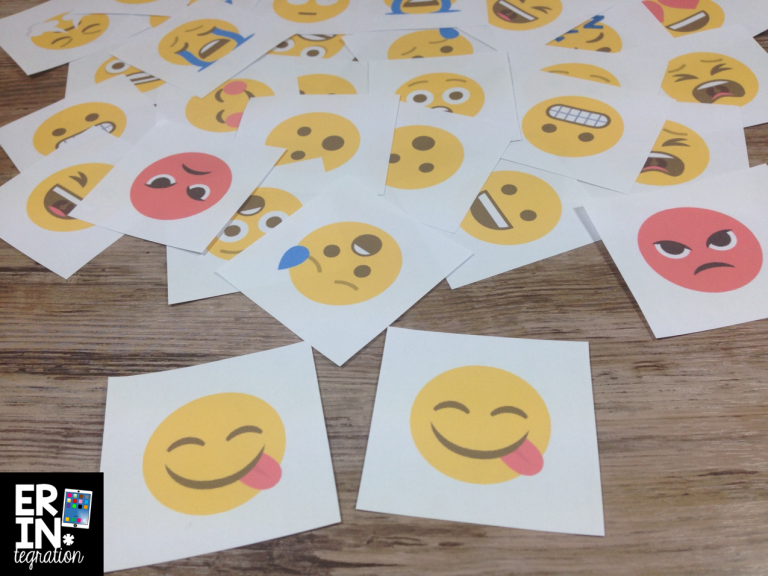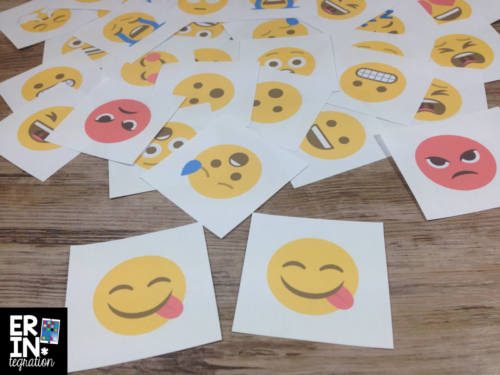 The Speech Bubble shares a neat inferencing lesson using Emoji cards here. By attaching different Emojis to the same sentence, she shows her students how the meaning can change based on how the line is delivered.
8. Rewrite first and/or last lines of novels with Emoji
Inspired by this Slate quiz, have students use Emoji's to best replicate first and/or last lines of novels.  You can also have students rewrite mentor sentences using Emojis.
9. Emoji Yourself
Have students take a selfie and Emoji-ize it.  This can accomplished easily on PicCollage Kids.  We used the directions in the Emoji Selfie Synonym packet to first find synonyms for common descriptor words like mad, sad, happy, and nervous using a free app.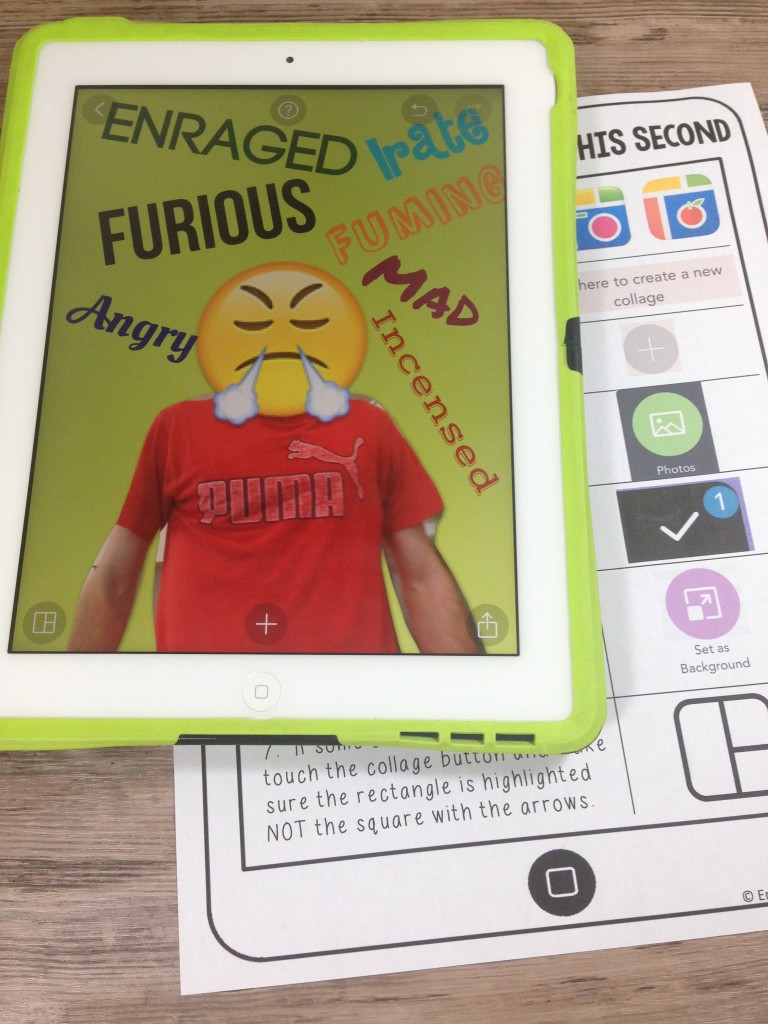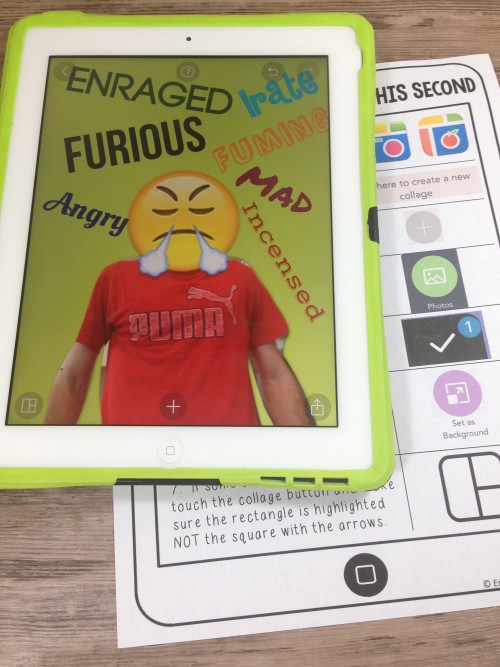 Next we made our Emoji Selfie and selected the Emoji that best matched the word. We used different fonts and colors to make the words stand out.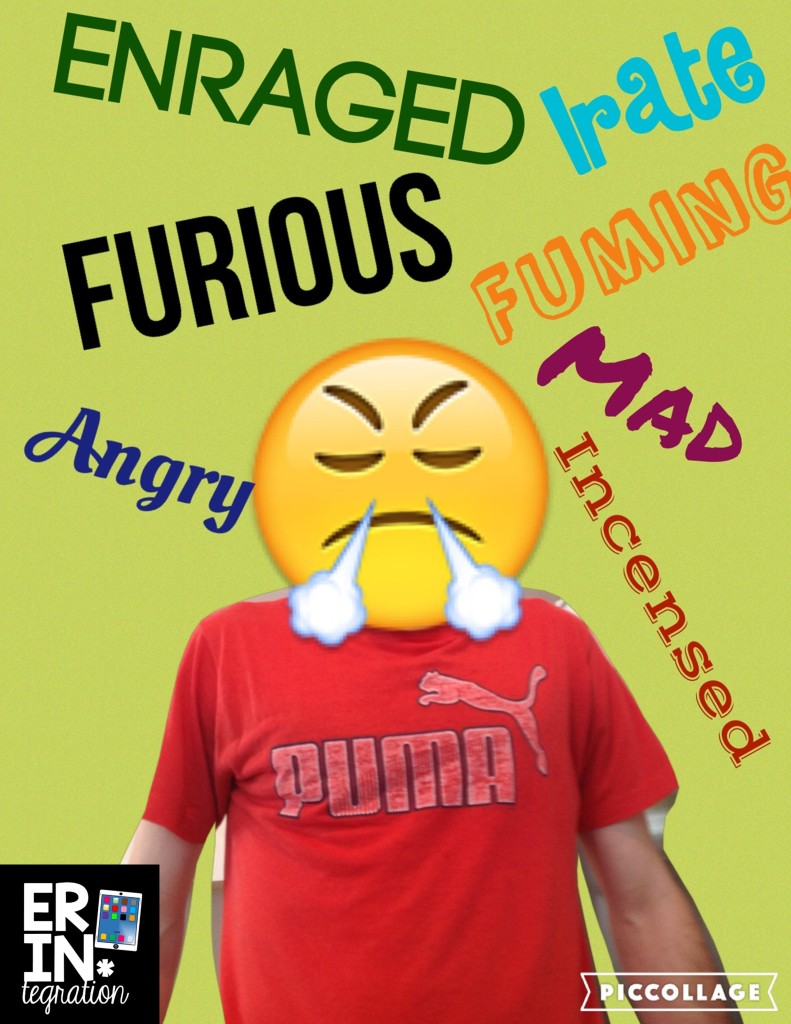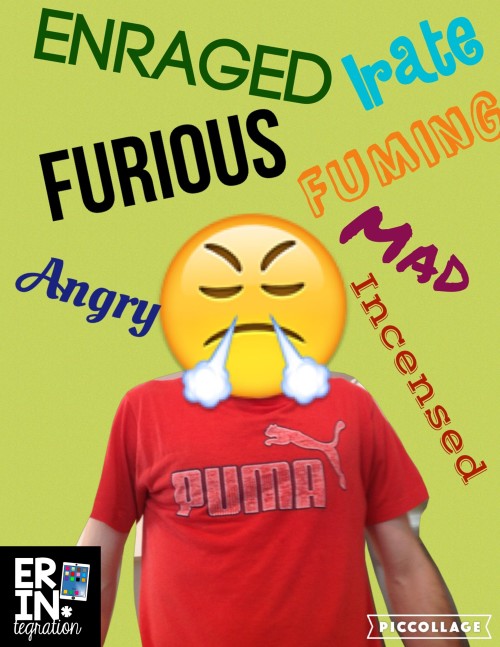 You can grab this resource including visual directions & recording sheet here.
The Speech Room News has another selfie Emoji activity where students can create custom face Emojis using the free app Facecon.  She includes photo samples and clear directions so be sure to head to her blog to check it out.
10. Take an Emoji Survey
We loved this activity for Open House!  I created a survey image that students downloaded via the included QR code.  After setting as their background in PicCollage Kids using the visual directions I provided, students were to answer the questions using ONLY Emoji.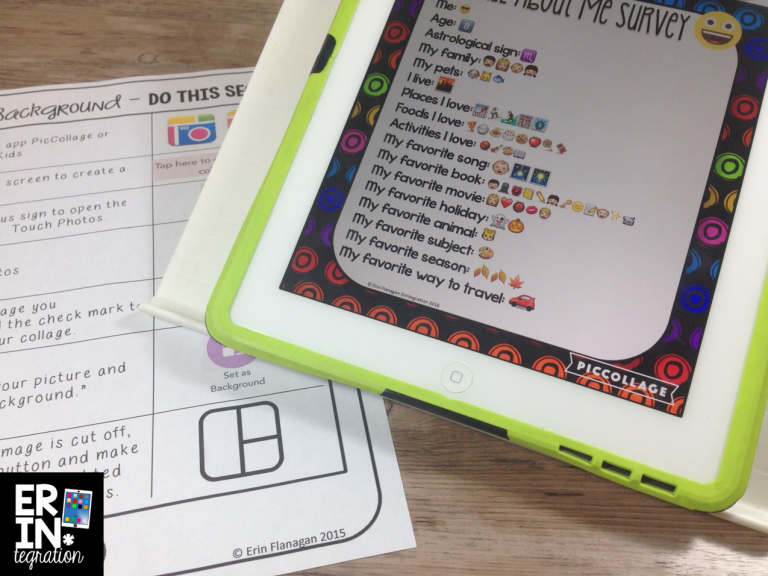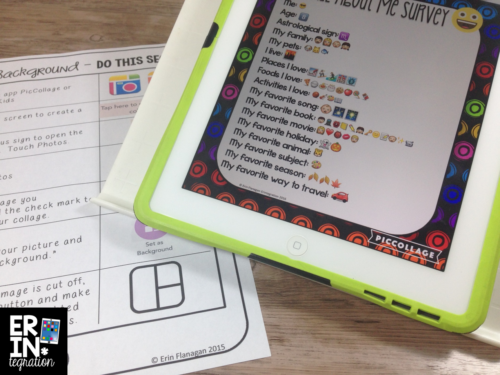 We loved how the finished product was a bit of a puzzle and also revealed so much without using words!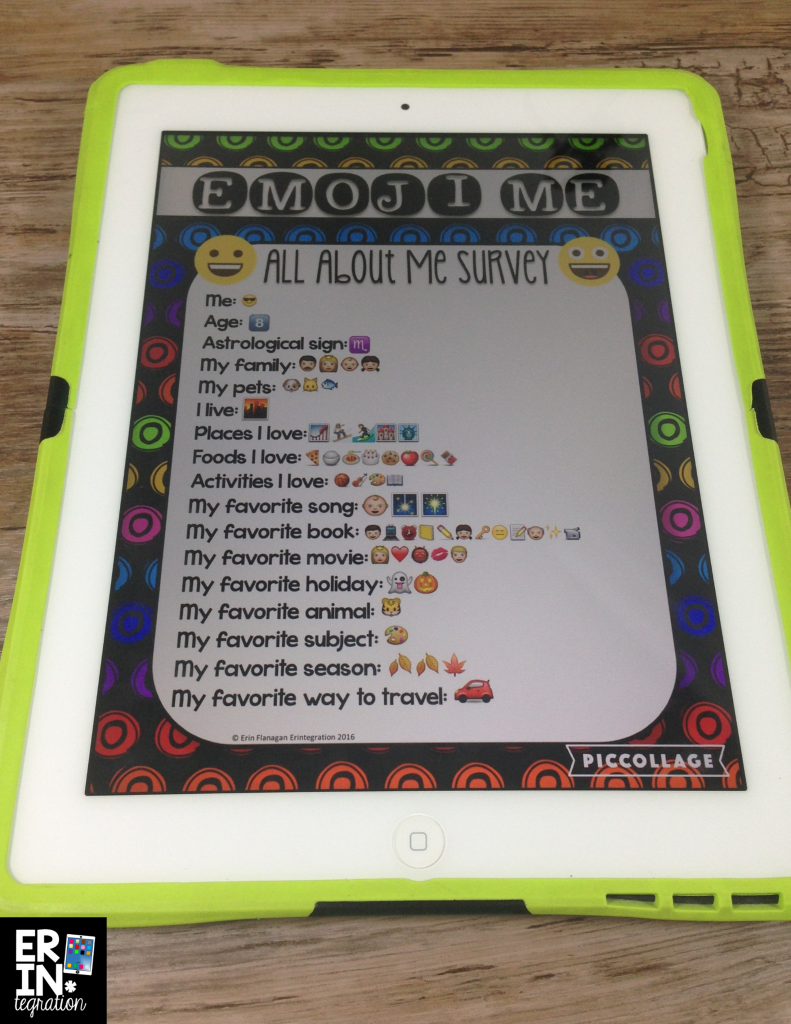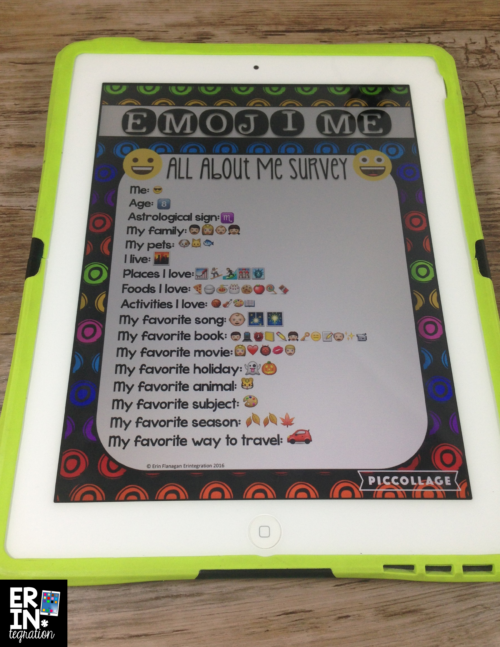 These would be fun to do at a faculty meeting or have students interview loved ones too! Grab the resource here.
Stay tuned for some more ideas for using Emojis in the classroom including using Emojis in Google Classroom, Emoji classroom decor, and for low-tech ways to use Emojis too!  You can sign up to receive a monthly email on the right with links to any new blog posts to stay in the loop!  Please share any other ways you are using Emojis in the classroom below.