Using the URL shortening site bit.ly in the classroom may seem like an unnecessary step, but here are 5 reasons why this free site will make technology integration a "bit" easier and how to to use it.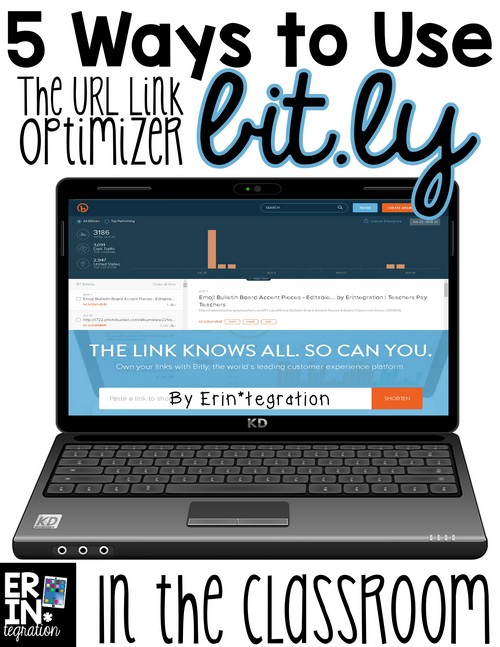 Bit.ly is a popular URL shortener.  What that means is, it takes long URL web addresses and shortens them to less characters.  Shortening URLs is popular for sites like Twitter where characters count and other social media sites where long URLs look ugly like Instagram.  To make a bit.link, you simply paste the long URL into the window after clicking Create Bit.link on the homepage.


However, for classroom use you will want to create an account to get all of the features I will highlight in just a second.
First click Sign Up For Free.

Input your info or link it to your Facebook or Twitter login. Logging in will bring you to a fancy dashboard with graph.
After using bit.ly for a bit, it will display how many people clicked on any of your links, your top referrals, and their locations.  This is all very fascinating and useful if you are a blogger like me or you are a nosy teacher at home using bit.links to keep tabs on your sub, but as a classroom teacher you won't be spending much time with those features. Let me explain how you WILL be using Bit.ly in the classroom.
5 Ways to Use Bit.ly in the Classroom
1.  Use Bit.ly in the classroom to save all of your links in one spot.
Having a free account with Bit.ly means they will save any bit.links you create to your account. If you frequent the same sites over and over, it is a fast way to access the links.  iTeachStem goes into more detail about using bit.ly to link to sites for parents and even to link to her own frequently used folders!  You can make this even more useful to students when you…
2. Use Bit.ly in the classroom customize long URLs into student-friendly easy-to-type ones
Let's say I want my students to view a document on Google.   Have you seen those Share URLs? They are crazy.  Yes, I could paste it somewhere and make a hyperlink, but if I don't want it on the web all the time and just want them to view it once, quickly, I might want a link they can actually TYPE into the address bar.  This goes for YouTube videos, articles, and any site that isn't  www.singleword.com or that isn't spelled conventionally.
In your Bit.link account, you can paste the long URL and choose a short easy-to-type link instead.  To do this, log in then click Create Bit.link at the top of the dashboard.

Paste the long URL in the window. Next you will see the window change to a display with the automatic bit.link.  This are usually a mix of characters and numbers and honestly, I use these a lot because they are still easier than a lot of URLs for students to type.

However, you can write your own phrase or word where it says "Customize."  I use the same 3 digits after all of my classroom customized bit.links to make it easier and unique.  So for example, maybe a YouTube video song about nouns, I would name "nounsong123" or whatever.  Hopefully that fake bit.link I made up does not really link to something! Then students just have to type the bit.ly/ and the extension you choose.
3. Use Bit.ly in the classroom to share your class blog and social media accounts with a custom bit.link & view the locations of clicks
We use Kidblog and we have also made YouTube videos that I have then shared across social media (and encouraged parents and friends to share).  By using a bit.link URL, we can view how many clicks and where they come from.  Students loved tracking this – especially when people from other countries took a peak! I guess I said earlier that YOU wouldn't use this feature, but I should have explained that your STUDENTS will.  They even like looking to see how many clicks our class favorite websites are getting.
4. Use Bit.ly to have students (or teachers!) follow along with their own copy of a Google slide lesson.
This may be more applicable to the upper grades but basically you upload or create a lesson on Google Slides, turn the "view only" shared link into a bit.ly and display the bit.ly link on your first slide.  Students can then quickly type the bit.ly link onto their devices to view the presentation as you go through it.
Yes, you can do something similar with Google Classroom, but honestly making the bit.ly takes faster if you just want students to view the slideshow and not everyone has Google Classroom.
I use this set-up when presenting professional development slides to teachers.  No need to share the slideshow after via email because they have the bit.ly link!
5. Use bit.ly in the classroom when you have a sub
I actually wrote an entire blog post about this topic so be sure to read it here next week when it goes live!
---
I've shared the ways I used bit.ly in the classroom to make things a touch easier when sharing links and to minimize clicking.  It is definitely not the only way I share links in my classroom.  I have used Symbaloo and my class website for more permanent links as well as hyperlinking right in Google Slides or Google Classroom.  Bit.ly is just one more tool I use to cut down on time and get to the tech.  How do you manage links and link sharing in your classroom?