I'm presenting at ISTE 2017 next week in San Antonio, and as I'm getting my packing list organized, I thought I would share my choices for best technology accessories for travel if you happen to attend a technology conference (or are planning on see me present at ISTE!
You could probably use a lot of these technology accessories at any teaching conference or even day to day, but since most tech conferences either require you to bring your own device or strongly suggest it, your packing for a tech conference is going to be a little more gadget focused.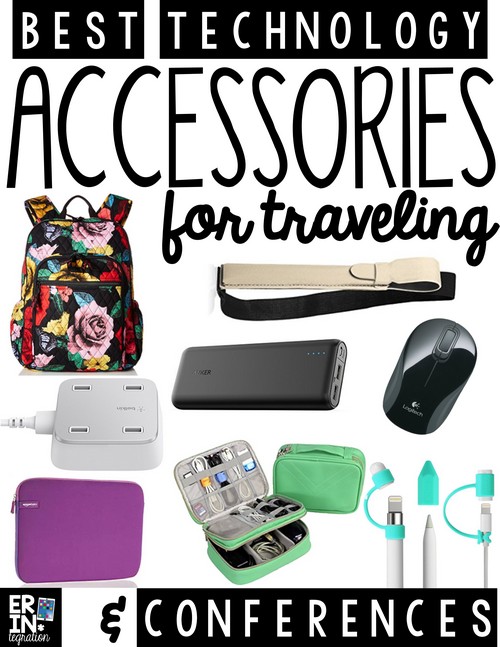 If you follow me on any of the various social media sites like my Instagram, Twitter, or Facebook then you know I love technology accessories and testing out various types and brands.  I shared my favorite accessories for classrooms using iPads here too!
These are all tools I own and use when traveling so I can speak to their working as described.  The following list contains affiliate links, but my opinions are my own.
Belkin Family Rockstar USB Charging Station
When I travel, I bring my mobile phone as well as my Kindle, iPad (I now have a Pro so that includes the Apple Pencil), and my laptop (or my Chromebook – it depends on the conference).  This
4 port USB charging station by Belkin
is small but will charge various devices so I only need to bring the cords – not 5 different plugs.
BUBM Electronics Travel Organizer Waterproof Storage Bag
Another must have accessory is this
BUBM travel bag
designed specially for organizing electronic stuff.  It has slots for wrapping cords and designated space for all of the small accessories in this list.  It comes in different colors too!
Anker PowerCore 20100
If you are traveling with any sort of electronics, you need a back-up battery and the
Anker PowerCore
series is the best.  When I'm attending a conference with devices, I do not want a low battery to slow me down.  This portable battery can recharge multiple mobile devices multiple times and it does so quickly.
Logitech Wireless Mini Mouse
If I plan to bring my laptop, I always bring a mini mouse, too.  As much as I like the idea of touchpads, I just work better with a mouse.  Rather than drag my pricey ones and risk their getting damaged,
this inexpensive small mouse by Logitech
works great when traveling.  And it fits in the BUBM electronics case linked above!
Tabletote Portable Laptop Stand
This is a new purchase that I know I will use a lot.   Oftentimes at large technology conferences like ISTE, I want to set up a place to decompress and get organized.  There are lounges and spaces for this, but it can be tricky to get a space with a surface to set up my laptop or Chromebook.
This little stand by Tabletote is relatively lightweight and folds up to the size of a coffee table book.  I also plan to use this when providing professional development sessions as you can never be sure what kind of surfaces will be available to you (raise your hand if you have ever presented in an elementary classroom and had just tiny chairs and desks to work with haha).
Tech Backpacks
I used to use a messenger bag for my device storage but when you are walking around at a conference, you want your hands free to visit the booths and to try some of the things presented.  Plus a messenger bag can be uncomfortable since the weight is not distributed evenly.  If you follow me on Instagram then you might remember I bought a bunch of bags and tested them all out before settling on these two:  Vera Bradley Campus Tech Bag and the Kopack Travel Backpack.
The Vera Bradley bag is larger and has lots of little pockets to store additional items. I needed it to fit my 15 inch laptop, my iPad and the various accessories that go with them plus still have easy access to my wallet and a water bottle. This bag is huge but still comfortable and I love the patterns you could choose.
The Kopack is inexpensive but has a lot of features including a shockproof laptop compartment and theft proof pockets for storing items against your back where they can't be lifted. I like the plain unisex design and it is waterproof.
Amazon Basics Laptop Sleeve
Since I'm carrying more than one device in my bag, I needed sleeves for my devices.  I love these cheap
AmazonBasics sleeves
because they come in different sizes and colors.
Fintie for Apple Pencil Cap Holder
I'm excited to own a new iPad Pro and Apple Pencil and to travel with it…but I'm super paranoid about loosing all of the little numbs and caps.  This
affordable set of tethers by Fintie
includes silicone tethers that hold all of the parts right to the pencil.  Plus you can pick from a bunch of colors, which is VERY important obviously in matching your Apple Pencil accessories to your travel bags and things.
Fintie Apple Pencil Holder
I told you I'm very protective of my Apple Pencil right?  This  
holder by Fintie
slips over your case and holds the pencil inside.  It works with the tethers above but not the nub cab, but since the nub is covered when in this holder, I figured it was ok.
This holder would also fit a lot of various styluses for iPads too, and since it has an elastic band it can stretch to fit various cover designs.  Plus like the other Fintie products, it comes in tons of color options.
---
What other must-have tech travel accessories do you love that didn't make the list?  Are you traveling to ISTE or any other upcoming education or technology conferences? Connect with me on my various social media accounts and let me know.  I'm always game for adding to my technology accessories collection!