Paper circuits are a simple way to light up the makerspace and infuse STEM into classroom crafts and art activities. Paper circuits are easy to learn and the materials are easily purchased online. Here is a roundup of ideas for using paper circuits in the classroom.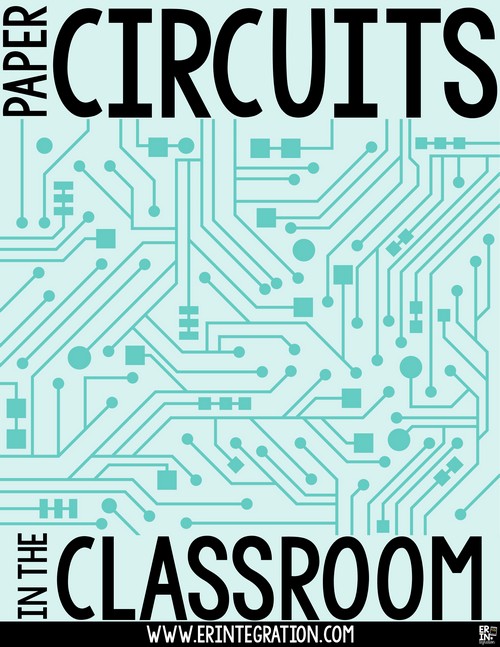 Getting Started with Paper Circuits
If you have never used paper circuits before, I highly recommend purchasing a kit. That way you can learn how it works and get used to the materials. I learned using the kit by Chibitronics available at my affiliate link here:
Chibitronics also includes lesson plans and templates on their site!
Once familiar with the materials and tools needed, you can buy LED stickers, coin cell batteries, and the metal tape (copper is the most popular) in bulk on Amazon. You can also experiment with snap circuits, squishy circuits, conductive ink/paint, and conductive thread, which all work the same way.
Paper circuits can be used with younger students, although they will need help cutting and manipulating the paper and LEDs. As with any science project, be sure to include a lesson on safety as the button batteries are dangerous if swallowed and the copper tape can be sharp!
Younger students may do better with the conductive paint and the LED stickers versus using copper tape and LED bulbs.
In addition to the Chibitronics kit linked above, I found the tutorial on MakerSpaces very helpful. There are also a ton of YouTube videos that walk you through the process.
Be sure to expand the lesson by teaching the vocabulary and process. I found this anchor chart helpful:
Project Ideas for Paper Circuits in the Classrom
Once you have the basic idea of how to use and assemble the circuits, there are an infinite number of creative ideas to use them. Popular crafts include light up cards, posters, robots, and pop up book pages. I'm linking a few of my favorites!
---
Have you used paper circuits in the classroom? Tag me on social media to share your paper circuit projects!