I've rounded up 8 tech tools and ideas for using them. Some of these tools are new and some have been around but with new features. Tools are a mix of apps and sites – some are device specific.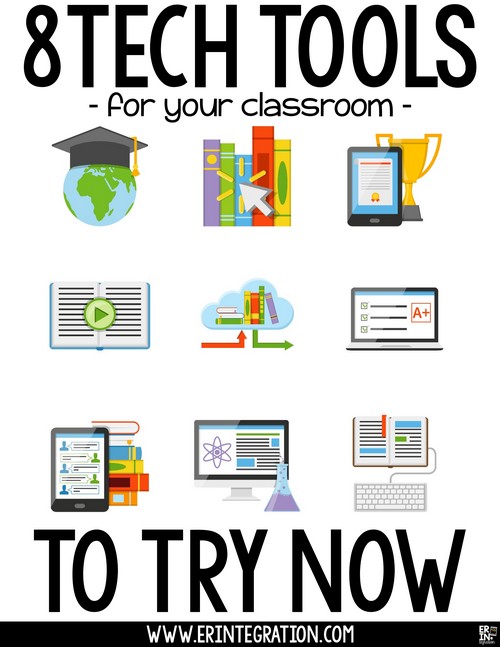 Thank you to the presenters and EXPO booths at ISTE 2019 for sharing these tools and features. I've tried to give credit to where I learned each idea when applicable.
Wakelet
Wakelet is a curation tool. Users can pull in links, images, text, and video into one space for easy distribution and sharing. Wakelet is very simple to use. There is zero learning curve. Learn how to set up a free account and get started here.
Kathi Kersznowski, Amy Storer, and Ann Kozma shared some ways you can use Wakelet right now:
Create class newsletters that link to student work
Curate a list of resources for various units
Create a back channel for students to comment or ask questions during a lesson
Keep links and ideas from social media organized
Create multimedia portfolios
I also have an idea for using Wakelet to create a no-fuss break out activity (or should I say Wake-out or Break-let activity?!?!). A post is coming later, but in short, use the code that links to a Wakelet board as one of the keys. Students have to solve some sort of puzzle or complete a task to get the code, input the code into Wakelet to open the board. The board could be collection of additional tasks or a "reward" list – fun videos to watch for example.
PS I got this inspiration while attending the Merrill's session on Flipgird where they shared a similar work flow using Flipgrid created by Kathrina Mendez:
AR Makr
AR Makr is an iPad only app that I was able to play around with in the Apple Playground. It basically allows you to create or import a drawing, images, or even models into "reality." What I appreciate is it was very simple to use. The interface is clean and user friendly.
They have some ready to go scenes, but after opening the app, I suggest trying Create a Scene first. After finding a suitable flat surface in the room, touch New and you can either select the paint brush to draw, camera to take a photo to use, or the file button to import a photo from the camera roll.
You choose a shape for your 3D object and then touch the check mark and it pops it into your environment. If you touch the object, you can even choose animations!
Use this app to explore but also as a novel way to show off student projects, digital storytelling, and more.
Tall Tweets
From the Tall Tweets site: "Turn your Google Slides into a GIF presentation and Tweet." That's pretty much what Tall Tweets does! Thank you Jake Miller for mentioning this site!
Now, most students are not going to to do the "tweet" part, but you can save the GIFs to the computer for easy sharing.
Here is how it works:
This is a web app so it works across platforms and devices, but students will need a Google Account.
Create and turn student Google Slides ebooks into easy to watch and share GIFs!
Google AR Search
Use the Chrome App to search for an animal (type the animal name into the search bar). Scroll down and find the 3D rendering of the animal. Touch view in 3D. From the 3D menu select AR and the animal is placed onto a surface next to you!
This is another iPhone only site, which I know is not ideal unless you are a BYOD school. However, this is new and will most likely be updated and added to. So far it seems that Android devices and iPhone 7 and newer models will support this. You need to use the Chrome app – not Safari – to search Google.
I couldn't find a definitive list of animals, but so far every animal I searched came up. Some to start with: lions, tigers, bears, alpine goats, timberwolves, European hedgehogs, angler fish, cheetahs, octopuses, great white shark, dogs, cats, snakes and emperor penguins.
One hint to know is if you type the animal name and it populates it as "Cheetahs – animal" with a little picture, then you should see the 3D option when you scroll down.
Novel Effect
The Techie Teacher has detailed information about Novel Effect and some demos on her site here. Novel Effect, free on iPads and in the Google Play Store, basically "listens" as you read a text aloud and provides sound effects! The technology that listens is "smart" in that it paces the effects with your reading. There are many books available on the site and you can suggest others if a book you want is not available yet.
At ISTE, it was announced that Novel Effect would now be integrated with Flipgrid! That means that teachers can create ready-made read alouds for students to listen to or have students read aloud with Novel Effect, record a video, and upload to Flipgrid!
Quick Draw
Steve Dembo and Adam Bellow's session on AI – specially Alexa – included a lot of neat Alexa apps to check out. They even gave a shout out to my free classroom questions to ask Alexa (questions are in the post or download the printable here)!
One site in particular site they shared called Quick Draw can be used on any device though.
Quick Draw is AI Experiment on Google that has the user draw something on the screen and the neural network tries to guess what you drew. The goal is to draw the item and have it guessed correctly in the time frame.
Koji
Another site shared in the App Smackdown 2 is Koji. Koji is a collection of mini games that students can remix and personalize. Students can also develop an app from scratch.
To remix an existing game, select templates and choose a game. Students will need Google Accounts to sign in and from there they create usernames and passwords.
Quiver Masks App
I saw this idea on Twitter shared by Sean Forde and then Ann Kozma mentioned him and it again during the App Smackdown, so I figured I needed to document here so I wouldn't forget it again!
Basically students use the filtering app Masks by Quiver Vision to hide their face when creating a video for Flipgrid. In Sean's tweet, he mentions using it to create "Masked Reader" videos for students to guess. This could also be a good way to warm up introverts into using Flipgrid or even to create interactive reader's theaters.
---
Were you able to attend ISTE this year? If not, be sure to follow the #NOTATISTE hashtag on Twitter and Instagram to view takeaways, tips and resources.
Planning on trying one of these 8 tech tools for your classroom now? Tag me @erintegration on social media to share! And stay tuned as I share even more resources and tools in more depth on this blog.