Parlay is an online class discussion tool that assists teachers to create classroom discussions that are impactful, inclusive, and data-driven.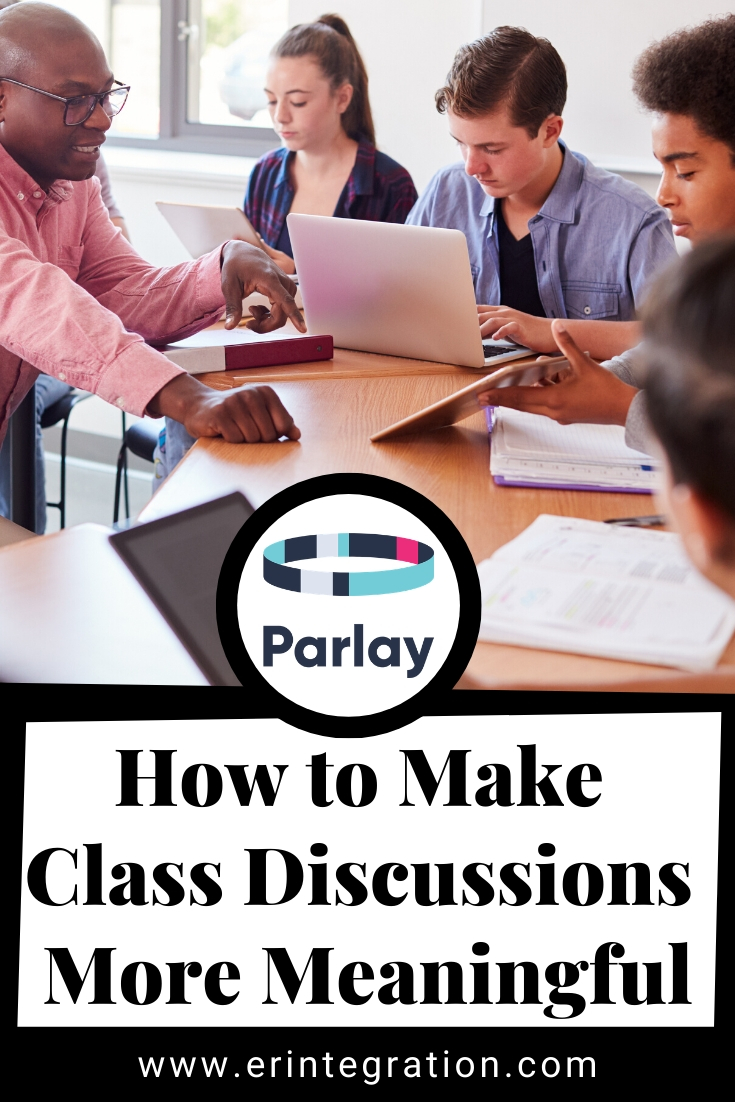 Parlay sponsored this article, but all opinions are my own.
What is Parlay?
Teachers know that class discussion is important, but even with the best methods, it can be a struggle to implement discussions that are meaningful and include all students.
Parlay is an interactive classroom discussion tool that aims to give a voice to all students. Built based on feedback from teachers, Parlay seeks to make classroom discussion more equitable , more engaging, and more accessible to all students in the classroom. Classrooms using Parlay have reported an 85% increase in participation!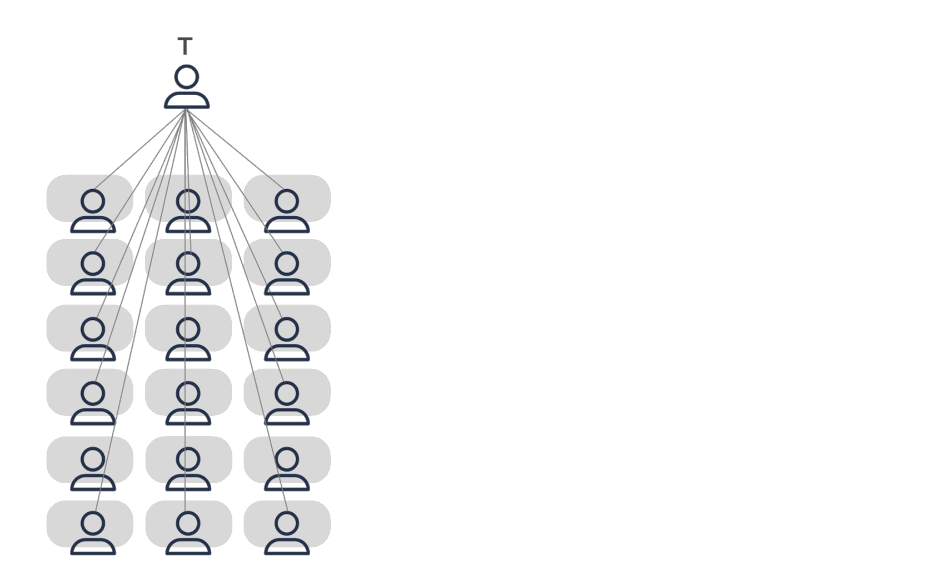 Parlay also includes a fantastic group of tools that can be used to assess participation in class discussion by providing automated data and insights.
Getting Started with Parlay
Teachers and students will log into Parlay to access the service. But Parlay integrates with many tools teachers are currently using in the classroom like Google Classroom and Microsoft tools so thankfully there are not additional accounts to deal with.
Parlay offers a freemium trial version that includes 9 free discussions. A paid subscription is required for full access beyond that.
Discussions on Parlay, called RoundTables can be conducted live or entirely online.
Live RoundTable discussions blend real world discussion with the Parlay tool as a guide.
Online RoundTable discussions are conducted entirely on the device with students typing their responses and feedback into Parlay.
Live RoundTables do require more prep and set up, but Parlay includes a lot of support for teachers looking to try one. I recommend starting with the online only option until students are comfortable with discussion expectations.
Teachers can create separate courses and group their discussions to stay organized. There is a large library of discussions that teachers can use and edit or teachers can create their own from scratch or using one of many templates to save time.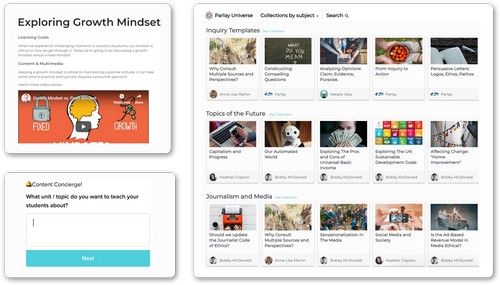 Teachers also have the option to create and use polls. These are perfect for kicking off a discussion.
Parlay Class Discussion Set Up
Teachers can browse already created topics and lessons or create their own. The discussion library in the Parlay Universe is huge and still growing with standards based topics organized by subject.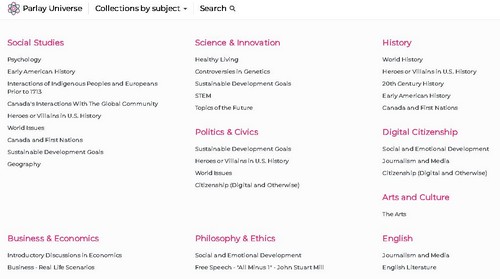 When you click the subjects, a collection of specific topics opens to select from.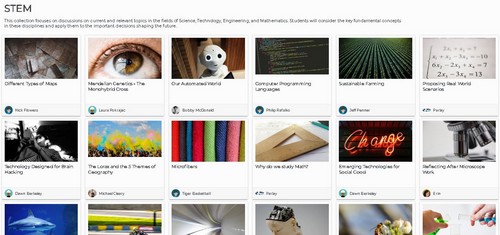 Clicking a topic opens the lesson and discussion. I love how detailed the lesson overview is.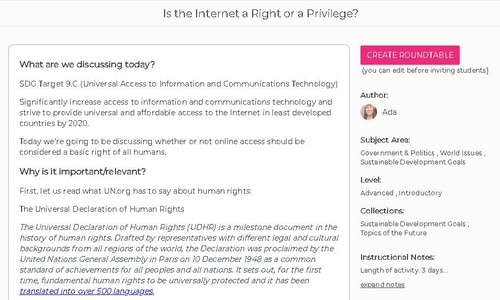 Each Parlay lesson includes:
Learning Goals
Background Information about the topic
Content and Multimedia – this may take the form of an embedded video, link to a website, news article, or pdf, or any combination of multimedia elements for students to access prior to the "live" discussion.
Discussion Questions for students to respond to
Feedback Recommendations to encourage students to respond to others
If you decide to use that topic, click "Create RoundTable," which will allow you to edit any part of the lesson prior to assigning it.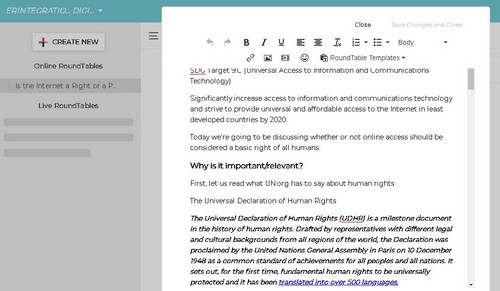 Teachers can also customize peer feedback questions and assessment options.
Another neat touch is teachers can opt to have students be anonymous when using Parlay, which comes in handy if you have students who are reluctant to participate or you want to avoid having students only give feedback to friends.

There is seriously so much for teachers to tweak, edit, and customize to make discussions fit their students and curriculum!
Running the Parlay Discussion
After setting up your discussion, teachers have 3 ways to invite students to participate:
Share a join code or magic link for students to enter the link the discussion
Share directly into Google Classroom
Add student accounts directly from Parlay
The student view is clean and uncluttered, which helps students focus on the task at hand. Student basic directions are to review the prompt, submit a response, and join the discussion (i.e. give peer feedback and respond to others).
For an online RoundTable, students are working at their own pace whereas in the live RoundTable, students are "tapping" in to join the discussion.

Teachers have a live view of the entire discussion in the teacher view. They can give feedback online and hover over student accounts to see how many times students have responded.
In the Live RoundTable, teachers can give a digital "nudge" to encourage students to participate that haven't.

Peer Feedback on Parlay
What really makes Parlay stand out from other polling and class discussion tools is the weight and focus on Peer Feedback.
Instructions for Peer feedback are in the discussion prompt and embedded into the comment box. So if a student clicks to type a response to another student, the guiding questions are revealed to encourage meaningful responses and follow up questions.
The guided questions that pop up can be changed by the teacher prior to assigning the activity. Because they know teachers are busy, Parlay includes 13 already written that teachers can toggle on and off, but there is an option for writing your own, too.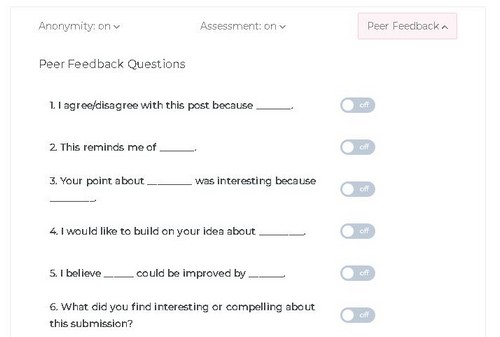 Peer feedback on Parlay elevates the activity from a response to an interactive conversation.
Assessment Tools on Parlay
One of the trickiest pieces of traditional classroom discussion (in my opinion anyway) is assessment. Keeping track of participation – both quality and quantity – is difficult to do in a way that is fair and also meaningful to students. Plus it takes time to set up a classroom discussion rubric.
Luckily, Parlay takes out all of the guesswork, makes it easy and makes it actually…FUN?!?! I'm not kidding, the assessment tools are awesome!
Parlay comes with a rubric builder tool with criteria that teachers can toggle on or off before assigning a discussion to students:
Well Written
Inquiry
Creative
Focus
Evidence
Analysis
Connection
Above & Beyond
Expressive
Critical Thinking
Communication
Collaboration
Each area is scored on scale that the teacher determines (the default is 4 points). For example, for Critical Thinking the expectation says "Uses reason and credible evidence to support claims and opinions. Demonstrates ability to analyze and interpret class materials and ideas. Asks thought-provoking questions where appropriate." The pre-written criteria and descriptions are all already included which seriously saves so much time!
In addition to the rubric tool, teachers can leave written feedback for each student. Parlay even SUGGESTS feedback from the teacher to give to the student based on the student's engagement in the discussion.
Now for the fun part! Parlay includes an entire data visualization piece that breaks down the discussion and participants into a variety of graphics for class wide and self reflection. Being able to visualize what was discussed and how and with who is incredibly powerful.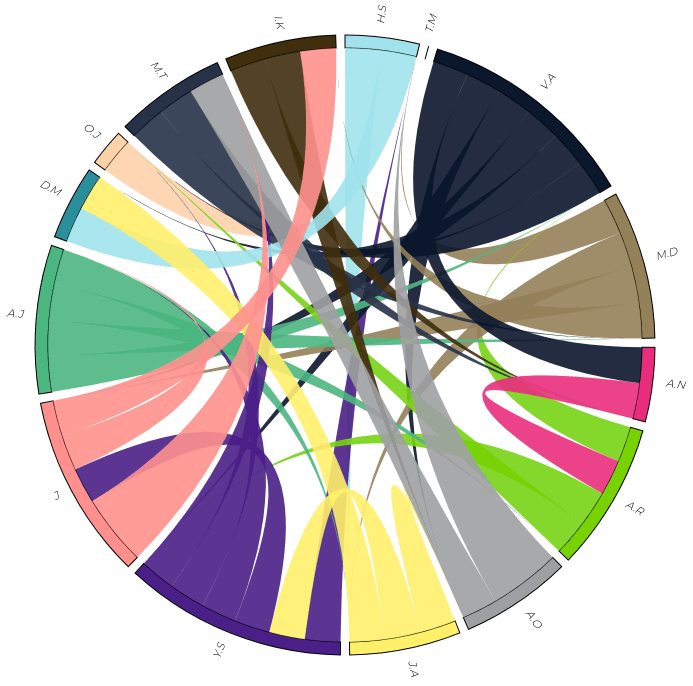 Data tables and diagrams are available for both Live and online only RoundTable discussions.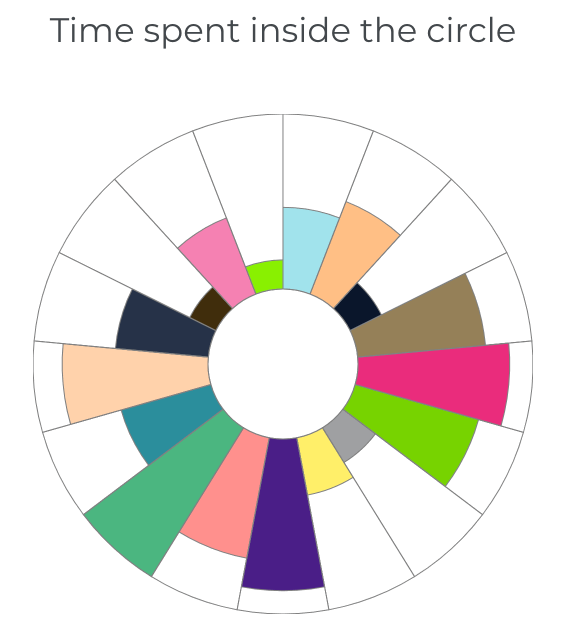 I especially love the word cloud that is generated from prompt responses. There is so much to learn and unpack from a glance at the words students used (or did not use!). You could even set up a Parlay discussion about the results of another Parlay discussion!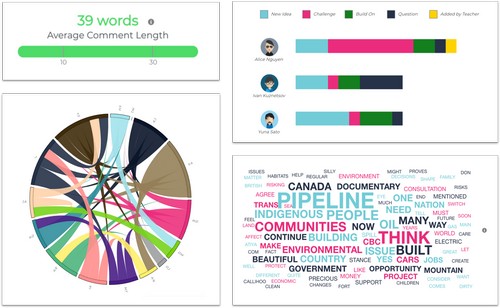 Students and teachers can use the data to set goals to improve future discussions. Data can also be used to spark a math conversation by asking students: "What do you notice?" The assessment tool also holds students accountable for how they participated.
---
Parlay set out to create a tool to improve classroom discussions, and I think they were very successful in their goal to amplify student voice and make discussions more meaningful in the classroom. Every part of Parlay was thoughtfully designed with teachers and students in mind and it shows.
From the ready-made library, to the teacher editing power to the data visualization, Parlay is a full service and focused tool that I definitely think teachers should consider using to increase engagement and authentic class discussion. Check it out or click here to see the interactive Online RoundTable demo and let me know what you think!