Learn how easy it is for teachers to find and purchase k-12 digital educational resources on Amazon to use in their classrooms.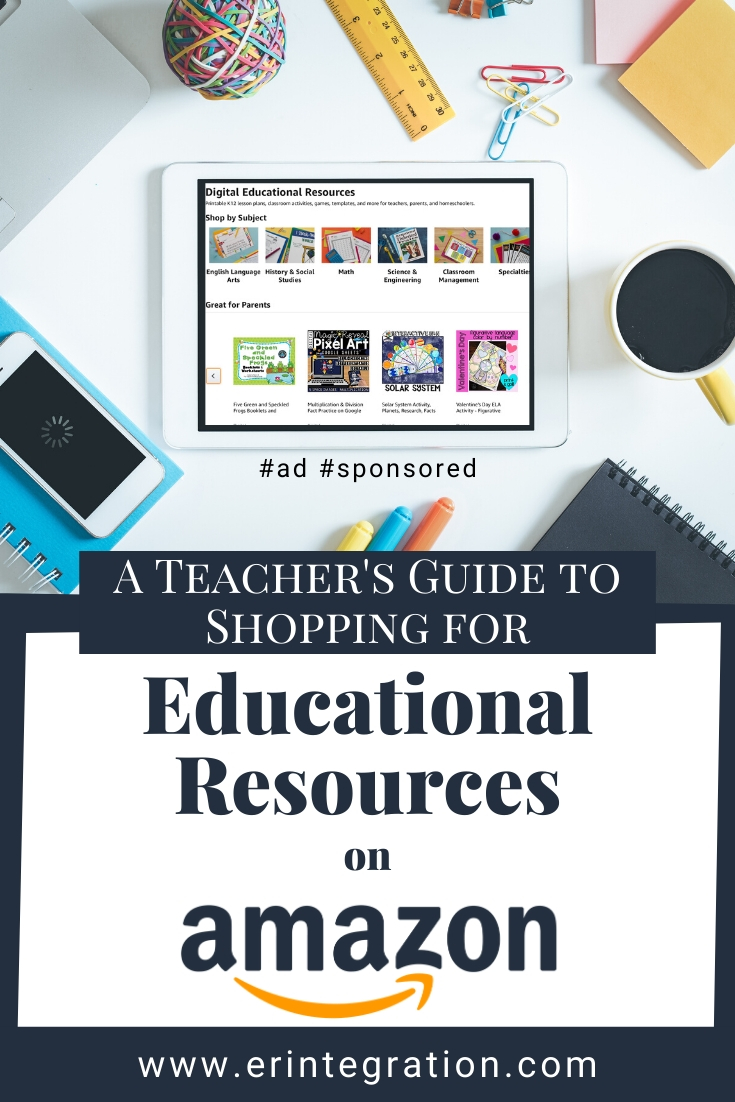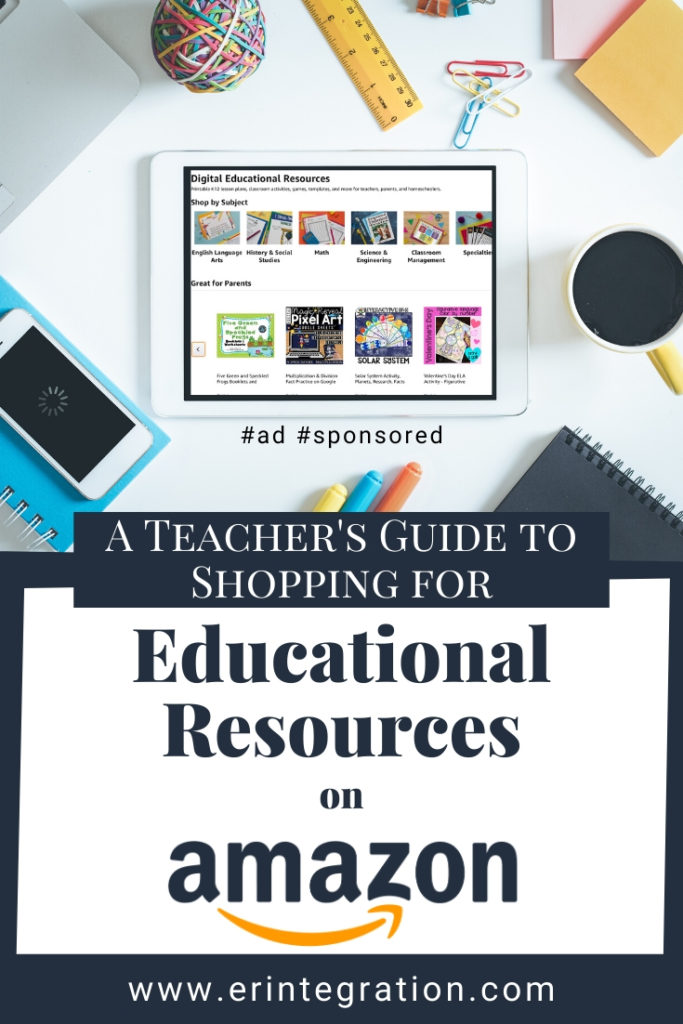 Sponsored by Amazon
Did you know that teachers can now shop for digital and printable teaching resources alongside other items to purchase for the classroom on Amazon? I'll walk you through the shopping experience in this post and give you some tips for finding resources to support your students, decorate your classroom, and save you time.
What is Amazon Ignite?
Amazon Ignite is an educational resources site for elementary, middle, and high school teachers. The resources are uploaded by educators and available to purchase right on Amazon!
Click here to explore digital educational resources on Amazon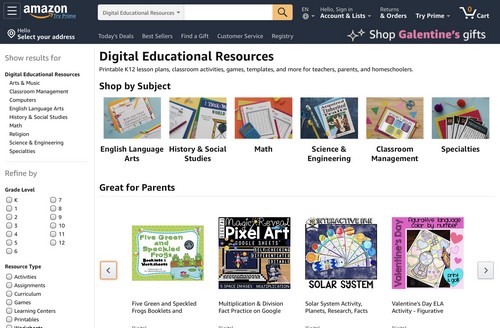 Teachers, parents, and homeschoolers can find a variety of resources to use with students such as:
Activities
Games
Centers
Classroom Decor
Printables
Tests & Quizzes
Posters
Projects
and more!
There are over 20 categories of resources in every K-12 core subject (including Computer Science & Technology!) to browse!
Finding Educational Resources on Amazon
You can find digital educational resources on Amazon by searching in the regular Amazon search bar, but I recommend that you visit the Amazon digital education resources homepage and search directly there to make it even easier to find the teaching resources you need.
You can search by keyword and even by author name. And just as with any Amazon search, the sidebar also allows you to further filter down results.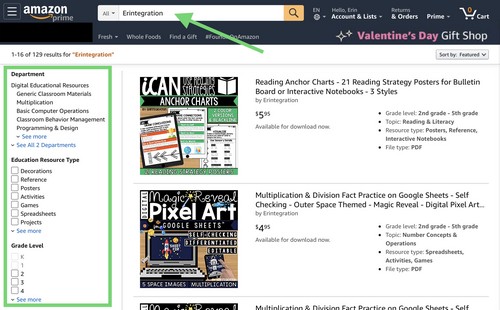 Purchasing Teaching Resources on Amazon
Click on the products to view more information about the teaching resource. Product pages include a description as well as additional details to help you make your purchase. It's important to read the description to see details about the item – especially if there are specific requirements or recommendations for the teacher or student when using the activity.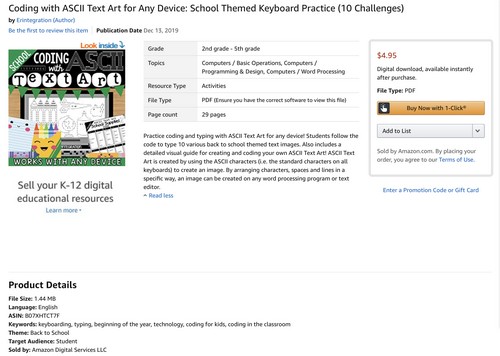 I love that we can preview purchases with the Look Inside! feature.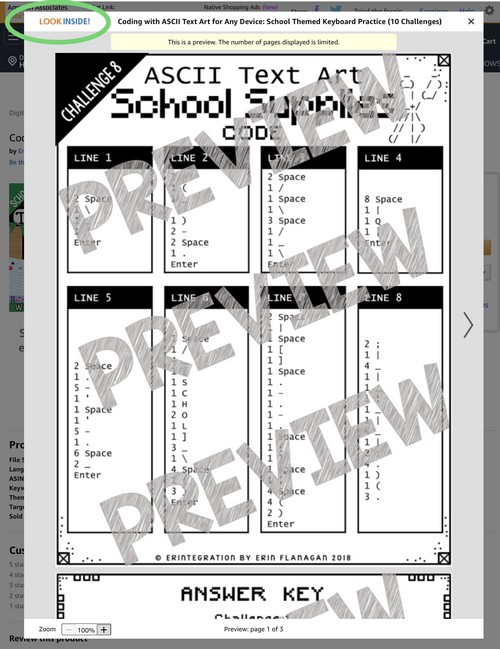 Use the super convenient 1-Click button to purchase instantly or add the item to a list to purchase later.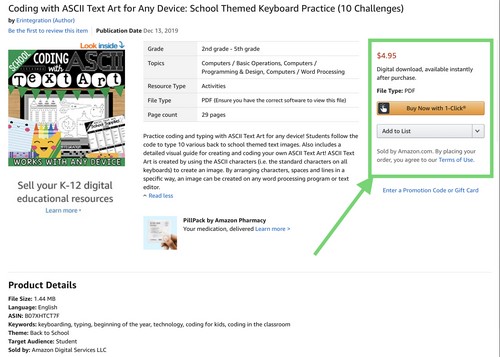 Since the educational resource you purchased from Amazon is a digital download, you won't be mailed anything. Instead, after purchasing, a window opens with a link to your resource.

You will also receive an email with a link to your item. And you can also find it in your order summary as well.
If you are a regular Amazon shopper, this may be the only part of the shopping experience that is new to you so to review, after purchasing your digital resource, you can download your educational resource in 3 places:
Immediately after purchasing, a window pops up with a download button.
An email with the download link will be sent to you.
Download it anytime in the Digital tab in you Order Summary.
Since I'm often purchasing at night and my email is a mess, I anticipate hitting up my Orders to find my downloads since they will always be there to add to my devices. Those of you with organized inboxes might think about applying an email filter to gather all those emails into a educational resource folder. And those of you who had a last minute schedule change and purchased an activity during your lunch break – use that window that pops up after purchasing and get it right away, I'm not judging!
One thing to note, if you use the Amazon App on iOS, you won't be able to purchase through the app. Instead you can add the item to a list to purchase later OR just head to the Amazon website on Safari or Chrome on your mobile device to purchase it that way. You CAN purchase using the Amazon app on Android.
Creating Teacher Resource Wishlists
One feature that I especially love using on Amazon are Wishlists. I have lists for various technology accessories, books I want to read, clothing, and of course gift ideas for me and members of my family. You can also create lists of your favorite teaching resources available on Amazon Ignite.
To add an item to a list, click Add to List under the purchase button. You can create a new list or add the item to an existing list.
I highly recommend that you use lists if you have other items you are purchasing for your classroom to stay organized while browsing. If you are pulling together resources for a bulletin board for example, create a Bulletin Board list and add all of the items – including any educational resources you will print & use. You can then purchase each item on the list rapid fire using 1-Click!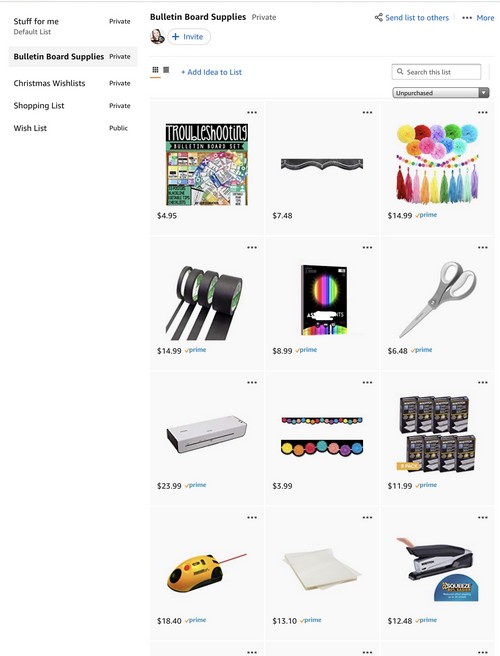 Reviewing Amazon Purchases
After using the resource you purchased, leave a review! I know I appreciate feedback from educators using my resources, especially if you and your students enjoyed the activity! You can even opt to upload a picture of the items in use!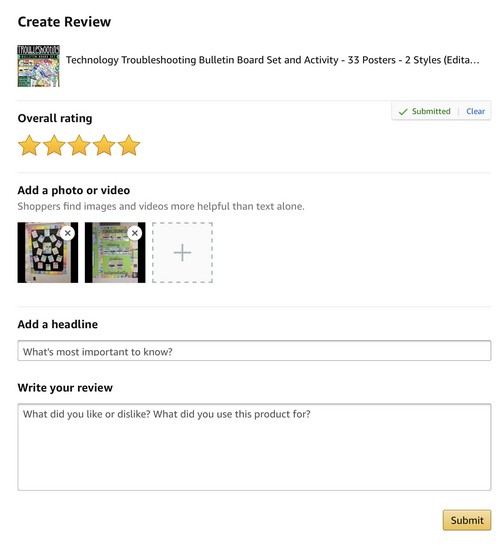 Of course, if you read my blog regularly you will know that my passion for digital citizenship means I'm going to advise you not to include photos of students.
Amazon Customer Service
If you need help with any part of the process, you have access to Amazon's top notch customer service.
You can chat in real time with a customer service assistant.
Get help through email.
Or even speak with someone directly on the phone!
I'm also happy to answer any questions about the resources I have in my shop, too!