Learn how a digital citizenship word wall can be used in the classroom to teach & reinforce digital citizenship vocabulary and concepts with these display ideas and activities.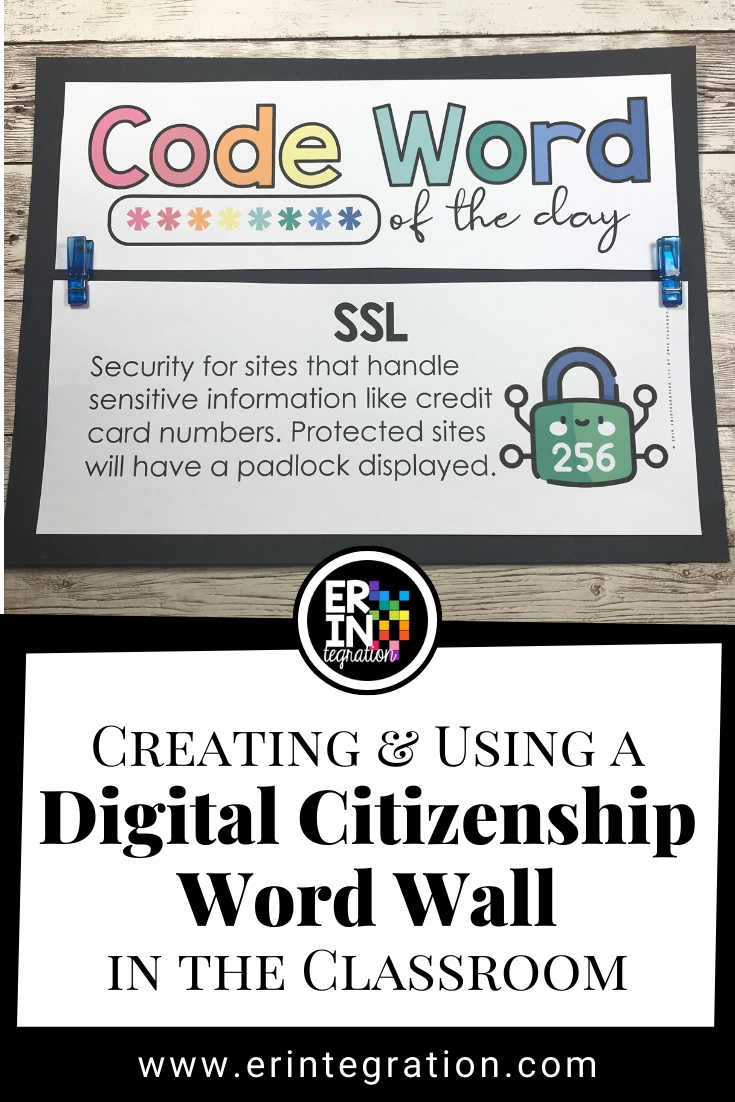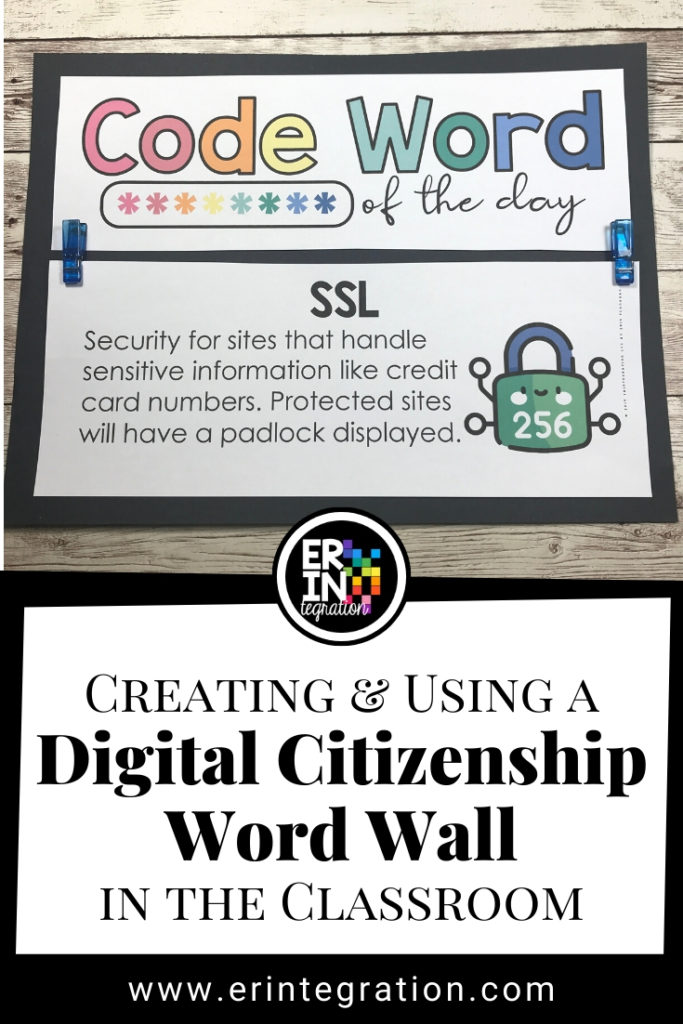 What is a Word Wall?
A word wall can be used to display words that are frequently used in writing, encountered in reading, or vocabulary concepts that relate to what students are learning about in the curriculum.
While word walls for spelling and high frequency words have specific roles, a vocabulary word wall functions a little differently. A vocabulary word wall can help students:
learn new words that relate to a unit
categorize and make sense of jargon
remember discussion about specific concepts
reference academic vocabulary when discussing or writing about a topic
Word walls can be created and displayed all at once or built as words are introduced into the classroom. Words can be organized by alphabetical order or grouped into topics. Teachers can display one word at a time (like a word of the day or week) or block off an entire wall or bulletin board.
There really isn't a "right" way to use a word wall – as long as students are referencing it!
Why Use a Digital Citizenship Word Wall?
Since digital citizenship is an extremely important topic for students using devices in and outside the classroom, teachers should be addressing it. However, with time constraints and lack of curriculum, it is often relegated to computer lab teachers (if you have them) or completed as a one day or one week add-on.
Teachers need to get creative in injecting digital citizenship into their classroom and a digital citizenship word wall is one way to do that!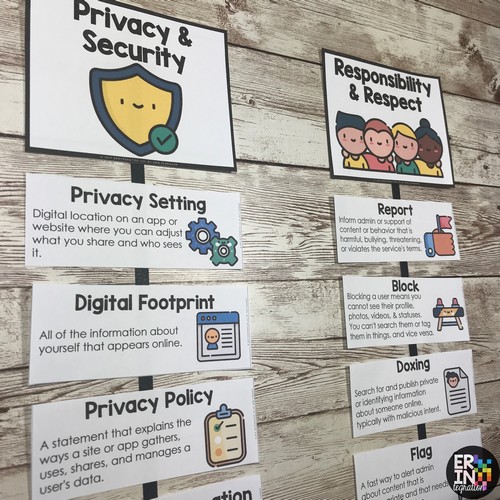 Whether you are displaying the wall full size in a hallway or choosing one word a day to highlight, the goal of the word wall is to carve a tiny bit of time to discuss or get students thinking about a concept.
Digital Citizenship Word Wall Overview
I created a set of 162 digital citizenship words broken into 8 main categories:
Privacy & Security
Balance & Wellness
Responsibility & Respect
Communication & Sharing
Laws & Standards
News & Media Literacy
Being Moneywise
Access for All
These categories and the words in each were selected to align with the most popular digital citizenship curriculum and then some. The entire set can be printed in color or blackline or save ink.
Get the Digital Citizenship World Wall set on Teachers Pay Teachers or purchase & download on Amazon.
Each word wall "card" includes the word, its definition, and an icon.
To help stay teachers stay organized, I included a master of all of the words grouped into categories on Google Sheets. I recommend using the fill tool to color the cell as you use & display the word in the classroom.
I also made editable blank cards if you have specific terms to include that I didn't – although with 162 words I don't think you will need to use them!
Digital Citizenship Word Wall Display Ideas
Traditional Word Wall
Technology teachers will probably want to display the word wall full size across a bulletin board or wall to reference all year. I recommend hanging the category headers then using painters tape to create a line to follow to hang the words in each category as you get to them.
I love painters tape because it can be hung on a variety of surfaces without leaving a residue. This black painters tape (affiliate link) is my personal favorite because it comes in 4 different thicknesses for SO many uses!
If you don't have wall space to hang the set full size, print smaller using the print settings on Adobe when printing your PDF.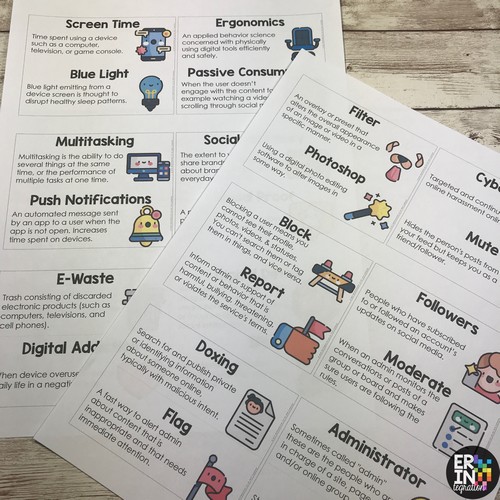 I created a mini word wall by printing 12 words to a page and using the thinnest painters tape in the pack linked above. Just be sure to check "add border around pages" so you have a nice cut line to reference!
Word of the Day or Week
Print & display one digital citizenship word at a time to make a "word of the week," "word of the day," or classroom "code word" display.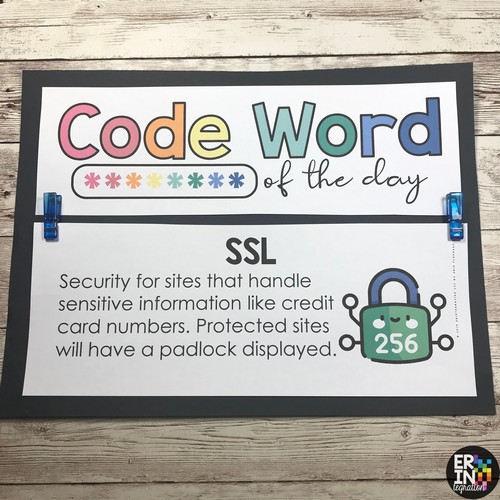 For the code word of the day, grab the free sign in my resource library and attach to a piece of 9×12 construction paper. I used mini clips like these by 3M (affiliate link) to hold each individual word.
Slide a new word in each day or week, then students will need to reference the "code" when they entire the classroom each day. You can devote just 1 minute of your morning meeting to discuss the code of day.
Interactive Notebook Page or Posters
Finally, print the blackline version small and have students arrange and glue the words by category onto color construction paper or into a notebook.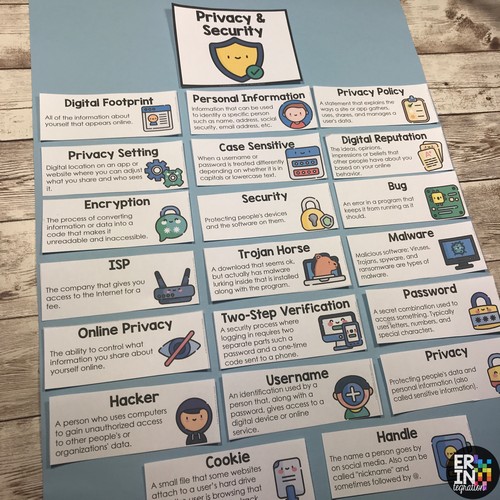 Using a Digital Citizenship Word Wall Display
Since the goal of a word wall display is to get students using and referencing the words, don't just hang up the words and forget them! Block out just a minute or two each day or once a week to discuss the words.
If you don't use the "code word" shared above, some other easy & short activities for using the word wall:
dictate a sentence using a word
air write the word
play 21 questions
play "hot seat" and have a student answer 5 questions about their mystery word
have an erasing relay
have students find words "in the wild" and share all week long
choose a few students a week to illustrate words on index cards
play bingo – give students grid paper to write any 9 word wall words, teacher calls out words randomly. First to fill their card wins.
turn & talk – in 1 minute talk to a partner about: how to say the word, what category it belongs to, the definition, where you might encounter this word, any real word examples.
have students work in pairs to come up with a motion, pose, or gesture to act out the word.
choose a student each week to create a digital poster in Google Draw for the word
have students take turns reading & recording the words on Flipgrid. You can then print the QR code to the video and display next to the corresponding word for extra interactivity.
Ultimately the most effective strategy will be to use the words in context. So while you are using devices, try to reference the digital citizenship word wall and use the specific terms as much as possible!
---