Add digital dice to your Seesaw activities to engage students in a "online question of the day" activity! Plus grab the Seesaw Creative Tools icon dice activity template FREE when you sign up below.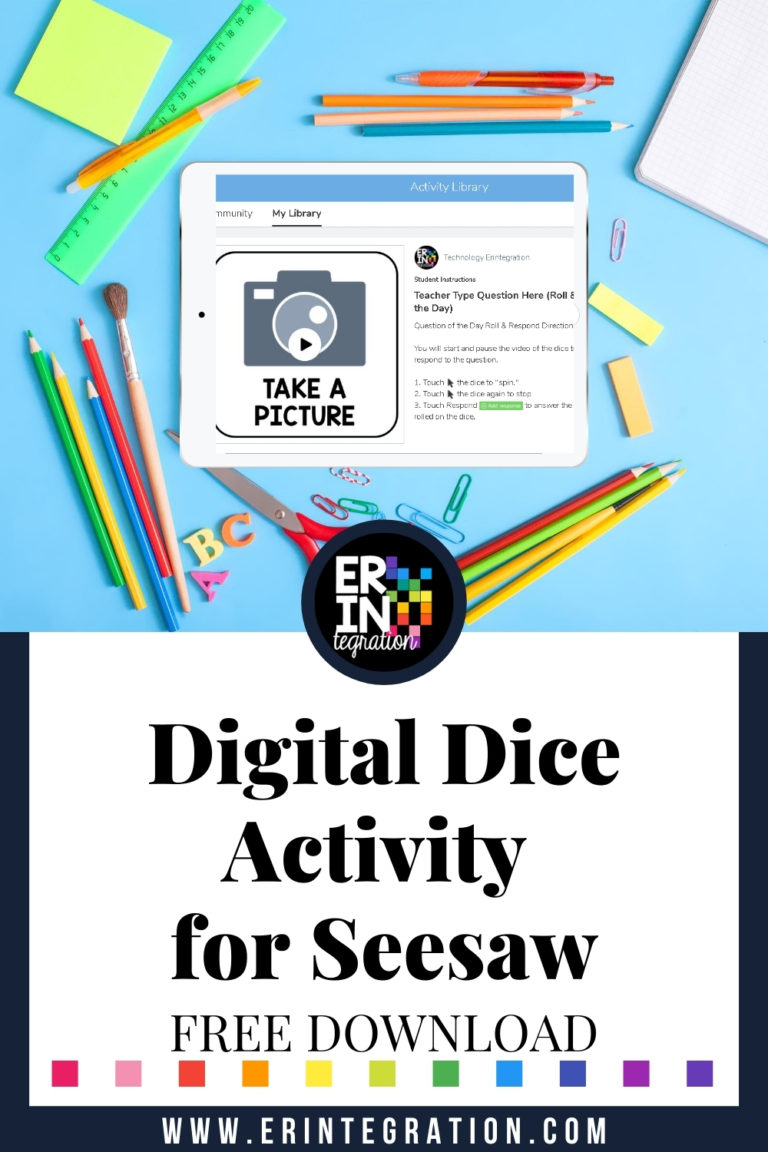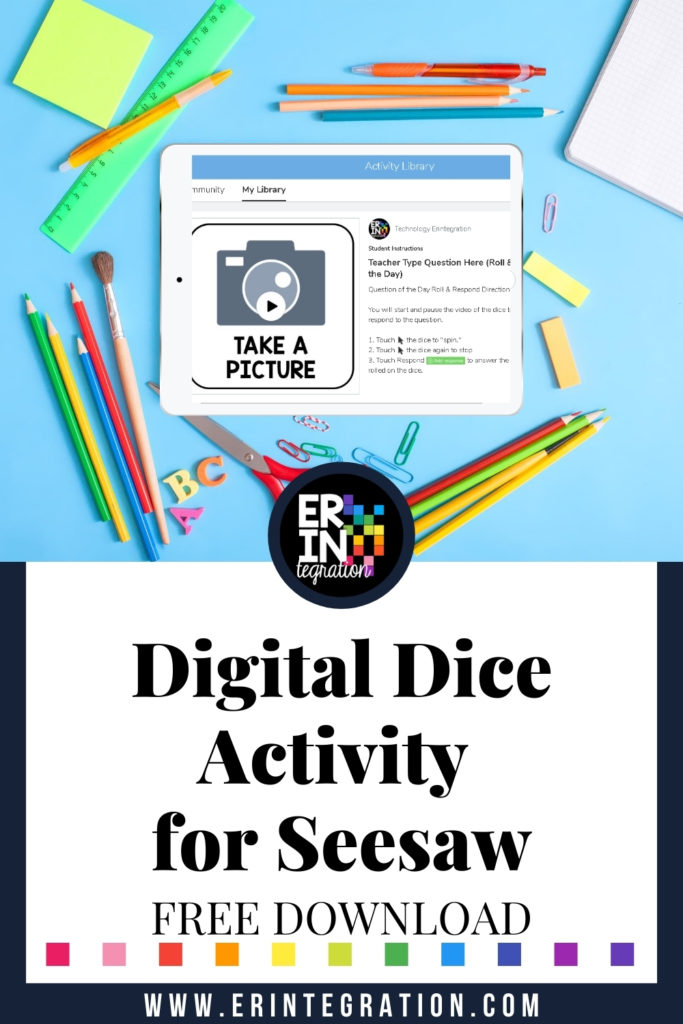 Digital Dice in the Remote Classroom
One thing that teachers have struggled with when transitioning to online learning – especially when students are logging in at home – is making sure the activities they are assign can be completed by students using just what they have available at home.
One solution I have developed is to embed "digital dice" right into the activity so students don't need real dice and don't need to click to other sites to access dice. So many dice sites & apps have tons of ads so they are not ideal for kids.
The dice I create are technically a video file that can be played and stopped to "land" on a particular screen. I make sure my dice are random and my video dice do not have ads or other distracting elements.
You can see my digital dice for various interactive learning activities here. This is for the Kindergarten Math pack, but I will have sets for other grade levels as well as ELA topics.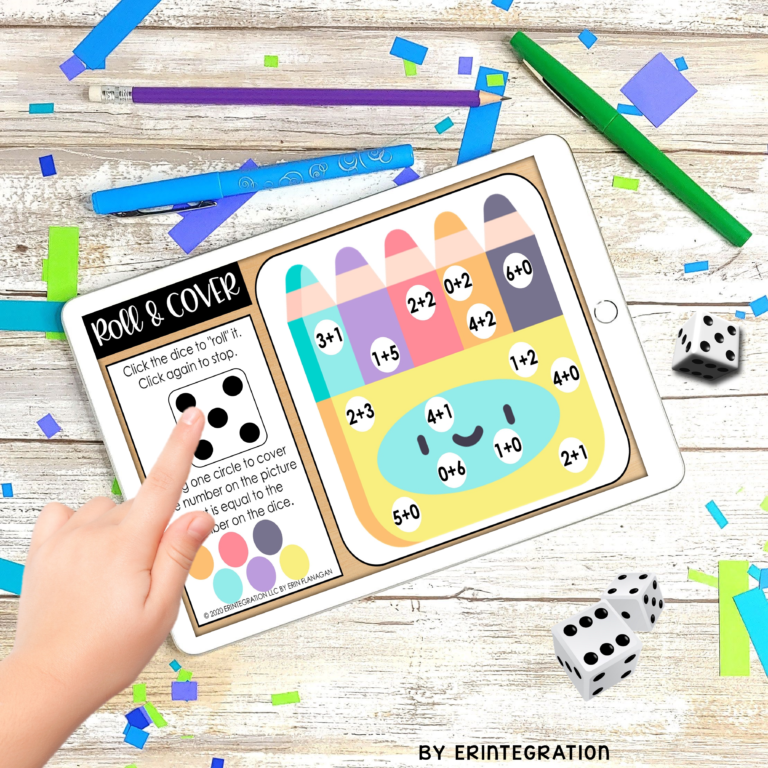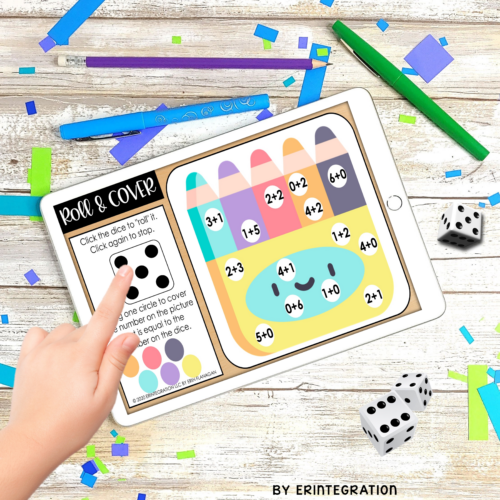 Just like real dice, digital dice can be used in activities to shake things up a bit by adding an element of chance!
Seesaw Creative Tools Digital Dice
I was trying to think of a way to get more students to respond to community building type questions (getting to you know questions, survey questions, etc.) while also providing variety so it didn't get stale. So I created a "dice" using the Seesaw Creative Tools icons!
The dice feature the 5 creative tools that students can select from to respond to a post:
notepad
audio
video
draw
camera
Here is a GIF of the dice in action!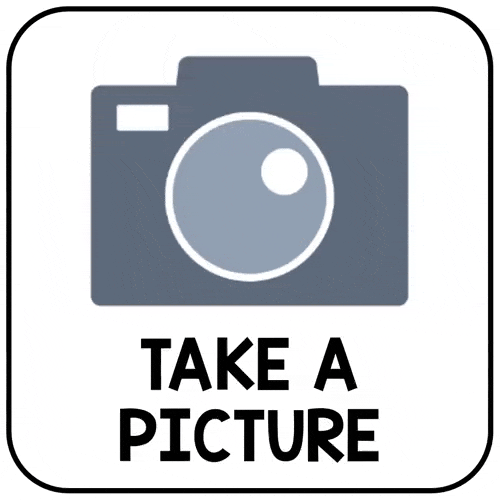 The dice are added to an assignment post so that students will "roll" before answering a particular question.
Students will read the question, open the video, then press play to "roll." The dice cycles randomly thru the 6 creative tool icons.
Students pause the video to "stop" the roll. Whatever creative tool is displayed is the one they will use to respond to the question!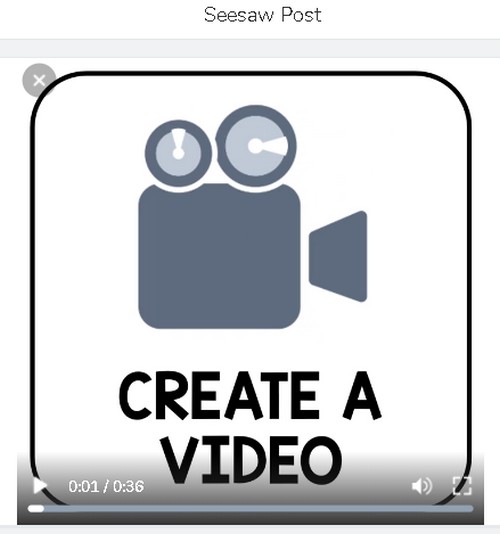 How to Use the Seesaw Creative Tools Dice
After downloading the preloaded activity into your activity library, you will want to open it and touch the 3 dots to edit it. Type the "question of the day" you will ask in the title then assign the activity to your students.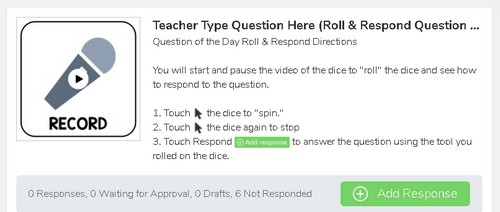 You can do this again and again each time you want to use the activity! Depending on your online classroom set up, you might want to do a question each day or one or two times a week.
There are tons of free question lists that you can cut and paste from for your question ideas.
Other question ideas:
read aloud questions
math problems
questions related to unit you are studying in science and social studies
SEL check in questions
exit tickets
Keep the questions short and open ended for the best results.
Keep in mind that you won't see what students "rolled" so I wouldn't worry if they decide to pick their own tool or roll a few times. Most elementary students enjoy the added randomness, too!
Get the Seesaw Creative Tools Dice FREE
I have the question activity preloaded and ready to go. Sign up for my newsletter below to get the link my free resource library to get it. This particular Seesaw Creative Tools dice activity is free to remix & share on Seesaw!
Subscribers, head to the free resource library and enter the password here.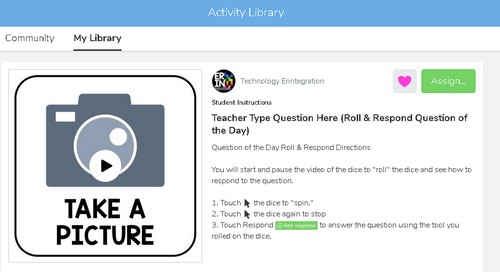 Not a subscriber? Get the free dice activity for Seesaw & more when you sign up below:
If you use this activity and/or these particular dice, credit or a shout out to @erintegration on social media is always appreciated! But please DO NOT use the dice video to create commercial items for sale.