Learn more about the Samsung Solve for Tomorrow contest and how teachers can help students discover the impact of STEM to solve real problems in their communities through the application process. Plus find out to receive free online professional development for project based learning and design thinking.
This post is sponsored by Samsung.
I wanted to share a fantastic STEM opportunity for you and your students whether you are teaching in person, fully virtual or hybrid this year. For the past11 years, Samsung has held a nationwide contest called Solve For Tomorrow with the purpose of boosting interest in science, technology, engineering, and math.
This contest challenges teachers and students in grades 6-12 to show how STEM can be applied to help improve their communities.
In this post, I'll breakdown the simple contest application process (hint: you and your students can complete it together as a standards-based lesson). Plus learn more about the various prizes and be inspired by past winners, too!
Free Virtual Professional Development!
First, let me stress that ALL teachers who enter receive FREE professional development on Project Based Learning and Equity Centered Design Thinking. The 6 hours of free collaborative and interactive PD is delivered virtually, too.
I'll walk you through how to enter later in this post, but it's easy enough and these free sessions look awesome:
Project Based Learning: Educators will develop a strong understanding of the of the Problem Based Learning model and how to facilitate student learning through authentic real-world problem solving.
Equity Centered Design Thinking: Educators will develop a strong understanding of Equity Centered Design Thinking including the design thinking process and how empathy can lead to more impactful, equitable and innovative solutions to real-world problems.
In addition, the prizes for semi-finalists, national-finalists, and national-winners could really be a gamechanger for your STEM, technology, or science program:
Semi-finalists will each win $10,000 in technology and classroom materials
National-finalists will each win $50,000 in technology and classroom materials
National winners will each win $100,000 in technology and classroom materials
The Community Choice Winner will win an additional $10,000 in technology and classroom materials.
Entering the Samsung Solve for Tomorrow Contest is Easy
I'm often intimidated by grants and contest entry procedures. Teachers have a lot on their plate as it is. I'm excited to share with you that the Samsung Solve for Tomorrow initial entry process is super simple.
Brainstorm with your students and come up with a problem or issue in the community (either local or national) that students will work to solve using STEM.
Complete five application questions with your students about your problem and proposed solution.
As I explained earlier, just by completing that initial application, teachers will receive 6 hours of free professional development sessions, so I strongly recommend applying!
Contest Application Tips for Samsung Solve for Tomorrow
The five application questions can be used as part of a standard's based lesson with your students. Both NGSS and ISTE standards deal with design thinking, asking questions, and brainstorming for example.
The five questions to answer are:
Tell us about a problem or issue in your community (local or national) that your students would work to solve using Science, Technology, Engineering, and Math (STEM). (200 words)
How will your students apply STEM to create a solution addressing this problem or issue? (200 words)
Describe in detail the objective of your project (how will the solution work) and the activities your students will participate in to achieve your anticipated goals. (200 words)
How will this solution improve the community? What assessments will you put in place to measure the impact of your solution (pre, during and post project) that can be presented virtually by Spring 2021? (200 words)
How do you plan on making your solution sustainable over time? (200 words)
Student input is important for the process so definitely have them help! If teaching virtually, consider posing the questions to various breakout groups in Zoom or Meet. One past winning teacher recommended breaking students into groups based on strength and interest.
To identify problems, have students brainstorm ideas then decide how to narrow it down. What are students most passionate about? What problem could be solved in the timeframe using STEM?
If you and your students are stuck, consider that this particular year there are many areas of health and safety that could be improved via STEM solutions. Students may have ideas to improve virtual learning, too. I know we have many teachers looking for simple solutions to sharing work, writing on screens, keeping students engaged.
Since ideas need to marinate a bit, I recommend breaking this lesson into chunks. If virtual teaching, you could block off 5-10 minutes over the course of a few days to tackle the questions. If hybrid, students could do some of the brainstorming "offline" and bring ideas to the planned live lesson.
After the initial entry process, 100 applicants will be chosen to advance to the next round. The various stages break down as follows: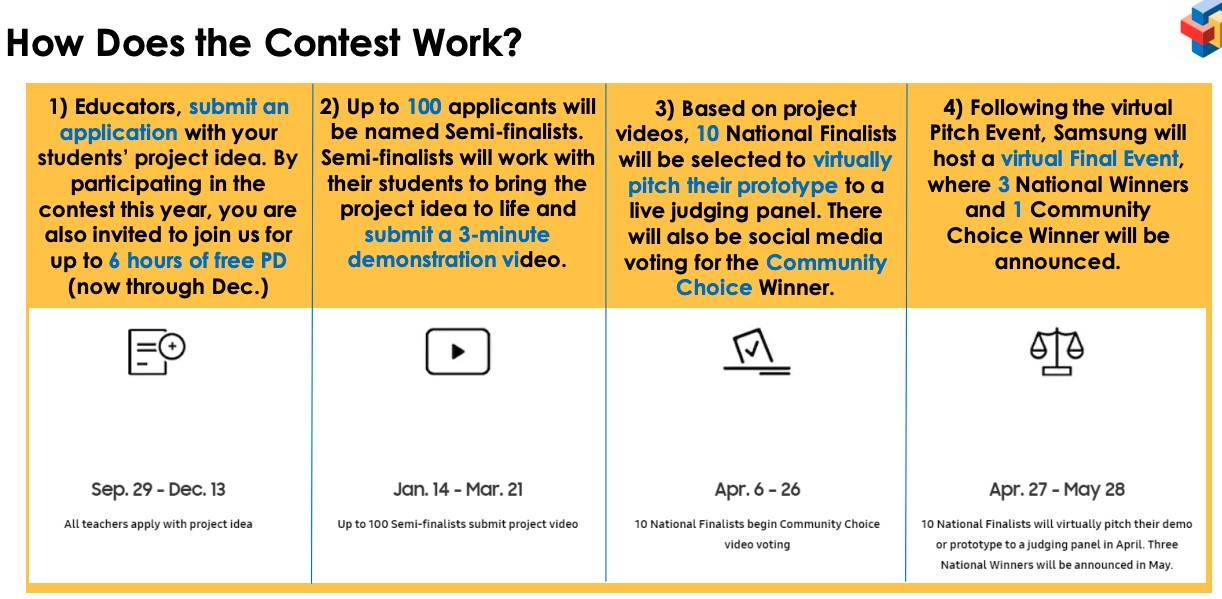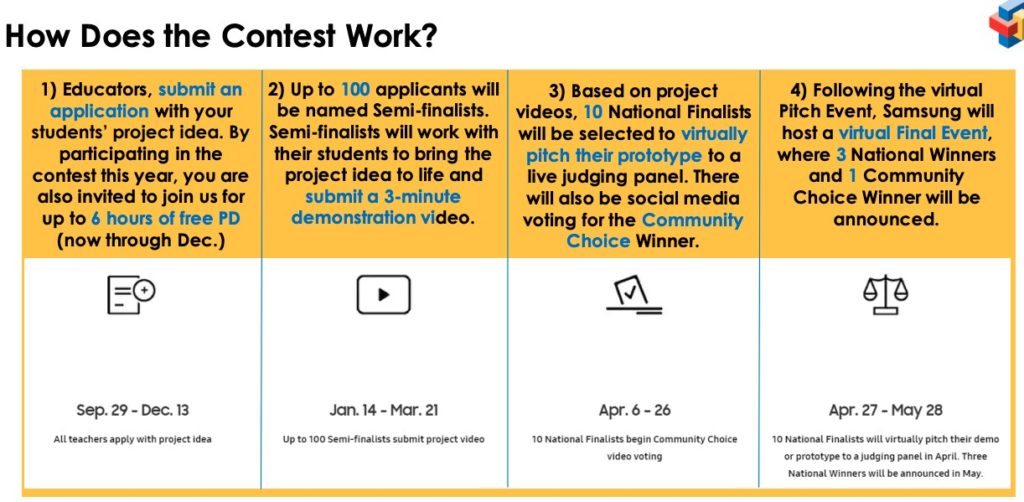 Get Inspired by Previous Samsung Solve for Tomorrow National Winners
What I love about this particular contest is how it sparks student interest in STEM to solve real community issues.
And should your project be chosen as a semi-finalist or finalist, you and your students will get to actually prototype it! Check out these past winners – and be sure to share these videos with your students when introducing the project too!
It really is incredible what these students developed and created!
I loved how many classes reached out to local experts for input and advice during the research phase. This kind of authentic problem solving is a key component of the design process and a meaningful experience for students even if projects are not selected to advance further.
---
I hope you will consider applying to the Samsung Solve for Tomorrow contest this year! Not only is the application process super engaging for your students but you don't want to miss the free professional development just for submitting your responses!
Applications are due December 13th. Feel free to reach out to me on my social media channels to connect or head to the main Samsung Solve for Tomorrow contest page for more details.