Celebrating Pokemon Day on February 27th in the elementary classroom can be a fun and engaging way to incorporate STEM activities and reading and writing practice. Scroll for some low prep ideas that your students will love!
What is Pokemon Day?
Pokemon, short for "Pocket Monsters," was first introduced in Japan on February 27, 1996 with the release of the Game Boy game "Pokemon Red and Green." The franchise quickly gained popularity, with the release of anime, trading cards, television shows, movies and more games. Today, Pokemon is beloved by people of all ages around the world.
Pokemon Day is celebrated on February 27th to mark the date of the first game release. Most of the official celebrations of Pokemon Day are held in Japan, and they include events such as Pokemon Center pop-up stores, special merchandise releases, and Pokemon-themed food and drinks at participating restaurants.
There is a Pokemon theme park called the Pokemon Center Mega Tokyo, which is located in Tokyo, Japan. It is an official Pokemon store that features a variety of Pokemon-themed merchandise, including plushies, clothing, and trading cards. The Pokemon Center Mega Tokyo releases special merchandise and offers discounts on select items. They may also have special meet and greets with Pokemon characters. Many people opt to dress up as their favorite Pokemon or trainer to attend these events!
Pokemon + STEM
The Pokemon franchise and creatures have a few connections to STEM that can be used to engage and educate your students in these subjects.
Biology: The Pokemon creatures are based on real-world animals and plants, and they often have unique characteristics and abilities that reflect those of their real-world counterparts. This can be used to teach children about different animals and their characteristics, as well as concepts like adaptation and evolution.
Game design and programming: The Pokemon games are developed using advanced technology and programming, and they involve elements of game design, such as character and level creation. This can be used to introduce children to the basics of game design and programming, and inspire them to pursue careers in these fields.
Math: The Pokemon games involve elements of math, such as calculating damage dealt in battle and probability of catching a wild Pokemon. This can be used to introduce children to basic math concepts such as probability and statistics.
Engineering: Pokemon live instead Poke-balls. Students can use this idea to create a suitable environment inside the ball to meet their needs.
Art: The Pokemon franchise encourages children to be creative by letting them design their own teams, create their own strategies, and come up with their own ways of catching and training Pokemon. This can be used to introduce children to the creative process and help them develop problem-solving skills.
Pokemon Day + STEM Introduction Activity
Celebrating Pokémon Day in the classroom is a fun way to get students excited about learning and allows students to make connections between their interests and the subject matter, making the material more engaging and relevant to them.
I created a STEM Day Set that can be used on Pokémon Day that also includes reading, writing, and design challenges.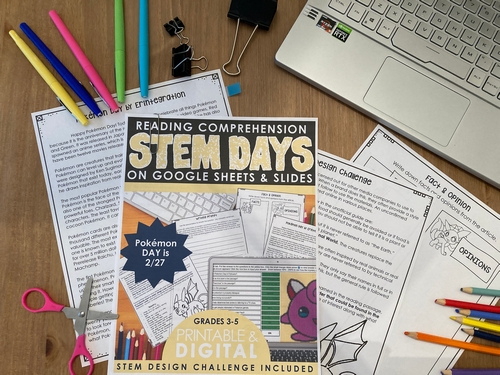 Each activity includes 4 parts that can be completed in one class period.
Part 1: Students read a unique reading passage about the topic. Passages are written at a 3rd to 5th-grade reading level and include content area vocabulary. Students then complete comprehension questions that have them take a closer look at inferences, the author's point of view, context clues, text structure, text features, and more.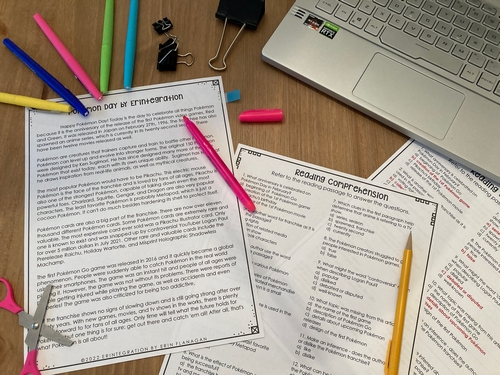 Part 2: Students will complete a standards-based graphic organizer specific to the passage. This passage purposely includes factual statements and the author's opinion for students to identify.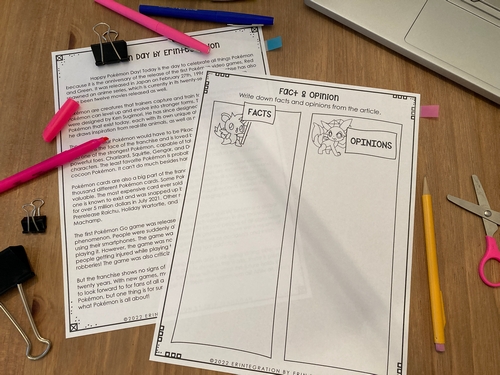 Part 3: Students respond to a high-interest writing prompt. In this set, students will think deeply about the term "franchise" and write their opinion about what media becomes "franchised" over others.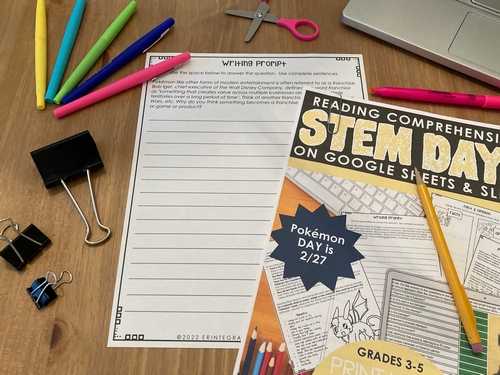 Part 4: Students will complete a fun STEM design challenge! These challenges are very low prep, but still relevant and highly engaging. Students will learn about real world brand design guidelines and design a creature that fits the requirements.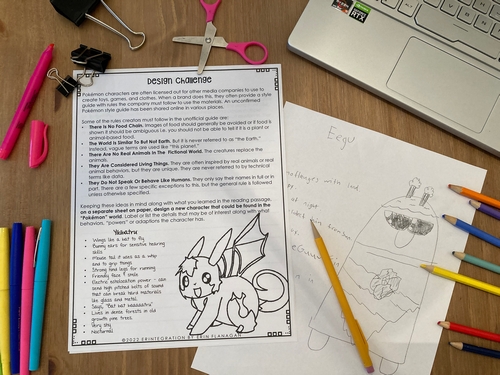 While this entire activity is available as a printable PDF, I also included all elements digitally to assign on Google Classroom, too! In fact, if you are able, I highly recommend the digital version because the passage has audio support and the comprehension questions are self-checking in Google Sheets.
You can easily incorporate STEM into your Pokemon Day celebration with this engaging cross-curricular, standards-based STEM activity!
Get the STEM Day Activities set to use on Pokemon Day here!
More Activities for Pokémon Day
Are are some other fun activities to incorporate into your February 27th celebration. Disclaimer: these are activities available by other creators so I can't guarantee their availability. I'm not sponsored by or affiliated with these blogs.
My Favorite Pokemon Books
While there are MANY books about Pokemon creatures and the franchise itself, I recommend these two in particular because they directly tie into STEM concepts. Both are Amazon Affiliate links so I receive a small compensation if you purchase.
The first from the Toy Trailblazers series is library binding only but it is really well done for kids and worth the splurge (or grab used). I love the idea of connecting STEM concepts to toy makers – this whole series I was lucky to receive ages ago and they are all great additions to your classroom!
For older students and advanced readers, I thought Monster Kids was really interesting and insightful. Rather than just a straight history, there are interviews and a deep dive into the cultural impact of Pokemon, too.
---
I hope this gives you some ideas for setting aside February 27th for Pokemon Day in your elementary classroom!