Upload videos to YouTube right from the camera roll on the iPad with this free guide and video.  Students can upload to a shared class YouTube channel or their own YouTube account (if appropriate) in minutes.  Great way to get some of those large video files off of shared iPads.

My students made something on the iPad…now what?
A question I get asked a lot as the technology integration peep at my school is how to share videos students made on the iPad. Since we are not a 1:1 school, students do not have emails or cloud accounts. Anything they make on the iPad is stuck without our uploading their videos or pictures elsewhere.
I'm sure I've mentioned it on this blog before, but make a class Google account. This is basically a free Gmail address and password that you can share with students. It gets you access to all of the Google goodies, including a YouTube channel.
With a YouTube channel, when students make a video, you can upload them to YouTube.
Here is a simple video from YouTube about how to upload videos to YouTube:
Easy stuff. However, who has time to do that for each student video on each iPad. For me, that would be 19 times uploading. Instead, have your students do it.
Print out this free one page visual guide with step-by-step directions and share it with them. My 3rd graders got the hang of it after a few times.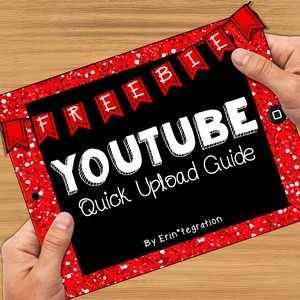 One final tip, after videos are on your YouTube channel, cut and paste each video URL into SafeShare.Tv which will remove ads and those pesky and sometimes PG-13 recommended videos.  You can even make QR codes from your SafeShare.TV links to print and display in the hall for the whole school to scan and see your videos.
Hooray no more videos stuck on the iPad!