I'm a huge proponent of multisensory language programs and looking for ways to incorporate multisensory apps on the iPad into our word work centers and spelling practice.  While not officially certified or even using a specific program, over the years I have pulled bits and pieces from a variety of sources and added them into my reading and word study instruction.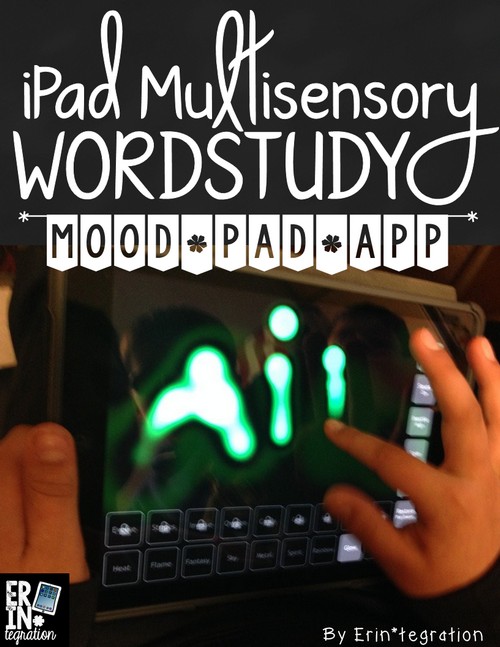 Multisensory language programs typically advocate for whole brain teaching that activates visual, auditory, kinesthetic and tactile learning pathways.  During my word study time, I teach a short drill and review lesson – about 5 minutes – at the Smartboard.  Students then complete some kind of writing practice then move into independent practice.
Since students will have various learning styles, it is important during independent practice time that they are given choice as to how to practice their words in a variety of ways.
To keep things organized, I store the activities in mini plastic bins.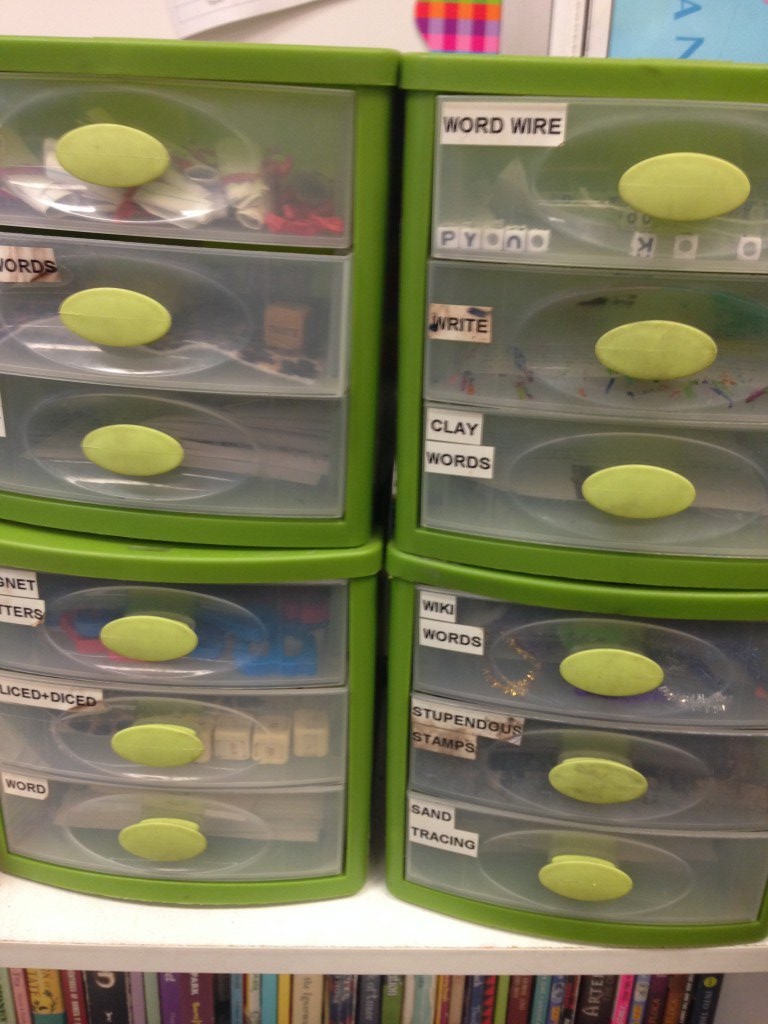 Each bin is labeled with the name of the activity on the front.  These are getting beat up but you get the idea.  All of the materials that are needed are stored inside each drawer with a laminated direction sheet taped to the bottom.  Since the drawers pull out, students can bring the entire thing back to their seat to work.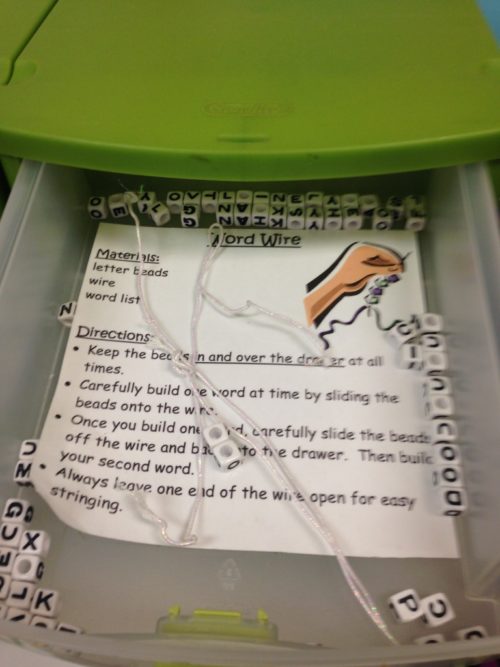 Some of the ways students practice their words are by stringing letters onto beads, making letters out of play-dough, rainbow writing their words, and racing to make words with letter tiles.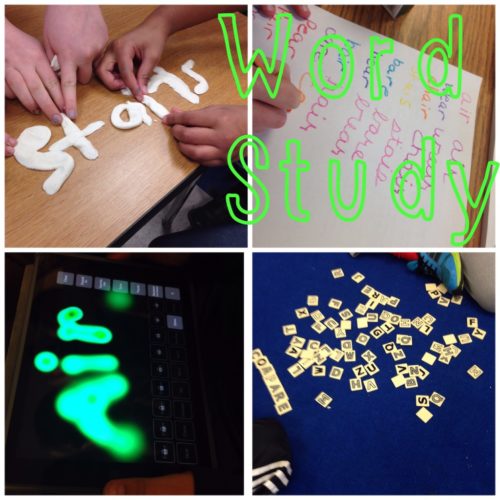 I recently began to add iPad activities into our multisensory independent word study time.  I have several criteria when bringing a new app into the fold for word study.  In order for the app to be considered "multisensory" students must be using it in a way that promotes tracing, moving, manipulating and listening.  Apps that only have students type the words need not apply.  I also choose apps that allow for students to have control over which words to practice.  That way I know students are practicing the specific pattern assigned.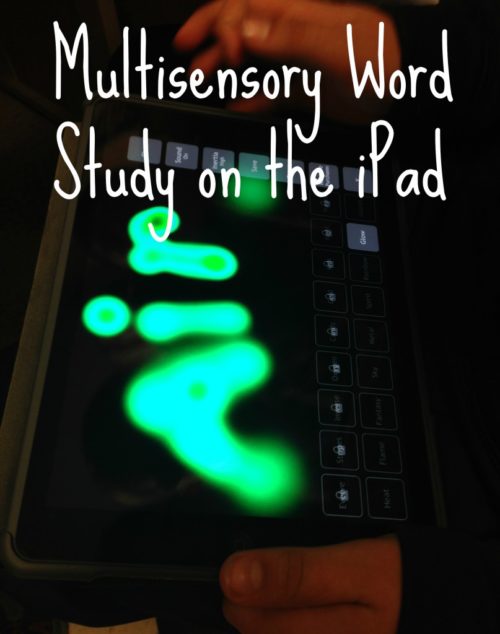 My plan is share a post for each of the apps currently on my iPad word work menu for students to choose from.  You can see the whole list this Thinglink Thursday.
I blogged about Sand Draw here and linked to a freebie for getting your student started using the free app Sand Draw to write words in the sand.
Next up is the free app A Mood Pad.  There are actually several free mood pad-equse apps, but the one we use has the article "A" in front of the title.
Mood Pad basically turns the iPad into a heat sensitive surface.  Students trace the letters on the screen using various pressures to make words.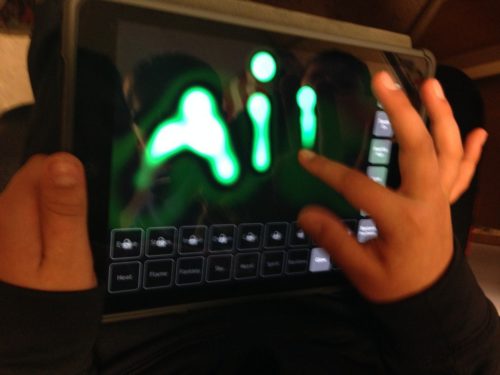 There are options for colors, but no option to save or take screenshots.  Students can either practice writing their word list or write words that you or a partner calls out.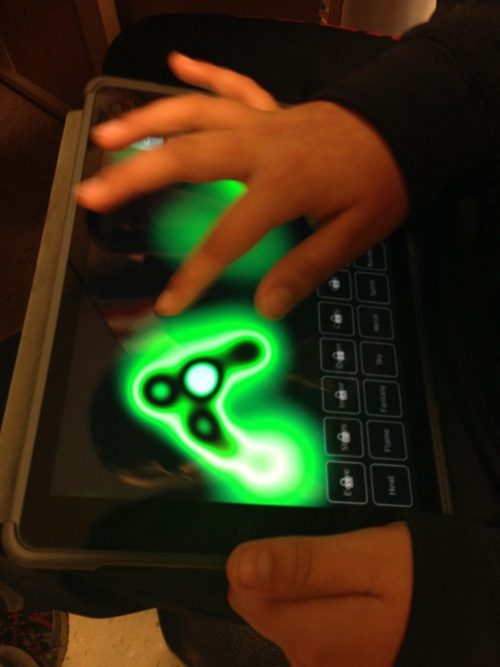 Looking for more multisensory apps for word work?  I share 9 of my favorites here or check out the bundle of 15 different apps, choice menus, and more here.