The tablet stands for the classroom you purchase will depend on the devices you have, the ways you use them, the ages of your students, and your budget.  Or if you are like me, you will buy all of them and realize you have an unhealthy collection of tablet stands.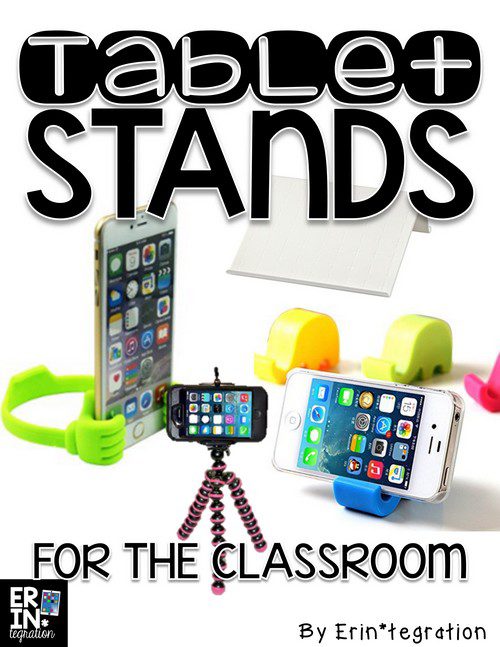 The good news is, I can share with you some of my favorites and what they are best used for in the classroom. There are affiliate links – read my disclosure here.
Honsky Thumbs Up Tablet Stand
The Honsky Thumbs Up Tablet Stand is best used for smaller devices like iPhones, iTouch, iPad minis and Kindles if you use it as described.
I like that it stands the device straight up which works for filming and taking photos.
I also use these with full sized iPads by laying the iPad onto the thumb part.  The downside to this particular device is it is easy to knock over the set up if students are not careful.
Flexible Tripod Stand
I use this Flexible Tripod Stand to hold my iPhone when we are taking video or photos in class.
I like how the clamp adjusts to fit any smart phone case and you can wrap the legs around things to stabilize it.  It can be a little cockeyed so it will take a slight adjusting before filming or taking photos.
MaxRock Elephant Stands
I use these little elephants to stabilize my iPhone, iTouch, Kindle, and my iPad (you will want several under the iPad).
They are squishy so not the most stable, but popping a few under an iPad works well when students are listening to a story or watching a video on the iPad.  I would not recommend using this if students will be touching the iPad frequently for example.  The other drawback is they are relatively thin and will not work with the thicker cases.  I do like how easy they are to use – younger students would have no trouble setting up a small device with these versus some of the more complex stands.
Ikea Isberget Tablet
My favorite stand of all time, the Isberget Tablet from Ikea, is also the cheapest and most versatile.  They are only available at Ikea – in store and online – and for $1.99 it is well worth the trip or the cost of shipping.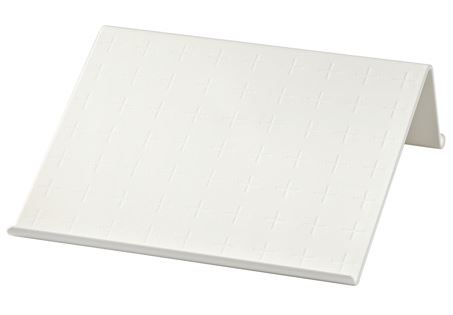 The Isberget is large enough for Chromebooks and can support iPads both horizontally and vertically with a variety of cases. The downside is that the angle is best used for games, apps, and viewing videos and reading.  It is way too low to use for filming or photos.
---
Since each tablet stand has a specific pro and some cons, I do like having a few different styles on hand because it really depends on the project we are doing.  Since all of the stands above are relatively inexpensive, I keep a stash at school that my students share.  What kinds of stands are you using in your classroom?