Digital Task cards on Google Classroom are differentiated, engaging, and utilize all of the benefits of the platform. Lyndsey from the blog Lit with Lyns shares how she uses Digital Task cards in her classroom.  She offers some great ideas on how to have students collaborate and a genius work around for differentiating group assignments on Google Classroom too!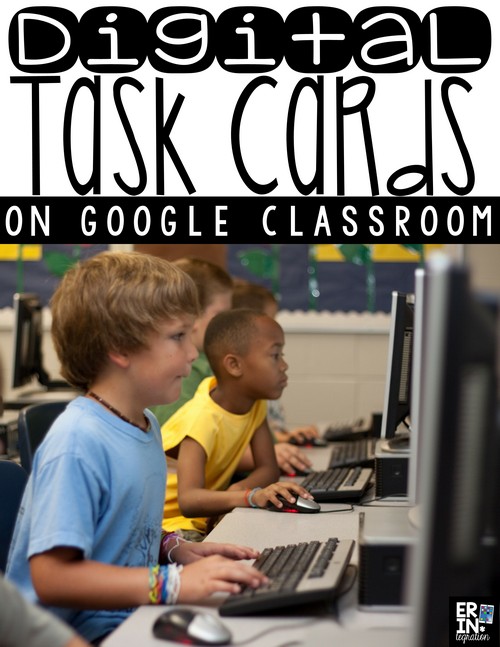 As many schools move more towards 1:1 classrooms or adding additional computer labs when possible, it only seems natural to begin finding ways to integrate the traditional lessons we have found to be effective by making them
digital.  With this in mind, I started thinking about what it is that my students love to do in class.  Over the last couple of years, task cards have become my go-to activity.  The kids absolutely love them and sort of look at them as a game.  What else do kids love, almost more than life itself…technology!  So it was a no-brainer when I decided to incorporate the two and create digital task cards.
What are digital task cards?
In my classroom, they're just like the printable version, but they're uploaded on a program such as Google Classroom, Edmodo, or whatever program you choose.  Before assigning through Google Classroom, I first go to Google Slides and upload the task cards that I want my students to complete.  By uploading them to Google Slides, this automatically saves the task cards to my Google Drive.  Then, once I'm logged into Google Classroom, I can create and assign the activity, directly from my Google Drive.
For step-by-step directions on creating assignments in Google Classroom, click here.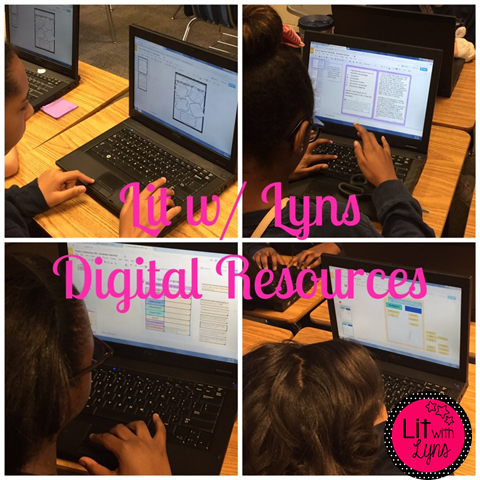 Next, I decide whether or not I want all students to complete each task, am I going to differentiate by assigning certain kids certain tasks, or do I want to put students into groups and have each group complete certain task cards.  It all depends on the skill we're working on, but my students personal preference is to work in groups.
One of their favorite digital group activities was the Digital ELA Test Prep Task Cards.  This includes 20 point of view, 14 text structure, and 36 vocabulary task cards.  You can access a FREE printable sample of this item here.
Differentiating Digital Task Cards
With Google Classroom, there isn't a way to assign particular students a specific assignment without everyone seeing it in their 'stream.' This meant that I couldn't assign each group a different assignment, without it coming up as an
assignment that was due for each student in the class.
The way I worked around this was to assign each student to a specific group, and on the assignment title line, I would state the group #, as well as the members' names that were in this particular group.  That way, students knew that if their name wasn't listed, they didn't have to turn this assignment in.  That also allowed them to see who their other group members were: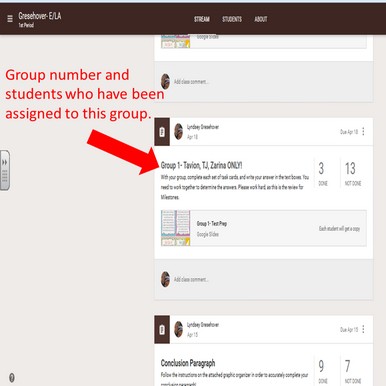 Once students got into groups, they chose a group leader, who then collected all of their group members' emails and added them as collaborators for the group assignment.  To add collaborators, all the leader has to do is click on the blue "share" button:
Then they will enter each group members' email and choose "Can edit" in the drop down menu: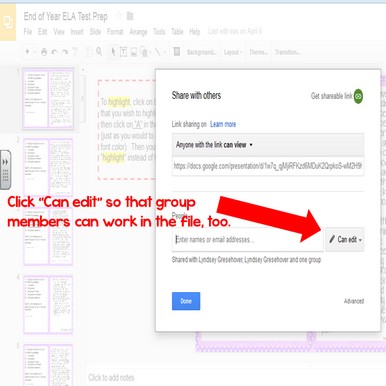 This allows them to work on the activity at the same time, and they can see what each member is writing.  If they didn't agree on the answer of one of the members, they can post a comment directly onto the page, in order for them to discuss this.  This also is helpful if you want to prevent students from sharing answers out load, allowing other students to hear.
Instant Feedback with Digital Task Cards
In addition, the teacher is able to access students' work in "real" time, while they're working on the assignment; therefore, if you notice a group that seems to be having issues or is off task, you can comment directly onto the document they're working in, and provide immediate feedback to help them move forward: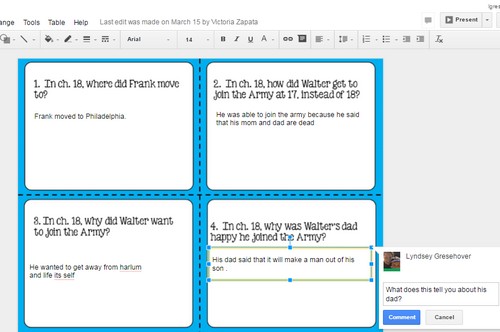 Once the group leader has added the other members as collaborators, then they are ready to begin working on the task cards.  I had students complete approx. 4-8 task cards a day.  For example, on the first day, group 1 would begin by working on the first set of task cards–task cards 1-8, group 2 would begin with task cards 9-16, group 3 w/ task cards 17-24, and so on.  Then on the second day, group 1 would do task cards 9-16, which is where group 2 started on the first day.
In other words, if students completed all the task cards that were assigned to their group, then they would move on to the task cards assigned to the next group.  Of course, if at any time a group didn't complete all of the assigned task cards, then they could have a few minutes on the following day to finish these, or they could work on this for homework.  After they had finished their assigned task cards, then they would each turn the assignment in through Google Classroom and this allowed me to see exactly who had completed the assignment and who had not: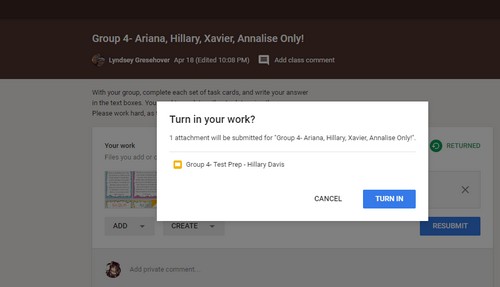 Task Cards and Google Classroom have definitely became a game-changer in my classroom.  I would love to hear how you have used digital task cards and/or Google Classroom with your students.  Please tell me all about it in the comments.
---
About the author
I am Lyndsey from the blog
Lit with Lyns
, as well as the
TPT
store by the same name.  I have developed a passion for creating and sharing activities that integrate technology and promote active and engaged learners.  I have been teaching middle school E/LA for the past 13 years.  In my spare time, you will most likely find me at the baseball field, where both of my sons play throughout the majority of the year.