International Dot Day is just around the corner and if you have iPads, I have some apps to help students create dots and share how they will make their mark on the world.  Scroll down for 6 iPad apps for International Dot Day and how to use them…plus grab a FREE app QR choice menu! (Looking for Chromebook or PC digital projects?  Click here.)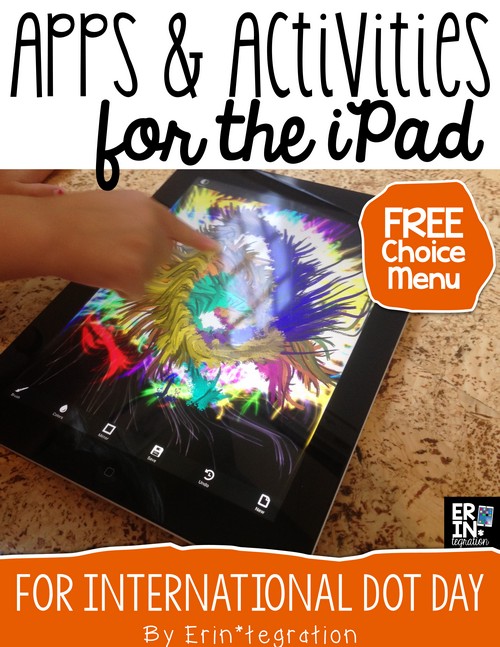 Celebrating that first "dot," we all must create to get started in all endeavors, Dot Day is inspired by Peter H. Reynold's fantastic picture book The Dot.  First, sign your class up and get more information here.  Then on or around September 15th, read your students the book The Dot, and have them use their iPads to create their own dots! Grab the book here with my Amazon Affiliate link:
Make Digital Dots for International Dot Day
First choose an app to create digital dots.  You could use the old stand buy, Doodle Buddy, but I wanted to use some different apps.  I made a choice menu and had students select which app they wanted to use.  I also made sure to explain that some apps will not create a circle so they would need to crop it with Insta Shapes.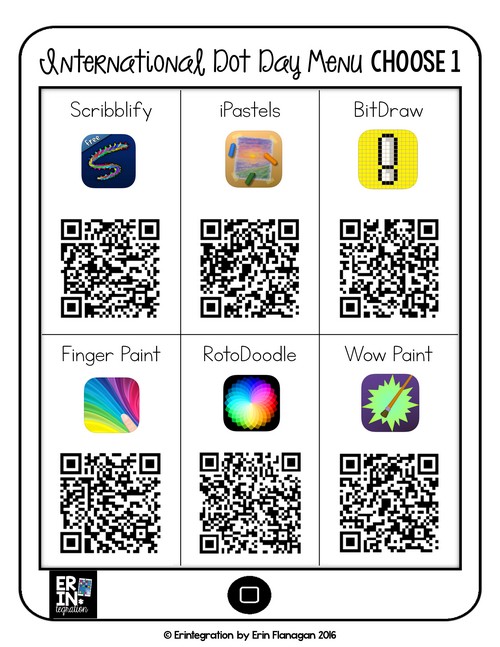 You can download the choice menu of the apps here for free.
Make Your Mark with Scribblify Free App
Scibblify Free comes with many different brushes and backgrounds so students can really get creative.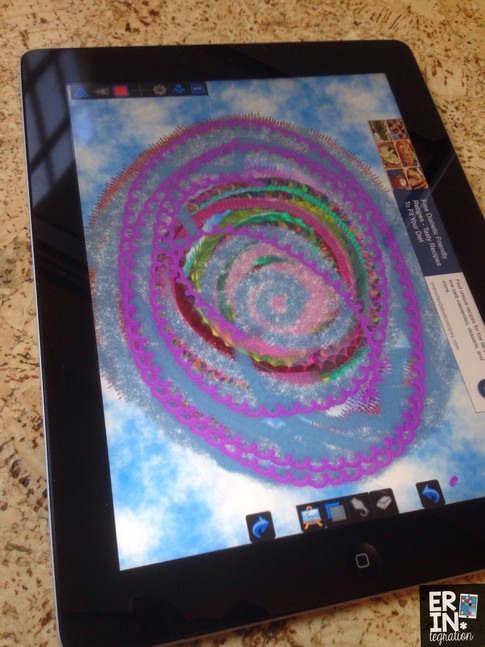 My students especially liked the glittered texture rainbow one.
Make Your Mark with Fingerpaint Magic
I love the free app Fingerpaint Magic for wordstudy but it can also be used to make swirly dots.  There are lots of options for manipulating the paint so every dot will look a little different.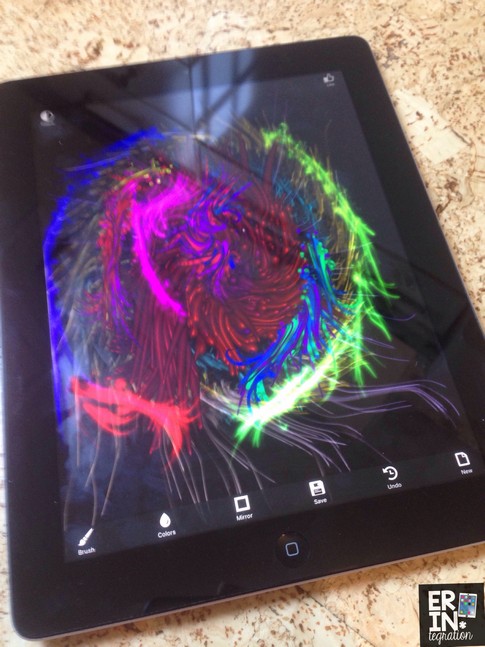 It is a little tricky to keep the circle shape as many of the "paint" options "bleed" when you press, so we uploaded out finished images into the free cropping app Insta Shapes. We then selected the circle crop to our image was now a perfect "dot!"
Make Your Mark with iPastels
iPastels is exactly what it sounds like – digital pastels.  Use this app for more "zen" dots.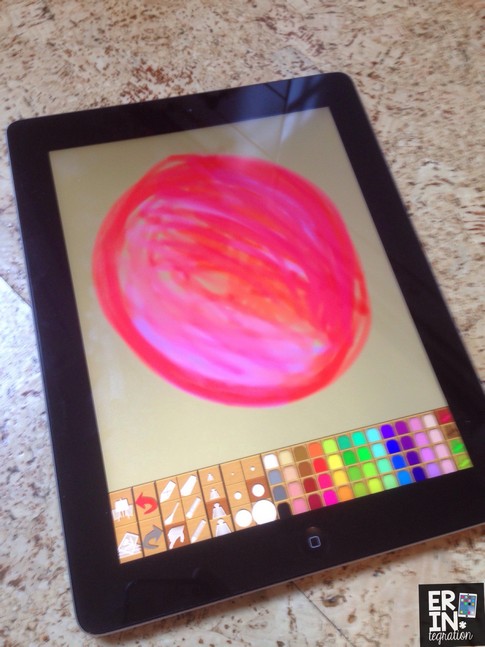 Students really liked the realistic blending effect.
Make Your Mark with BitDraw
Minecraft-loving students will really enjoy the free app BitDraw for creating a dot in a 2D block style.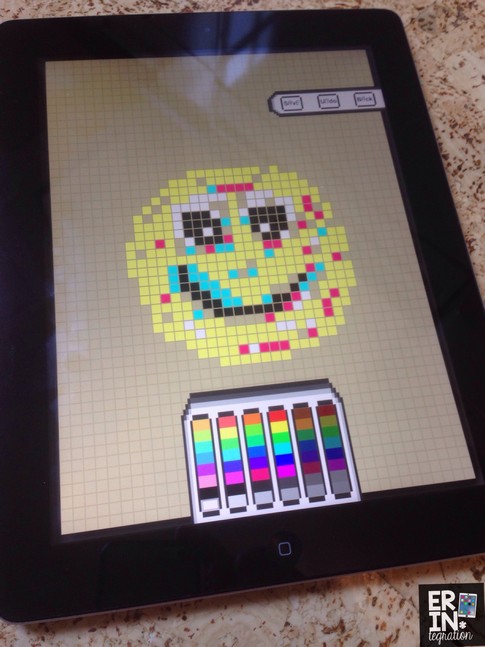 Just like with Fingerpaint Magic, finished images in BitDraw may need to be cropped with Insta Shapes.
Make Your Mark with RotoDoodle
Creating a digital Spirograph with the free app RotoDoodle is another neat way to make a digital dot for International Dot Day.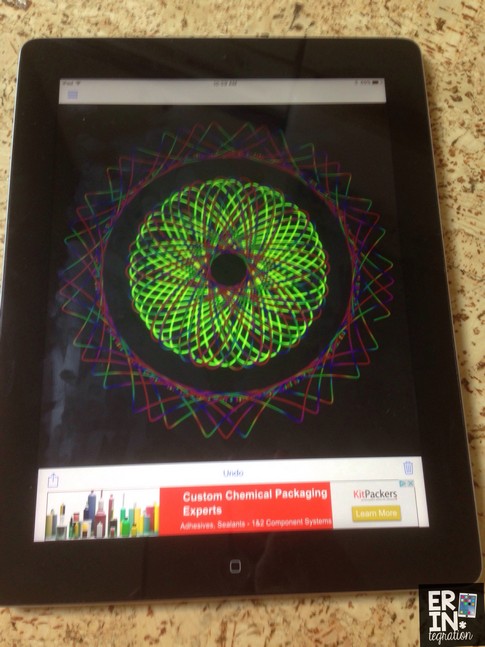 Students had a lot of fun with all of the options, and they especially liked layering the various effects.
Make Your Mark with Wow Paint
Another standard "art" app with various pens, Wow Paint stands out because of the 3D pen option.  Even though it looks like virtual reality animation from the 80s, students were obsessed!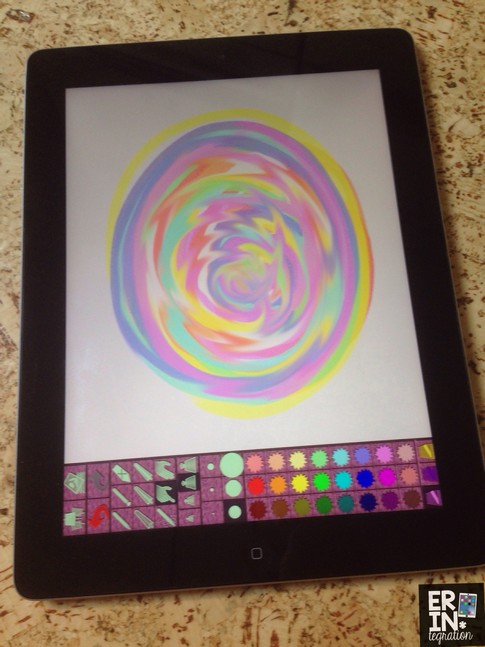 This app also had a neat blending tool (the finger button in the image above).
---
Make Dots Talk
Now that your students have created their dots and saved (or screenshot to camera roll if save button not available) their dots, cropped if needed using the free app Insta Shapes, you can have them upload the image into Chatterpix, TACU, or YAKit Kids to make the dot "talk."
What does the dot say?  I had my students say how they were going to make their mark on the year.  You could also have students take it further and explain how they will make their mark on the school or the world!
Share Digital Dots
You could make a QR code to link to each dot video, or if feeling really fancy, print the dots, then use Aurasma so that students can scan the dot to see their video.  I have done it both ways but I have also had students upload their videos to Google Drive where I gathered them all, download the videos to one iPad then joined them in iMovie for one giant dot movie.  If all of that seems overwhelming, have students sit in a circle with their iPads and one at a time, they can stand and share.  If you happen to have an Apple TV they can even project as they share.
---
How are you going to celebrate International Dot Day this year?  Don't forget to sign up and share on the official website!