Celebrate May 4th in the classroom with these engaging technology activities and projects for teaching, reviewing, and celebrating the universe, outer space, stars, and the solar system. May 4th is known as Star Wars Day and has been an unofficial celebration of all things outer space and Star Wars for many years.  The reason makes sense if you say, "May the Fourth" as it is a reference to the famous line from the movies, "May the force be with you."  I had to have this explained to me by a student so don't feel bad if it didn't jump out at you right away either!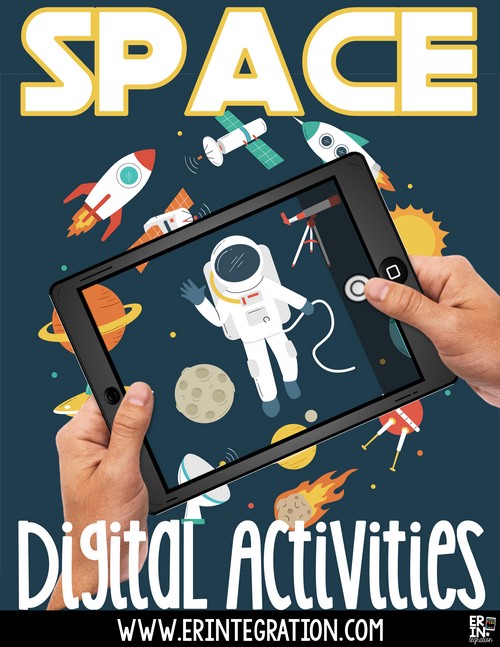 May 4th is also the perfect time to introduce or review space and the solar system in the classroom since each year it seems to be a bigger deal; even students who are not fans of the movies usually know some of the iconic characters and references.  Since space exploration has such strong ties to technology, it also makes sense to approach May 4th as a day to integrate technology into the classroom, too!
I've gathered up some of my favorite technology projects and activities, websites, and apps for a variety of devices for teachers looking to celebrate May 4th in the classroom or these can be used whenever you teach a space or solar system unit.
Set up May 4th in the Classroom Celebration
First, set up the classroom to get students excited.  I created an Amazon shopping list of some books and products I recommend for your classroom. The following list contains affiliate links, but my opinions are my own:
May 4th Classroom Celebration Books and Decorations
I suggest displaying a bunch of on-topic books as well as creating a bulletin board that students see first thing when they enter the classroom.  I mix in biographies and picture books in addition to a large selection of various informational text.
Second, decorate the classroom a bit.  Depending on time, you can do a bulletin board or the whole room! I created an editable and flexible Space Bulletin Board Set that can be used on May 4th in the classroom or any time of year.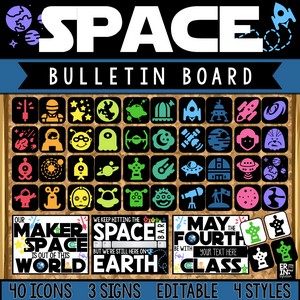 Here are some ideas for displaying it: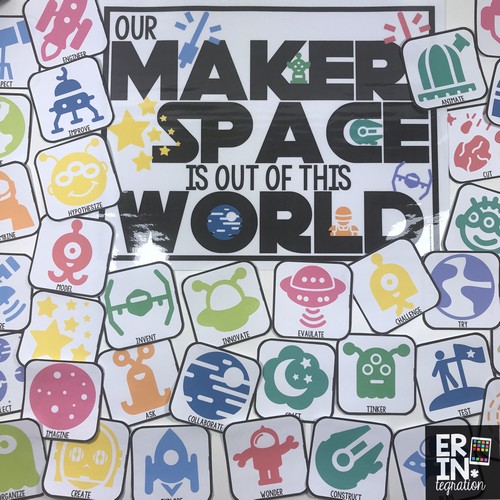 For the above display, I printed the included white background set with colored icons.  Since the PDF is editable, you can type whatever you want onto the icons.  In this case, I typed a bunch of makerspace vocabulary words.  This would look great hung above a makerspace with supplies for building spaceships, aliens, etc.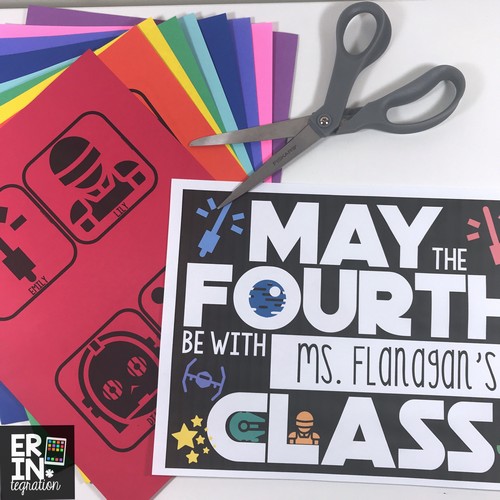 Print the set of blackline icons with student names typed on them to decorate a classroom door, bulletin board or use as desk name tags.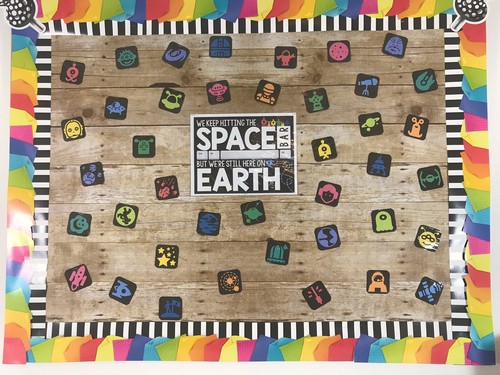 Finally, the above bulletin board display idea was created by printing the set of icons with the black background.  Since the sign references a keyboard, it would work well in a technology lab or classroom with Chromebooks or laptops.  You can add student work or QR codes that link to digital student work later.
To transform the room on May 4th, rearrange desks into a semi-circle like NASA's Mission Control.  Hang cheap plastic table cloths on the walls and decorate with star stickers.  You can also hang stars from the ceiling.  I also love having inflatables of the planets hanging around for fun.  I even found a rocket-shaped tent for around $30.00 on Amazon, but you can also just use a large cardboard box and have students turn it into a rocket with markers and paper.  All of my finds are linked above in the Amazon list!
Play Space Digital Scoot on May 4th
I created a space version of digital scoot that will work on devices with Google Slides.  It has engaging survey questions, graphs, short response, and more all with a space theme.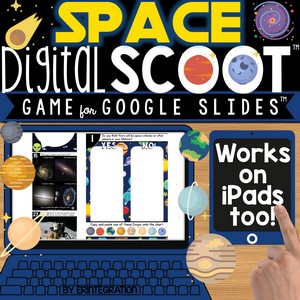 While most questions are focused on facts about outer space, I also included some just for fun surveys about favorite movies, androids, and aliens to tie it into May 4th.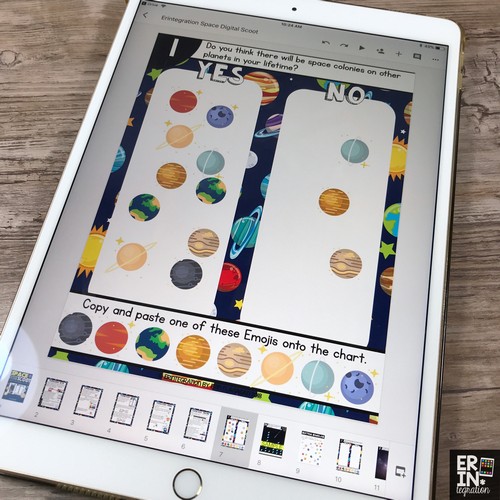 I recommend playing this scoot early in your May 4th celebration as you will generate a lot of discussion topics and introduce the theme of the day.  Some of the questions function as the "W" in a KWL chart.  On slide 24, you will be able to see at a glance what topic interests your class: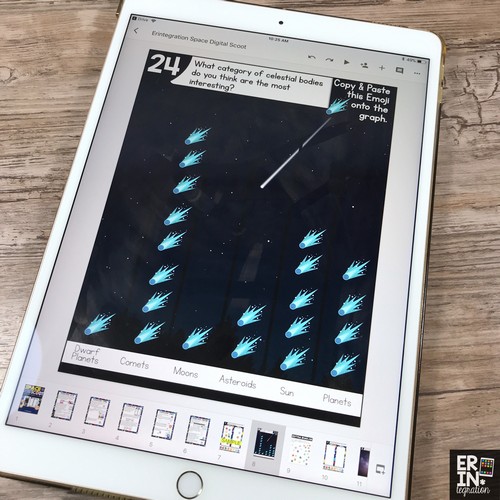 It will get students thinking about space and space travel, too!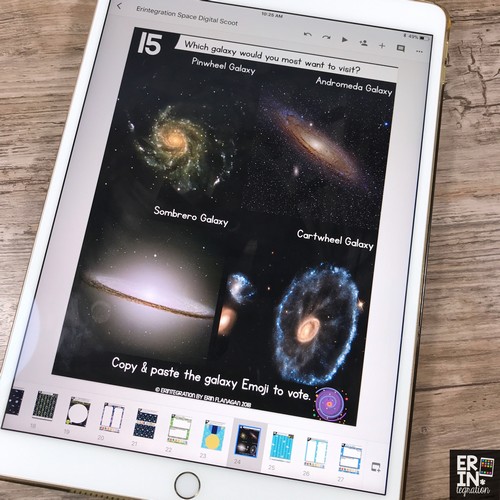 Explore Outer Space with Google Apps on May 4th
If you have access to Google Cardboard and have a free account with Google Expeditions, the virtual field trips to the solar system and the space station are amazing.
If not, students can visit the Moon and Mars, on both Google Maps and Google Earth.  Or allow students to search other places in outer space on Google Sky. This Google Maps Space site has a bunch of locations to investigate including the Space Station!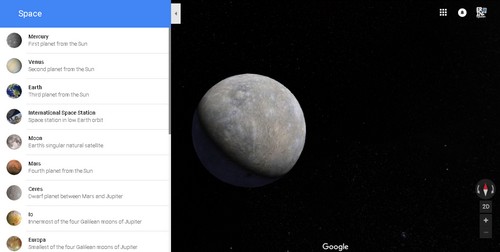 Give students time to just explore the sites and instruct them to find one area of interest to share with the class.
Research a Planet or Celestial Body in Our Solar System
Assign or allow students to choose a planet or celestial body (sun, asteroid, dwarf planet, etc) in our solar system.  If you have access to iPads, I created a Solar System project for the iPad that has students researching on the NASA website then creating a Chatterpix and Popplet to share their learning.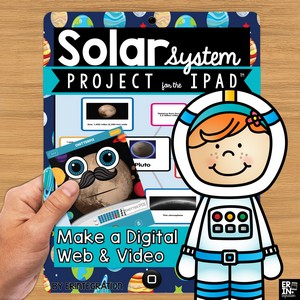 While there are many solar system websites out there, I really recommend the NASA site first and foremost since it is always up to date and accurate.  However, the site is so huge and not very student friendly to navigate, so I made QR research mats that students can scan to go directly to the planet's information page on the NASA site.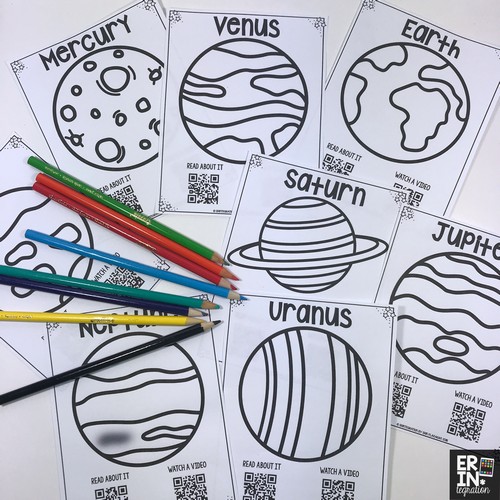 Just for fun, I kept them blackline so students can color them.  Plus, I linked to a song on YouTube about the planet.  There are also mats for the sun, asteroids, and the moon.
Students can use the included planner to write down facts they learned. Younger students can use the included script to write a short a paragraph about their planet.  I find a script helps students practice their fluency instead of trying to remember what they are going to say!
Next, students use their colored picture or a photo from the web in Chatterpix.  They record themselves reading the script into Chatterpix and use the included directions to help.  I also included directions for combining Chatterpix videos into longer videos using the free Apple Clips app since many of our solar system videos went over the allotted time on Chatterpix.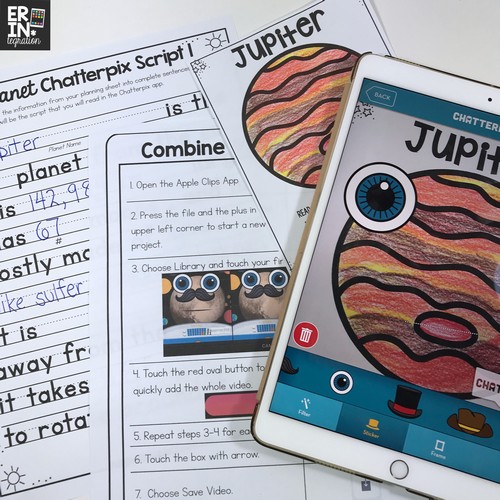 Older students can use the directions to create a Popplet informational web about their planet.  Popplet allows them to include both text and images.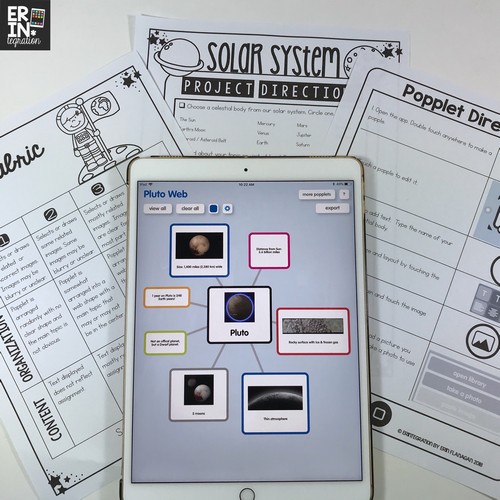 Since the resource includes two ways to display work – Popplet or Chatterpix, it would be a fun way for older students and younger students to pair up on May 4th and work together, too!
If you do not have iPads, my friend Julie The Techie Teacher has an interactive research template on Google Slides you should check out and/or use Study All Knight's fantastic paper resource companion for Scott Kelly's book "My Journey to the Stars."
Study Constellations on May 4th in the Classroom
Another topic that is a fun May 4th tie-in are stars and constellations.  Since May 4th is Star Wars Day, after all, it makes sense to learn a bit about the REAL stars of the sky, too!
With everything there is to learn about space, why spend time on constellations – a concept that seems dated considering our modern understanding of the night sky?  I heard an astrophysicist speak years ago, and he mentioned that having kids go outside to look up at the stars and find constellations inspires the wonder and questioning that got our ancestors first interested in the universe.  So don't forget that inspiring imagination and wonderment is a huge piece of science. One day a kid is connecting stars when looking at the sky in her backyard and 20 years later,  she is calculating the trajectory for a rocket launch!
Sadly, a truly dark night sky is something that most of us will never experience, but with the help of some apps and imagination, students can "see" the sky the way it looks without street lights and city lights. Introduce students to the concept of "light pollution," with this short article on NatGeo Kids then read Star Gazers by Gail Gibbons and/or Zoo in the Sky by Jacqueline Mitton.
The
app SkyView
allows students to hold the iPad up to the sky and see where certain stars are located. On Chromebooks, the
extension Planetarium
allows students to explore the night sky by moving their mouse around the screen.
Next, have students create and write about their own constellation.  I created an autogenerating "constellation" on Google Sheets.   Here is how the activity works:
Students can refresh the sheet to create a new constellation.  Once they have a shape they like, they save the constellation as an image.  They insert it into the Google Slide and then use lines to connect the stars by copying and pasting the line on the slide (or they can insert and edit their own lines).
Finally, have students write a few sentences about why they created their particular constellation and when/where/what time their constellation can be seen.
If you are already a subscriber to Erintegration, grab a copy of the slideshow and constellation generator FREE in my resource library.  Not a subscriber?
Get this activity and more FREE By Signing Up Below
Do you plan to celebrate May 4th in the classroom this year?  Be sure to tag me on social media if you celebrate May 4th in the classroom with any space-themed technology activities!