Digital graphic organizers can be used on all devices and with many free apps, websites, and programs. Get 25 digital graphic organizers FREE and learn how to use them in Seesaw, Google Slides, and Pic Collage!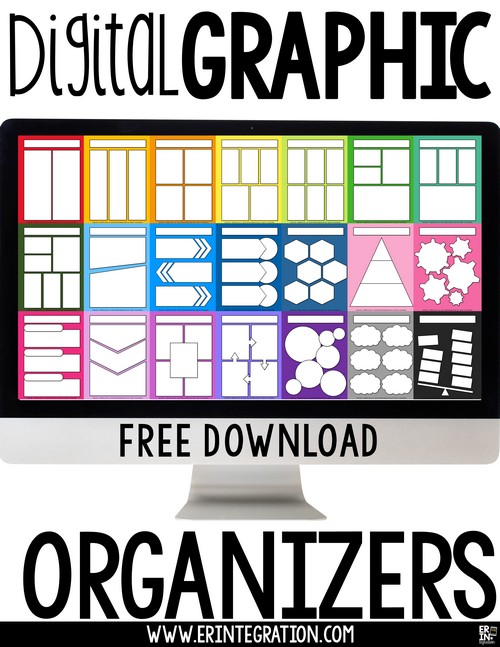 By using graphic organizers digitally, you can save paper and give students many options to customize and personalize their work.
Get the Free Digital Graphic Organizers
I create and save my graphic organizers as an image file since they will give the most flexibility as far as how and where they can be used. Grab the set of graphic organizers by signing up to my newsletter. If you have already joined, you can find the download in the free resource library.
The set of 25 images comes with colored and transparent backgrounds. I love to use transparent graphic organizers to give students even more control over the final look of their work. Or you can add backgrounds that fit the theme or activity before assigning to students.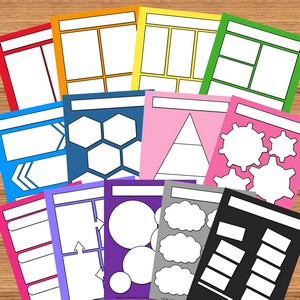 Sharing Digital Graphic Organizers with Students
After downloading, you will need to share the organizers. I recommend using Google Drive for this – upload them to a folder and share the link to the folder with students either via Google Classroom or another secure site.  Students can then make copies of the organizers to add to their own Google Drive.
*If you are using my organizers, please do not share them or uploading them publicly.
Many teachers prefer sharing via Seesaw. If you have a strong connection, you can share via AirDrop too!
I suggest frontloading students with all of the digital graphic organizers in the beginning of the year so they have them either in their Drive (if using Chromebooks) or in their camera roll (if using iPads).  That way you only have to share them once.
Have students create a folder in their Drive or Camera Roll called "Graphic Organizers" to find them quickly.
Using Digital Graphic Organizers on Google Slides
After receiving a copy, students can set the graphic organizers with the colored backgrounds as the background in Google Slides or Google Drawing. They can then add text boxes and image on top of the organizer.
However, I like my students to be able to change the background and still use the organizer. To do that, I create and share a Master Slide on Google Slides. In Google Slides, click View > Master Slides. I add a new slide and title it the name of the organizer. Next, I insert the transparent graphic organizer AS AN IMAGE right on top of the slide. I leave the background white.
Then I assign this slideshow to students in Google Classroom. The image will be locked down BUT students can still edit and add their own background!
Using Digital Graphic Organizers on Seesaw
Have students set one of the graphic organizers with colored backgrounds as a background in Seesaw.  From there they can draw, add text and Emojis to complete it.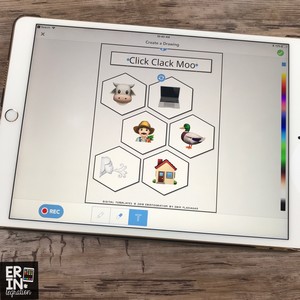 Seesaw will not allow the background to be changed and does not allow pictures to be layered. So you will be more limited with Seesaw, but it is a great way to get students used to organizing their ideas digitally.
Using Digital Graphic Organizers on Pic Collage
If you use iPads, I recommend Pic Collage for completing digital graphic organizers because you can layer images, add text, emojis, and even draw!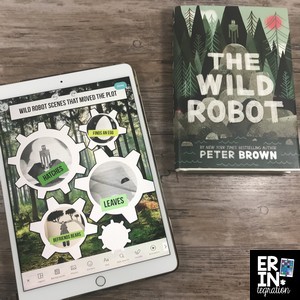 Pic Collage has an in-app web search so students can even add pictures right from the web.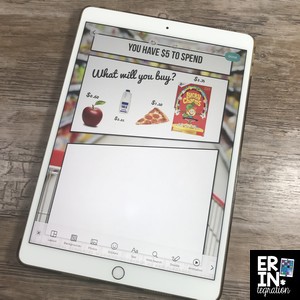 Pictures can be edited, cropped and duplicated too.  Pic Collage creations can be shared in SeeSaw since they save as an image.
On Pic Collage, after sharing the digital graphic organizer, students save it to their camera roll as an image.
If using the colored background organizer on Pic Collage:
 Select plus then background.
 Touch the image icon to open the camera roll.
 Select the organizer and it locks down as a background.
 Add pictures from the camera roll, text, Emojis and search the web to add content to the organizer.
If you are using the transparent version on Pic Collage:
 Press the plus then image and select the organizer. This inserts it onto the collage as an image.
 Pinch to stretch it to fit the canvas.
 Lightly "shake" their iPad and select "Straighten" to make sure it is straight.
 Press plus and choose Background.
 Touch the search icon and search the web for a background.
 Save the template, open a new Pic Collage and set the template just created as the background (so it doesn't move around when text, images, and Emojis are added).
Assignments for Digital Graphic Organizers
The 25 templates in the free resource library can be used in any subject area with all grade levels.  I left a white rectangle for you or students to title the graphic organizer. You can use them to:
Practice applying a certain reading skill.
Use organizers to practice problem-solving in math.
Plan a piece of writing.
Create visual notes in science and social studies.
Since the organizers are digital, students can add photos, text, Emojis and even images from the web – so the potential for creation and opportunity to "show what they know" is almost limitless!
With younger students, I suggest assigning specific organizers for specific tasks.  I suggest giving older students more choices as to how they want to organize their information.  So for example, if you want them to take notes on 3 characters from a novel, they may opt to use various organizers depending on the amount of text or pictures they include.
Digital graphic organizers also make differentiating a breeze since you can assign different organizers to different students.
---
How Do You Use Digital Graphic Organizers?
Any ideas I missed or programs you recommend for using digital graphic organizers? Also, be sure to tag me if you are using my digital graphic organizers in the classroom!