This is a roundup of Balloons Over Broadway STEM activities and lesson ideas – both with and without technology – to use the week of Thanksgiving, the week after Thanksgiving, or anytime in November!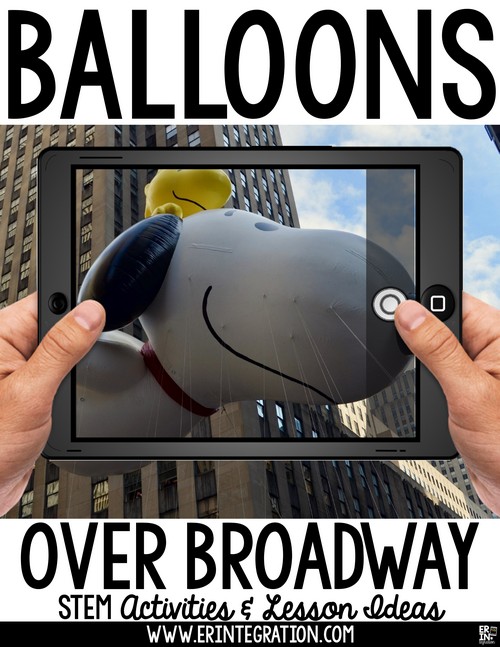 Judging by my social media feed the last few days, the book Balloons Over Broadway: The True Story of the Puppeteer of Macy's Parade by Melissa Sweet has blown up this year *snicker* *snicker*. Featuring beautiful illustrations and an inspiring true story, Balloons Over Broadway tells about Tony Sarg who invented the helium balloons that became the cornerstone of the Macy's Thanksgiving Parade in New York.
Get the book here at my Amazon affiliate link:
What I love about the story is the focus on Mr. Sarg as an inventor and how his passion and dedication led to his invention. This makes it a fantastic book for classrooms incorporating STEM whether through technology projects, STEM challenges, makerspace and science experiments.
In no particular order, here are some of the engaging and STEM-centered Balloons Over Broadway lesson activities and ideas (click through for more details):
Balloons Over Broadway Activities
Inspired by the awesome book Balloon Over Broadway about Tony Sarg & the Macy's Thanksgiving Day Parade, kindergarteners decorated balloons with favorite characters & hosted a parade with @Ozobot robots @fwparker @sarahjean96 #edtech #thanksgiving @Macys pic.twitter.com/sCgsV61AJY

— MaryCatherineColeman (@MaryCatherineC1) November 16, 2018
View this post on Instagram
Room 20 read Balloons Over Broadway & created our own balloons for the Macy's Thanksgiving Day Parade! 🎈 @JMDragons5 pic.twitter.com/mOzjjwfz17

— Kerry Jones (@mrskjones116) November 20, 2018
Check the finished product!! pic.twitter.com/P1vxqg2Y2p

— Mrs. Crum (@mrscrum3rd) November 20, 2018
Of course we had a practice run at The Macy's Thanksgiving Parade!!! @Macys They decided the order of the balloons too!!😊❤ pic.twitter.com/xagiM8e9vt

— Janie Hachen 🏵️ (@Hachen2nd) November 17, 2018
---
Did your class do a fabulous STEM activity for Balloons Over Broadway that you think should be in this line-up? Tag me in your social media post so I can check it out! Looking for more Thanksgiving ideas – check out my Thanksgiving activities on the iPad rundown or browse all of the Thanksgiving technology activities at www.shoperintegration.com. Students will love the Thanksgiving Digital Magic Reveal Pixel Art, Thanksgiving Scoot, Thanksgiving Coding with ASCII Text Art and more!