As if the Wakelet Wave couldn't get any bigger, did you know you can create breakout games with Wakelet now too? Breakout games and digital escape rooms are a motivating and fun way to get students engaged with their learning. But sometimes creating a break out game can be time consuming.
Learn how to use Wakelet to make ANY activity into a breakout activity with very little upfront effort and maximum impact in the classroom!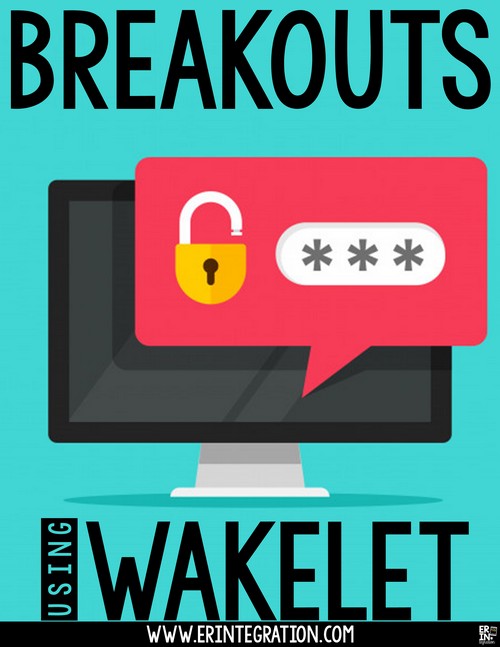 This idea is the Wakelet adaptation of the Flipgrid Breakout idea shared by the Joe and Kristin Merrill and Kathrina Mendez. More information in this post.
Overview to Breakout Games with Wakelet
Create a Wakelet with cool stuff on it.
Grab the Wakelet board Code & URL when you click "Manage Contributors."
Share the Code or parts of it with students when they complete a specific task.
Students import the Code into the URL to unlock the Wakelet.
Using the Join Code to Create Breakout Games with Wakelet
The key behind creating a breakout game with Wakelet – henceforth called Wake-Outs – is the join code that you can create with any Wakelet. The join code will function as the code that students need to unlock the Wakelet and the Wakelet itself can be the reward (easiest) or with a bit more effort, a series of activities to complete to get another code (leading to a Wakelet inception of unlocking join codes to subsequent Wakelets!)
First create a Wakelet. For this simple Wake-Out demo, I used a celebration GIF that I downloaded from Giphy as the header image of the Wakelet.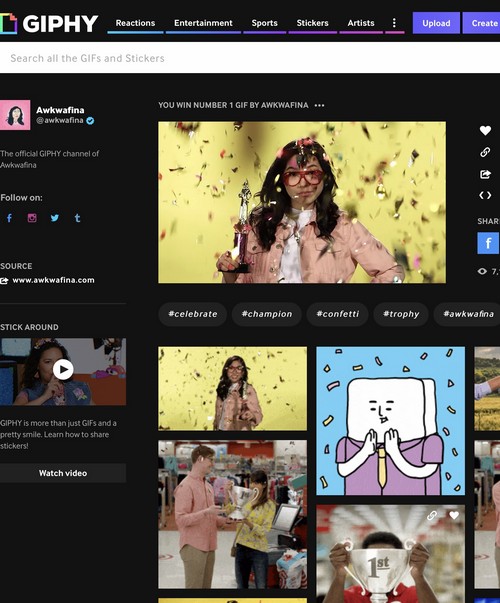 I titled it "Wake-Out Break Out" and in the description I wrote "Congratulations! You have successfully cracked the code! What was the most difficult part? Easiest? Add a comment below."
This Wakelet will function as the reward that students are "breaking into." When using a GIF the header will be animated, which is a fun touch!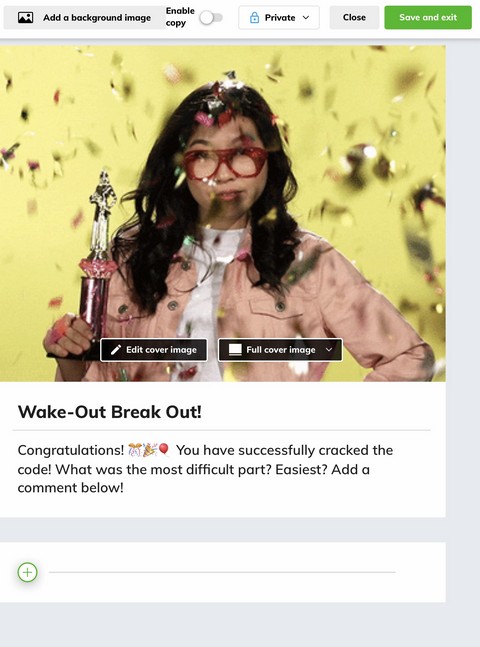 Make sure your Wakelet is listed as "Unlisted" or "Public." Next click "Manage Contributors" in the top left corner of the Wakelet.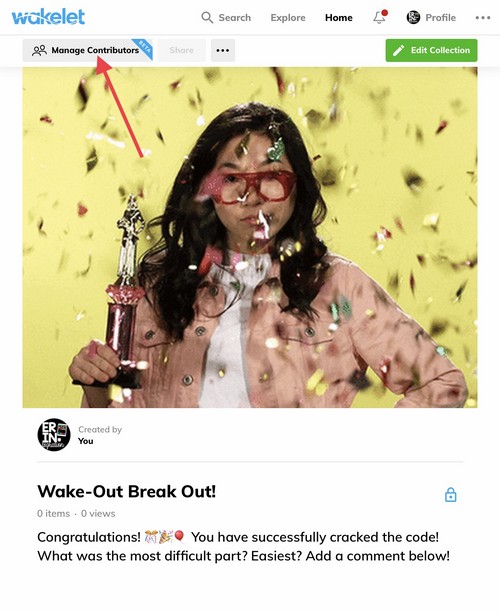 This will open a window with the share URL, a QR code and the code needed to "unlock" the Wakelet.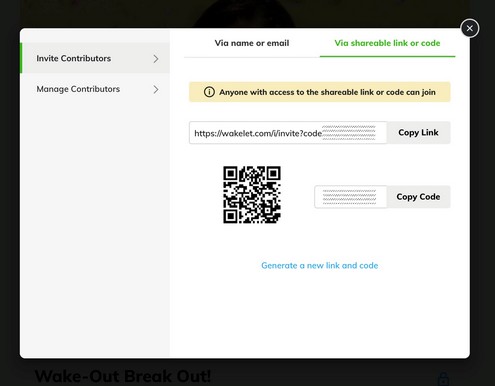 I blacked mine out because I don't want to be spammed, but the code is a mix of numbers and letters. The code is also part of the link URL as well.
When students go to the URL and enter the code, they "unlock" your Wakelet!
How to Earn the Wakelet Code to Wake-Out
You need to have activities that students will do to earn the code. This could be something simple like they earn a digit or two after solving a series of math problems or they earn a digit after completing a set number of task cards.
Tasks could even be actions they need to complete such as steps in a routine or procedure for example: "Log in, Open Google Classroom, Respond to the poll, Answer the question, Turn in your Slideshow…" with each step being "rewarded" with a few digits of the Wakelet code. You could also embed the code and URL at the end of a must-do Google Form.
Finally don't underestimate the power of hiding a QR code somewhere in the classroom! After students earn the code, instead of giving them the URL, print and stick the QR code somewhere for them to discover! Kristin Merrill hides QR codes in books for students to discover with their assigned reading! The Techie Teacher makes QR kids!
Think of gamifying a task that may not be as engaging by itself but still needs to be completed for whatever reason.
Content to Include on the Wakelet
In the quick demo I shared, the Wakelet itself was the reward to the breakout game. Students could then comment directly on the Wakelet board.
However, sometimes you might want to up your reward display. In that case, use the curating power of Wakelet. Create breakout games with Wakelet by making Wake-Outs with:
Links to favorite math games
Links to fun videos or music
Link to an online drawing site like Sketch.io to design their own reward.
Link a free choice menu of classroom favorites (think Coolmathgames, ABCya, etc).
Link to a choice menu for students to demonstrate their learning. If they had to learn something to earn the code, the Wakelet menu could have them add a Flipgrid response, find a GIF, ask a follow up question, etc.
Link to a menu of random sites. Seriously kids LOVE these. I suggest choosing a few from PointlessSites or check out my Wakelet of Random Fun Sites for Students for sites I've tested on Chromebooks and iPads.
Link to Easter Eggs – check out my Wakelet collection of Easter Eggs on the web.
Creating a Wake-Out using ONLY Wakelet
This will involve some set up on your part. But basically, create separate Wakelet boards each with a specific group of tasks that students accomplish. Grab the code from each and share those out when students accomplish each separate task.
For example, maybe your first board has video, some linked websites, a text question and a link to Google Forms. Add a Flipgrid video of you explaining the task directly onto the Wakelet. Students watch the video, find info on the websites, and respond to the question to earn the next code.
Repeat for each board until students have finished all the tasks. The final Wakelet board would be a reward board as described above.
An added element is students can interact with the Wakelet by adding questions and comments right on the board itself. In that sense it is sort of a hybrid Webquest, Hyperdoc, Escape Room and Breakout game!
Also, since Wakelet is very easy to use, students could even help construct the breakout. By using the code, students do need to have accounts – they just enter their name (however I highly recommend having them use a set avatar name for easy IDing and to control what names they choose a bit).
---
Have you created a Wake-Out breakout or digital escape room using Wakelet? Please tag me on social media if you do! I would love to see all of the creative and innovative places educators will take this simple idea to make breakout games with Wakelet!