Learn how to use Wakelet to curate and easily share a collection of Seesaw Activities and ideas for using them!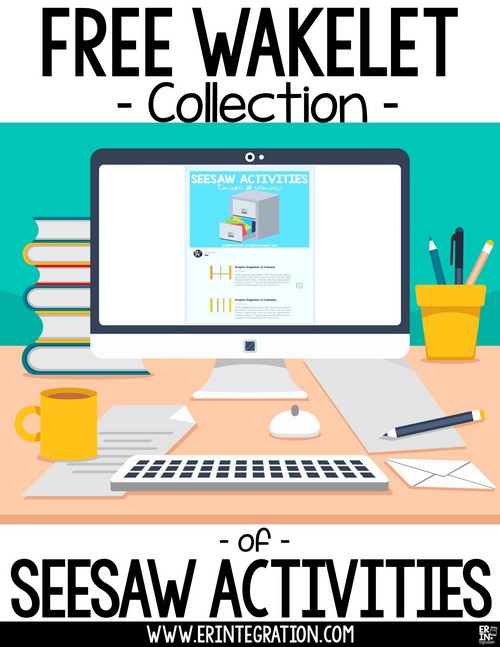 Sharing Seesaw Activities on Wakelet
With the new update on Seesaw for adding multiple images onto the canvas, I received a lot of requests to upload my free graphic organizers into Seesaw as pre-made activities for teachers to save and remix.
But while Seesaw Ambassadors can share on the public Seesaw activity library and teachers can share within their school on the Seesaw for Schools library, as it stands now on Seesaw, you can only share activities out publicly to others link by link – one a time!
So I decided to set up a Wakelet collection of the Seesaw share links to my activities. You can copy the collection and/or access all of the graphic organizer templates on Seesaw by clicking through the Wakelet links below.
Another neat thing with Wakelet is you can embed a Wakelet collection into a blog post like I did above. This would be really handy for tech coaches to organize their Seesaw shares for a wider audience!
Create a Seesaw Wakelet Collection for Easy Sharing with a Larger Audience
First you need to create a Wakelet collection.
Then in Seesaw, grab the share code for the activity you created by going to your Activity Library.
Go to the 'My Library' tab, tap on the activity you would like to add to your Wakelet.
Tap "share" then choose "Other Teachers."
Select Copy to get the Activity URL
On your Wakelet collection, tap the plus then paste the URL into the address window. Wakelet will populate the URL meta data so viewers will see what the activity looks like.
Be sure to save your Wakelet collection changes.
Sharing or Embedding a Wakelet Collection
From your home page, click View Collection to open the Wakelet collection you wish to share out. Your collection must be set to "Anyone with the Link" or "Public."
Click the Share button to grab the shortened URL to the Wakelet collection or choose a social media button to push it out to your accounts.
To embed, instead of clicking the Share button, tap the three dots on the top of your Wakelet collection and choose embed to grab the code to add to your blog. Embeds can be easily customized too!
Curate Ideas Alongside Seesaw Activity Links
After I created my collection, I realized another very useful way Wakelet can work with Seesaw! Often on Twitter or other social media sites, I'll see a teacher share an activity along with more context and pictures of the activity in action. I typically save the activity on Seesaw using their shared link, then I favorite the Tweet with the intention of going back to it.
Instead, I think it would be more effective if I saved both the activity link and social media post to a Wakelet collection together. That way I have the context and examples right next to the activity link. The board could be titled "Seesaw Activity Ideas" or something to that effect.
Wakelet makes it easy to save social media posts with the free browser extension. I like the browser extension because I can control exactly what I want to saved to the collection. Browser extensions are currently available for Google Chrome and Firefox.
Bulk Add Tweets to Wakelet
If you are primarily gathering Seesaw Activity ideas on Twitter via the hashtags #seesawchat or the @Seesaw account, you can also bulk add Tweets to a collection on Wakelet. This would be helpful if you have been Tweeting Seesaw activity ideas a ton recently and want to add them all in once place for easy reference.
Open up a new Wakelet collection.
Click the Twitter icon in the middle of the screen.
Click Connect with Twitter.
See to find Tweets then click to select them.
Using the Seesaw Activities
And before you go, just wanted to give a run down of the free graphic organizer Seesaw activities I share above. While these graphic organizers are also available as image files to use on Google Slides or Pic Collage, with the latest updates, you can do a ton on Seesaw with them too.
Students can add text, drawings, Emojis, and now images to graphic organizers. The ones I've shared are blank, so I suggested adding headers and captions prior to sending out to students!
Learn how to add multiple photos with the collage tool.
---
How are you using Seesaw Graphic Organizers? Have you used Wakelet yet? Be sure to follow me on Wakelet as I have posted and plan to post many collection ideas and templates for you to access!