Grab a free set of large printable Chromebook keyboard keys and learn ideas for using them in the classroom. Plus check out this huge printable Chromebook Keyboard Bulletin Board set perfect for a hallway or computer lab display for teachers using Google Classroom.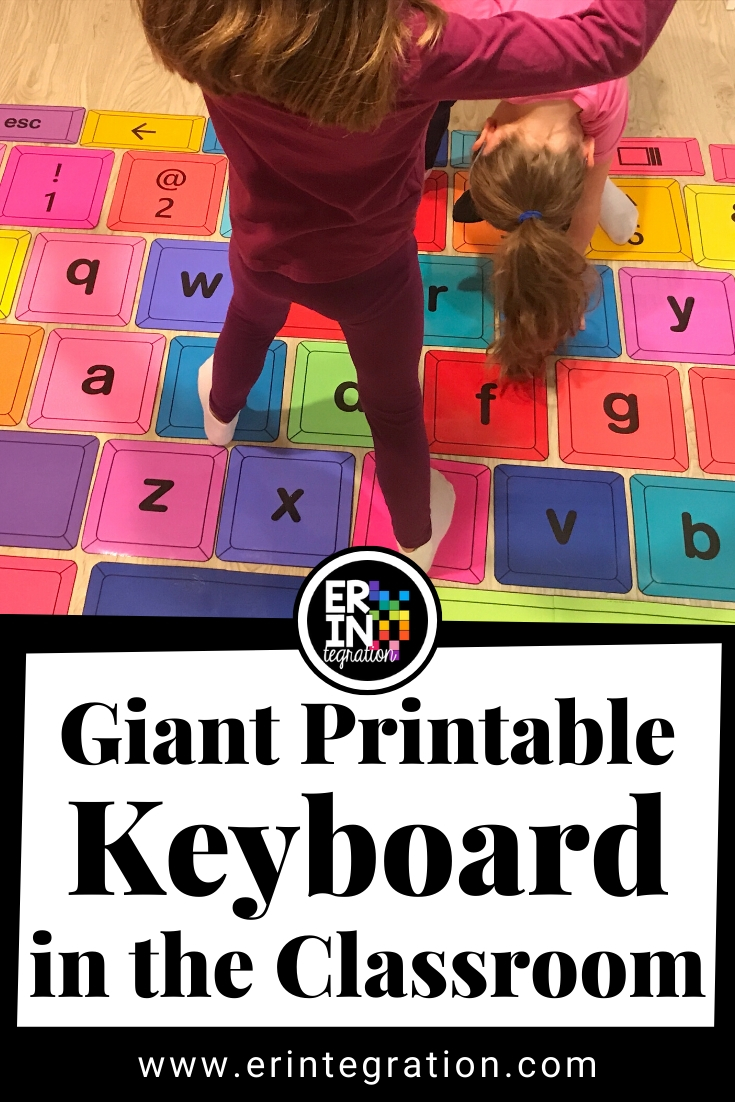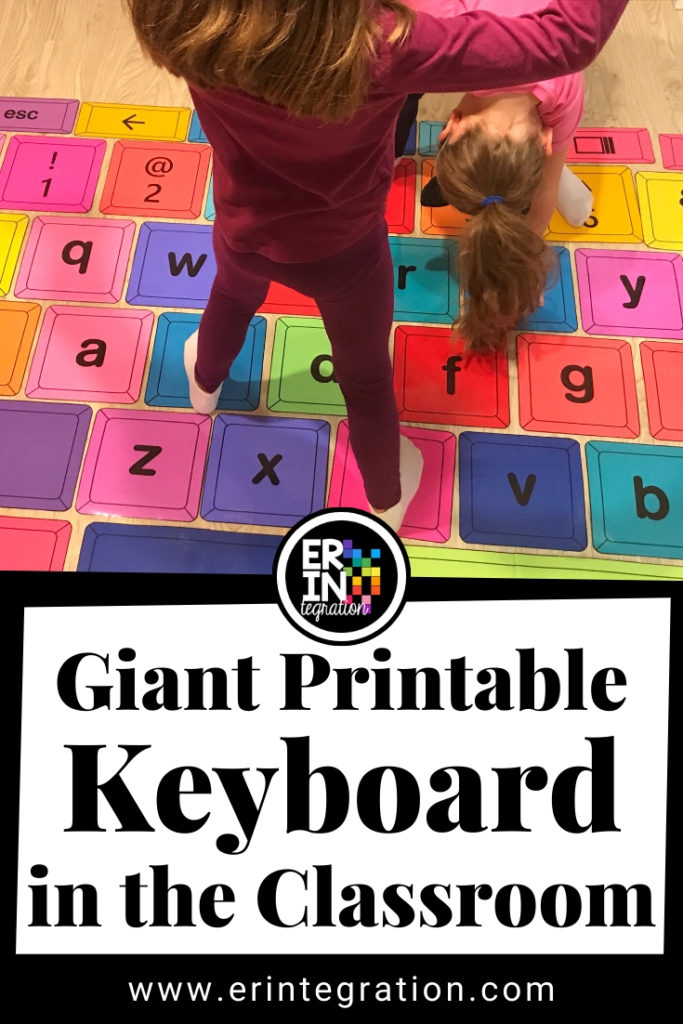 Printing & Assembling Keyboards
I created a set of printable keyboard keys that can be used in a bunch of fun ways I'll detail in this post. First, grab the free set in my free resource library (or sign up at the end of this post), which includes the letters A-Z in both upper and lower case.
The entire Chromebook Keyboard key set, which includes all of the keys on a basic Chromebook like the alphabet, numbers, function keys, space bar etc. can be purchased in my store:
Get the Large Printable Chromebook Keyboard Set here.
Both sets are blackline so look best when printed on colored paper. You can print each row a different color or print in colors to indicate which hand or finger types each key, or just print random colors.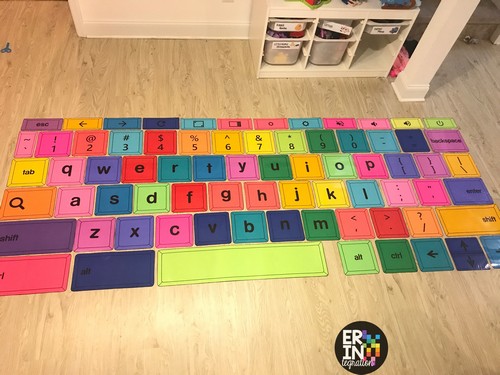 I printed then laminated each key. For larger keys, you will need to tape them together. The basic key is sized approximately 8×8 inches and the other keys are to scale so when laid out, it does create a rectangle keyboard shape!
The full keyboard will be approximately 9ft x 4 ft.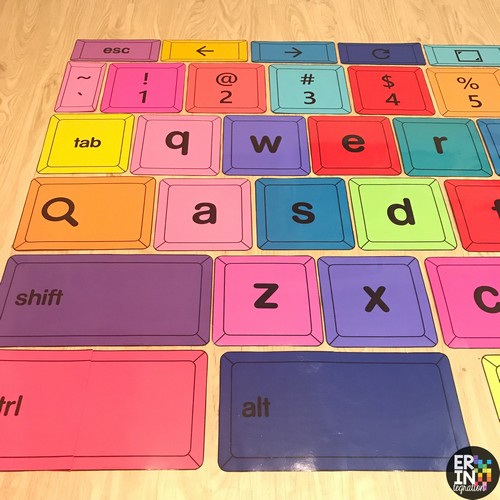 The keys look fantastic when used to create bulletin boards and displays, but this post will focus on using them for interactive games. For that, you will be creating a floor keyboard!
Giant Keyboard Games to Play on the Floor
There are a bunch of ways to use these keys in the classroom to practice:
keyboard fluency
sight & spelling words
coding
typing
usernames & passwords
letter recognition
following directions
all while getting kids moving & collaborating in the classroom! Plus all of these activities are unplugged activities perfect for days you don't have devices (like testing weeks!) or the Wifi is down.
I recommend doing this games as an independent center. You will need space to create the floor keyboard. The carpet or hallway will work best.
Keyboard Assembly
This works best in teams or 2-3. Give each a stack of keys and have them work together to create an accurate layout of the keyboard on the floor.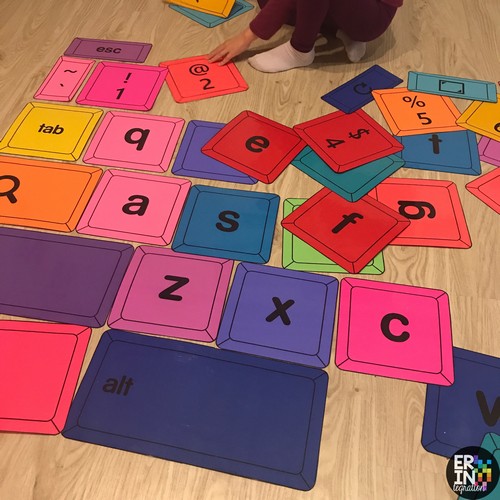 I allowed my kids to look at the Chromebook for reference, but for an extra challenge, put the Chromebook on the opposite side of the room. Have them time each other and see how fast they can go!
Keyboard Match Up
This is best for the littles who are still learning uppercase vs lowercase letters. Print both the upper and lower case set of keys.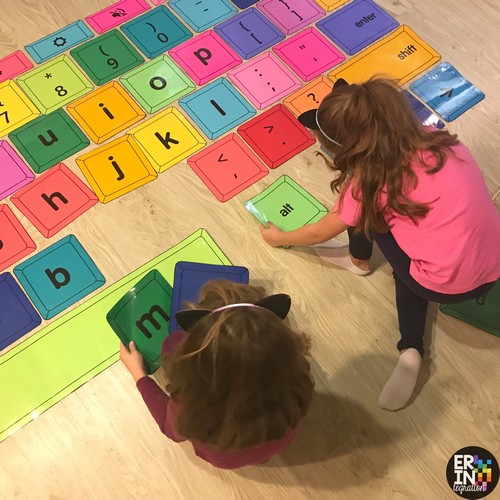 Students can play memory match or have them layout the keyboard then lay the matching alphabet key on top.
Keyboard Code Robots
Use a bit of painters tape to attach the keys to the floor. Have students code robots across the keyboard to spell words, "type" their username, or "write" secret messages.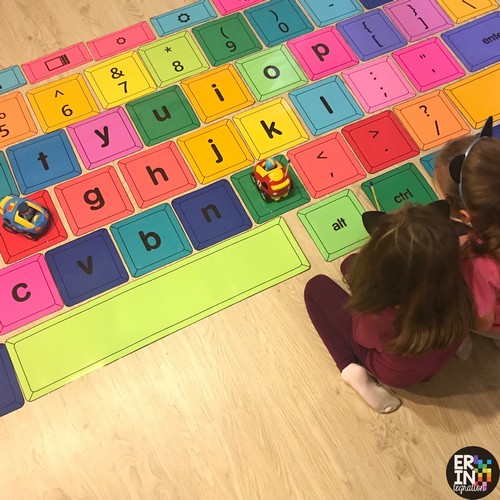 Be sure they code an action for when the robot lands on the correct letters.
Keyboard Twister
Just like Twister except students are putting their left hand, right hand, left foot, right foot on keys!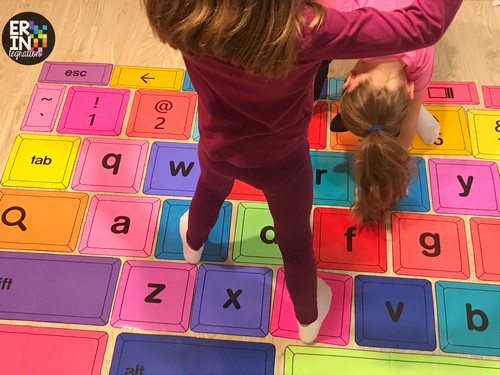 If you have the complete Chromebook Keyboard set from my store, this makes for a really fun opportunity to practice symbol and function keys!
Coding on the Keyboard
The large Chromebook Key board makes a fantastic companion to my Coding on the Keyboard Challenges. Print the challenges and have students follow the code to walk across the keyboard to "type" a mystery word.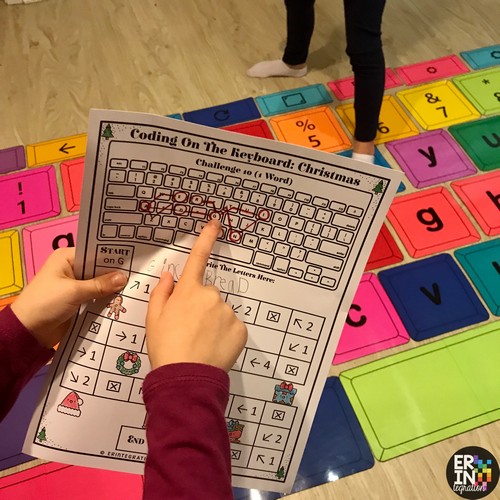 You can get a free sample of coding on the keyboard here or see my full sets available here.
Big Typing
Just have kids walk, skip, crab walk, hop, or dance their way across the keys to create various words.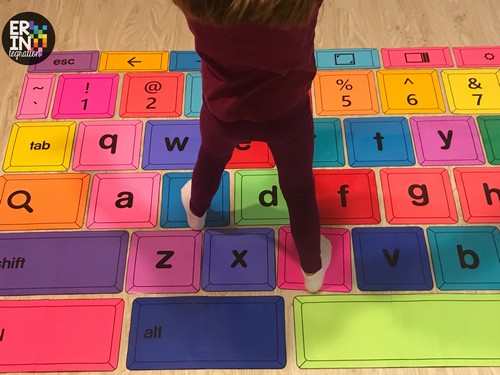 My first graders loved doing this to practice their sight words!
Printing the Big Keyboard…Small
You can also print multiple pages of the big keyboard onto one page using the printing settings in Adobe (the file is a pdf).
Kids can color, cut, and glue down their keys onto a piece of large construction paper.
Free Download vs Paid Set
If you just want the letters, grab that set completely free in my Resource Library. You will need to be subscribed to my site by signing up below for the password if you haven't done so already.
But if you want the entire Chromebook set to create a huge realistic keyboard, that is a paid set available here.
Use this set to make bulletin boards and play all of the above games, too!
---
Get the Free Set of Letter Keys & More When You Subscribe to Erintegration
---
Have you downloaded or purchased these big Chromebook keyboard letters? Take a picture and share how you are using large keyboard keys in your classroom and be sure to tag me on social media to see!