Get your Google Drive decluttered and organized by joining the completely free Google Drive Detox, today! Complete 14 specific tasks to get your Google Drive under control. Tips are delivered straight to your inbox with one actionable task each day.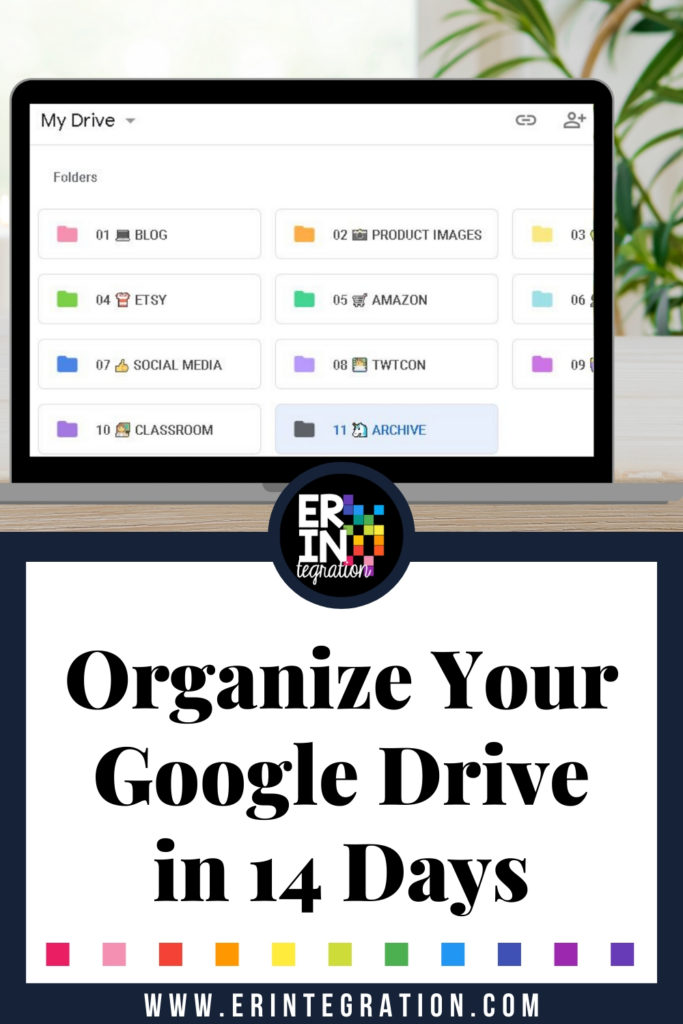 After finally getting my Gmail inbox under control and automated to STAY under control by completing the free Gmail Challenge, I set my sights on my disaster of a Google Drive.
Like many of you, I have multiple Drives that I started using for various reasons over the years. And with more and more being done digitally, I did not approach my Drive with any sort of organization plan.
Instead, I kind of uploaded, downloaded, and shared with little regard to how my Drive would look over time.
And it wasn't looking good!
A cluttered, disorganized Drive meant it took longer for me to find what I needed. I often uploaded items multiple times and relied on the search box to find items. At one point, I even bought more storage on my personal Drive just to stay afloat!
So I took time to organize each of my drives one at a time and as I did I wrote down what worked. I organized these tasks into an order that was effective and time saving and created a 14 email series called "The Google Drive Detox" that you can follow to do it too!
What is the Google Drive Detox?
The Google Drive Detox is a 14 day email series with the goal of getting your Drive organized. Each morning you will be emailed a task to complete to bring you one step closer to Google Drive tranquility.
Each of the 14 tasks will be focused on de-cluttering and bringing peaceful organization to your Google Drive.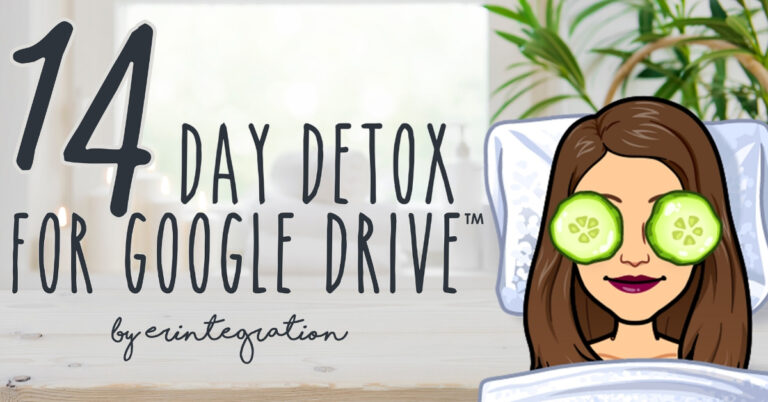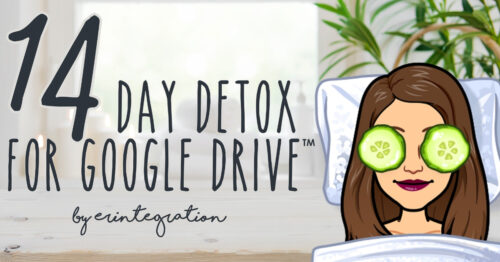 How does the Google Drive Detox work?
After signing up below, you will receive a welcome email. Then the series of tasks will be sent straight to your inbox over the course of 2 weeks – one each day. Depending on the state of your drive, tasks take approximately 5-10 minutes to complete.
Just for fun, each task will be centered around a spa theme with the overall goal of Google Drive Detox!
Day 1 Flush
Day 2 Clarify
Day 3 Scrub
Day 4 Cleanse
Day 5 Purify
Day 6 Harmonize
Day 7 Pamper
Day 8 Enhance
Day 9 Focus
Day 10 Find Serenity
Day 11 Revitalize
Day 12 Exfoliate
Day 13 Simplify
Day 14 Nourish
Tasks are self-paced. You can start right away or save emails and do a few at a time.
At the completion of the challenge, you will be emailed a FREE PDF of all 14 Google Drive Detox tasks so you can re-cleanse as needed in the future.
Stay Accountable on Social Media
Share your progress on Instagram & Twitter by tagging me @erintegration and using the hashtag #GoogleDriveDetox. And be sure to direct friends, family members, and colleagues join the challenge by signing up here, too!