Students will love solving for these 10 St. Patrick's Day words on Google Sheets! Download the free editable themed template for Google Sheets and learn how to use it in this post!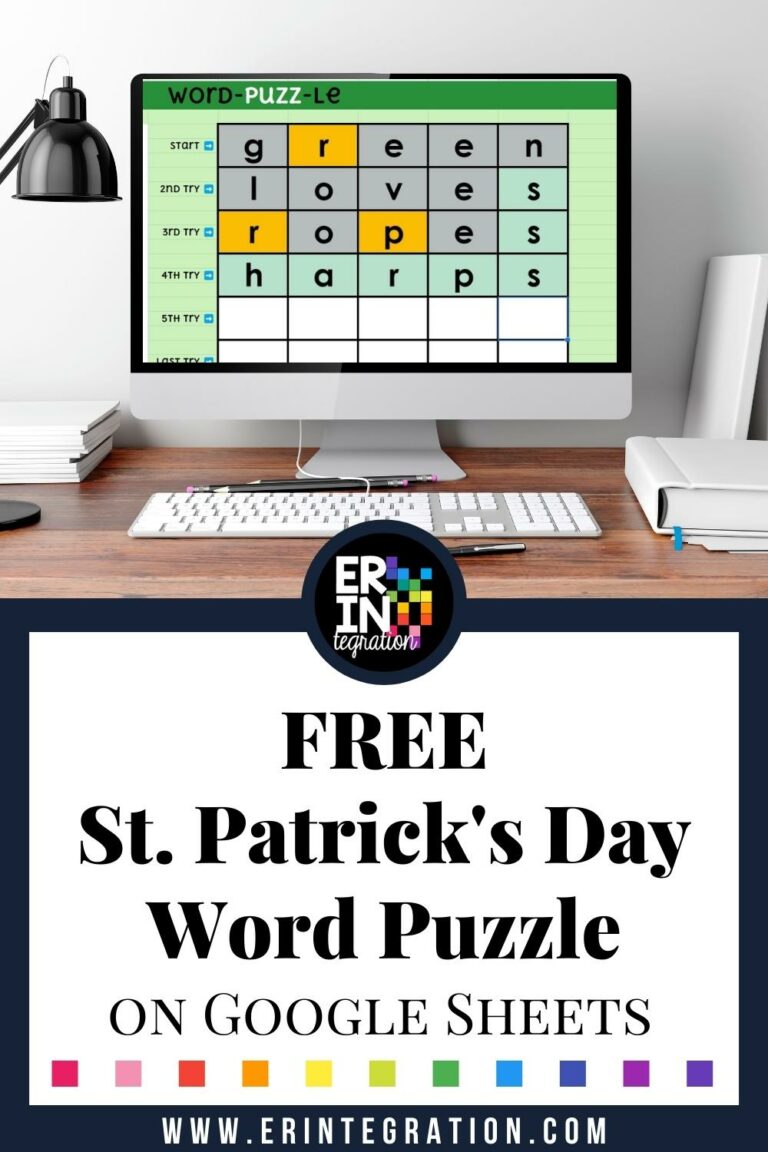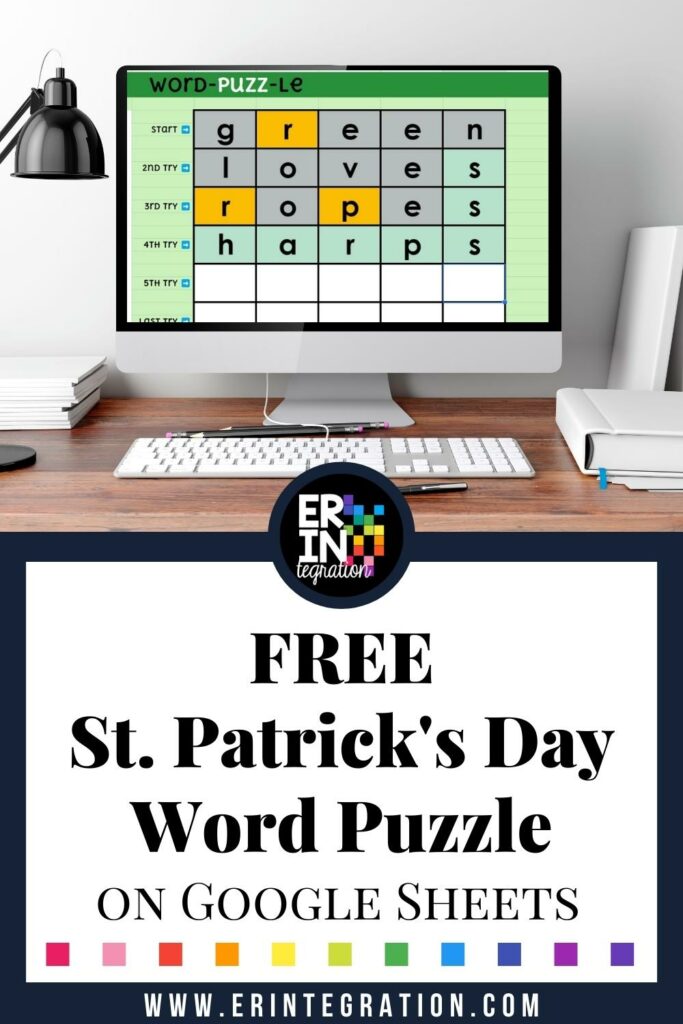 How to Play Wordle in the Classroom
I wrote about Wordle in the Classroom in more depth in this post to help you get started. In general, if you want to play Wordle and Wordle-like puzzles with elementary students, you will want to make some adjustments. Mostly because students just won't have the bank of 5 letter words to pull from when guessing.
I recommend the following so K-5 students can enjoy the game:
Have a word wall they can reference.
Build a list of "first guesses" to help them get started.
Have letter cards or tiles available so they can physically arrange the letters.
Do the first few sets together and think aloud the strategies you are using to guess.
Since this set is St. Patrick's Day themed, that will help narrow the focus a bit too – all of the ten words will tie into St. Patrick's Day in some way!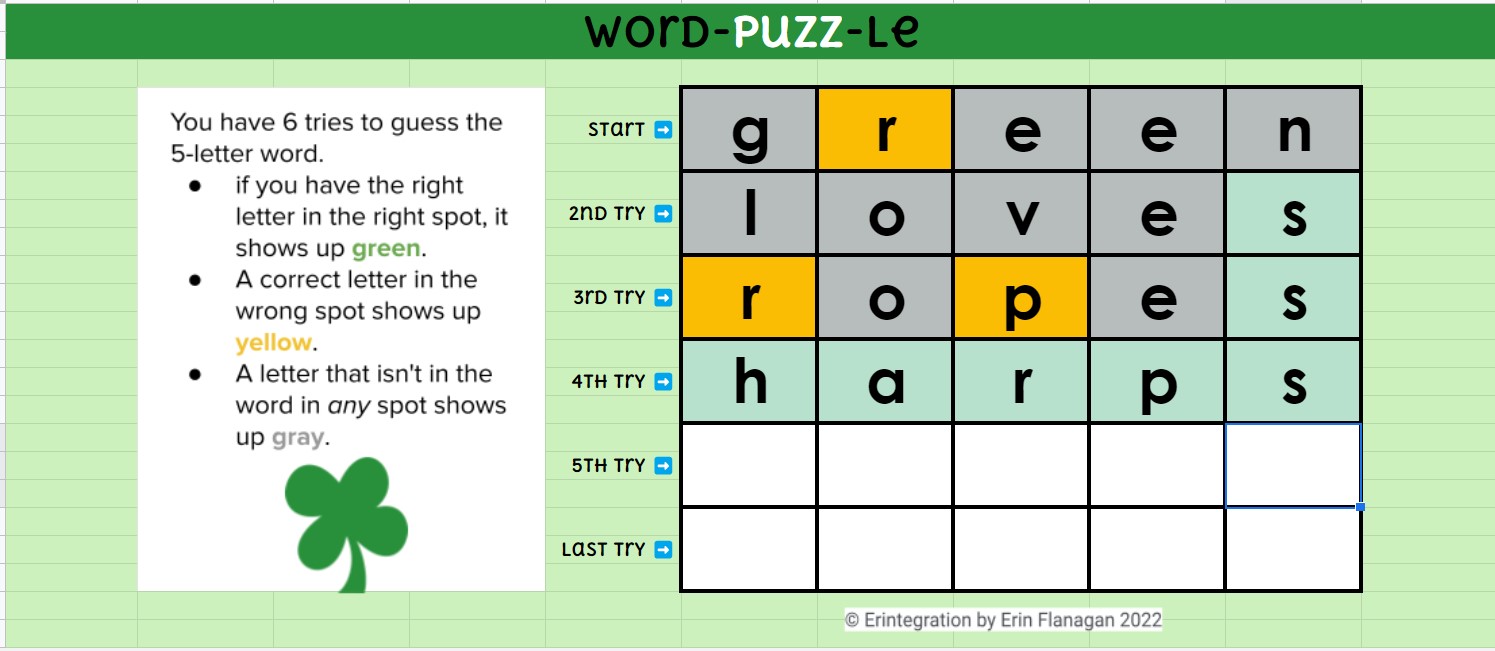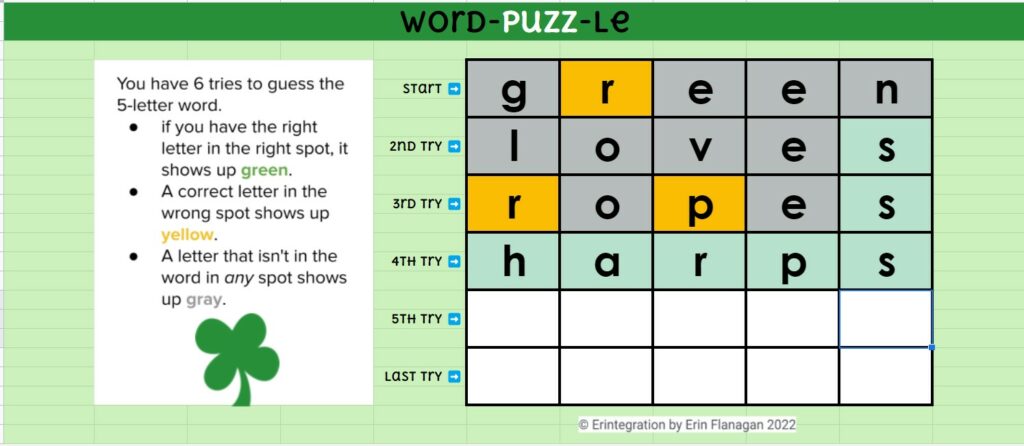 St. Patrick's Day Wordle Puzzles on Google Sheets
The big difference between these Google Sheets versions I create and others I've seen is as students guess, they are given feedback per letter as they go. This really helps eliminate frustration because students will know right away if the letter works or not.
I set up the sheet with two sets of conditional formulas to change the color of the cell depending on what letter is added. Since the sheets are set with conditional formatting, you can view the format to easily change the words if you desire.
Scroll to the middle of this post for step by step editing directions.
Assign the Google Sheet in Google Classroom so everyone student gets a copy or play whole group! This St. Patrick's Day Wordle is perfect for:
transitions
warm up
tech center
finished early game
sub plans
St. Patrick's Day party
Free Themed Wordle Set on Google Sheets for Elementary
I've been adding sets to my resource library as I make and remix them. They are available free and can be remixed for your own classroom use!
If you are already a subscriber to Erintegration, grab the digital Wordle/Sheetle sets FREE in my resource library. Not a subscriber?
Get the Sheetles FREE By Signing Up Below