As educators, we all know the importance of teaching our students to think critically and evaluate the information they come across online. With the constant flood of information available at our fingertips, it's more important than ever that our students are able to differentiate between credible sources and fake news.
Recently, the state of New Jersey passed legislation establishing K-12 Information Literacy Education, with the goal of teaching students the differences among facts, points of view, and opinions, as well as the economic, legal, and social issues surrounding the use of information. This legislation is a step in the right direction towards preparing our students for a world where they will need to navigate an overwhelming amount of information.
The main goals of information literacy education include:
Teaching students to ask critical questions about information online
Spotting fake news
Evaluating the currency, authority, reliability, and purpose of a website or news source
Understanding the economic, legal, and social issues surrounding the use of information
Ethical production of information
Even if you don't teach in New Jersey, it is worth staying informed about the standards because even if they aren't adopted in your state, the goals are important for all students to learn.
Though the law in New Jersey takes effect immediately, it does not provide a timeline for when instruction should begin. A committee will be convened by the state Department of Education, teachers and library and media specialists to develop the learning standards for information literacy. The State Board of Education will hold "at least one public hearing" in the northern, central and southern parts of New Jersey to let residents comment on the standards before they are formally adopted, the law says.
I created this editable bulletin board set that includes 16 specific questions to help students evaluate information online that is one way educators can begin to meet these new standards in the classroom:
The posters are included in both color and blackline and can be used in an April Fool's Day theme or as a digital citizenship bulletin board all year round.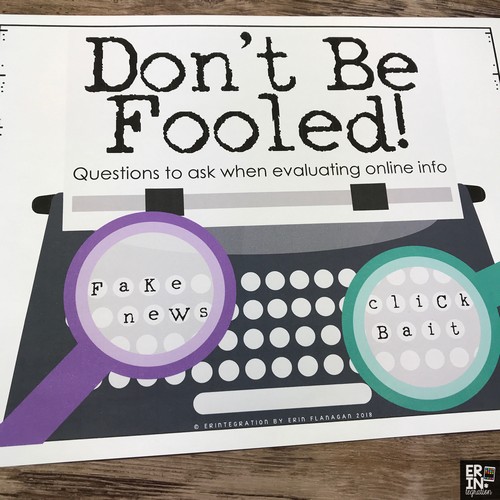 Additionally, the set includes a sign, student sheet with each question to print and use, and blank templates for students to add their own examples.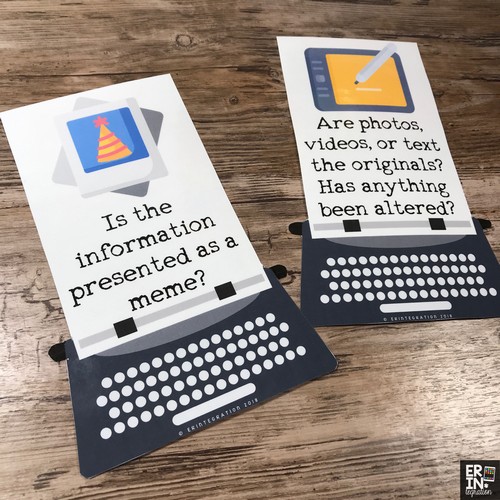 This bulletin board set is a great tool for elementary school teachers, librarians, computer lab teachers, and STEM teachers to use in the classroom.
In addition to being a reference to display in the classroom or library, it also has a handy printable checklist that students can use to evaluate a website.
It's a fun and interactive way to teach students the importance of evaluating information online and help them develop the skills they need to navigate the digital world.
Don't wait to give your students the tools they need to be informed and responsible digital citizens. Click here to purchase the editable bulletin board set and be sure to check out my other lesson plans and digital activities for teaching media literary on my blog here.
---
This editable bulletin board set is just one of several resources available for teaching and reinforcing digital citizenship in the classroom. In addition to this set, there are also other bulletin boards and poster sets available that can be used to teach students about digital citizenship and help them develop the skills they need to be responsible digital citizens.
Some of these resources include posters that teach students about online safety, digital footprint, and cyberbullying prevention. There are also interactive bulletin boards that allow students to reflect on their own digital citizenship skills and set goals for improvement.
These resources can be used in conjunction with one another to create a comprehensive digital citizenship curriculum that will help students understand the importance of responsible and safe online behavior.
Save this post to your Pinterest