Energizer breaks and brain breaks have revolutionized my classroom as it helps kids be kids in between work time. While I'm not lecturing for hours or requiring students to sit still for prolonged periods, I still think having a bit of fun between subjects, getting our heart pumping, and being silly is important for building a classroom community and helping students regulate.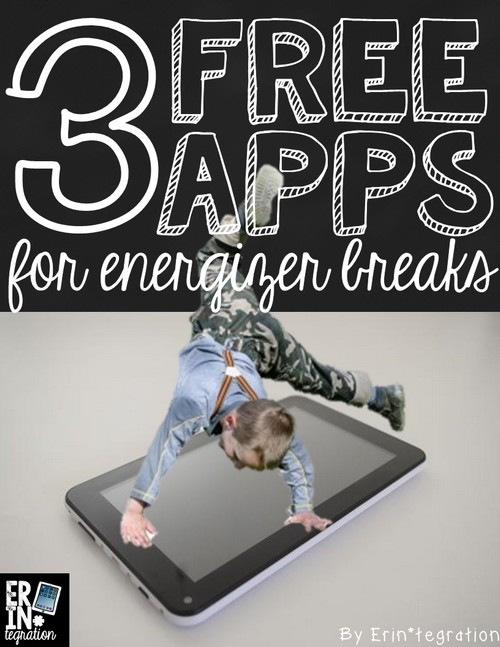 Sometimes in a classroom setting you want to give students an energizer break but maybe you do not have the space or creativity in the moment to lead the students in a game. Other times you are might be looking for something new that might motivate even the most stubborn of students to participate. I have rounded up 3 iPad apps that can be used as energizers in the classroom.
Energize with technology
GoNoodle has cornered the tech market for group dancing, running in place, and yoga. Plus it's #gamified which motivates students to participate.
However, not all students will need a break at the same time, and I have not seen the level of engagement when I've tried setting up individuals on GoNoodle. So I've tracked down my favorite 3 free iPad apps for energizing brain breaks that are also motivating and use gamification to keep students focused. Click the image to download them for free on iTunes.
1. Motion Maze has students jogging or walking in place while holding the iPad to move a character through a maze.
Since they are holding the iPad at the same time, I would only have students jog if you have an Otterbox or other indestructible case. Since we don't, I had my student walk, which worked just fine. I liked that the game is somewhat self limiting; for students that have difficulty with transitions you can have them complete a set number of mazes before stopping.
2. NFL Play 60 is probably the most intense of the 3 apps but also has been my student's favorite.
Like Motion Maze, students hold the iPad with two hands and jog while jumping, turning, and ducking to collect coins. Players can then spend their earned coins to buy gear and unlock characters. This is best done with a sturdy case on the carpet just in case. This app was created with input from the NFL and America Heart Association and is definitely the slickest looking with the most features. The only downside is that it is not made for short breaks – I would make sure to give students at least 5 minutes on the app so they can have time to visit the shop after running.
3. Jump Jump Froggy has students move a frog with their own movements.
While it has more variety, for example students were prompted to do sit-ups, it was not as precise at capturing movement as the above two apps. This app would be best suited for the K-2 set based on the graphics and lack of features. But if you are just looking for a quick 5 minute energizer, it will get the job done.
I pin lots of brain break and energizer ideas here:
Follow Technology Erintegration's board Regulate & Brain Break on Pinterest.