Show what you know: project based assessment
iPads have made it possible for students to SHOW what they KNOW in ways that were unimaginable just a few years ago.  In addition to creating and connecting, I have had my students use iPads as a tool for project based assessment this year.  I have seen such a difference in mastery of certain concepts when I challenge students to show or demonstrate their understanding by creating something.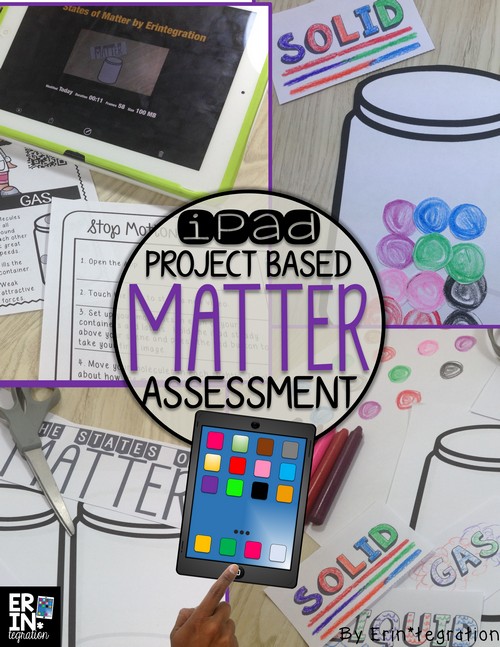 Last week after reviewing the states of matter (and how sound travels through each) during our unit on sound in science, I wanted students to demonstrate their understanding beyond a quiz or written explanation.
So, we used the free app Stop Motion Studio and my States of Matter unwrAPPed resource to create a video showing how the three states of matter behave.
STEAM as assessment tool
STEAM is when you add "art" into STEM for an approach to STEM challenges that engages all parts of the brain.  One criticism I read often about technology is that we are exposing students to too much screen time.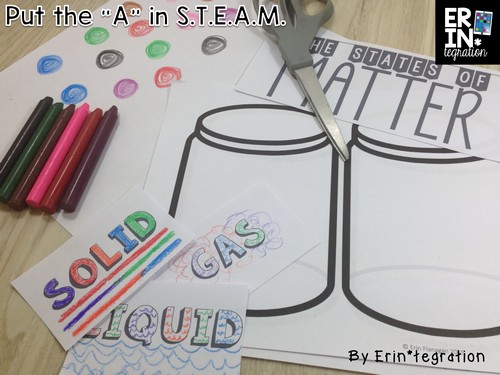 However, when the focus is less on the tech and more on the project that is ultimately showcased via the tech, students are not going to be staring at a screen.  Focusing on STEAM is one way to reduce screen time.
How does project based assessment work?
For this project, students had to use cut paper and crayons or markers to show the molecules of a solid, liquid and gas.  My resources come with labels to cut and color as well as empty jars.  If you are strapped for time, you can have students use counters instead of cutting their own circles.  However, I think tracing and cutting curves is a useful skill so I had my students make all of their molecules with paper.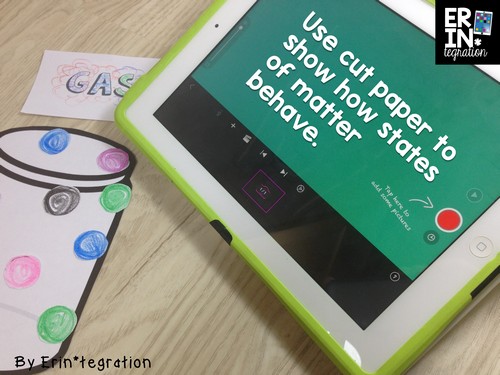 A good project based assessment takes the process and decision-making into account – not just the finished product.  I circulate around the room while students work and make mental notes.  Often times these notes become a teaching point that I share while we are working.
For example I overheard partners discussing the size and shape of the molecules as well as the color to represent each state.  I asked the class, "Does the size matter for this?"  Yes, because it needs to fit in the jar and be able to move around it.  "Does the color matter?"  No, unless you are showing the pattern of the solid.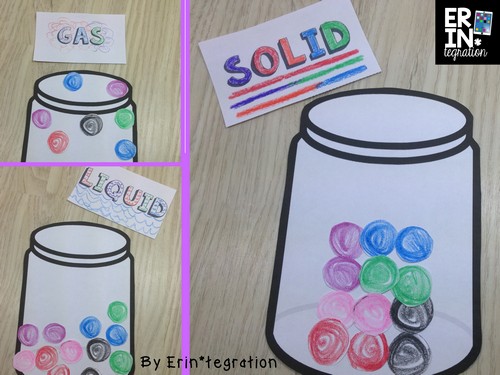 I made sure to print the labels in the packet for them to color so it would be obvious to me when checking which state was which.  This assessment is not supposed to be a "gotcha" and instead students are working for mastery.  In that same vein, I also include an interactive anchor chart.  Students can scan the QR code to watch a short review video.  By the end of this assessment, I want all students to "get it."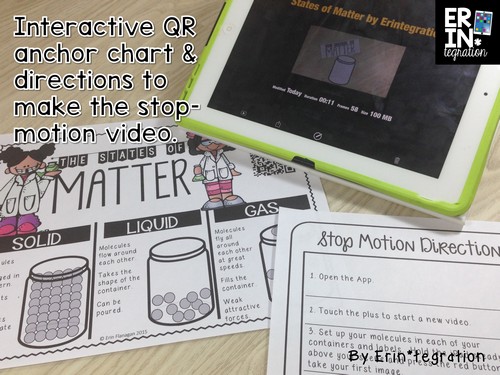 Next students used the app direction sheets included in my resource to make their stop motion video.  I did not specify if the jars needed to be used all at once or one at a time.  Most students showed each state separately although I realized as we were making them, it would be a quite tricky to attempt to show all at once.  I'm definitely going to remember that for any students who thrive on challenges!
My direction sheets include visuals so younger students can still follow the "how-to."  I recommend pairing students for this so one student can hold the iPad and one can take the pictures.
Use a rubric to evaluate project based assessments
I recommend using a rubric or even having students self-score their finished videos.  I included one in my resource.  One thing it is worth noting when watching the videos was how far students took their demonstrations.  Some students showed the movement and that was it.  Others shows additional properties like how the liquid can be poured and how a solid stays the same shape even when the jar was moved.  You can note additional understandings or even discuss these as you gather together to watch.
The best part of a project based assessment is students have a finished project to share with others!
Check out a finished stop motion video:
You can pick up my States of Matter unwrAPPed packet
here
– it includes everything shown in the pictures on this post plus more!  While I used it as a project based assessment, you can also use it as a general lesson, a STEAM challenge, or a project.