Integrate technology this Valentine's Day!
Valentine's Day is fast approaching so be sure to plan some technology integration activities your students will LOVE!  Here are some of my favorite apps, activities and sites for Valentine's Day technology integration in the elementary classroom.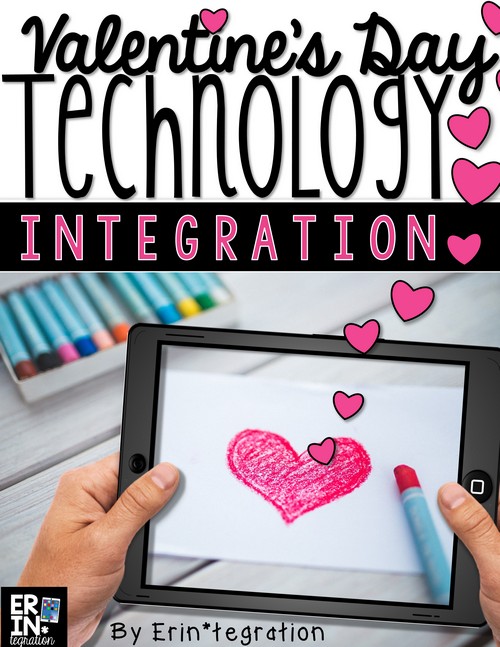 Valentine's Day technology integration activity #1:
Digital Valentines
I have been using PicCollage in my classroom for everything from making digital posters, playing scoot, building a reading culture, and now for digital Valentine's Day activities.  I created many different ways to integrate PicCollage for Valentine's Day in my classroom because it really is my students' favorite app! First, my students will create digital Valentines with my iPad Digital Valentines packet.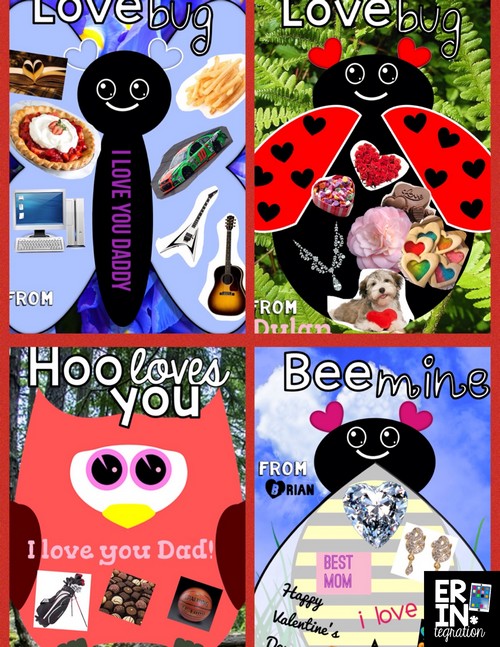 It comes with 4 choices of background images.  I include a QR code so it is easy for students to download the full resolution image and the direction sheets walk them through the process of downloading, setting as the background and decorating.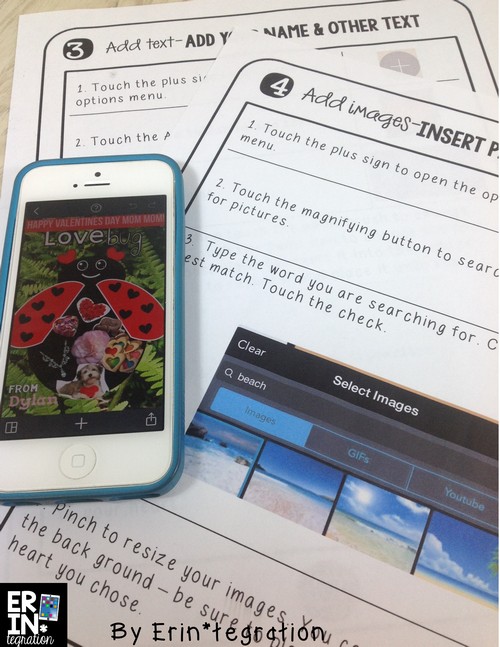 After students make these, they share their finished images via Work Collector – a process I blogged about here – and I make them into QR codes.  I batch make their QR codes in minutes with this workflow.  Then I have students glue the QR code to the mini iPad and hand that to their loved one(s).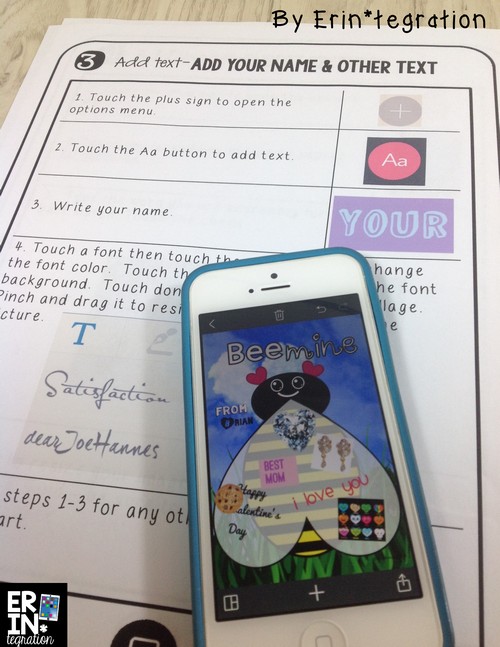 Valentine's Day technology integration activity #2:
Customize a Valentine's candy heart
There is a free app called Conversation Hearts that allows students to write a message on a candy heart.  There is also a website, Cryptogram that does the same, although beware of the display of other hearts since it is not filtered!  I went on ahead of students and checked what was in the gallery before letting them on the site.  For $0.99, the Candy Heart app has more details although students are limited to text of a certain length and style.
However, I wanted my students to have more options and frankly, better looking, conversation hearts.  So I created digital images that can be downloaded and customized on PicCollage.  Get it in my store here.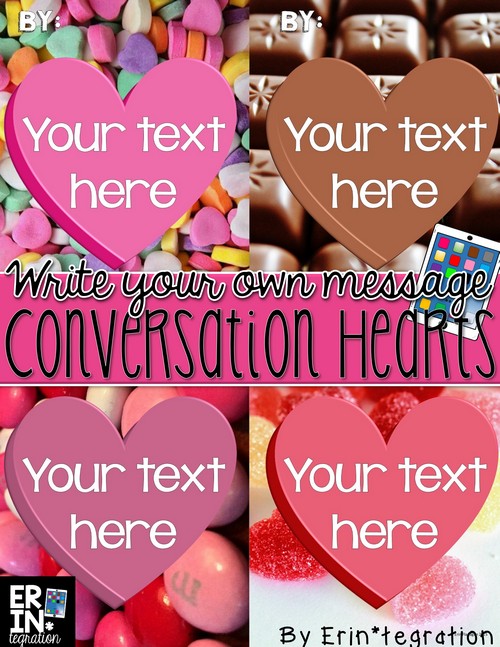 I plan to use these as a center – students can edit sentences, write spelling words, hashtags, kindness advice, etc. on the candy heart and upload them to their blogs.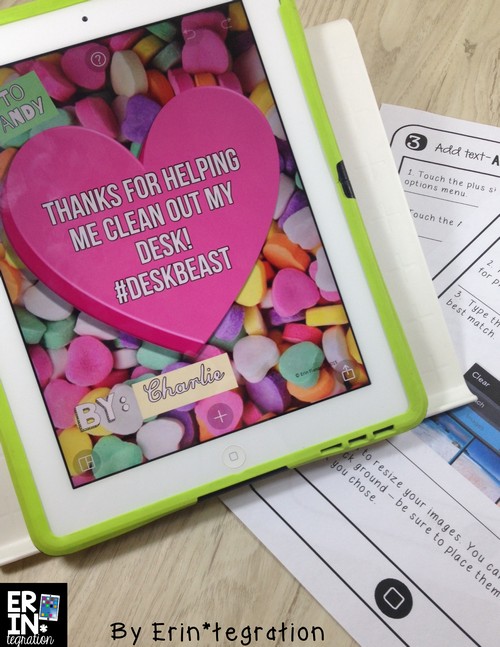 Students can also select choice quotes from books they are reading in class to display.  I love that these hearts are so versatile and lend themselves to many activities!  A student knew just which quote to grab from one of my favorite books: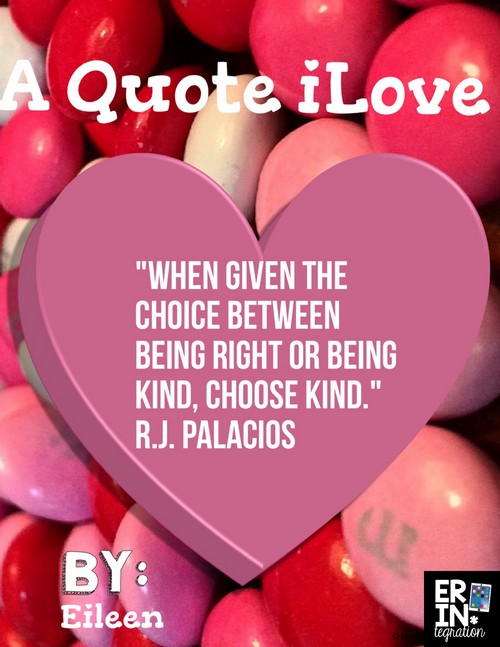 Like all of my resources, there are visual step-by-step directions for the activity along with suggestions for what students can write so you can print it out and leave it in a center for students to work on.  I'm not 1:1 at my school and I know many of my readers are still using a single iPad for their class;  center activities are the best way to integrate tech when students share devices!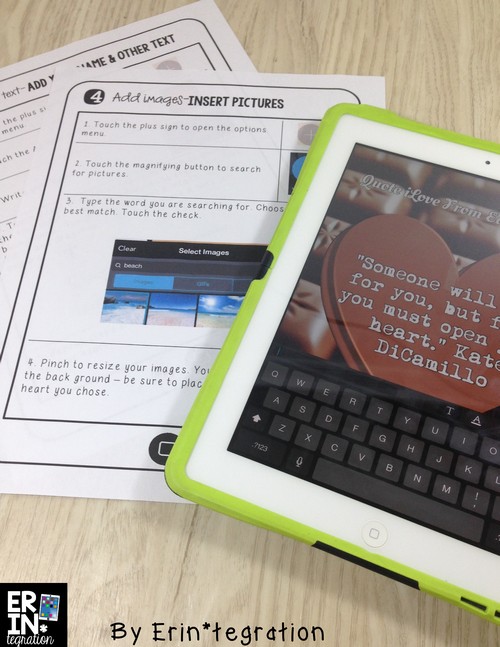 You can also have students share candy heart messages by uploading them to Google Drive then creating a QR code that links to their image.
Valentine's Day technology integration activity #3:
Doodle Buddy Valentine Math
Doodle Buddy is another of my favorite apps because it is easy for students to use and has so many options.  We use it to make Sugar Skull Selfies and Glyphs.  I was inspired by my friend Julie's blogpost about using Doodle Buddy to make a pictograph to use Doodle Buddy for a math center.
Since we are learning about arrays in math, I had my students pick a multiplication flash card and then using the Doodle Buddy stamps, they created an array.  Since it is February, I had them use just the Valentine themed stamps.  Just to be extra cheesy, I called the center iLove Arrays!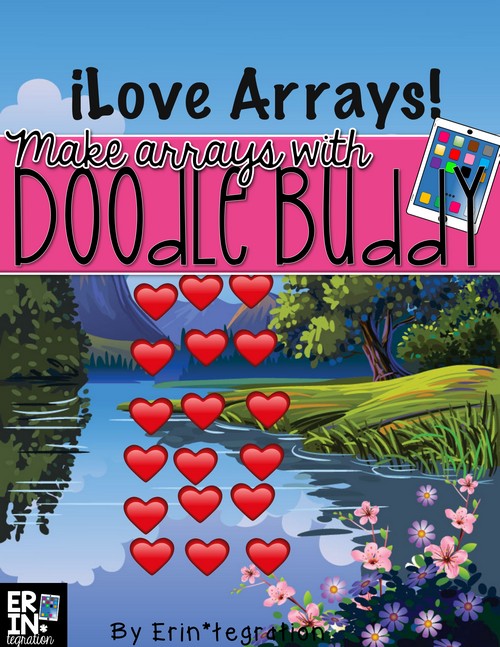 You can also differentiate this activity by using division flash cards (have students show the groups) or use addition and subtraction flashcards for students still mastering those.
Doodle Buddy erases by shaking the iPad so my students could make multiple arrays during the center easily.
Valentine's Day technology integration activity #4:
Reasons why I love you on Haiku Deck
Have students write a "____ Reasons Why I Love You" about a loved one or just "___ Reasons Why I Love ____" about any topic.  Choose whatever number makes sense to your age of students.  Next use a presentation app like Haiku Deck to write one reason per slide and illustrate.

Haiku Deck is a fun option because students could write the reason, then use the image searching tool to insert a beautiful full resolution background.  It also does allow uploading so students could use a mix of photos from Haiku Deck, their own photos, and drawings.  Haiku Deck also works on iPad or PC which is another bonus for classrooms that use Chromebooks or laptops.
I blogged about Haiku Deck before and it is still free to create an account.  They do also have an educators account that is only $5.00 a month so if you end up using and loving this software, I suggest supporting them by joining (and getting the perks of a paid account such as the ability to download your decks into .ppt and .pdf formats).
Check out my sample deck below:
10 Things – Created with Haiku Deck, presentation software that inspires
Valentine's Day technology integration activity #5:
Chatterpix Talking Valentine App Smash
My Talking Valentine unwrAPPed activity also starts with PicCollage (I'm obsessed!).  Students first design a Valentine using PicCollage.  They put their selfie smack in the middle of it.  After saving, they use this PicCollage image in Chatterpix, draw the mouth over their mouth, and record a special Valentine message for a loved one.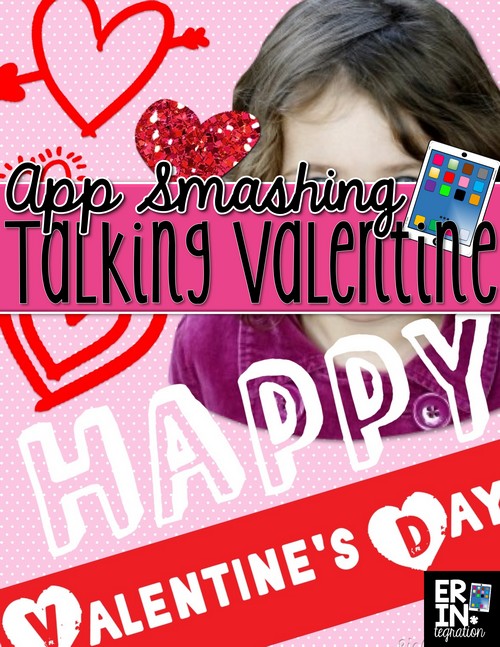 I uploaded these to YouTube and shared a private link with parents via email.  The private link could also be made into a QR code.
Valentine's Day technology integration activity #6:
Create a Valentine's Day ebook on Google Slides
I have blogged in detail about how to use Google Slides to make an ebook.  Since Google Slides has an in-app image search tool, students can create a slide for the various Valentine symbols explaining the symbol, where it comes from, and including an image.  Valentine's Day is a mix of a lot of different elements from history and students will enjoy learning about them!
I would NOT allow students to straight up Google "Symbols of Valentine's Day" though since it brings up a lot of early internet dated websites (Geocities anyone?) and also some questionable symbols (since when is a boyfriend a symbol of Valentine's Day???).  I had my students research on Ducksters, but older students could use the information on the History Channel's site too.  The History Channel has links to various videos, which I have not vetted but may be worth looking into!
Don't forget to hand out my FREE Valentine QR code Homework Passes!
Just for fun be sure to download my freebie, print one of the 3 ink versions of mine, and share with your class this Valentine's Day!  When students scan the QR, text is revealed that tells them it is a homework pass.  My students LOVED this secret surprise while opening their cards.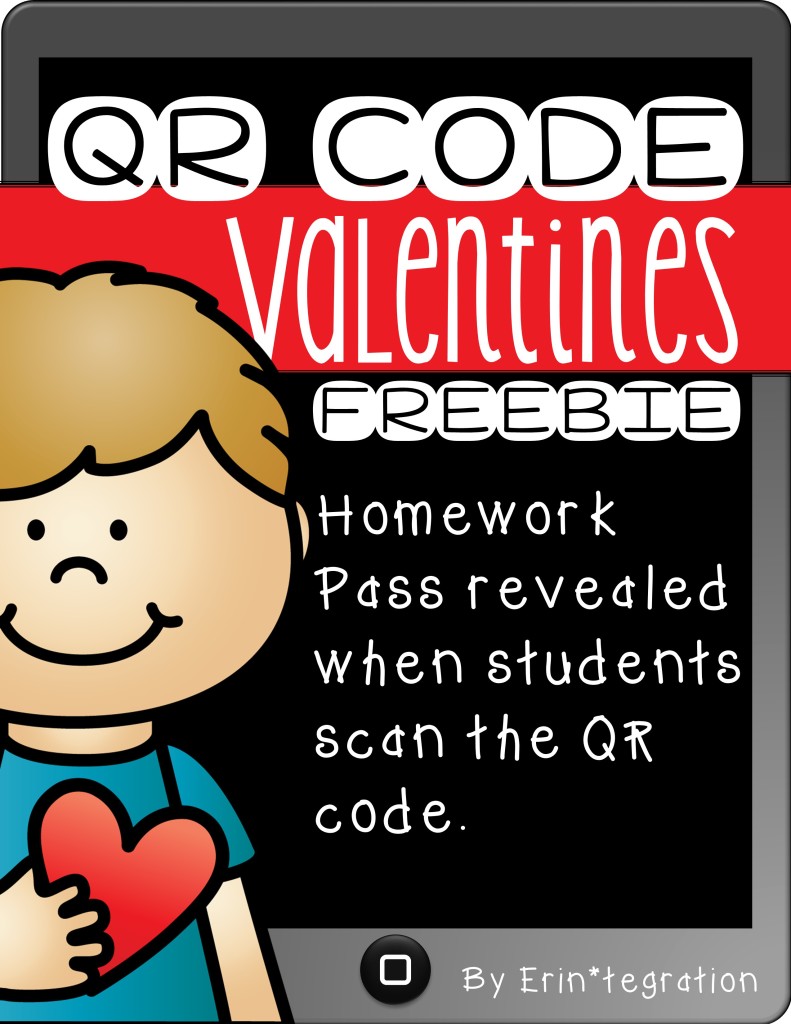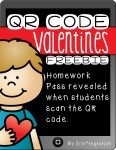 If you want to make your own, I simply used a QR site and instead of adding a URL, I checked the box "Plain text" and typed what I wanted my QR code to "say" when scanned.
---
What sort of Valentine's technology integration activities are you planning this February?  Check out my Holiday Pinterest Board for more themed activities – both technology focused and not:
Follow Technology Erintegration's board Holiday Activities on Pinterest.