Making a Class Google Account for free is something I did for several years prior to the invention of Google Classroom so that my students could have access to Google Apps – especially Google Drive – or Google Docs as it used to be known before the rest of the suite was implemented…and I've totally outed myself as an official "old."  However, even with Google Classroom and students' having their own emails, I still use a class Google Account.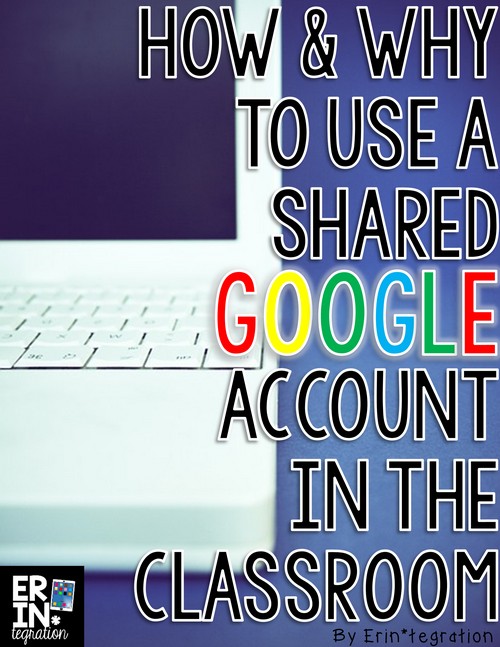 In this updated post, I will share how we used a class Google Account before Google Classroom for any teachers wanting access to the apps that do not have the G-Suite for Education AND I will share how we continue to use it even after we became a Google school.
How to make a Class Google Account
Yes, you have an email and maybe you use Google Drive for yourself.  But if you have not yet made a class one you need to.  I have 3 Google accounts, a personal one, a school one, and a class one.  Google makes it easy enough to share between the three too.
Anyway to make one, CLICK HERE.  Choose an email handle and password you can share with you students.  This is the most important part.  You will want something your students can remember and can type (avoid underscores and capitals at all costs!)
How to use a Class Google Account
Now anytime an app or site requires an email account – Showme, YouTube, Google Drive, PicCollage (for getting the free stickers), Educreations, SoundGeicko, etc. use the class account and email.  Boom, your students can enter it themselves and their work is all saved in one place.
Some people have asked if I trust my students with this info.
Yes, I do, but also I use my phone number to verify the account so if for some reason little Bobby figures out how to change the password, I can reset it via my phone.  I'm not sure this trick works for Middle School Students – by then they should have their own email.
Sharing a Google Drive
I set up a folder for each student in Google Drive with their name as the name of the folder.  That way when they log into Google Drive, they can each access their own folder.  Unlike Google Classroom, students will technically be able to "get into" other student folders…BUT for younger students explain that you can see everything they do to discourage anyone from doing that.
We used this system successfully for several years before getting Google Accounts for the students and being able to use Google Classroom.  I know many teachers that want to access the Google Apps but in a safe way.  Setting up a classroom Google Account is safe because you are the admin and you can regulate how it is used.
The most tedious part is copying assignments to go in folder.  First you need to make the assignment – I've shared some of the assignments we completed here.  Then you right click and choose to make a copy.  Set the destination folder as one of the student folders.  Then repeat this for each student.  When students go into their folder they need to rename the item as it will be titled something like "Copy of…."  They can delete that part and add their own name to the front.
Should anything get messed up either on purpose or accidentally, use the undo button or the revisions button to pull up unchanged items.  If students accidentally move something look under "recent" items in the left sidebar.
---
Are you a GAFE school?  How do you manage student accounts or lack there of?  Also be sure to follow my GAFE Pinterest board for more ideas for integrating Google Apps into your classroom whether you are sharing a class Google Account or are a GAFE School: