Use the app Pic Collage to create an Eric Carle inspired digital collage using the web search and clip tools. This digital collage activity makes an engaging companion to an Eric Carle author study, read aloud, or paperless art project in the elementary classroom.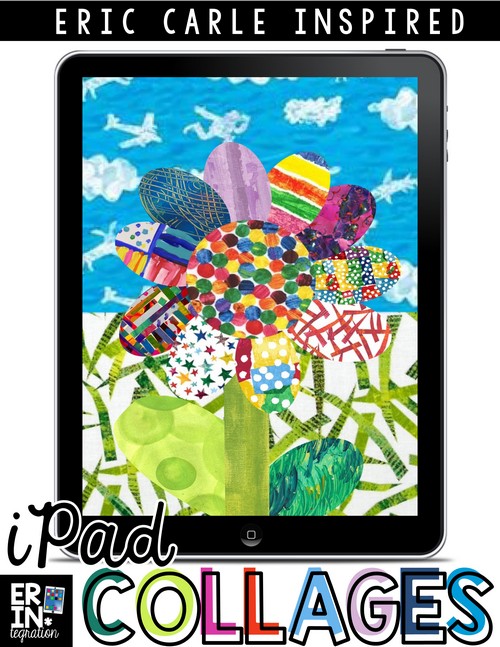 This project was inspired by a teacher's question on my Facebook page after I posted my digital Christmas Tree project on Pic Collage.  She wondered if a similar digital "cut paper" technique could be used to create an Eric Carle craft.  I played with Pic Collage for a moment and sure enough, using the same web search and clip combo, students can create digital collages inspired by Eric Carle.
Set Up – Eric Carle Author Study
This Pic Collage activity would work well in a K-3rd classroom.  Younger students can create their collages after listening to an Eric Carle story or stories.  His simple text, captivating images, and repetitive structures are fantastic for Kindergartners and first graders learning to read and recognize structure, patterns, and plot.
Second and third graders can take a more "mature" approach and look at Eric Carle as an author and illustrator.  In my third grade classroom, we have used Eric Carle when we start to discuss the Integration of Knowledge and Ideas Common Core Standard:
---
CCSS.ELA-LITERACY.RL.3.7
Explain how specific aspects of a text's illustrations contribute to what is conveyed by the words in a story (e.g., create mood, emphasize aspects of a character or setting)
CCSS.ELA-LITERACY.RL.3.9
Compare and contrast the themes, settings, and plots of stories written by the same author about the same or similar characters (e.g., in books from a series)
---
I start with books students will have had some experience with or whose style is more accessible such as Eric Carle, Dr. Suess, Moe Williams, and Kevin Henkes.  Here are some of my favorite Eric Carle stories that inspired this digital project – click the affiliate link to view the book or search in the search bar to find others!
After reading several Eric Carle books as a class or individually, students will be tasked to create an Eric Carle style illustration for another story (we use fables since one of the things we notice during our author study is that Eric Carle's stories are simple and feature animals).  We sourced our fables from Epic – a free online reading site with a large selection of ebooks.
Get the App Pic Collage
First make sure you have either the app Pic Collage or Pic Collage Kids for the iPad.  You will need to have the Web Search option turned on for this project (it is ON by default).  Pic Collage is also available on a variety of other devices – Kindle Fire, Android and computers/laptops with Windows 10.
Study Eric Carle's Artwork and Process
Next set some sort of guidelines for the project.  Students can sketch their illustration first then count the "elements" in their sketch so they will know how many collage pieces they need.  Or tell students they must use a certain amount of different digital papers.
I suggest having a quick mini lesson looking at Eric Carle's work to see how each image is really many pieces.  There are slideshows here that break down his process and will be very helpful for students to view.
Create an Eric Carle Style Illustration on Pic Collage
Now the "how-to."  Basically students are searching for a variety of textured digital papers using the web search tool in PicCollage than clipping the images into the shape for their collage.  First they open Pic Collage and choose a freestyle collage.  They will use the plus button to open the menu and select web search.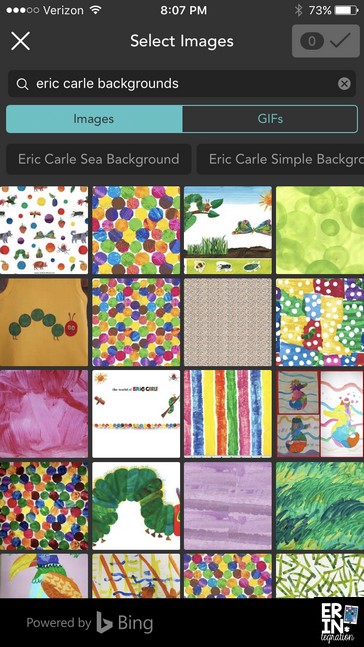 I searched "Eric Carle Backgrounds" to pull the patterns above.  Prior to allowing students to web search, I try out a bunch of related phrases and record them onto the whiteboard.  Students can ONLY use those phrases to search and they are not allowed to scroll.  Doing this helps me to control the image search  and helps students find what they need better.
Next students will touch the backgrounds they want to use and the check button.  Images are inserted onto the Pic Collage canvas.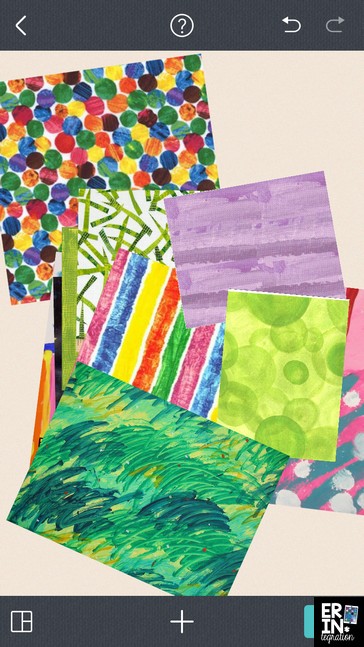 Students will then double touch images and select clip.  Using their finger, they trace out a shape onto the digital paper.  They repeat this process for each digital paper image they choose.  They can also use the shapes provided by Pic Collage.  For this flower, I used ovals, circles, and a rectangle but I used my finger to make the leaf shape.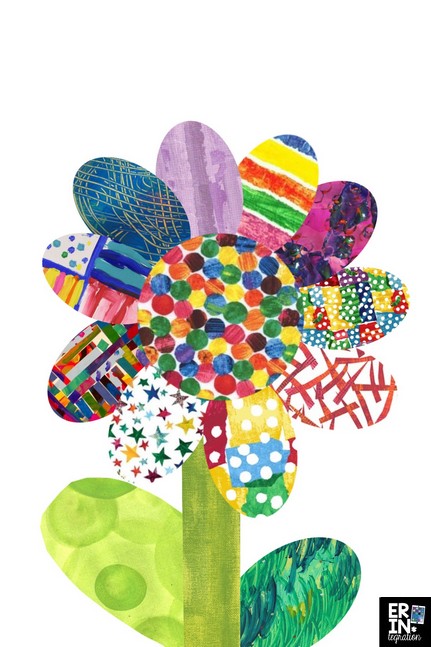 To add a background, students can either use one or two of the digital papers they chose.  Just double touch them and select Send to Back.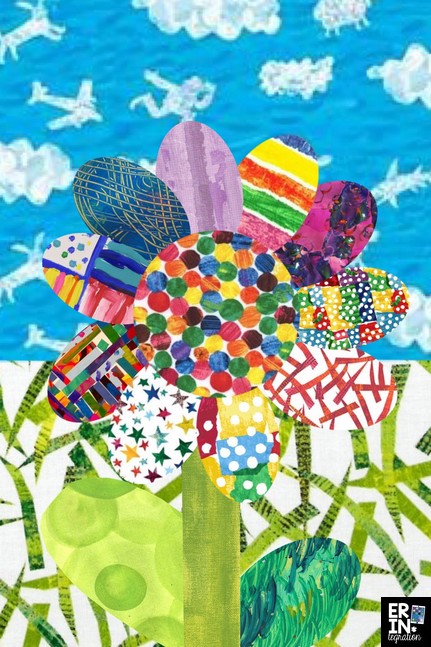 Students can also double touch a digital paper and select "Set as Background" to make it the background on the collage.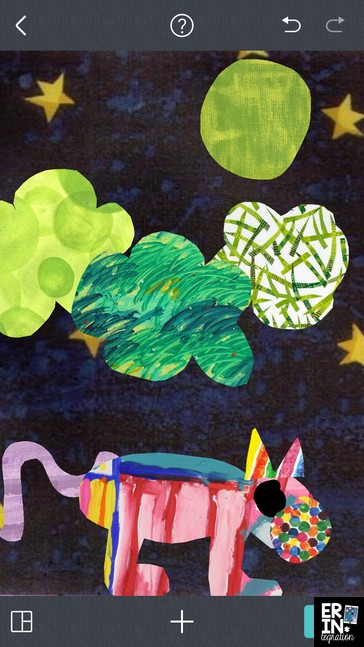 Students had a ton of fun making these collages and learning deeply about Eric Carle as an author and his process as an illustrator.
---
Find more ideas for using Pic Collage in the classroom here and follow my Pinterest board to see mine and other Pic Collage lessons across the web!