Think In is a close reading iPad app specifically designed for elementary students to share their thoughts about any book they are reading or have read.  While the premise is simple – students take pictures of the pages and use the included digital sticky notes to mark a page then record their ideas – there are thoughtful details that show the developers took into account the specific needs of K-2 students on iPads.  These details are what set Think In apart from other iPad apps I have adapted for close reading in elementary.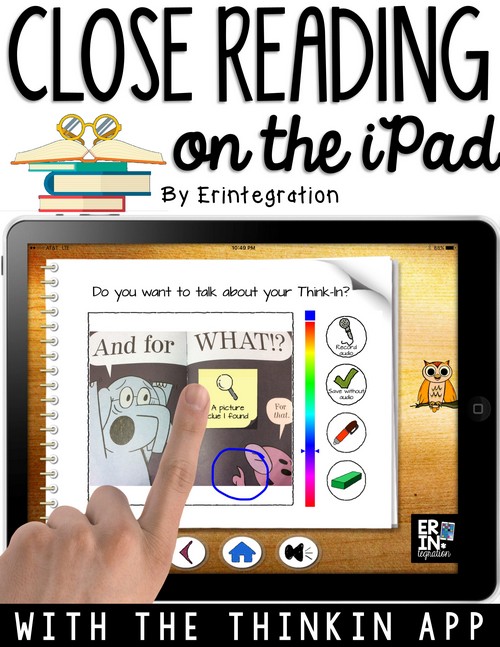 About Think In
Think In is available for iPads only at this time – check the models in the Think In iTunes listing to see if it is compatible with your devices as it was not for my old iPad but worked beautifully on my iPad mini.  You can create accounts for students to use, which is great for students sharing iPads, but there is no log in necessary, which is a huge plus for using it in K-2.
Instead students will put a picture and name on their profile.  Each iPad can store three users at this time. Each user can store multiple books so you could have students share user names and each make separate books too.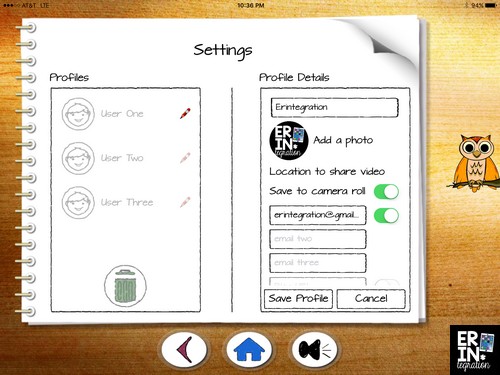 Think In can be used for ANY book – it does not provide stories.  Students will use the iPad camera to snap pictures of the cover and pages from the book.
All recordings are saved to the camera roll for easy sharing on Seesaw, Google Drive, Class Kick, Air Drop, etc.  You can also add an email to each profile if you want to send a copy to yourself or a parent. More details about how it works can also be found on the Think In website.
Think In Has a Student-Friendly Built in Tutorial
The best thing about this particular close reading iPad app is a cartoon talking owl walks students through the entire app – from setting up their profile to using it during reading.  I found this incredibly helpful for the young students who tried the app.
They put on their headphones and just followed along with the owl's directions!  Adults may be reminded of that irritating animated paperclip on Microsoft Word back in the day, but the students who used it loved the owl and were able use the app independently because of it.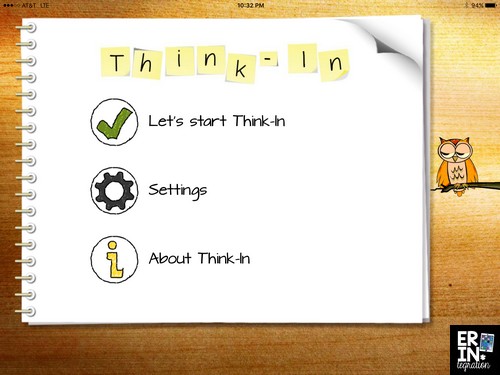 In addition to the audio cues, buttons that the students need to press will flash too.  However, there are very few buttons as the design is very simple.  I found that perfect for young students who sometimes get distracted with options.
Getting Started on Think In
Guided by the owl, students will be told to take a picture of the cover of their book.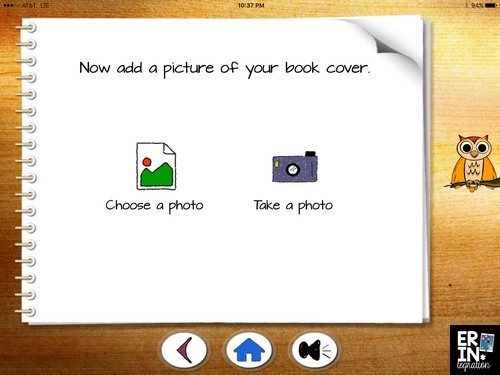 Next they type the title.  That is pretty much all the typing they will need to do with this app, which again, I thought was a strong selling point as K-2 students often struggle with typing and it can take up a lot of time.  Also, identifying the book cover and title are two important skills!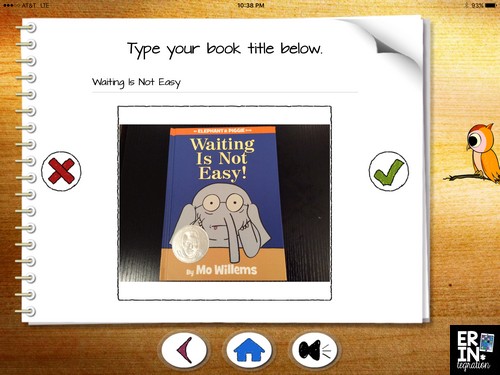 Next students add and work on one page at time from the book.  They are only prompted to add pages they are "Thinkin' about."
You could keep this open-ended as it is presented or you could have students focus on a specific task that corresponds to your mini lesson that week.  For example, maybe only have students share predictions.  As students become more adept at using close reading strategies, you could then move towards having them choose for themselves.
Using the Close Reading Sticky Notes in Think In
After students upload a page, they then select from a group of pre-created sticky notes to drag to their page.  At this time they can only use one sticky per page.  The sticky notes correspond to various reading strategies as listed below.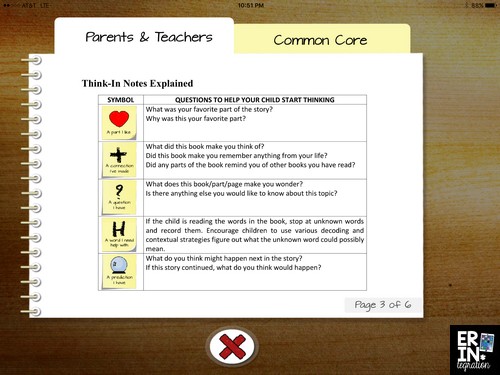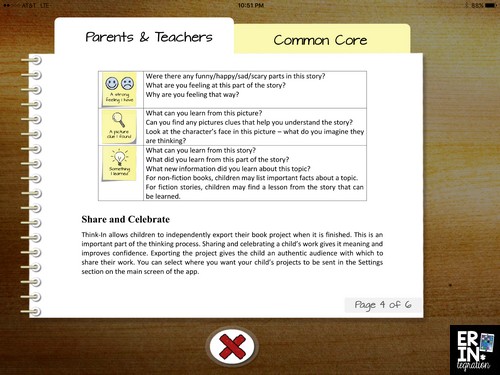 The owl asks questions to help students with each sticky.  For example, when I pulled the "Predictions" sticky, it asked me what I thought might happen.  That helps supports students who are still learning the terminology.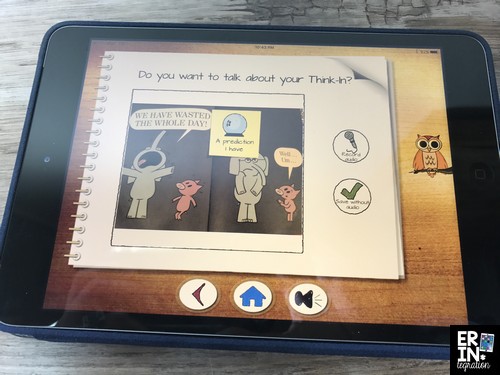 Some stickies include a second mini "activity."  The strong feelings sticky has students take a selfie showing that emotion is then embedded onto the sticky. This was probably the students' favorite.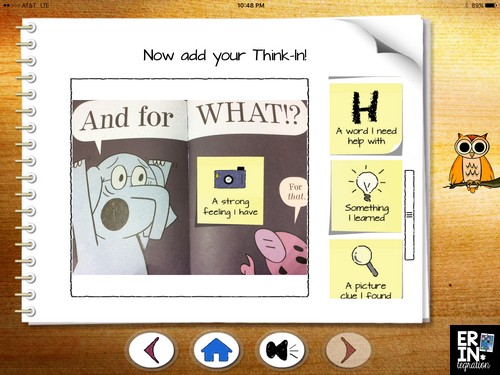 The unknown words sticky has students type the word onto it.
The picture clues sticky has students mark up with a pen to show the clue.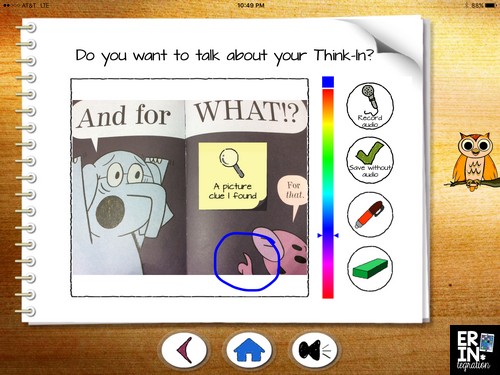 I liked that the tools were limited to the sticky chosen as it helps support students in using the app appropriately and holds them accountable when doing close reading on the iPad.
Recording Student Thinking and Saving on Think In
After dragging the sticky note over, the owl will then prompt students to record their thoughts.  Students will record a short audio clip of their thoughts.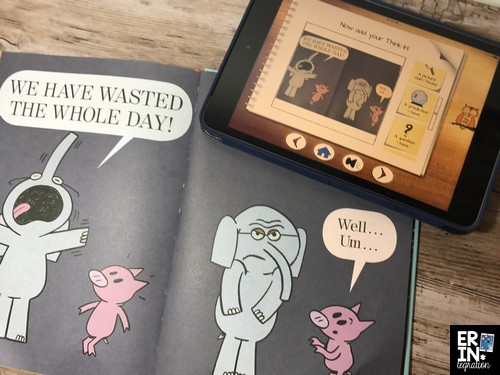 As students add "pages" to their book, the audio is attached to that page.  However, when you save the finished book to the camera roll, it will play as one large movie with every page and audio from the book.
Each book saves as a movie file in the iPad's camera roll for easy sharing.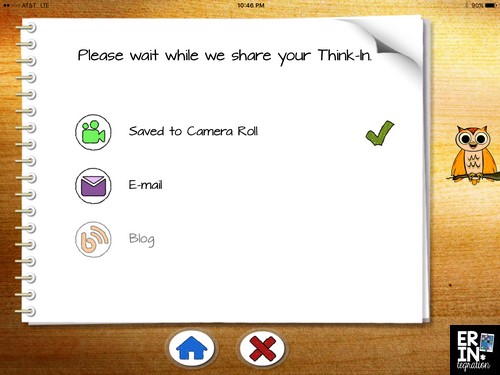 ---
Students enjoyed the app and I liked that it encouraged rereading and took a lot of busy work out by eliminating log ins and minimizing typing so they could focus on close reading on the iPad.  It was very easy for first graders to use independently – even those with limited reading skills – due to the owl guide and the simplicity of the design.  I also liked that students could use their own books.
Finally, I liked the variety of the sticky notes and how they were aligned with most reading programs by focusing on close reading strategies that good readers do.  I would love to see a blank note that students could type on (because you KNOW I want students to be able to use Emojis in the classroom too!) and some sort of highlighting tool.
There are very few close reading iPad apps specifically designed for the K-2 user that are open-ended and not a phonics game so I was excited to try this app out and we were not disappointed with Think In.  If you are looking for resources to use for 3rd grade and above, check out this post I did on Minds in Bloom about Close Reading on the iPad and my Close Reading on the iPad resource.