Tiggly toys bring blended learning into the primary classroom with interactive manipulatives and apps that mix the real world and digital.  Learn more about what Tiggly is and how it can be used in the elementary classroom.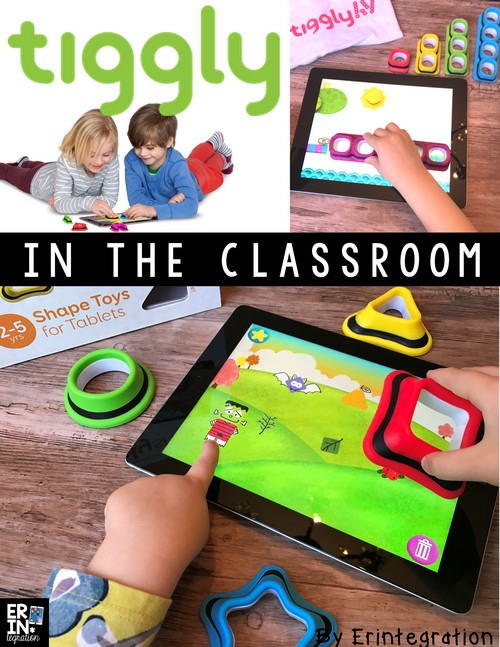 Currently available in three sets, Tiggly Words, Tiggly Shapes, and Tiggly Math with multiple apps that work with each set, Tiggly toys combine all of the benefits of hands-on learning and technology.  Plus, when kids share Tiggly toys to create and solve problems on the corresponding apps, they build collaboration and social skills!
Tiggly has provided me with a Tiggly Learner Kit to review and compensated me writing this post.  All opinions are my own, and as you know, I only share resources that I would use myself and recommend to others.
Where to Purchase
I recommend purchasing Tiggly sets through their website so that you have the warranty, 2-year toy replacement, and top-notch customer service. Tiggly has thought about teachers when setting up their purchasing. For one, by purchasing on the Tiggly site, you get a 60-day trial and if it doesn't meet your classroom needs, send it back.  If you end up loving it and purchase a larger set, you get to keep your small set for free. Also, they include links to assist you in writing a grant and a have a buy one give program too!
Click here to go to the Tiggly educator's page and click "Request a Quote" to purchase any of the individual sets, the Learning Kit or the larger education and classroom packages.
Be sure to put me as your referring educator as we can both receive gift cards if you or your district purchases sets.
Name: Erin Flanagan / Erintegration
Email: admin@erintegration
What's Included in the Tiggly Sets
Each of the sets comes with a set of manipulatives, called Tiggly toys, that work with the apps in a specific way. Right away I loved that Tiggly toys were chunky and strong for little (and destructive hands!).  I also learned that they can be washed in the dishwasher, which is a HUGE plus.  Tiggly toys come with a storage bag if you purchase the individual set or learning kit.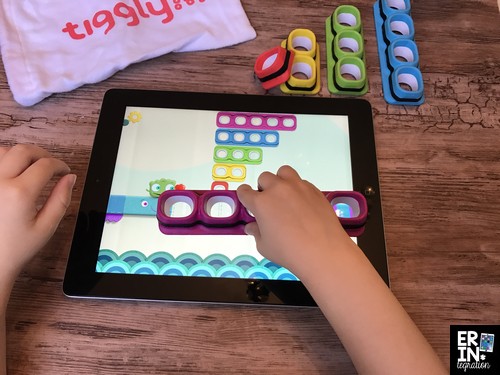 Larger classroom packages can also be purchased.  These bundles each include 5 sets each of manipulatives, student journals, student activity books and one teacher guide.  It also comes with a storage unit that can be stacked with other units.  These classroom packages can be used in one classroom or shared among classrooms/grade levels using a check-out system.
Tiggly currently works on iPads(excluding iPad 1), iPad Mini and some Androids.  They also mention on their site that they are working on a Chrome version so stay tuned Chromebook friends!
When we first pressed the Tiggly toys to the iPad screen, and the screen reacted, it felt a little like magic.  Tiggly toys have little nubs on the bottom that work on the screen like fingers.  Since each toy has a specific number and placement of nubs, each toy is "recognized" by the app – no batteries, Bluetooth, or wifi needed! Also, if your students are anything like the group of 1st-graders I worked with, they will soon purposely try to press the "wrong" piece to the screen to see if they can trick it (they can't).
My Pre-K aged children also had no trouble figuring out how to use the Tiggly toys.  I did need to remind them that they didn't need to press too hard as the toys are sensitive that a gentle press is all that is needed.
Each set also has codes to unlock the apps that work with the toys.
Suggested Ages for Tiggly
Tiggly is advertised for ages 4-8 years with some variation in the individual sets.  Depending on where your students are, you will find that some apps are more geared towards specific needs.   For example, very beginner readers are going to pair well with Sesame Street both in interest and reading level.
My kids are just learning beginnings sounds and short vowels, so while Tiggly Words was a bit of a reach, the scaffolding built into the apps helped them start to recognize patterns.  In the Sesame Street app, cookie starts with CVC words and they added a different vowel.  While my Pre-K kiddos simply tried all of the vowels without consideration, they soon noticed that some worked and some didn't.
The 1st graders treated it more like a game with right and wrong answers.  Some held up the Tiggly toys and tried the word aloud before pressing it to the app, which I thought was cool as I would not have seen that with other, less interactive apps.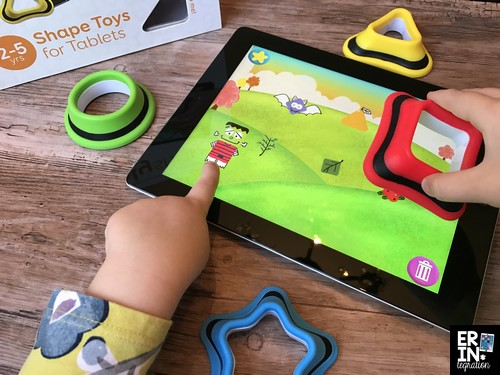 However, each app does not include specific levels for PreK-2nd.  This means that a set can be differentiated by app somewhat – maybe your lower level readers are working on Story Maker and your higher readers are doing Doctor.  The most challenging set of apps were the Tiggly Math set as many also required some critical thinking and logic.  While I know my third graders would be super engaged, I think the sets are the best fit for a typical K or 1st-grade student with uses in 2nd for intervention or ELL instruction.
The most challenging set of apps were the Tiggly Math set as many also required some critical thinking and logic.  I partnered students for these apps in 1st grade so they could help each other.
While I know my third graders would be super engaged, I think the sets are the best fit for a typical K or 1st-grade student with uses in 2nd for intervention or ELL instruction. But, if you are a third-grade teacher and your lower grade teachers have a set, I suggest borrowing it and letting your students play one day. They will especially like the Tiggly Math app Tiggly Addventure and the Tiggly Shapes app Tiggly Draw.
Setting Up Tiggly
After installing the apps, there is nothing special to do to get the Tiggly Toys to work on the apps.  Simply touch the app, select the option that using the toys and then place the toys in the order that is requested to "unlock" the games. Students will have no trouble getting starting right away – they can even "unlock" the games using the toys themselves.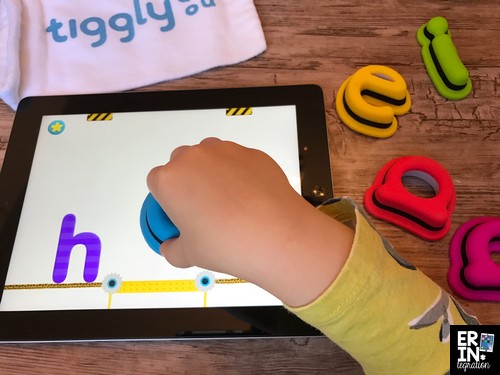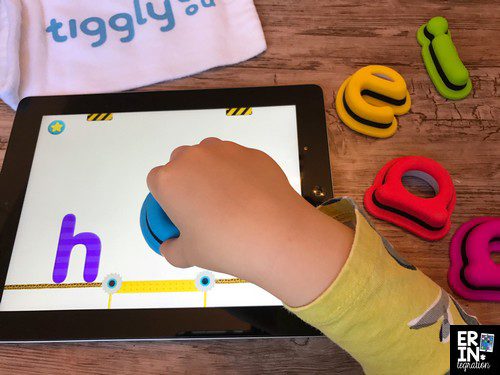 This makes Tiggly a great center activity since you would just need to have the iPad and manipulatives set up in the center.  In fact, you could even have students set up the center themselves.
Tiggly Apps
Tiggly currently has twelve education apps that work with their corresponding sets.  I found all of the apps engaging and intuitive for kids to use.  Apps all include visual and verbal prompting so kids can figure out what to do on their own if they get stuck.
Most of the apps are relatively straightforward.  As I suggested a couple of paragraphs above, you could set up the Tiggly toys in a center with the apps and have students review the skills you are working on in class.  Purchasing the sets through Tiggly Education also gets you a teacher handbook with lesson ideas for whole and small group and journals to hold students accountable.
Unlike a typical app, students will often need to think critically about which Tiggly toy to use to solve the problems. In the Tiggly Math app called Tiggly Chef, students are solving for the unknown rather than the total.  This early algebra skill can be tricky on its own, but having the manipulative made it more concrete for students.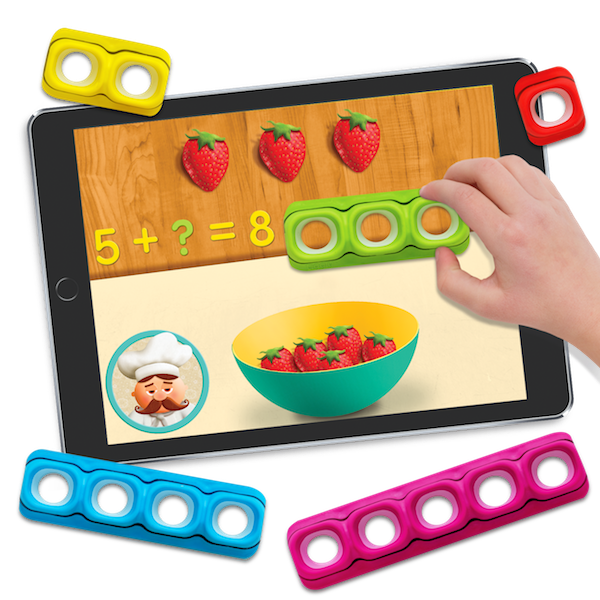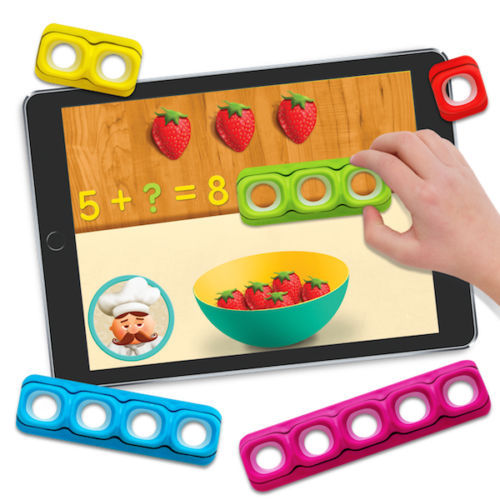 I liked that the counting app called Cardtoons had students count two ways – first when the Tiggly toy manipulative is placed and second as they drag the counters around. I also noticed that students were counting on the Tiggly toy itself!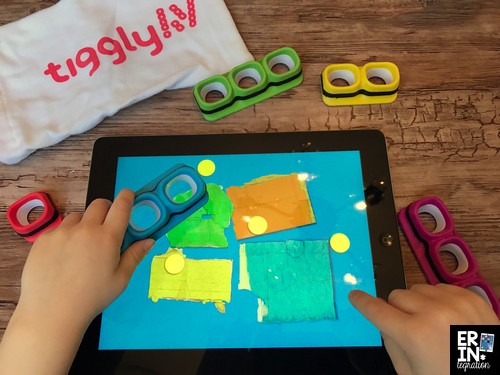 The Tiggly Words apps all use the included vowel toys.  For most students vowels are the hardest part of reading to master, so I appreciated that they structured the games around them.  Also, involving the kinesthetic sense is a component of multisensory language instruction that is shown to enhance memory and learning.
A fun sidenote, I  noticed that the "u" would not work if it was placed upside down like an "n."  I think I mentioned that my kiddos were giving the toys a thorough testing!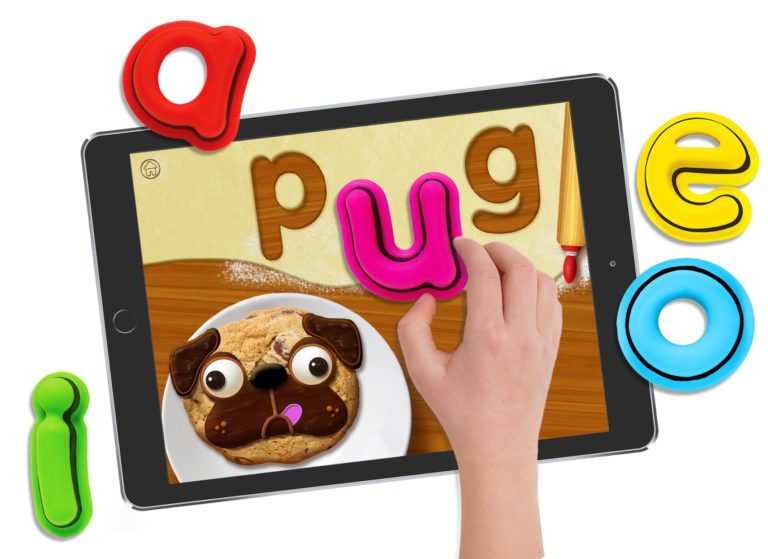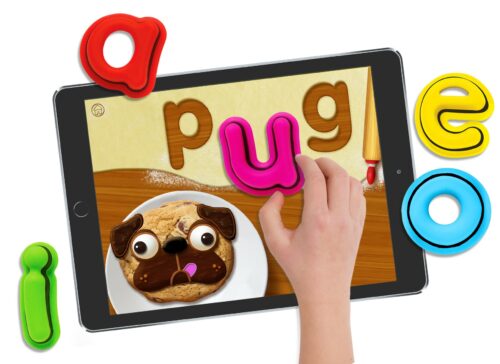 My favorite apps were the ones included in Tiggly Shapes. Tiggly Draw has students create a picture using shapes, and Tiggly Shapes Got Talent is an interactive story about shapes. Both Tiggly Draw and Tiggly Shapes Got Talent also included digital storytelling with a recording option so students can record themselves telling a story about their creations.  You could also app-smash the characters created in Tiggly Stamp with Chatterpix to make them talk. With a little creativity, these apps can be used for cross-curricular learning in writing, math, and reading!
Tiggly Toys and Screen Time
As you might know from reading my blog, as much as I love technology and see many benefits to integrating it into the classroom, I also try to be mindful of screen time – especially what kind of screen time – students are exposed to when in my class.  I aim for students to be actively collaborating and creating when using technology and I limit passive screen time.  I also strongly believe that students should still be doing hands-on projects, writing, and moving too!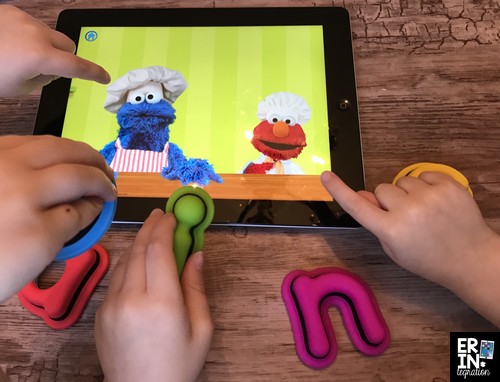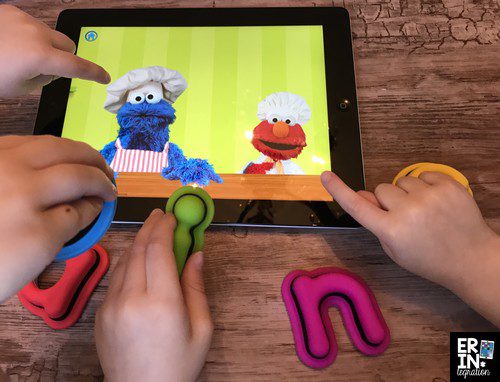 Tiggly fits into this philosophy and I observed additional benefits when students were partnered in completing the activities: they communicated, problem solved, and engaged with each other as they discussed which pieces to use and watched the result.
Exciting News from Tiggly
I recently learned that Tiggly has created a Teacher's Dashboard with student accounts to pair with the release of their newest and biggest set, Tiggly Digits and Symbols!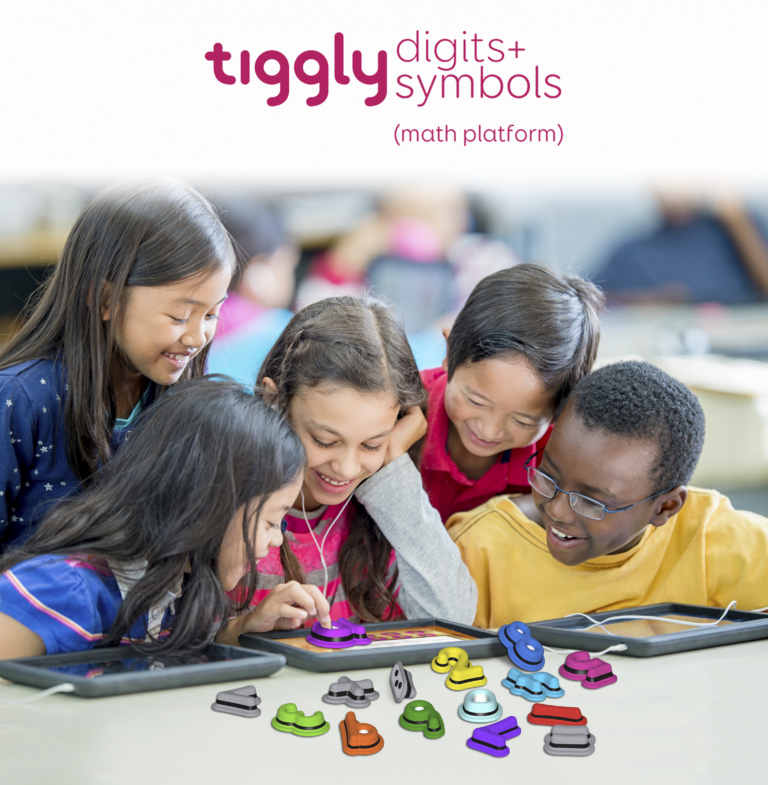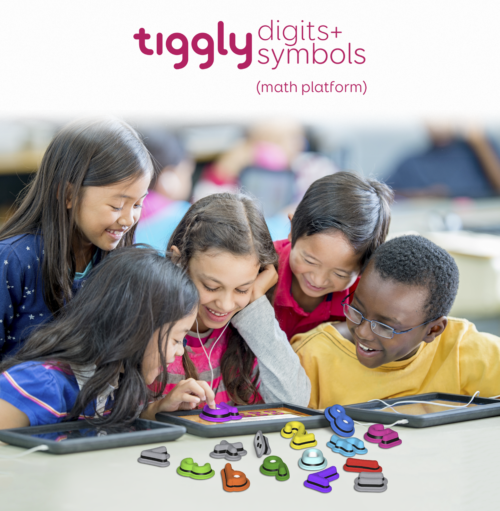 I have not had a chance to try it out, but I do know that it will include Tiggly Digit toys numbers 0-10, four symbols (greater than, less than, addition, subtraction) and Tiggly Digits Math City Software, which is a collection of activities for math standards in PreK-2nd grade.  The software includes both English & Spanish versions!  Learn more about the latest Tiggly offering here – they are offering a discount if you preorder it too.
---
Erintegration is sometimes provided free services, goods, affiliate links and/or compensations in exchange for an honest review.  All thoughts and options are my own and are not influenced by the company or its affiliates.