Learn how to use the fabulous iPad app Pic Collage to create game boards or play games right on the app.  Plus get access to a free game board template to try now!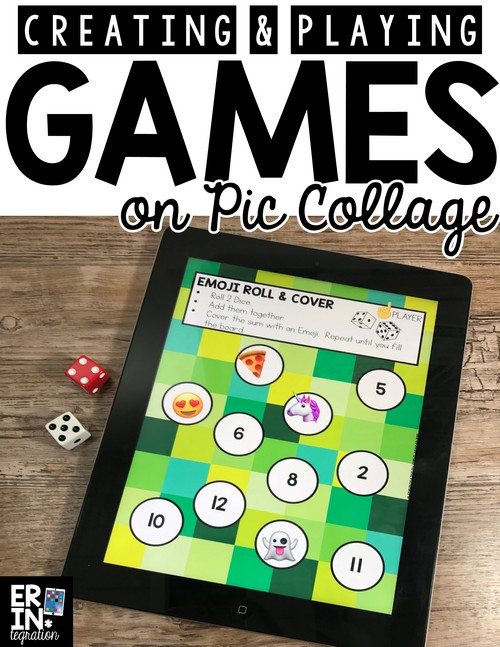 Having students create games is a fun way to review concepts.  Students can create games to share with other students in a math center or to review their spelling words or even as an exercise in critical thinking.  While I think using paper and having students draw and create a hard copy of the game is definitely worthwhile, sometimes it makes sense to save paper and time by using Pic Collage to do the heavy lifting too.
Plus you can use Pic Collage to play pre-made games!
Using Pic Collage to Create a Game Board.
To create a game board on Pic Collage, students are essentially making the path and the spaces of the game board.  At this time there is not a way to roll dice in the app so you will still need dice or cards or a spinner (maybe even a fidget spinner?).
We use the text feature to create our spaces.  Touch the T to open the text box, then type what you want the space to say.  The most important part is to use the droplet button to add a background the text box to give it a shape.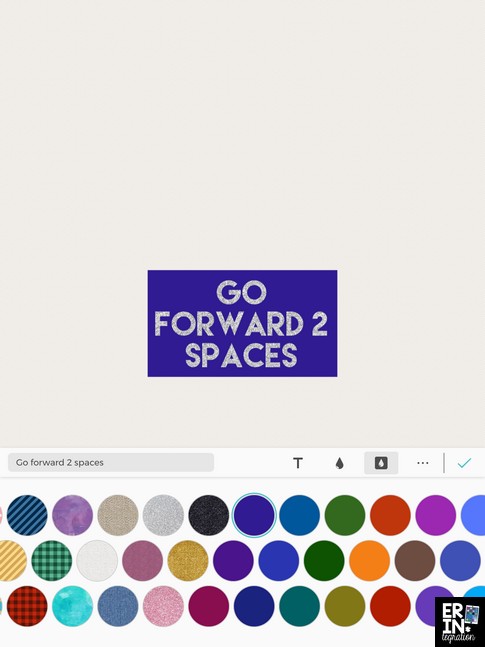 You can resize boxes to suggest a path.  You can also use the new doodle tool to draw a path and place the boxes over it.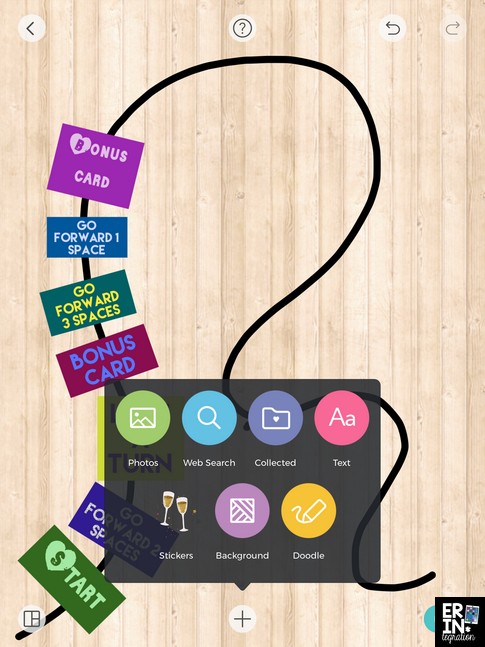 I have students save the completed game, then upload the saved image in a new Pic Collage Canvas when we go to play the games.  This way they can set it as the background and lock it down during play.
Playing Student-Created Games with Pic Collage
You can use Emojis, Stickers, a selfie that has been clipped or even items found in the image search and clipped as game pieces.  If you are using images like selfies or searched images, be sure to save them to your collected folder for future use.  Learn more about the collected folder and how it can save time in Pic Collage here.
The critical thinking comes in because students will need to test their game boards before they can play.  They need to make sure that all spaces have a chance of being landed on and that the game is fair.
The best thing about creating a digital game board is it can be saved and used again, and it can be shared through Google Drive, Air Drop, or Seesaw for other students to access. If you have students make "generic" spaces, the games can be used with a variety of materials and task cards, too. For the game sample below, students could use cards and move across the board if they answered the task card correctly.  They could use selfies as markers (actual students not pictured).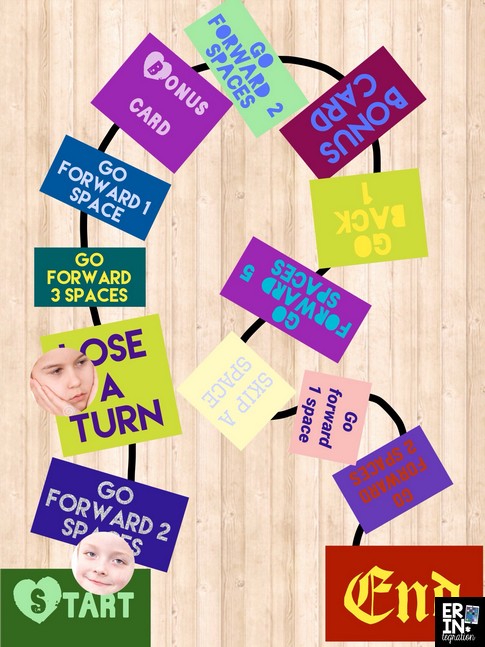 Heidi Samuelson on Swamp Frogs had students use another method to create their game boards by searching and clipping images to make each space.
Playing Pre-Made Games on Pic Collage
As much as I love apps on the iPad, many of the single-use game ones have ads or are blocked by districts.  There are some games I would love my students to have access to – especially puzzle and solitaire games that are not the best for a school iPad due to in-app purchases or ads.  So I created a set of classic puzzle games to use on Pic Collage.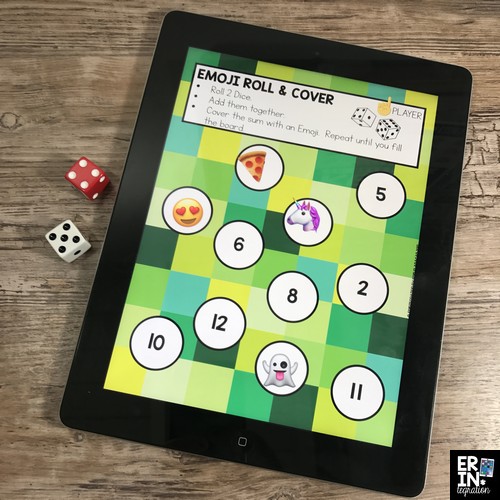 These pre-made game boards are housed in Google Drive so students can download the game board right to their device, set it in Pic Collage, then use Emojis to play.
Some of the games do require dice or a partner.  This is clearly marked on each template along with the directions to play.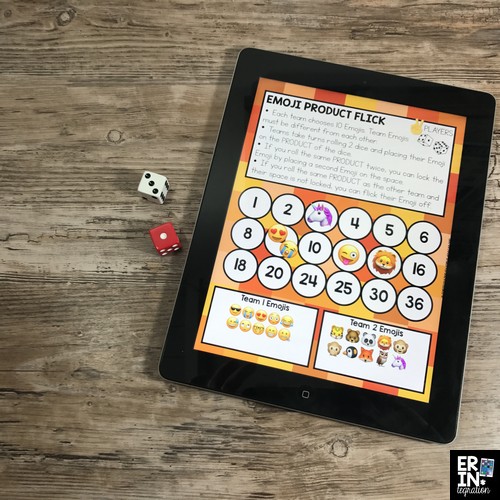 Using these classic game boards is a money saver because you can share them with all of the students in your class instead of buying 28 wooden boards and chips.  These classic game boards are perfect for students who have finished their work, are taking a brain break or are warming up before a lesson.
We learned about some of these games on a tour of a historic home in our area on a field trip.  The game Shut the Box, for example, would have been played by George Washington.  I love that these old games can get a fresh life on the iPad, and I can expose students to the history too.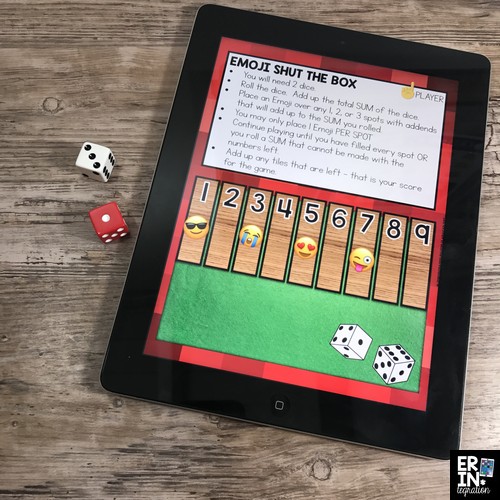 You can download the FREE Emoji Hanging Man digital game board below if you are a subscriber to Erintegration by clicking here to head to my Free Resource Library and entering the password.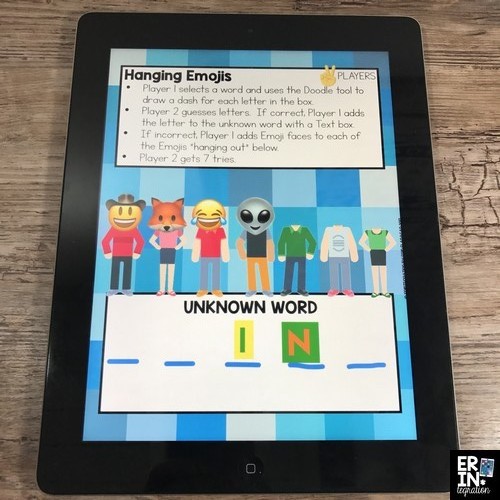 If you do not have the password, you must subscribe to receive the password.
Get the FREE Emoji Hanging Man Digital Game Board by Signing Up Below
Using Games on Pic Collage
I love to include game boards on my countdown activities for use with Pic Collage.  I made a themed set for counting down to Christmas Break and another set for counting down to Summer Break.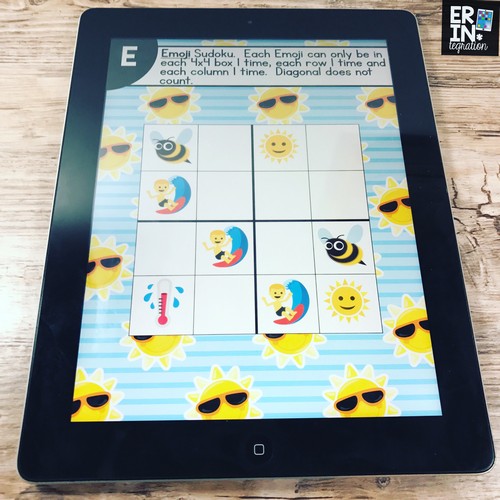 Pic Collage is the perfect app for quick games because it is intuitive and simple for students to use.  Therefore it does not take a lot of time to have a 3-5 minute game or puzzle break.  You could have students create brainteasers, mazes, logic puzzles, and integrate dice, cards, counters and other hands-on manipulatives.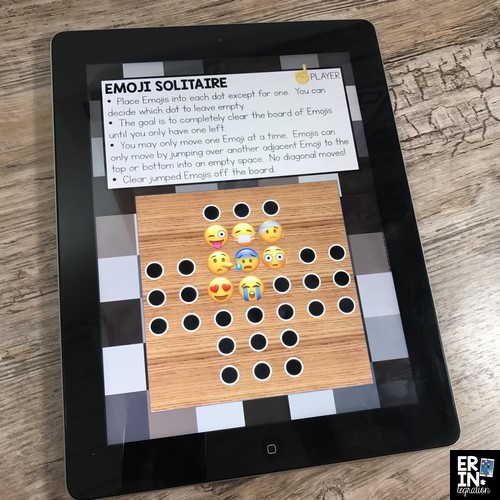 You can even have students take a picture of a brainteaser or game board and solve or play it on Pic Collage using the Doodle tool to draw or using Emojis for counters.  Many math programs come with games for you to copy and distribute to students.  Save time and paper by sharing these with students digitally to pull up in Pic Collage.
---
Have you used Pic Collage to create or play games on the iPad?  Share your pictures on social media and tag Erintegration!