Recording in the classroom has changed rapidly over the last few years with the rise of easy-to-use programs like Flipgrid, Seesaw, Chatterpix, Book Creator and other programs and apps with audio and video components.  Likewise, the need for space and procedures for recording in the classroom has also changed as teachers are needing ways to allow students to record quickly before, during, and/or after lessons without having to disrupt the entire classroom.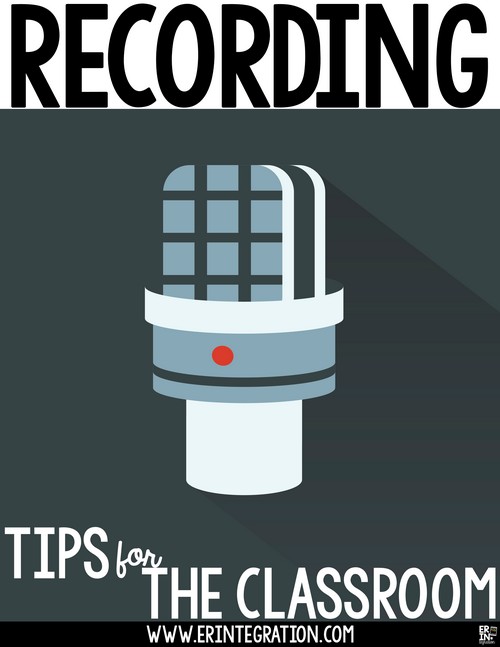 Gone are the days where a student may spend the entire class working on editing one iMovie and in its place are flexible classrooms where students may quickly record audio to explain their thinking about a math problem in Seesaw during seatwork or students reading quietly before switching to Flipgrid to share thoughts about a response question shared by the teacher in guided reading.
Here are some tips to help teachers and students create quality audio and video recordings on any digital device in a busy classroom:
1. Set a Designated Recording Spot
This may be a spot in your classroom, along a wall in the hallway, or even on or under student desks.  Be consistent so that students know where they will be using their devices to record. This will also cut down on disturbances since students will know that students in that area may be recording and should act accordingly.
I think it helps to designate the spot with a sign or special seating or pillows.
Check out these recording studios! Students place their #iPad inside the box to record a video. The foam helps to block out some extra noise and enhance the audio. These would be great for #Flipgrid! #RISDconnects #RISDgreatness pic.twitter.com/eNcJzHGBE5

— Lauren Hall (@pinksciteacher) August 18, 2018
2. Use a Tent, Box, File Folder or Partition to Separate Students
Not only does it help students to have a designated space, but by using some kind of partition or make-shift booth, you can cut down on sound and other distractions.  Plus, shy students will feel more confident about recording when the space is private or semi-private.
Attach acoustic foam to absorb extra background noise, especially if you plan to have students recording while classmates are engaging in other activities.
Acoustic tiles can be trimmed with a utility knife to fit the box or partition you are using. The egg crate ones can double as a device stand in a pinch since an iPad can be balanced between the eggs if you use tiles on the bottom surface. Acoustic tiles pictured can be purchased on Amazon at my affiliate link here.
The foam squares can be attached to the inside of a cardboard box or onto the side of a tri-fold partition with spray adhesive.
If you don't want to make your own, this premade desktop recording station is available on Amazon at my affiliate link:
Tents like those popularized by Flipgrid can also be purchased on Amazon using my affiliate link:
A bonus to using the green colored tent is that the background can double as a mini greenscreen.  The tents also fold down flat.  While they do not provide much in the way of acoustics, they do help students feel more secure and provide a good visual reminder to the rest of the class that someone is recoding.
3. Check That the Mic is On / Allowed
I included a sign for this tip in my Recording Poster Set because it is my number-one troubleshooting when recording tip!  It is SO frustrating to think you are being recorded but when you go to listen, there is no sound and/or video!
Many apps have a pop up that is easy to dismiss the first time that asks for permission on the device to use the microphone.  These settings can be changed after the fact if a student accidentally says "No" or closes the popup without giving permission.
However, students should check beforehand in the settings if they can't remember giving permission to avoid wasting time recording without the microphone on.
You may also want to use a 3rd party microphone.  Check out this list of mics recommended by the Techie Teacher. Using a filter attached to your booth or box is another option like this inexpensive pop filter available at this affiliate link:
4. Display Recording Tips
Set the stage for the recording spot by displaying Recording Tip Posters from www.shoperintegration.com.  I included both a color and blackline version of the tip posters to fit all classroom decor schemes!
I also made sure to include iPad and Chromebook specific versions when applicable.  I suggest having a mini-lesson that includes modeling the tips before putting them to use.  As students start to record, give positive feedback when you notice students putting the tips into practice.
Some time spent discussing and practicing will pay off down the line if you plan on using Flipgrid, Seesaw and similar programs regularly.
5. Have Students Write a Brief Script or Notes
Depending on the recording, I suggest students have SOMETHING to refer to.  Students can write or type a script out to read, jot a few keywords or draw some quick pictures to remind themselves of topics to touch on when speaking.  Even professional speakers need some sort of touchstone to stay on track!
Without a script be prepared for lots of "um's" and "uh's" and lots of time-wasting repetition and silliness as students may struggle to articulate their ideas when on the spot.  So while it may seem like preparing a script or notes takes away time, it actually will save students time in the long run.
6. Show Students How to Delete Unused Recordings
This is especially important if students are recording files saved onto the iPad as many students iPads have limited storage.
However, students need to know how to identify and remove unwanted files on their devices just to keep organized too.  If they have 50 unwanted video recordings, it makes it harder to find what they need.
7. Set a Specific Amount of Do-Overs Allowed
You may want to set a class limit or differentiate based on student needs – this is up to you and what you think will work best with your group of students.  However you decide to do it, students do need a limit. While some students may always be happy with their first attempt, you will notice that many will record over and over again – often flubbing a different area each time.
By limiting do-overs you are giving them permission to do their best but to also move on and be less self-conscious.  If a particular project requires more polish, then, by all means, have students work until the recording is error-free and be sure to explain why and who the audience is.  But for a general response or explain your work situation, 2-3 attempts is plenty.
8. Have a Recording Window When Recording is Allowed
This will definitely vary depending on your class set up or activity, but I think having times where recording is OPEN helps students be especially respectful when moving around the classroom. It also helps them be more aware of their volume.
It may even be easier to have times where recording is CLOSED such as when students are engaged in group work, clean up, or the teacher is giving directions.
---
Any tips you would add?  Do you have a space or equipment for recording in the classroom?  What are your favorite recording apps and programs?  Use the hashtag #recordingintheclassroom on Instagram to share your set up and join the conversation about best recording in the classroom practices!