Learn how to create a custom Google Chrome home screen using a Bitmoji scene! If you have added your Bitmoji to your Google Classroom banner, created a Bitmoji classroom, and/or are just Bitmoji obsessed, the home screen on Google Chrome is more real estate to slap your Bitmoji!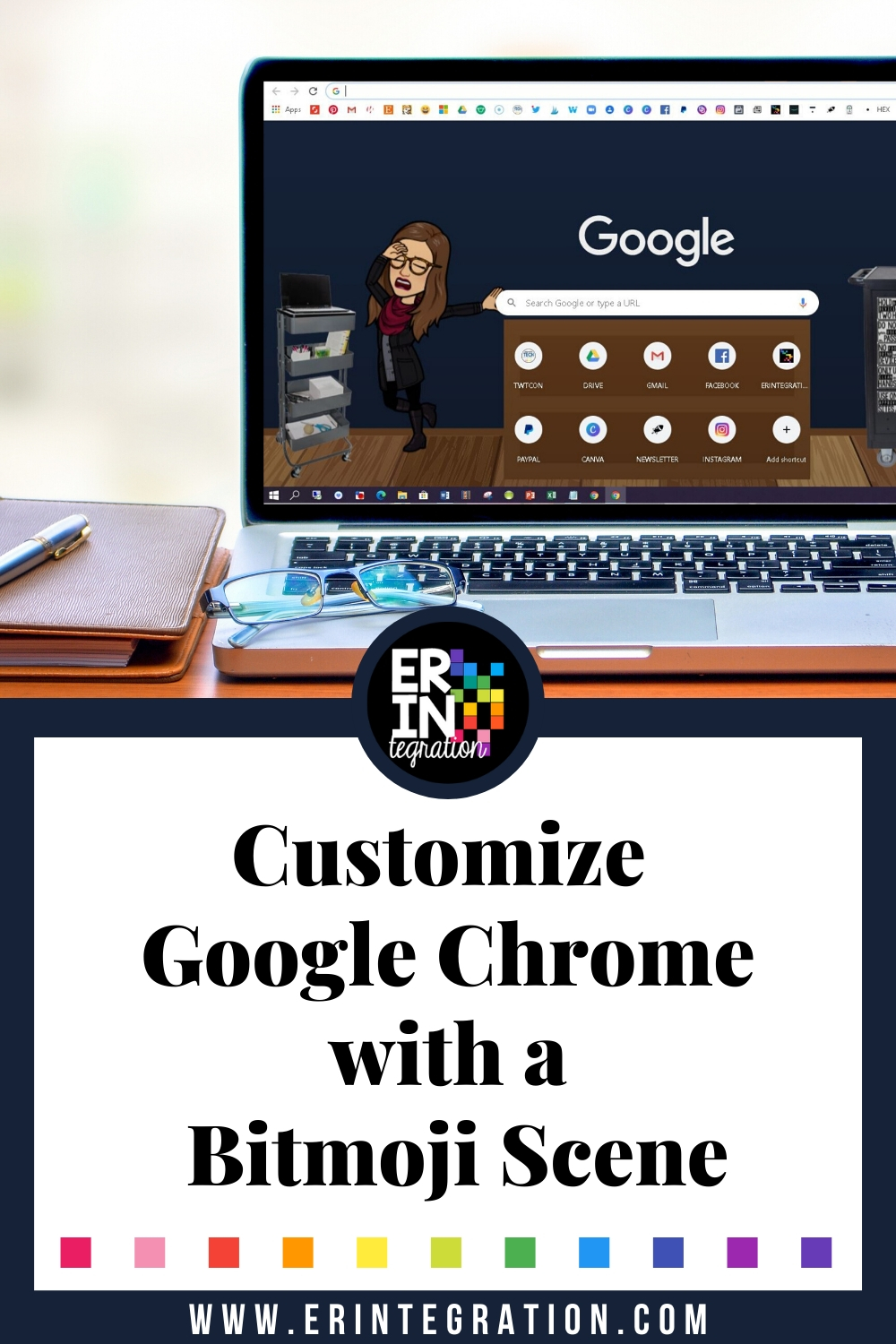 First, be sure to follow Tech Tami at innovatedlearning on Instagram as she was the inspiration behind this project that has us all putting Bitmoji everywhere! She has tons of creative ideas over there to check out!
Creating the Bitmoji Classroom
Before heading to Chrome, you will need to create the background image. You can do this on Canva, PowerPoint, Google Drawing, Google Slides, or any program that allows you to save as an image. I created my template in Canva.
As for size, it depends on your screen. Most are 16:9 ratio so 1920 x 1080 pixels and 1280 x 720 pixels will work.
Next, I took a screenshot of the default Google Chrome screen using the snip tool on Windows. This allowed me to space things just right. You can always just create your scene and just leave a big space in the middle too.
I inserted my screenshot as the background in Canva because I wanted to line up the apps onto my bookshelf (that I also made in Canva using shape elements) and I wanted my Bitmoji to dramatically lean against the search bar.
As for the actual scene, I have tons of videos, resources and specific information about creating a classroom or room scene with your Bitmoji in this post. Arrange your items and Bitmoji how you like them.
Before saving, I removed the Google background I used for spacing and chose a dark color (I'm very into "dark mode" these days for decreasing eye strain and conserving battery life).
Save your scene as a JPEG or PNG.
Customizing the Google Chrome Background
Once you have saved your background, sign into your Google Chrome.
Click Change background image at the bottom of the Google homepage.
Choose where to select your background image. In this case, choose "from your computer."
Once you've chosen your image, click Select at the bottom of the window.
It may take a moment before your new Google homepage background appears.
Bitmoji Google Chrome Home Screen Inspiration
Check out these home screens!
---
So we've made Bitmoji classroom scenes, Bitmoji digital stickers, and now popped our Bitmoji onto our Google home screen! Where else can we put our Bitmoji?