Learn how students can use custom shapes to create, customize and write about digital friendship pies in Google Slides! This no-prep paperless lesson is the perfect digital activity to assign to elementary students in Google Classroom for Thanksgiving, Pie Day or as a companion to the book Enemy Pie by Derek Munson.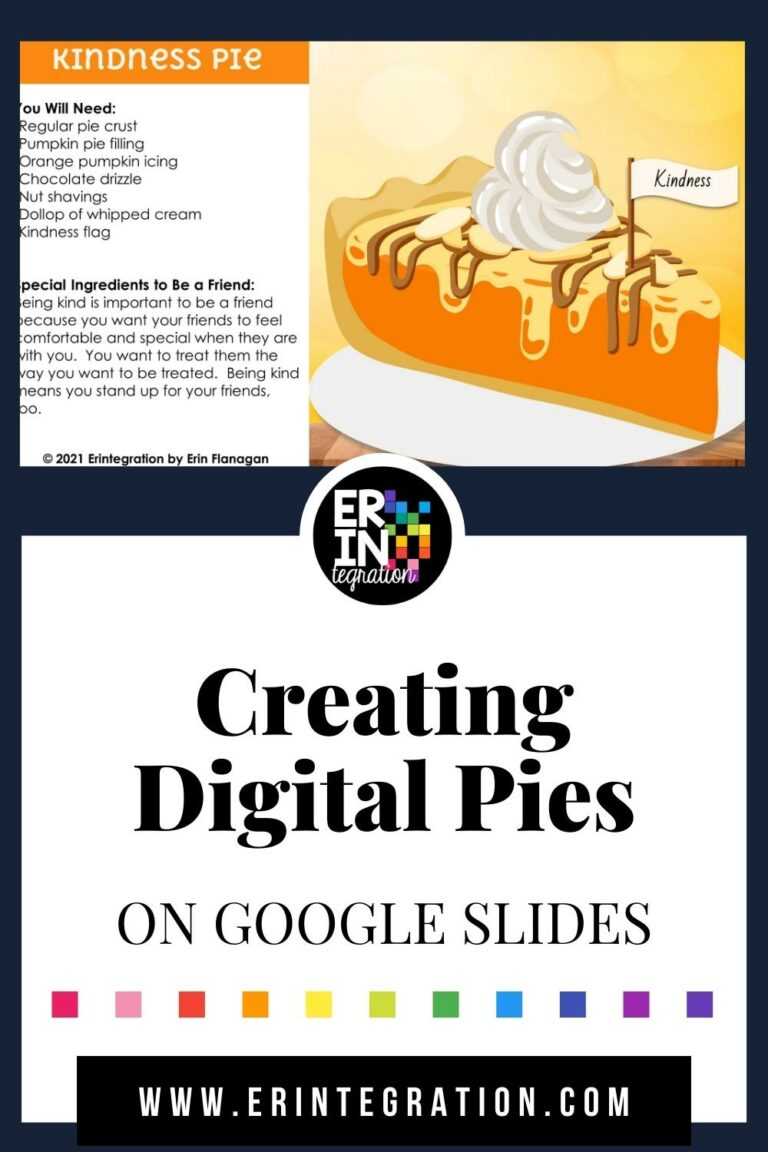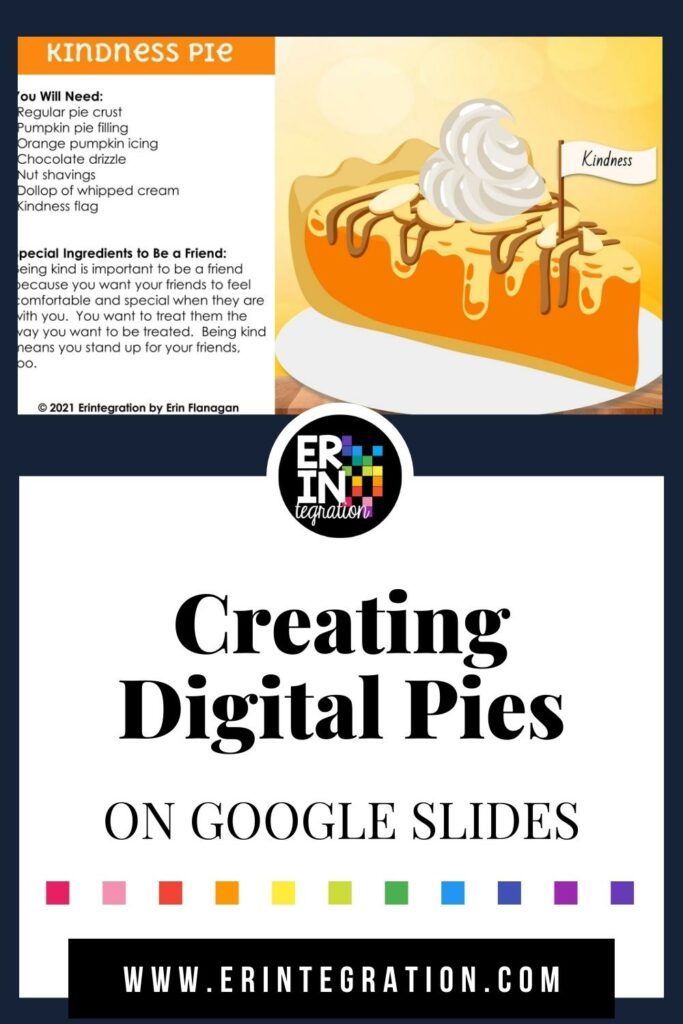 Friendship Pie Introduction
This lesson will work anytime of year, but ties really well into Thanksgiving week or Pie Day on March 14th. Before assigning the digital activity to students in Google Classroom, I recommend teachers introduce the lesson by reading the book Enemy Pie by Derek Munson.
You can purchase the book on Amazon here (affiliate link)
You can also watch or link the video of the read aloud to your Google Classroom Assignment. There is a fantastic interactive text with discussion questions and vocabulary available free on Scholastics Storyworks here. I also recommend the Storyline version here or the version by Mr. Paulson Reads on YouTube:
We then talk about what ingredients may have been in the pie. Many kids will miss that there isn't anything special about the pie itself but it was the day the kids spent together that made them friends so it's important to flesh that out.
Next, I have students think about the qualities we look for in friends – you can write this on chart paper if doing whole group – and then we think about our recipe for friendship: What is the secret ingredient?
Creating Digital Pies on Google Slides
With that in mind, kids then create their digital pie! The activity is a set of Google Slides (that is also compatible with Microsoft Powerpoint). Create-A-Pie can be purchased in my store here.
The activity includes a GIF that demos the process and also introduces the shortcuts for copy/paste and bringing objects forward and back in slides. These are super handy shortcuts that students will love as they start the activity!
Students will scroll and copy the items needed from the object slides and paste them onto their plate to create a pie.
Students can layer the objects in so many ways – everyone should end up with a unique pie. They can use multiple toppings, too. Finally they select a flag that includes their secret friendship ingredient and place that on top of the pie.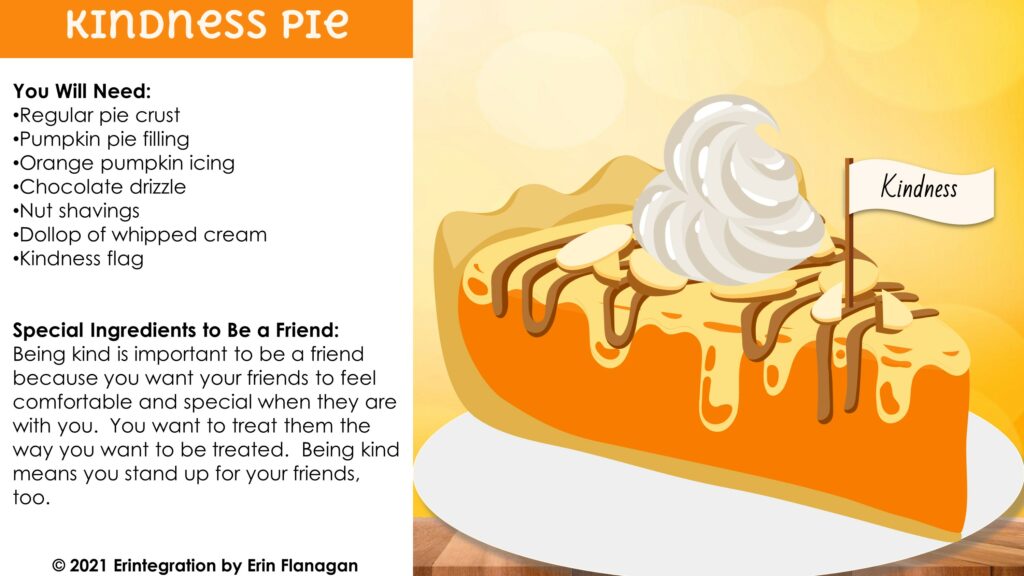 Once they are happy with how their pie slice looks, they type out all of the items they used in the text box on the "recipe." It's a good opportunity to introduce bullet points too.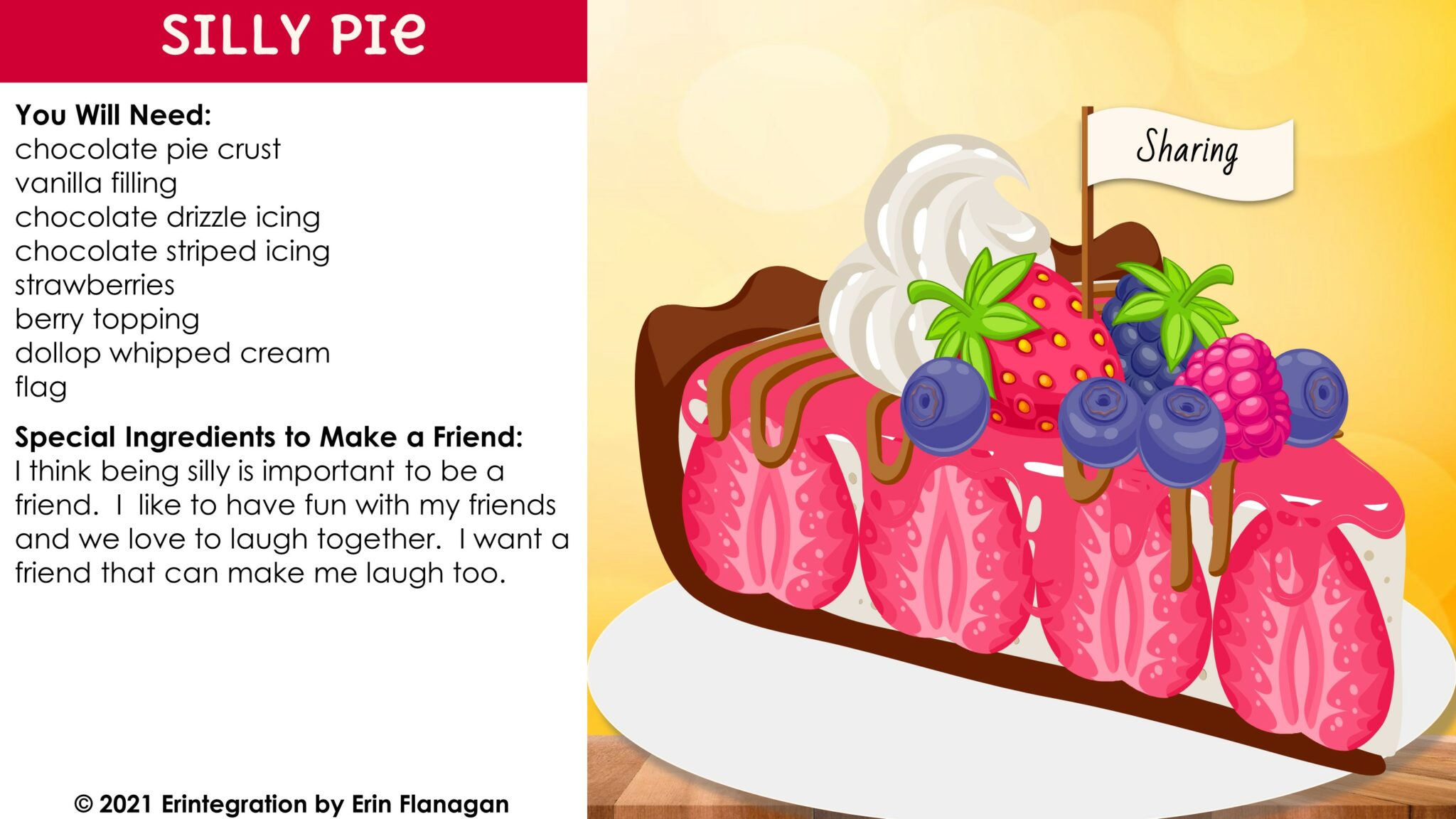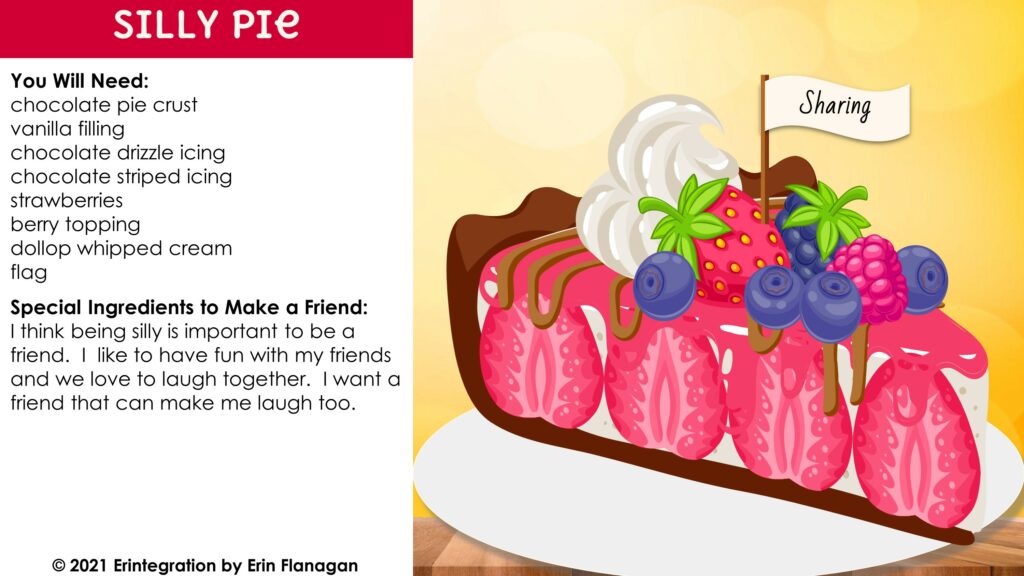 They write about their friendship ingredient under their recipe. Since the entire activity is editable, teachers can change the prompt or add their own expectations to the writing portion to fit their students' ages, abilities and needs.
With my 3rd grade daughters who tested the activity, I required them to write 3 sentences describing how that quality helps you be or make a friend.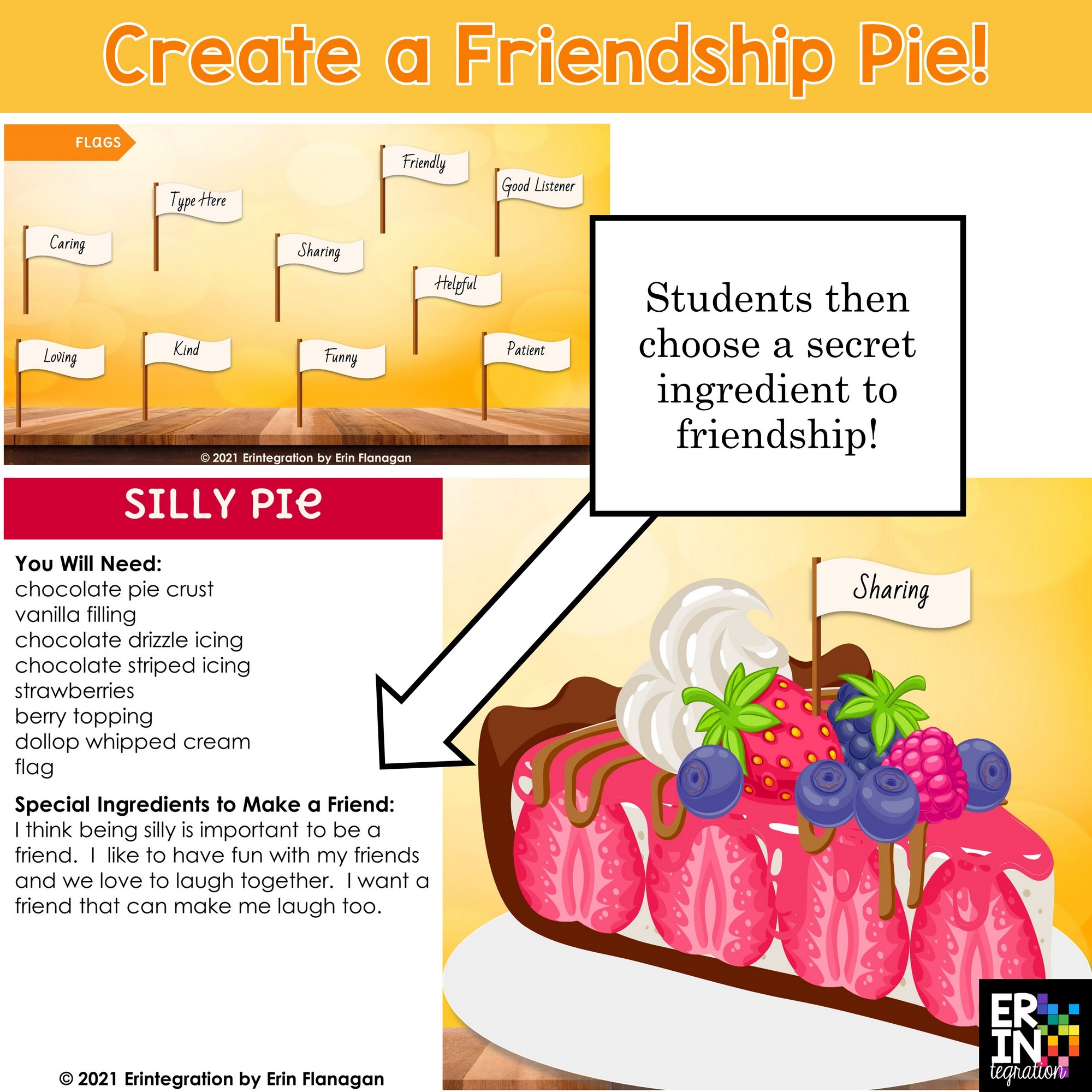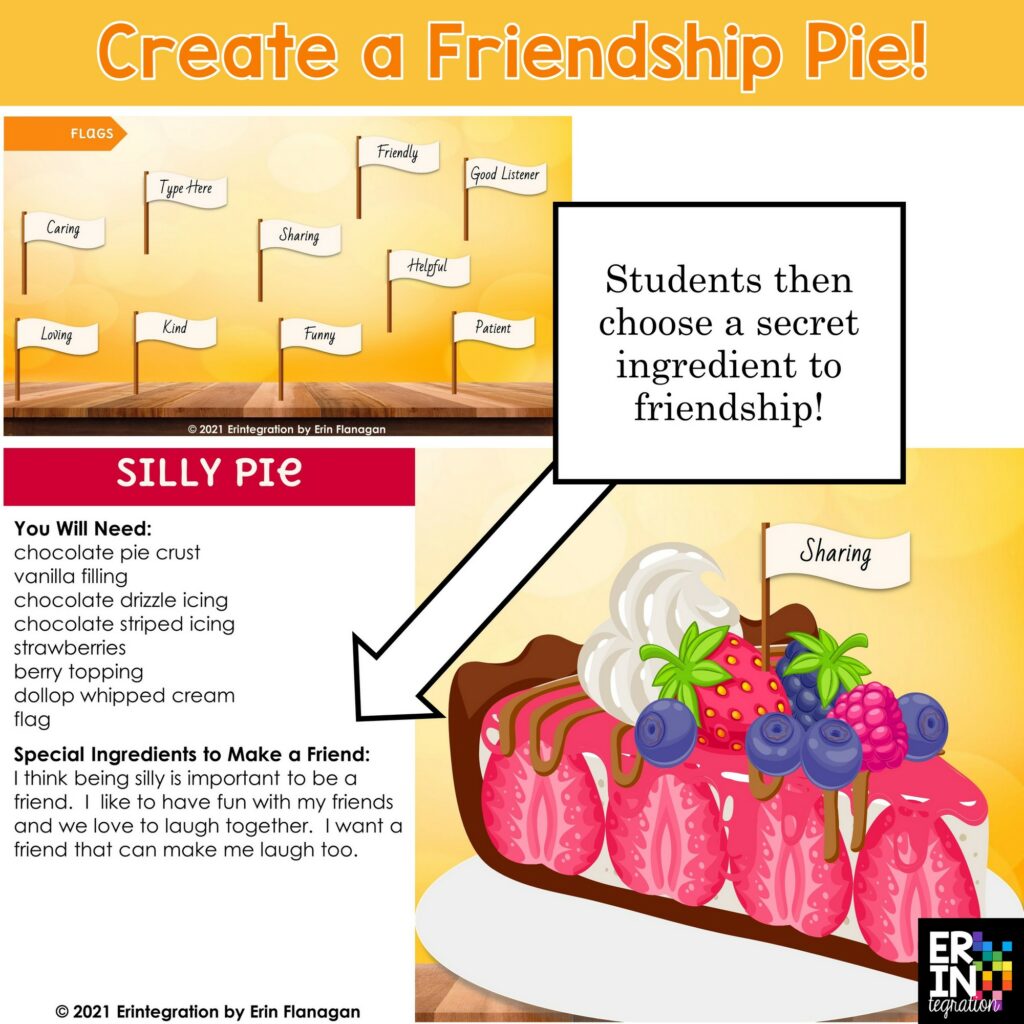 The friendship quality flags are also editable; students can click to type their own word if they don't see their choice listed on the slide.
Customizing Digital Pies in Google Slides
Like my other digital bakery items, everything on the Slides can be changed. The teacher can edit the text, objects, or assignment directions before assigning.
For example, you may want students to make 3 pies – one slice for each of their top 3 qualities they look for in a friend. You may just have time for students to complete 1 pie but they can add two qualities to the single pie.
Organize the activity how it works best for you, the time you have, and the ages of your students.
Students can also customize the activity. Since the objects are NOT static images, they can be changed. My 3rd graders loved using the fill tool to change the colors of the pie decorations and icing for example. This is as simple as clicking the object once to select it, then clicking the specific piece of the object to edit and using the fill tool to select a new color.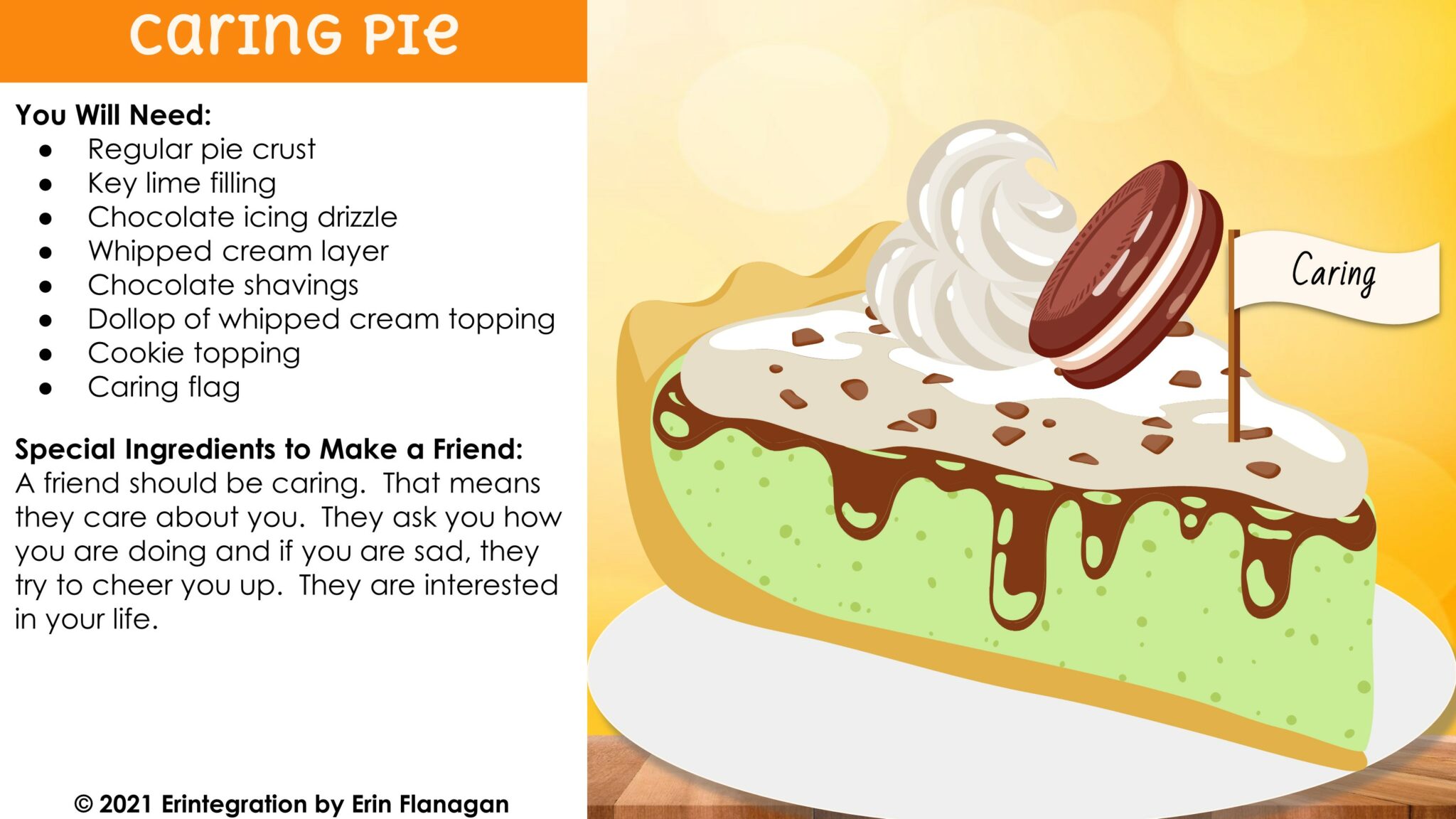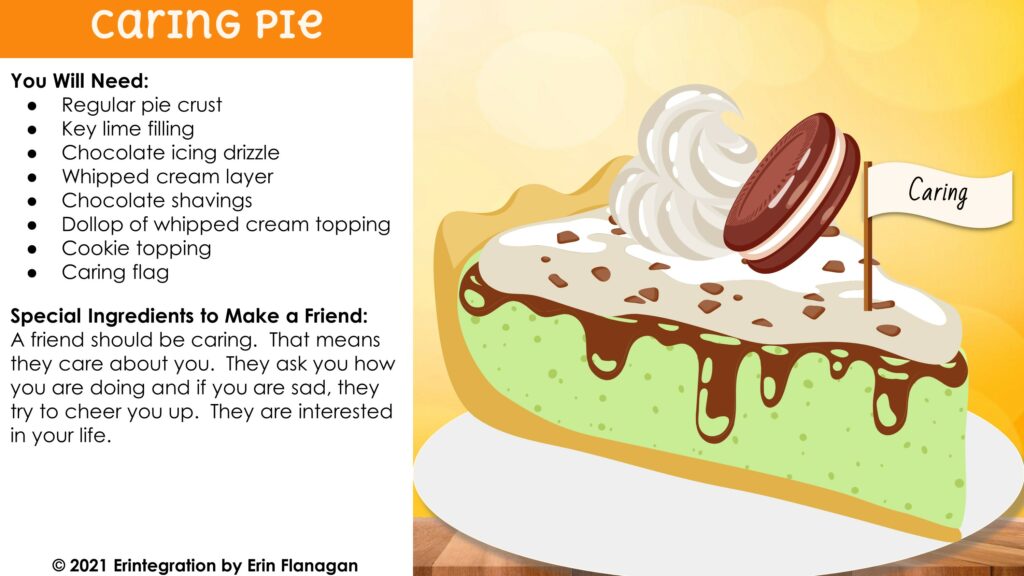 Because students need to click precisely, I think introducing the fill tool should wait until 3rd grade and above. It also works best with students using a mouse or those with touch screens; I find the trackpad not as easy but some students excel at that so again, this is really something to consider on a case by case basis. You could introduce to the whole group as an option to differentiate but stress that the items will look fine without any color changes, too!
You can also have students use the insert>image option to search the web for additional toppings to put on their pies.
Extending Digital Pie Activity
You can combine the slides into one big slideshow to share student work. I recommend having students delete all other slides besides their pie slide(s) before turning in. That way when you combine them, you don't have to delete a ton – it's just faster. Scroll to the bottom of this post to learn how to combine slides into one big slideshow.
I also like to have a collection ready to go with books on Epic for any early finishers. You can check out my Pie themed Epic Collection of books here.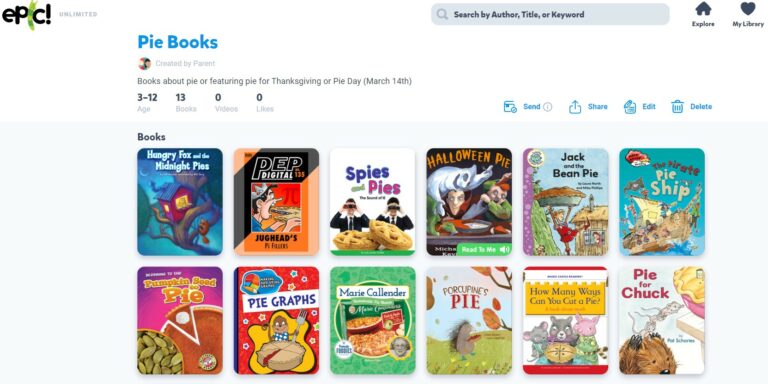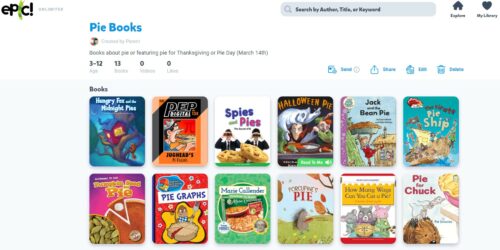 ---
Be sure to purchase my digital create-a-pie activity in my shop here and be sure to tag me on socials @erintegration to show off your students' digital baking if you use this activity for Thanksgiving, Pie Day or any time of year!
More Thanksgiving Digital Activities