February 22, 2022 is unofficially Two's Day and it even falls on a Tuesday! Celebrate this once in a lifetime date in the classroom with this fun rundown of STEM activities.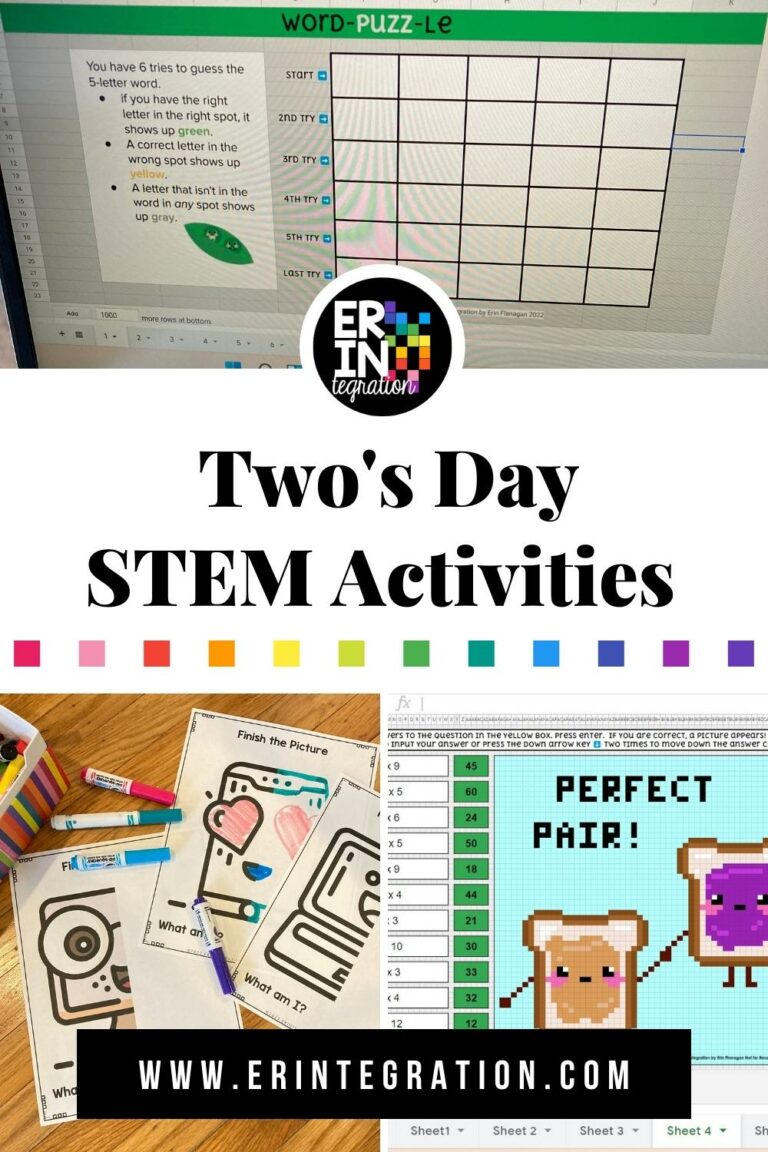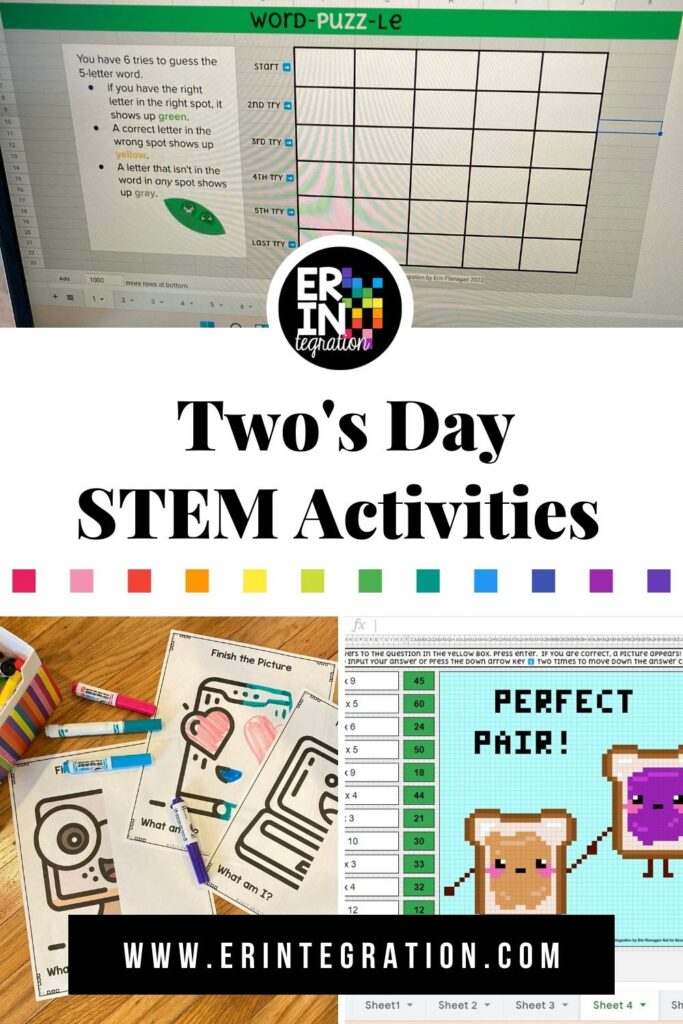 Free Two's Day Wordle for Google Sheets
I went into detail on my blog about how Wordle on Google Sheets is a great alternative for the elementary classroom! I have several sets of free "Sheetles" in the resource library including one just for Two's Day!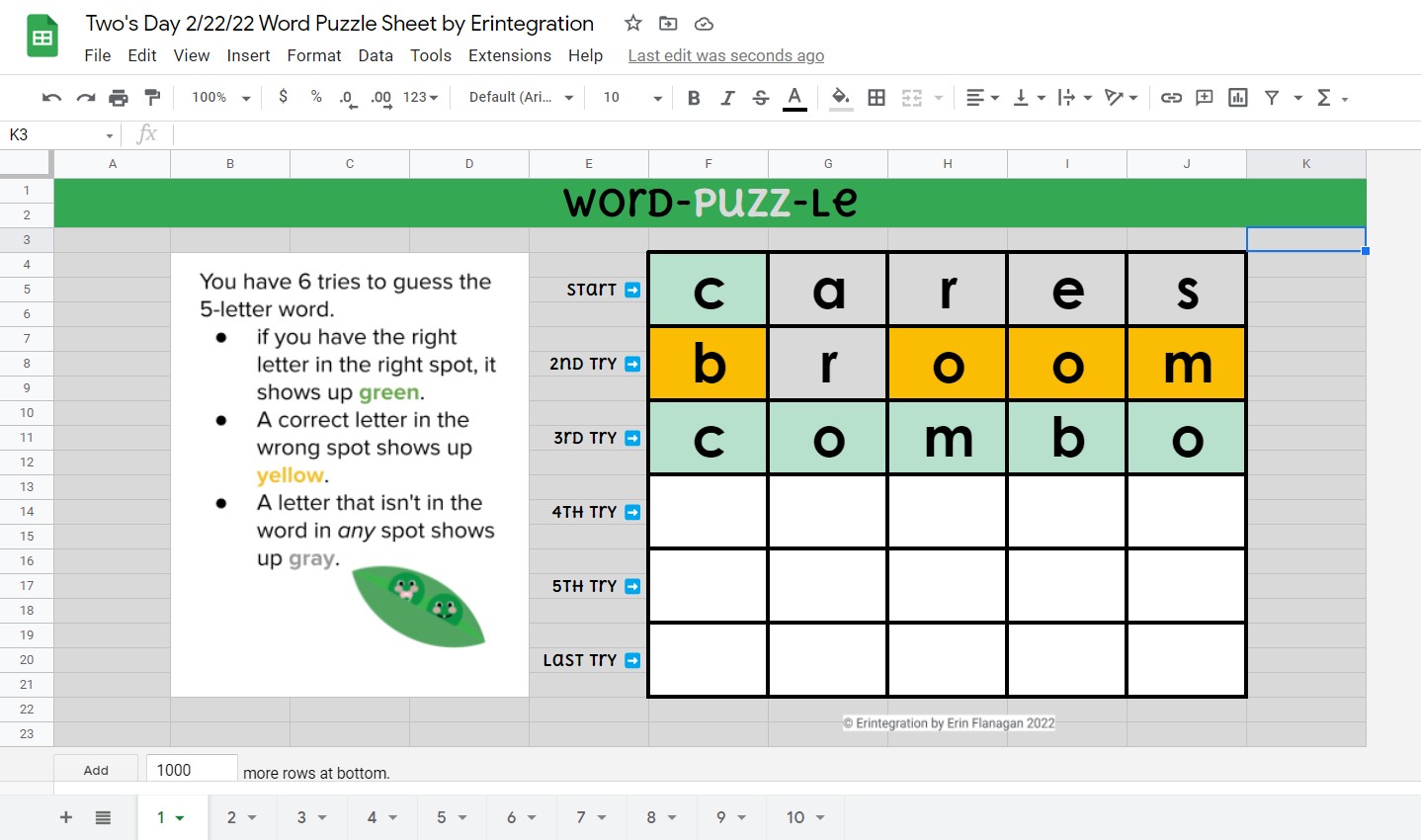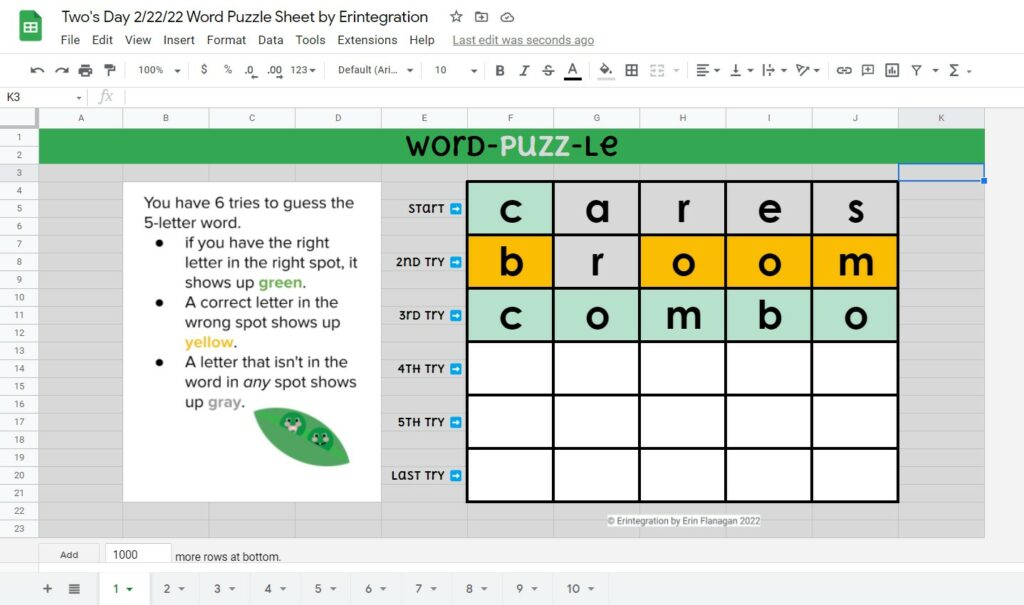 Featuring 10 words with a "two" theme that students guess that is perfect for Two's Day (or any Tuesday in the future – why not?).
If you are already a subscriber to Erintegration, grab the digital Wordle/Sheetle sets FREE in my resource library. Not a subscriber?
Get the Sheetle FREE By Signing Up Below
Doubles Themed Magic Reveal Pixel Art
I also created some Pixel Art on Google Sheets that is perfect for your 2/22/22 celebration! Featuring 5 pixel images of "perfect pairs" that auto generate when students solve the math problem.
I made three sets to cover learning in 1st – 6th and each set has 4 levels so you can further differentiate based on student need.
I love pixel art because it is seriously low prep – just assign the sheet in Google Classroom – but it's super engaging, too. Students really love seeing the image appear and the "secret" message. Each sheet includes all 5 images; students click the tabs at the bottom to advance to the next pixel image. There are 12 math problems per image to solve.
It's also completely editable – I actually set this particular sheet up so you don't even need to mess with the conditional formatting as with my older sets. To edit my new pixel art sets, you just change the questions and answers on the answer key sheet and it automatically updates the code.
Use a 2 Minute Timer for Transitions
This is a super simple way to add a bit of Two's Day fun into the day. If you typically use timers for transition times, why not jazz it up with this two minute one.
This can also be used to turn any "Minute to Win It" STEM type activities into "2-Minute to Win It" activities. Set the timer, give students 2 materials and have them create something. For example, give littles a piece of foil and tape to make the number 22. Older students can be challenged to build structures 22 inches tall or try to balance 22 pennies on their fingers.
Use Autodraw to Find the Number in a Shape
This activity is an extension of the free printable and book list on Carly and Adam's Instagram:
You can print the picture and read one of the recommend books. I also love the book This is Not a Box by Antoinette Portis for inspiring creativity in simple line drawings:
Using autodraw takes the activity to another place. Have students draw a number 2 and see what drawings are suggested.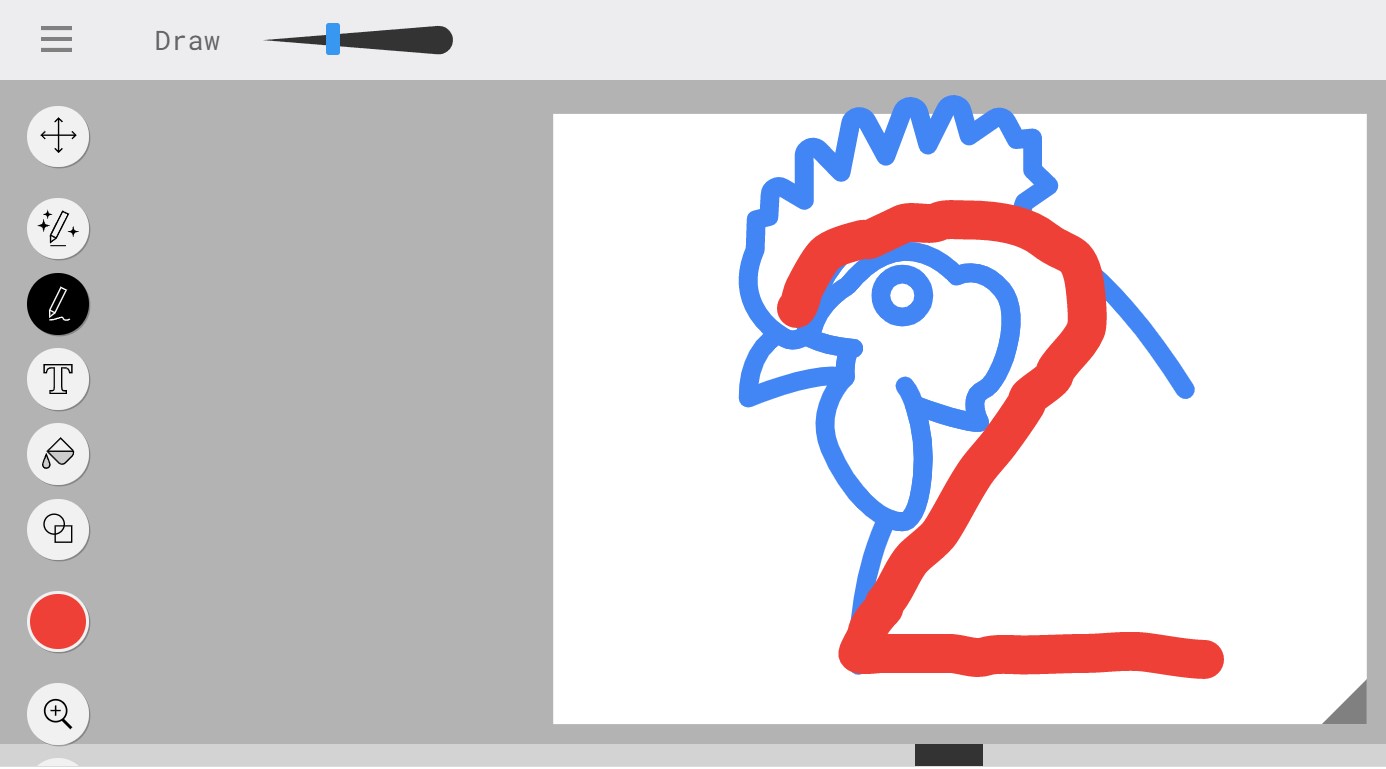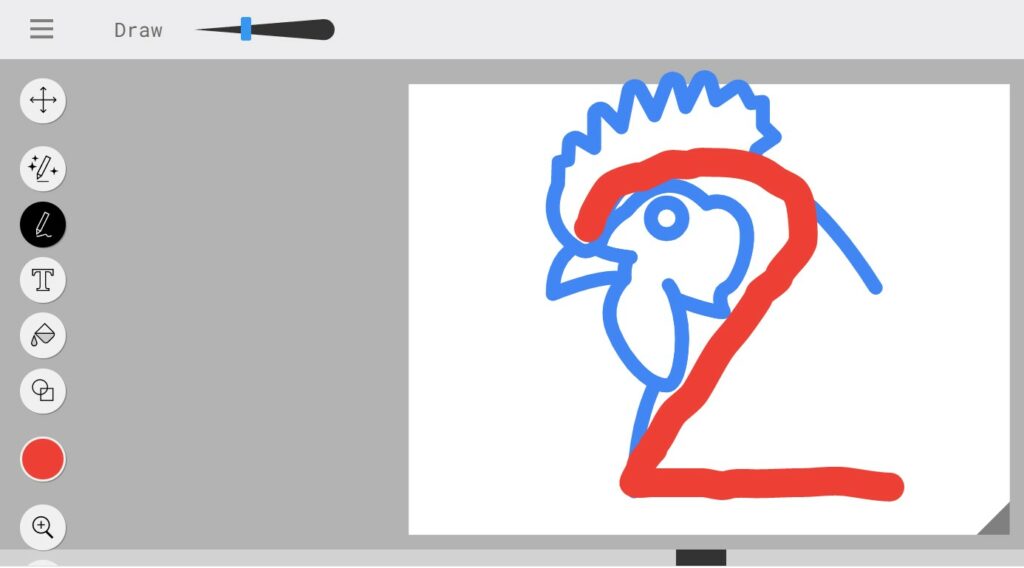 They can then "find the two" in the picture shape. This is also a great way to support students who might be more concreate thinkers.
Create Word Clouds of "Two" Themed Words
There are many free word cloud creating websites. I used this particular one to make a word cloud of various "two" themed words in the shape of the peace sign i.e. two fingers!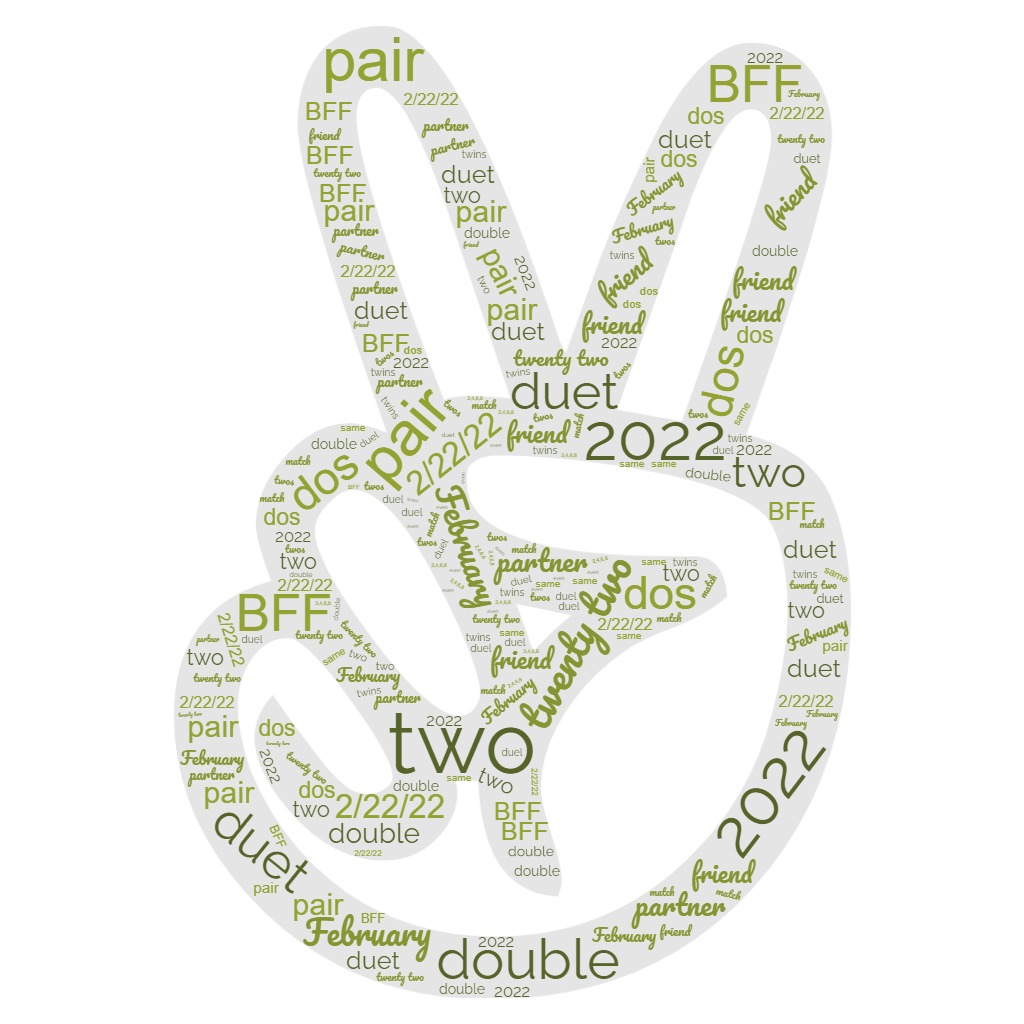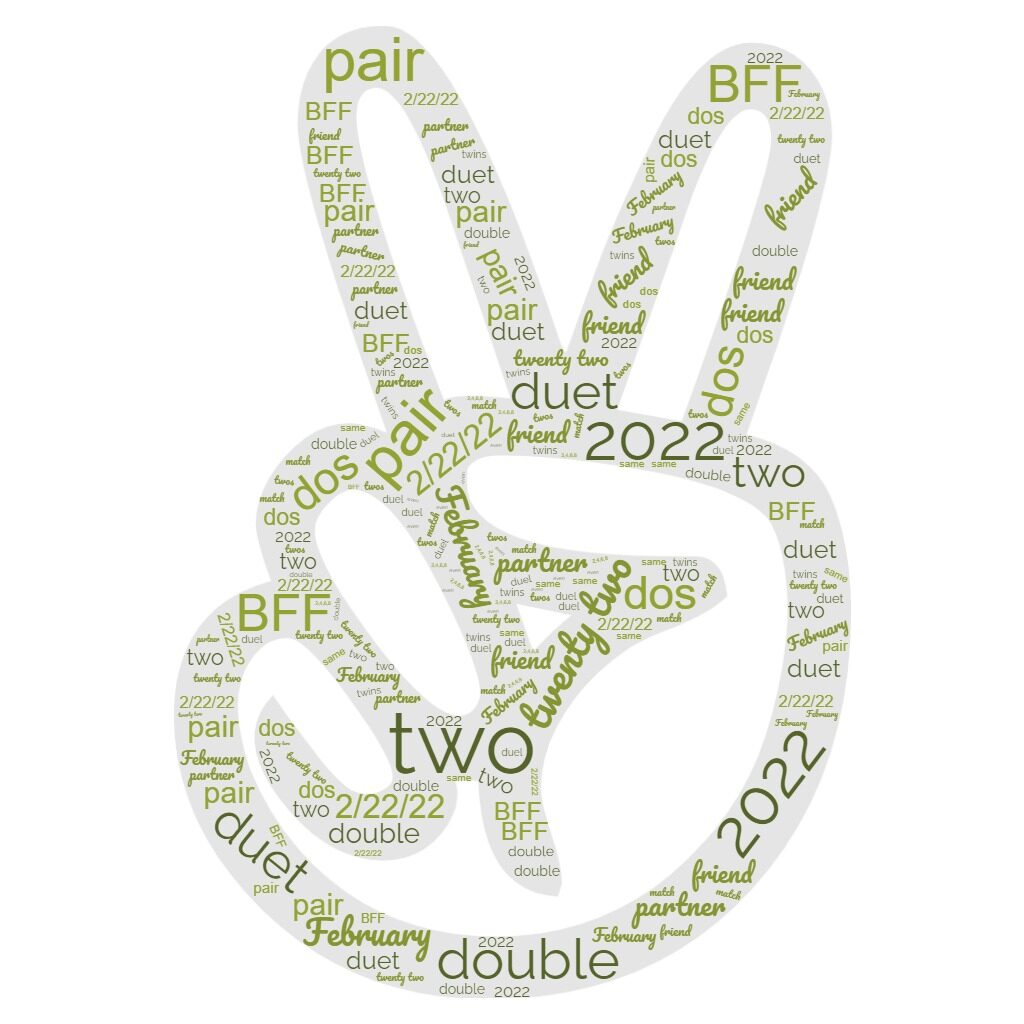 Students can use an online thesaurus to find words to fill in the cloud. I set my cloud to repeat words so the image would be filled up.
Make Two Themed WordArt
Bring it way back to basics using Word Art on Microsoft Word to make an early 90s inspired collage. If you are using a Chromebook, the Word Art website allows you to JUST create word art without needing to use Word at all!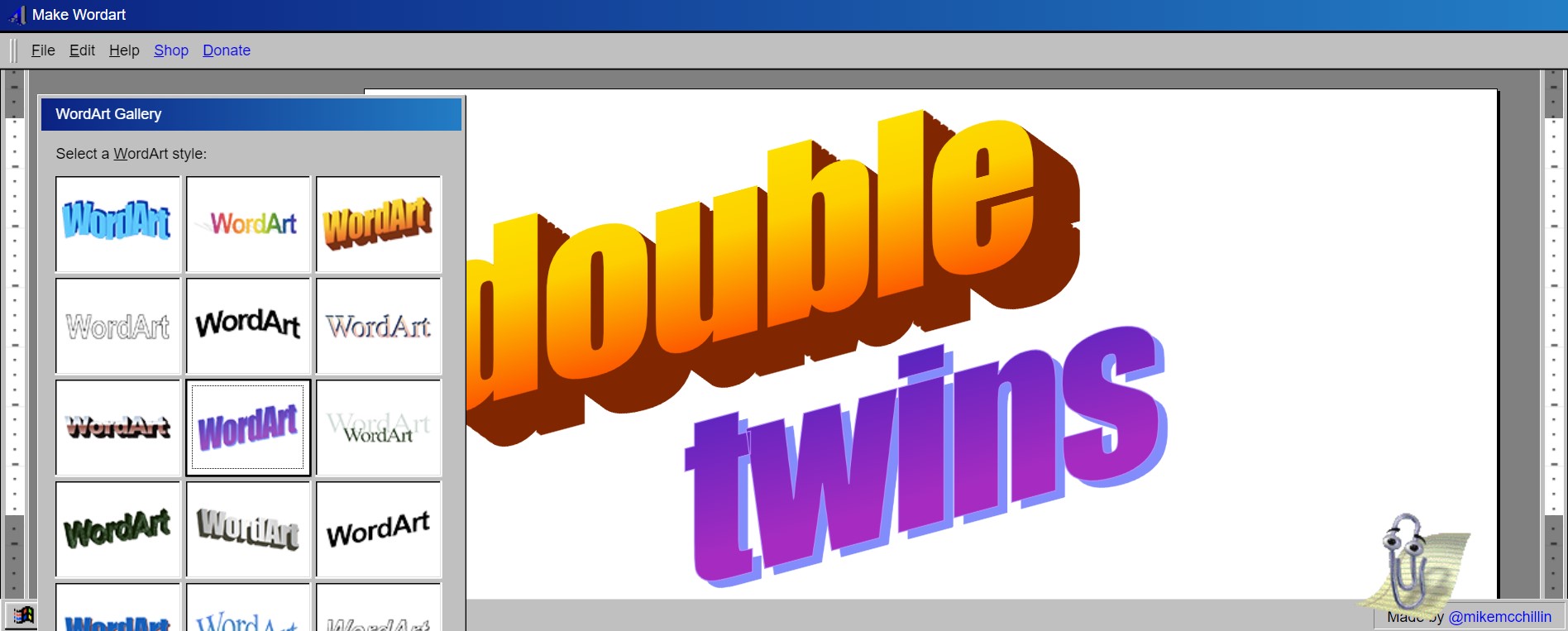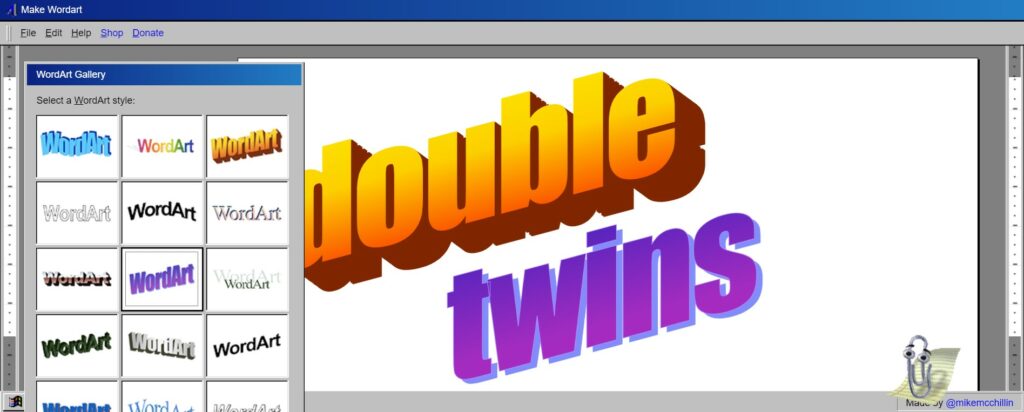 It won't allow for any editing which is both good and bad so this may be better suited as a quick warm up activity (set a 2 minute timer!)
Create Mirror Image Virtual Pattern Block Pictures with a Partner
You can use real pattern blocks or visit a free site with virtual pattern blocks like this one. Students will create a picture on the left with pattern blocks than switch spots with their partner to complete a mirror image of the shapes on the right side.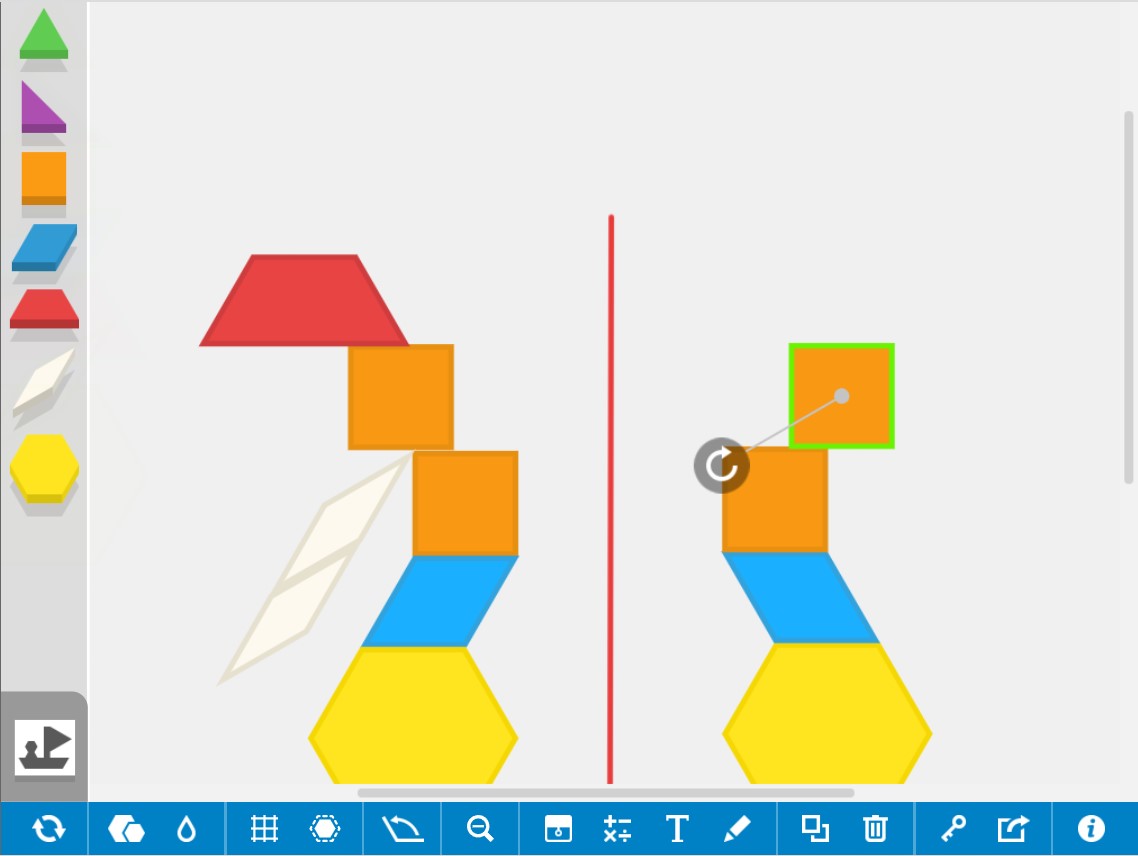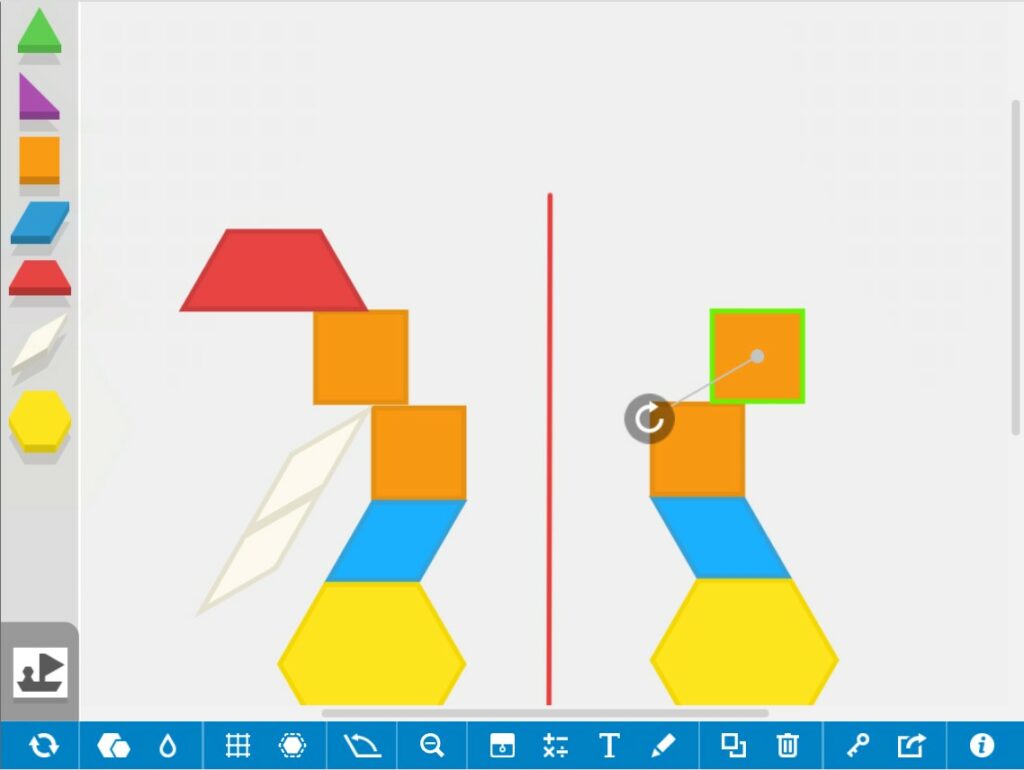 Finish Drawing Symmetrical Pictures
In the same vein as the mirror image pictures, students love "finishing" a symmetrical picture! You can print and have them draw the rest. There are TONS of free printables online but if you want tech themed pictures, I have a set FREE in my resource library.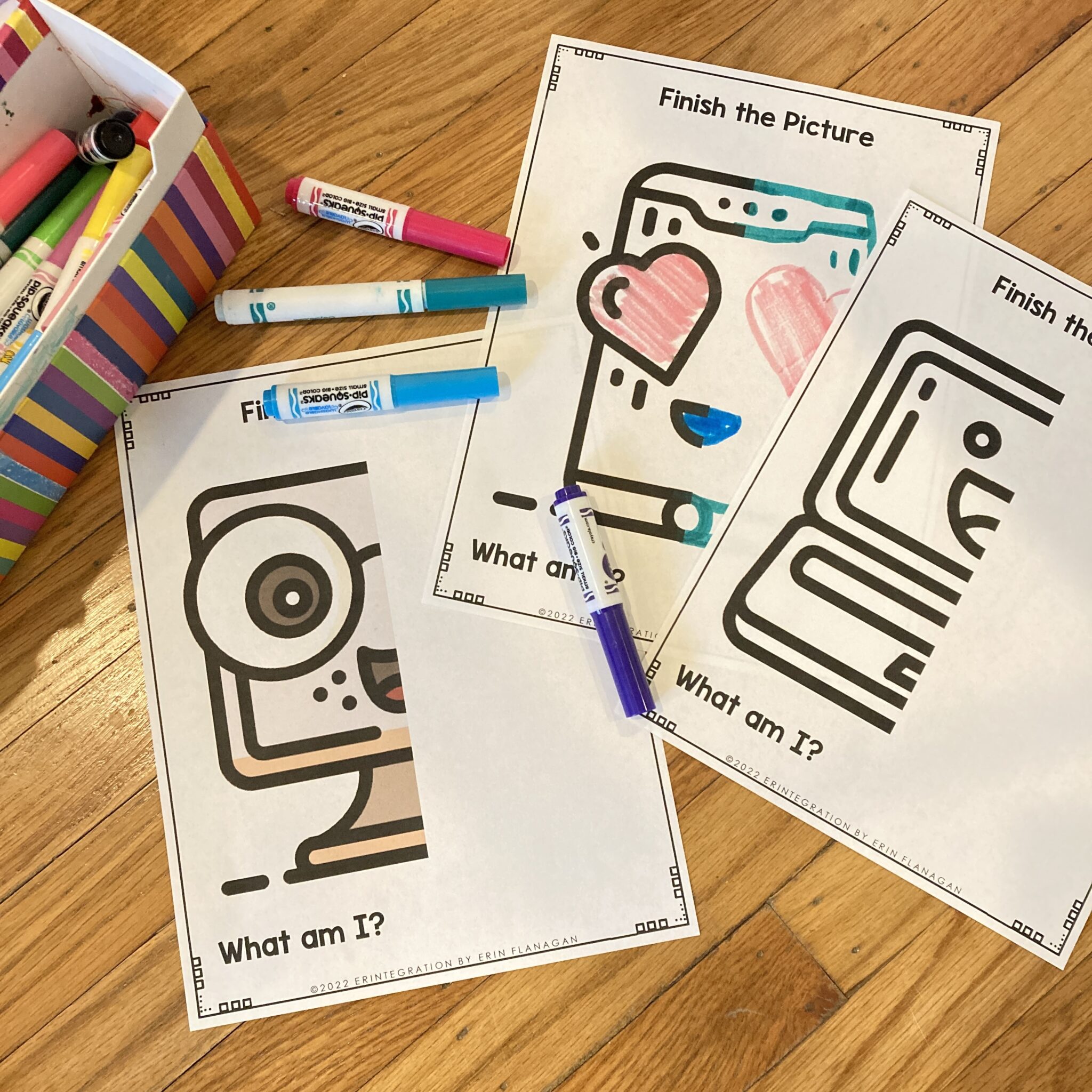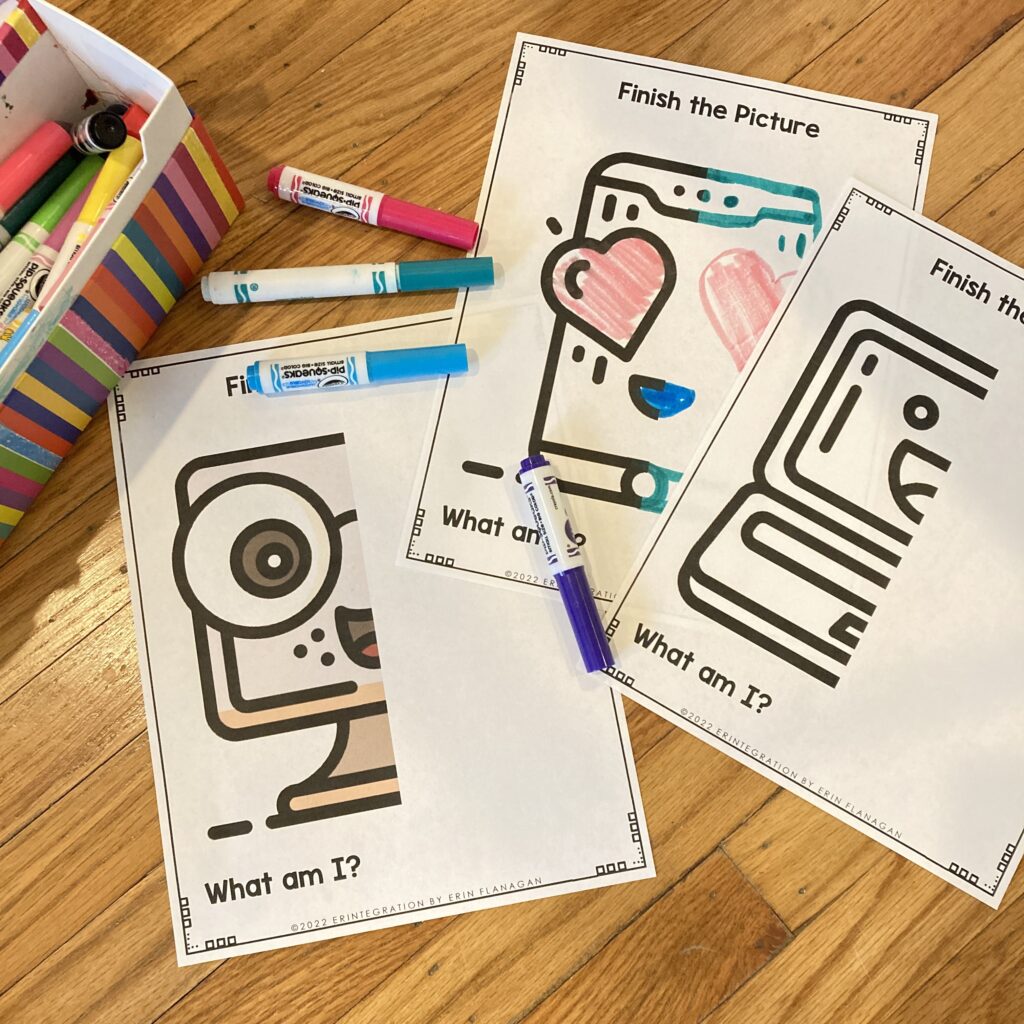 This is a PDF with a set of 7 tech pictures students will need to draw the rest of – the key being that the pictures are symmetrical. The free PDF includes color and blackline.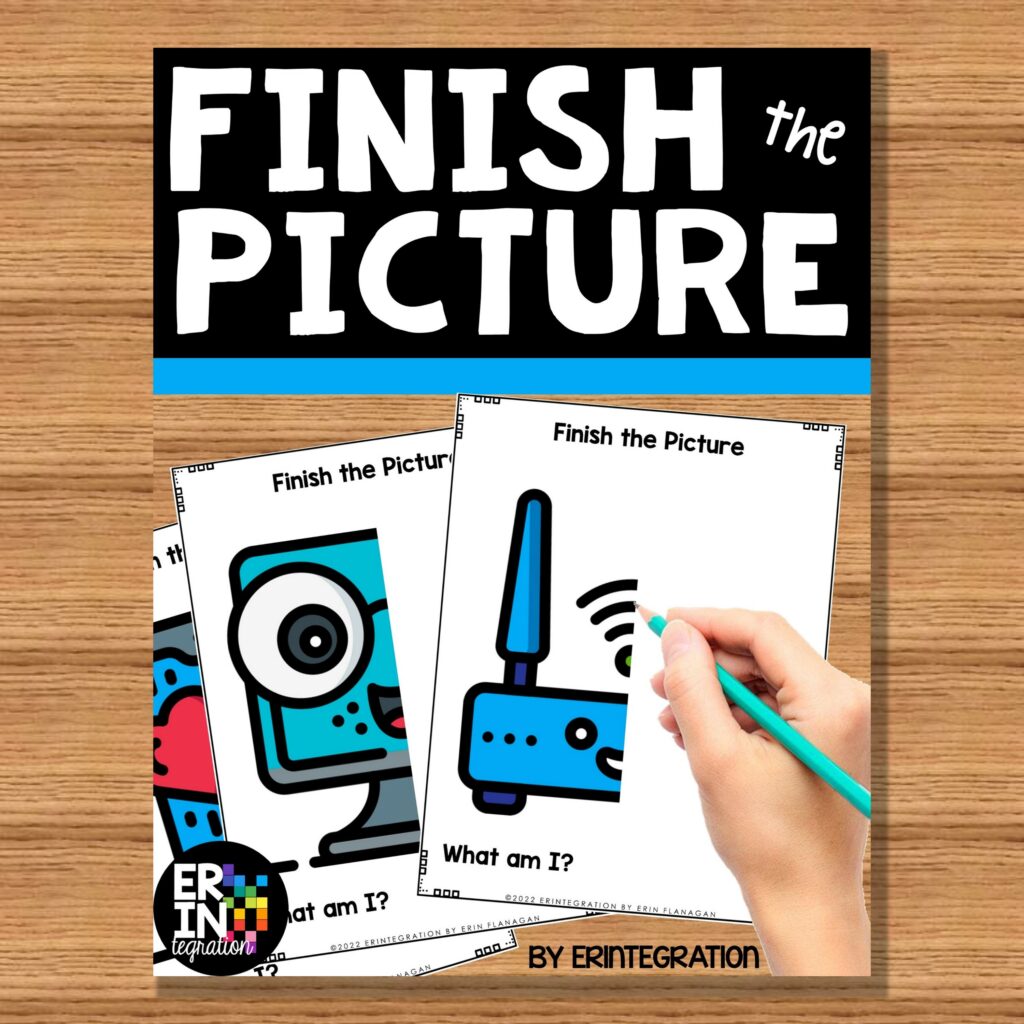 ---
I hope this gives you some STEM themed ideas for celebrating 2/22/22 Two's Day in your classroom this February. I recommend keeping these ideas in mind for a future "Two's Day" since you can make the theme fit any 2nd of the month (just ignore the year!) or any Tuesday even. Who is going judge? If you use any of these ideas or activities be sure to tag me on social media @erintegration. I love to see what you are up to in your classrooms!