Grab these Emoji accessories for the classroom and put a smile on your students' faces!  I have rounded my favorite 10 Emoji accessories for the classroom along with some ideas for how to use them too!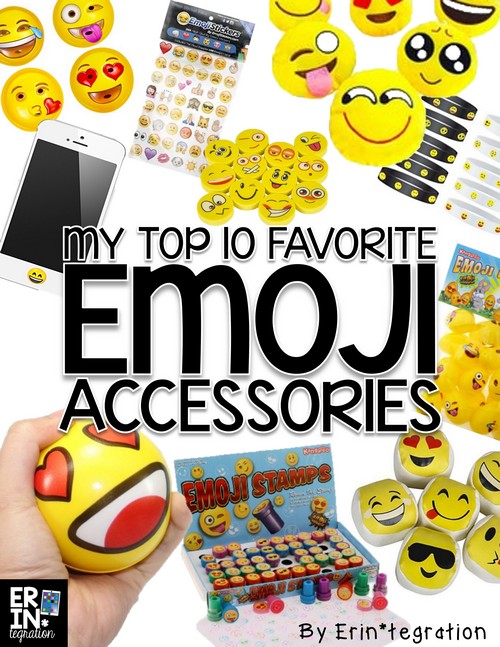 Emojis are having a moment – my students have loved using them as shared in my previous post about Emojis in the classroom.  We have even written Emoetry and used cut & paste Emojis to make a booklet without iPads!  Since sharing those activities, I have been tagged in a lot of fun posts regarding Emojis – I noticed that there are quite a few products for sale that have Emojis on them that could work in the classroom in a variety of ways.  I'm sharing my favorite below.  There are affiliate links – read my disclosure here. All Emoji accessories listed are relatively cheap and available via Amazon for easy shopping.
1. Emoji Stickers
Use Emoji stickers for rewards, for completing any of the Emoji activities shared here, or in a writing center.
This set comes with 288 different Emojis!
2. Emoji Pillows
Use Emoji pillows in a reading corner.  This set of 8 pillows is only about $10.00 and includes a variety of recognizable faces.  There are other grouping at the link but this was my favorite set.
Bonus use, students can hold them up in front of their faces for a silly Reader's Theater or fluency activity.
3. Emoji Stamps
This set of Emoji stamps includes 10 designs in 5 colors.  Use these in the same way as the stickers or use in group work:  each group can use a specific color to mark their papers and keep everything organized.
You can also use these in a spelling center – have students use the stamps to stamp out the letters in their spelling words.
4. Emoji Erasers
Maybe students will be less likely to lose their eraser if it is an Emoji?  This lot of 72 Emoji erasers comes with 12 different designs!
5. Emoji Masks
So these 6 Emoji Masks may be a little creepy but they would make fantastic masks for reader's theater.
6. Emoji Wrist Bands
These would be a fun reward to hand out.  Or incorporate them into reading by having students  read aloud with the tone matching the Emoji on their wrist band.  Students could read the same poem in several different ways!

7.  Emoji Eggs
The Techie Teacher posted these Emoji Eggs on Facebook and I knew I needed to have them.  First I used them for my girls' Easter Baskets but they will be getting a second life in my classroom.
Scholastic lists 11 ways to reuse plastic eggs in the classroom and there are many other ideas on Pinterest about how to use plastic eggs in centers so I know I will be able to get a lot of use of these.  I especially like that since they are Emojis, they are not connected to Easter.
8. Emoji Stress Balls
Perfect for a brain break box or corner, these Emoji stress balls are super cute and just the right size for little hands.
At only $4 for 12 of them, you can also purchase one for each of your students to use a fidget.
9. Emoji Kick Ball
This set of 12 Emoji Kick Balls is advertised for juggling too, but I think they could be used the same as the stress balls or for indoor recess silent ball games.
These might be soft enough to lob at a Smartboard like a Koosh ball but I would definitely test it first!
10. Emoji iPad Home Button Decals
I had no idea home button decals were a thing until I saw these Emoji ones and now I'm obsessed.
What a great way to mark out the home button for young learners or as an adaptive modification for any age.  Or just use them because they look awesome.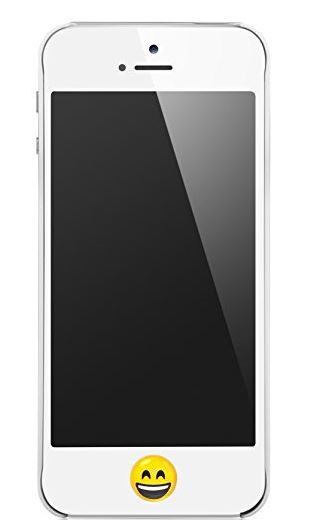 Any ideas or products I missed? Search directly on Amazon here: