Have you been tasked with rolling out your school or district's new iPads and are looking for tips for introducing iPads to teachers?  Rachel from Poet Prints shares 3 tips for introducing iPads to teachers of all technology comfort levels.
---
Introducing new technology to a group of teachers is an exciting way to 'shake up' teaching practices create excitement.  This spring I helped to introduce a team of 23 kindergarten through eighth grade teachers to their first teacher iPads.  For some of these educators, it was their very first tablet or apple product.  Talk about a steep learning curve!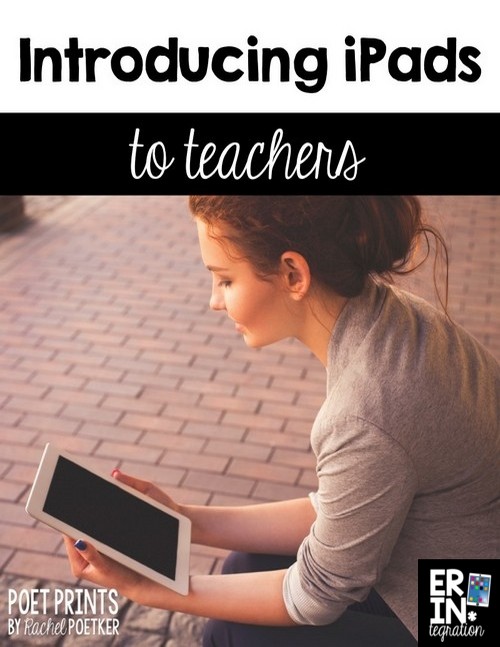 Fortunately, those of us on the technology team worked hard to create materials and plan professional development to make this transition as smooth as possible.   Check out our three most important pieces of advice:
Introducing iPads Tip #1:  Don't Assume Background Knowledge
When introducing iPads to teachers, or students, for the first time don't assume any sort of background knowledge – start at the very beginning.
When teachers were first given their iPads, I mirrored one iPad to a screen using a projector and AppleTV, so that everyone in the room could see exactly what I was doing as I set up the demo iPad.  We began our introduction with helping teachers to unwrap their iPads and turn them on.  For some, finding the 'power' button required assistance.
Then, we walked teachers through how to set up a brand new iPad.  (*Note:  it is possible to set up an iCloud/Apple Store account without ever entering a credit card number.  This is one snag that we hit.  Many teachers were uncomfortable with putting their credit card numbers online.  When the screen prompts you to enter your card type: Mastercard, Visa, Amex.. just enter "No Card" and you can bypass entering a payment option.)
I found it was so critical to go slowly.  We worked as a group to do all set up tasks.  Together, we defined Apple specific terms: app, iTunes, App Store, "slide to unlock", podcast.  Remember, while some teachers will have had experience with technology, for others many of these words are like learning a new language, so go slowly and don't assume people know what you are talking about.
Introducing iPads Tip #2: Use Guided Practice
As a teacher, when I introduce new skills I am careful to give my students a chance to try some tasks on their own.  I followed this model when introducing iPads to teacher colleagues.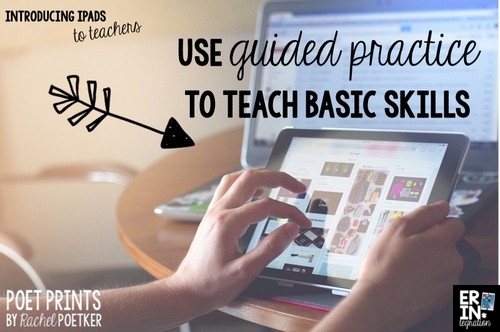 After we set-up their iPads, and taught basic skills I handed out a checklist of things to try independently.  You can grab a copy for yourself (for free) at my Teachers Pay Teachers store:
iPad Introduction for Teachers (free)
These were a great in helping each teacher to discover the features of his/her iPad independently.  After completing the checklist, they were ready to try some higher-level teaching ideas.
Introducing iPads Tip #3: Teach specific skills and ways to use the tech in the classroom
Once teachers knew the basics of how to use their iPads, it was time to give them some teaching tools.  Just because a teacher can turn on an iPad, check e-mail, and take a good selfie, doesn't necessarily mean that he/she will know how to use the iPad in the classroom.  As a technology team, we scoured the internet for lesson plans and blogs for each grade level to give teachers specific ways to use their iPads in the classroom.
We bought lesson plans on Teachers Pay Teachers.  (FYI, iPad training for students works great for training a group of teachers as well!)
We found great lesson samples of iPads in use right here at Erintegration (Readers Theatre, Reading Fluency, Math Apps).
All of these ideas were packaged together and set home with teachers as they created their year plans for next year.  With training, and these tools, it is our hope that teachers feel equipped to use their technology to improve the learning in their classrooms.
With so many schools moving towards technology-based education it's likely that you will be given a new piece of tech to use in your room in the near future. iPads are an incredible tool to enhance learning in the classroom, but if teachers don't know how to use them effectively,  they just become a very expensive paperweight.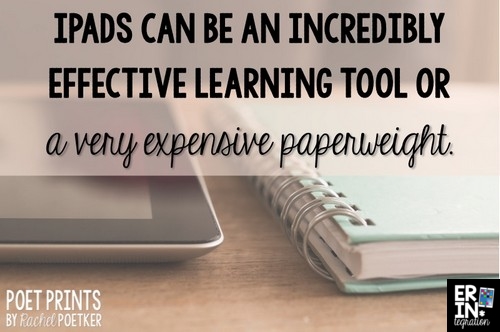 About the Author
I am a third grade teacher in British Columbia, Canada.  Teaching is in my blood, and there is nothing that brings me more joy than watching my students fall in love with learning.   I love all things crafty and DIY and am an unashamed organization-addict.  (Really, there is no space that cannot be organized!)  Connect with me on any of my other internet-ventures:
I blog over at Poet Prints – www.poetprints.ca
Pinterest: click here
Instagram: @poet.prints
TeachersPayTeachers: Poet Prints by Rachel Poetker
Thanks to Erin for hosting me here at Erintegration, this was a blast!