Writing substitute teacher lesson plans that integrate technology can be a positive experience for everyone involved as long as you are mindful of a few things.
Because, at some point, you will need to get a substitute teacher and rather than disrupt the routine students are used to as far as using technology in the classroom, support your guest teacher so seamless technology integration can occur even when you are not there to facilitate it.  Here are my tips for technology integration with a substitute teacher in the classroom.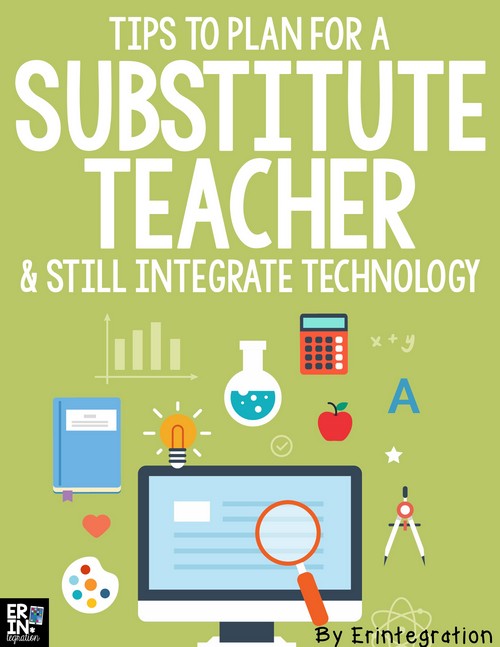 Don't be afraid to leave substitute teacher lesson plans that integrate technology
Technology integration can seem challenging to even the most experienced teachers, so technology integration with a substitute teacher running the show might seem like a road you'd rather not go down or cross or even stand on the sidewalk and look at.  This isn't to say that a substitute teacher is not capable, but with so many unknown variables, many teachers do not want to give their guest teacher the headache that a tech integration lesson gone-wrong can cause.
I'm sharing some tips that will hopefully change your mindset and help you feel more confident in leaving lessons that integrate technology when you have a substitute teacher in charge.
Use sites, apps, and routines your students are familiar with
This is a no-brainer.  I am not going to have my sub break out a green screen, app smash, or edit video in iMovie if we have not approached these apps or activities together first. However, once my students have used Google Classroom or DogoNews a few times, I feel completely confident in their ability to work independently.  For other apps, I use activities I have created that include visual directions for students.
I also suggest only choosing apps that are specifically designed for student or classroom use.  Educreations, Chatterpix, PicCollage Kids, Tellagami Edu and ShadowPuppet Edu are all apps I have had students work on with a sub in charge. These apps do not have social media sharing, ads, or any components that students can accidentally access.  Since often you will not know your guest teacher's comfort level with technology, limiting the potential for disaster is your best bet with a vetted and safe app.
Create a sub folder in your classroom Google Drive, district shared folder, or other central location
The sub folder is where I put any PowerPoint, Smartboard files or web links that I have referenced in my plans.  The key part of having a folder in a central location is I have my student tech team log in and open the folder for my sub. My district uses a shared network drive so I train my tech team how to access it.  We also have a shared Google Drive so I have utilized that in a similar way.
In my plans I specifically explain that the tech team can open the folder and that all of the files and items are in the folder.  The best part is I can add to the folder at home so if my absence was not planned ahead, I can stick items into the folder even while laying on the floor of the bathroom between vomiting (this didn't happen…I'm being dramatic so you can see how key this is).
Flip the classroom with videos
As curriculum gets more complicated and differentiated, it can be difficult to get that all across into sub plans.  Prior to my using technology, I left a lot of busy work or review activities since trying to convey guided math, flexible reading groups, etc. was tricky.
Now I use videos to present concepts if I am going to be absent.  This is especially helpful in math as there are SO many fabulous short videos on YouTube, Khan Academy and TeacherTube.  In other subject areas, I have had success with BrainPop, Flocabulary, and Discovery Edu.
Create a YouTube Playlist of videos for substitute teacher to use
Keeping with the video theme, you can also create a YouTube playlist with videos for the sub to access that day. That way you aren't sharing a bunch of URLs – just the one – that links to a collection of videos the sub may need for the day.
If you make and upload your own videos, you can even set the videos to be ad-free!  I wrote in detail about how to do this with screenshots of the steps here.
Use bit.ly to create custom links to any sites you want the sub to access
I have a separate post all about bit.ly that explains how to use bit.ly in the classroom – trust me it is easy – but basically, you take a long link, paste it into your free bit.ly account and you can rename it something short.
I use it when I am sharing a few websites or if I have multiple days of lessons to share and I want to keep them organized for the sub.  So for example, when I was unexpectedly absent for a few days, I sourced a short math video that introduced each math concept my groups were exploring that day.  I pasted the URLs into bit.ly and renamed the link 3fmathtues060116, 3fmathwednesday060216, etc.  The numbers stood for the dates so the sub could easily type in the link on the day of each lesson and bring up the video.
This also works well if you are sharing a longer URL to a specific page in Google Drive or an article to project.  It is MUCH easier to write the bit.ly into your plans!  It also looks better when pasted into digital plans on PlanBook or OnCourse.
Bit.ly also tracks how many clicks your link gets, so just for fun you can check from home and see if your sub actually followed your plans like the creeper you are. (For the record – she did!)
Keep passwords in an accessible location & make a sub password if possible
Since I have moved into the world of universal passwords, this is not something I'm needing often.  But if your students still have multiple log ins, make sure you have this displayed somewhere for the sub to access.  I have seen lots of ideas for this on Pinterest like writing them out on a card, paint chip, or even in a teacher binder.
I use one of my Editable Emoji Binder Covers to house all of our technology stuff – from ISTE standards to site log ins to "how-tos" I have printed off just in case.
I also strongly suggest making a generic sub password for sites when applicable.  That way if anyone can't log in, the sub can have them use the sub password so they can do the activity for the day. I do this when I set up my log ins at the beginning of the year.
---
Of course just like any lesson plan, I always leave a back up plan. Since internet could be out or devices not charged, this is even more important when you plan to use technology with your sub.  I get positive feedback from guest teachers I have had in the classroom, especially those who had NO idea the things students can do with devices, so I suggest you give it a try!