Use Wakelet to easily create, update, and share digital, multimedia classroom newsletters with parents! Plus grab free editable newsletter templates to save you time.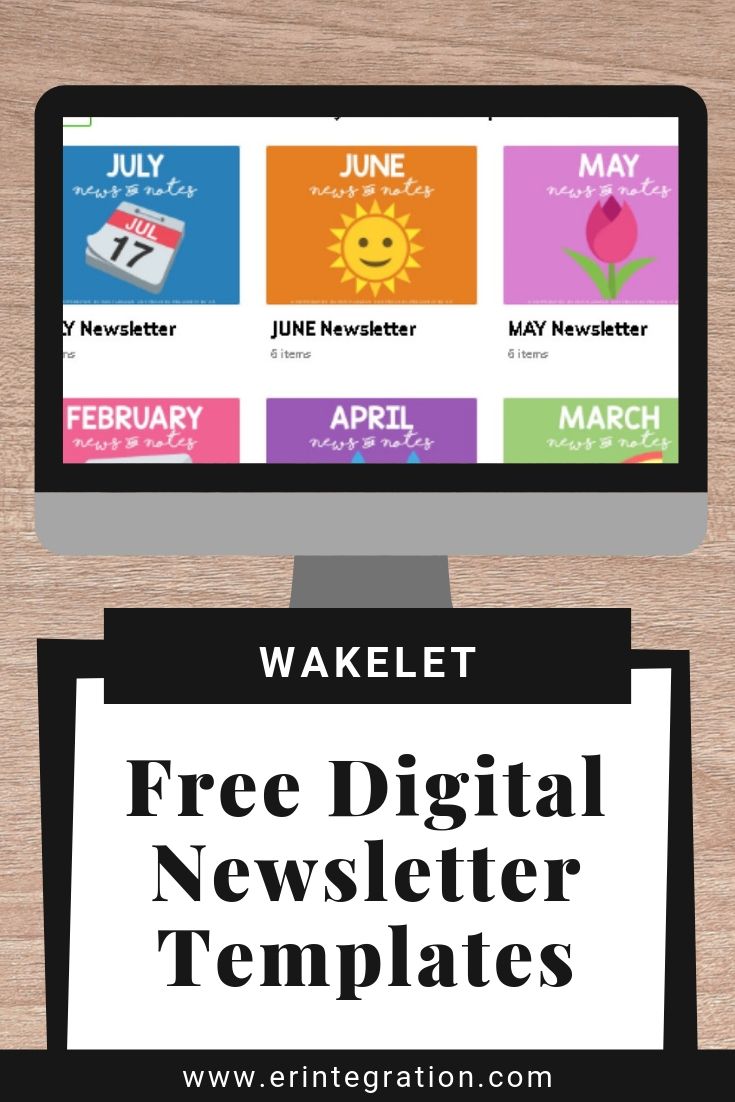 What is Wakelet?
Wakelet is a free platform that can be used by teachers to curate and organize content like video, links, images, text, PDF, social media posts, and more into a public or private collection. Collections can be easily shared with anyone and accessed both on the website and using the iOS app or Android app.
Wakelet also has limitless possibilities for educational use, too! I've shared prior about using Wakelet to organize Seesaw activities, create and share a Meet the Teacher digital flyer, and even make Breakout style games!
In this post, I'll walk you through how to create and share classroom newsletters, but for more general tips and ideas, head over to Wakelet Education to download a free Educators eBook.
Reasons to Use Wakelet for Newsletters
Free: Yup, totally free to use! There are no limits on how many collections or sharing caps.
Paperless: Save a trip to the copy machine by emailing a link to your newsletter each week or month. Caregivers DO NOT need an account to view your newsletter.
Share Multimedia: Your classroom isn't static and your newsletter shouldn't be either! Share video, images, link to school calendars, favorite websites, and include bulleted text lists of need-to know items – all in one place!
Embed PDFs: Upload paper forms, flyers, homework, and permission slips.
Stay Current: Update newsletters without changing the share link – share the link ONE time and caregivers see any updates without needing a new link.
Versatile: Caregivers can view on ANY device. No accounts needed.
Privacy Controls: Collections can be shared unlisted so only those with the link can view.
Searchable: Press Ctrl + F (Windows) or ⌘ Command + F(Mac) in an open collection to search.
Accessible: Immersive Reader integration means the text in your Wakelet Collection can be read aloud and even translated!
Easy: It's really, really, really, easy to create a newsletter collection and share.
How to Create a Classroom Newsletter in Wakelet
I created a set of 12 templates you can copy & edit to help get you started. First, make a free Wakelet account then head over to my Wakelet profile. Scroll down to my Monthly Newsletter Templates.
Hover and click on one of the templates to view the collection.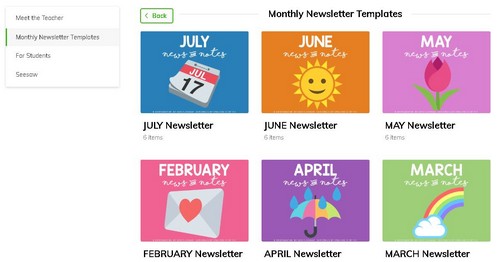 Click COPY to open a new window. This will prompt you to rename your copy. The name of your collection will be visible to those you share it with so maybe DO NOT name it "SEPTEMBER What happened to my summer newsletter." I recommend naming it the month and then your last name or room number – just something to let parents know whose newsletter it is. Then click the green Copy button.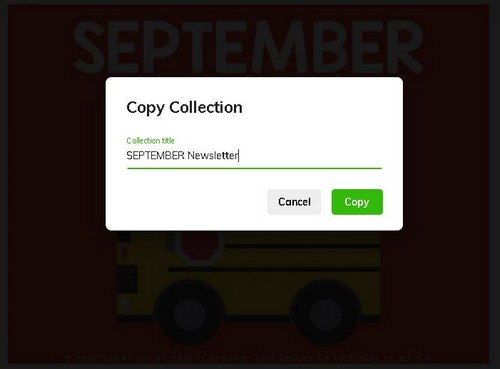 This will send a copy of the template to your account. Click HOME to see your copy. Sometimes it takes a minute for the copy to populate into your collections. You will need to copy each of my templates separately to your Wakelet account.
Once you have your newsletter templates, you can click the collection to open it. Click the green EDIT COLLECTION button to open the edit viewer. To edit the individual sections, hover over it and click the the little pencil icon.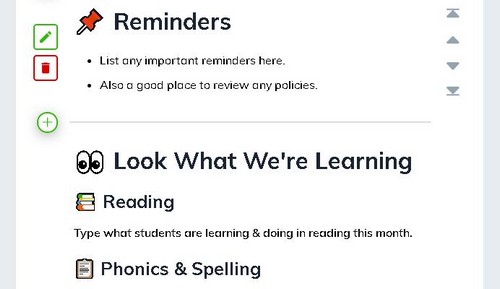 At the top be sure to toggle Enable Copy OFF and click the drop down to set your privacy to "Unlisted."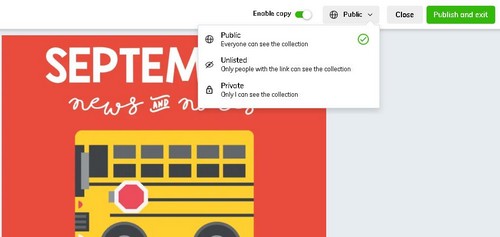 Then click PUBLISH AND EXIT to save your changes.
What to Share in Digital Newsletter
My templates are set up with sections to share various things each month. You can add sections or delete those on the templates or create weekly templates if that suits you better. Some ideas to get you started:
Text greeting
Important dates to remember
Reminders
Overview of learning goals & objectives for the subjects you teach
Student showcase to link to images, video, or URLs of student work
Links to frequently used sites or other resources caregivers may want to access
Attach PDFs of forms, permission slips, flyers, and homework
The last one…man, as a parent, I would LOVE a feature like this my child's class newsletter. We are bombarded with info (all important) from PTA, administration, after school clubs, Seesaw portfolios, Flipgrid videos made by students, etc. Having that all in ONE spot that I check each month would be golden.

Keep in mind that the collection will be set to "unlisted" which means anyone with the link will be able to view the collection. Be mindful of images and video that you share and be sure to use best practices and FERPA to inform what you include and how you include it.
How to Share Wakelet Collection with Parents
After editing and publishing your newsletter collection, click Share. A window will pop up with several sharing options.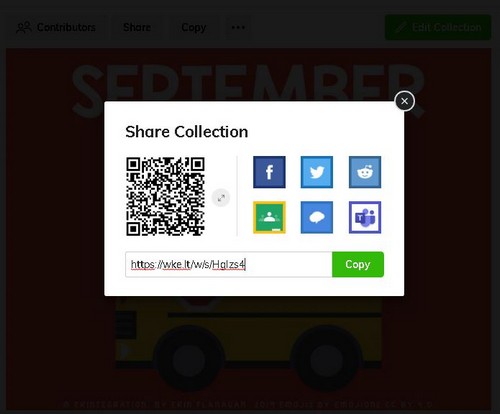 Most likely you are going to grab the short link and that is what you will share with parents via email.
The link will remain the same even if you update the collection.
This means you can share the link to the monthly newsletter but update it each week or throughout the month without needing to generate a new link each time. What a time saver, right?!?!
So why not just schedule your newsletter emails for the entire year? Write a generic email like, "Check out our learning this week," and link to the appropriate monthly template. Each week, update the monthly collection Wakelet.
Or, if you have a class website, you could grab the short links for each of the monthly newsletters (even those you haven't added to yet) and link them in one spot on your website. Share the link to the website each month and encourage parents to check there every Monday morning or Friday afternoon (whenever you will have the collection updated).
So now you just need to train parents to check ONE place each month for ALL classroom goings on!
Create Team Newsletters
Do you plan with a team or have a coteacher? You can add contributors to a Wakelet Collection, which means that multiple people can edit and add to your newsletters if you want.
To add users to your collection, open the newsletter to view it but DO NOT click to Edit Collection. Instead, Click Contributors at the top.

You can invite contributors via email or with a share link or code. Contributors do need a Wakelet account.
---
Have you tried Wakelet yet for classroom newsletters? Are you using the templates in your school? Follow my Wakelet account for more ideas & free templates!