Teachers know it is important when creating technology rules in the classroom to get students involved. But if you want to help students unlearn unexpected tech behaviors, be sure NOT to do this one thing!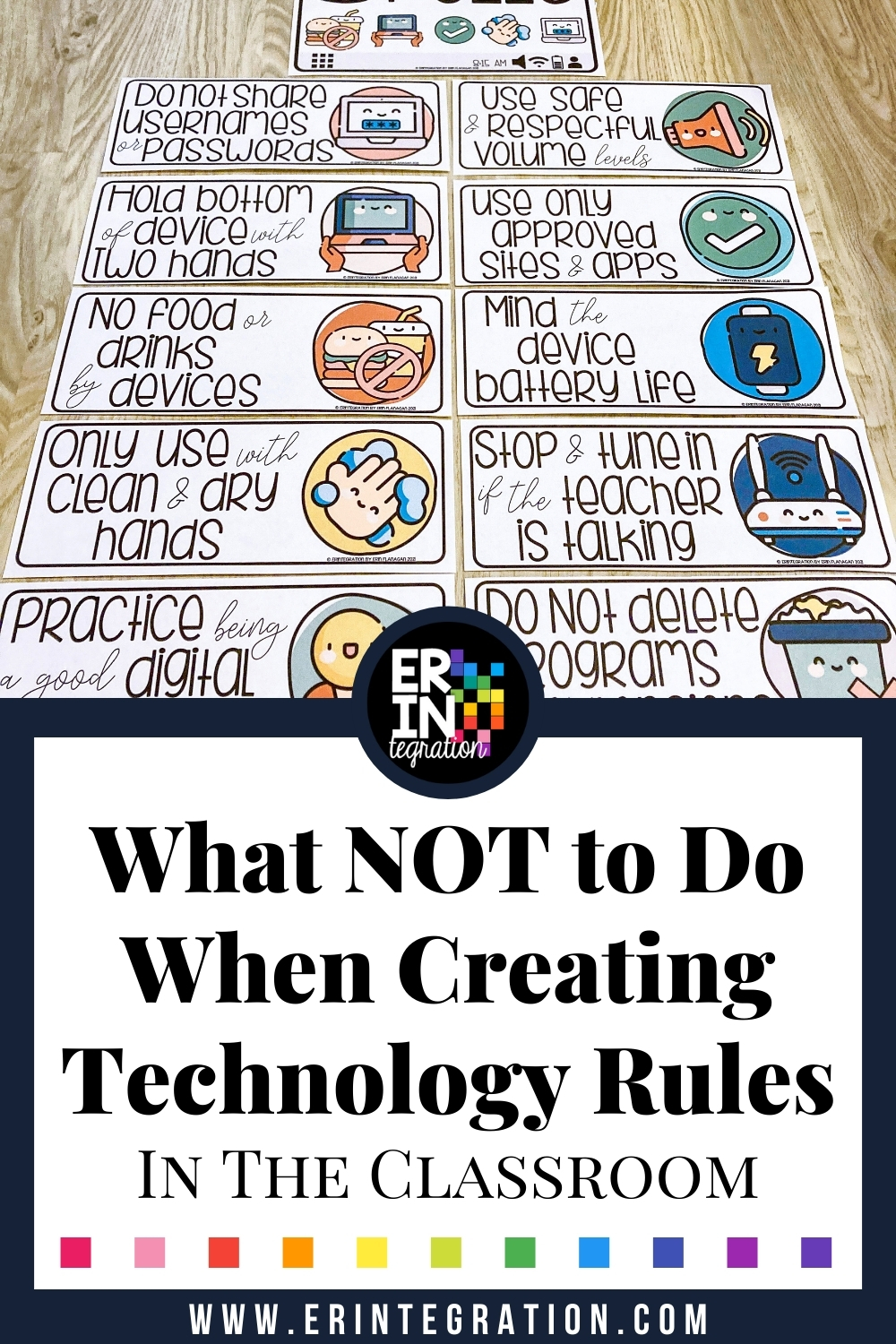 Unlearning Technology Usage
Have you started to use devices in school yet this year? What are you noticing? Many of you have told me how logging in is much less of "a situation" than in prior years. That's great news!
If students still need logging in help, check out my tips here.
But I'm also hearing there is quite a bit of unlearning to do with regard to what is appropriate on devices at school; and honestly this is expected when students have been using devices mostly at home vs at school.
For example, many students when learning at home perfected the art of "multitasking" with many tabs open and lots of clicking from the task at hand to other non-school sites and apps. Some students may have become very used to an adult being right there for their every need while others had no adult assistance at all. Rules for food and drink near the computer could have been non existent at home.
These scenarios are not to pass judgement on families and the various ways home learning was accessed; I'm typing this with a mug of coffee an inch from my keyboard with about 70 tabs open. Which is to say, the way we work at home is different from expectations at school for many, many reasons. The point is, we need to get students on board with our school expectations with regard to tech usage so acknowledging the differences is important.
What NOT to Do When Creating Technology Rules
The first lesson in creating rules? Don't create them…yet.
A good "fix" for that is to discuss and list out the actual differences between using devices at home vs using devices at school. You can record ideas on a simple T-chart.
I recommend doing this even before creating tech rules. Why? Because you need to define what acceptable and appropriate use is at school before you can create rules to reinforce it. Naming, defining and modeling acceptable technology behaviors helps students be more clear on what the expectations are.
And of course, be transparent with the whys; while it may have been ok to use devices in a certain way to learn at home, but the way to use devices at school is different. List out why it is different in school, too. For most classrooms this is typically due to the number of kids in the room, the number of adults to help is limited, we are sharing devices, we only have a certain amount of space, and our time is defined.
Creating Technology Rules in the Classroom
After we tease out device usage at home and school we would draft the rules together. However, to save time, I created, printed and laminated posters to attach to the cart that I would reuse every year. But I still wanted students to "generate" the rules.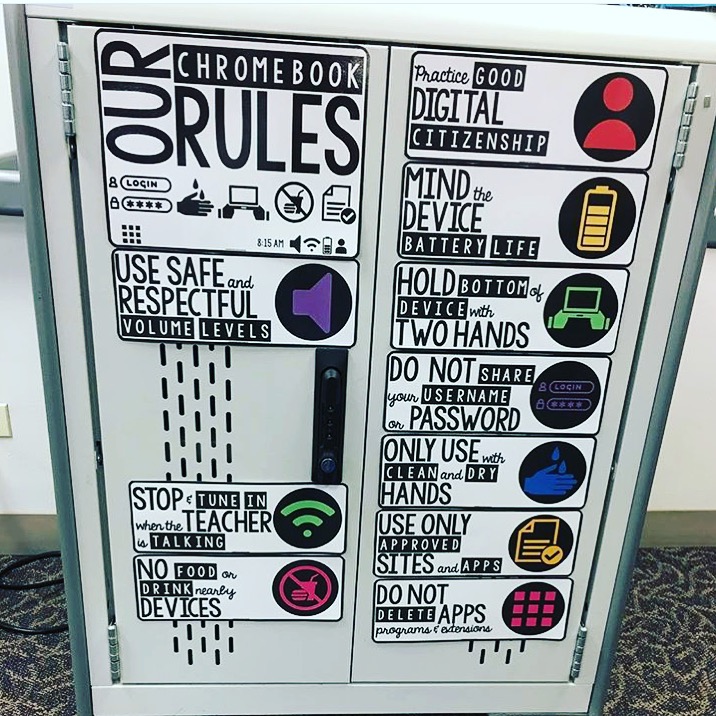 So I had them share rules, but then I would group or steer their ideas into the general rule I already had on the poster. For example if a student said, "Don't eat by your keyboard" and another said "Keep your water bottle on the floor" those would be absorbed by the No Food or Drink Nearby Devices rules poster.
Involve students in this process. Say "Can we combine these two rules into No Food or Drink Nearby Devices?" Does that work?" Explain that we want our rules to convey as much information as possible in each statement to make it easier to follow!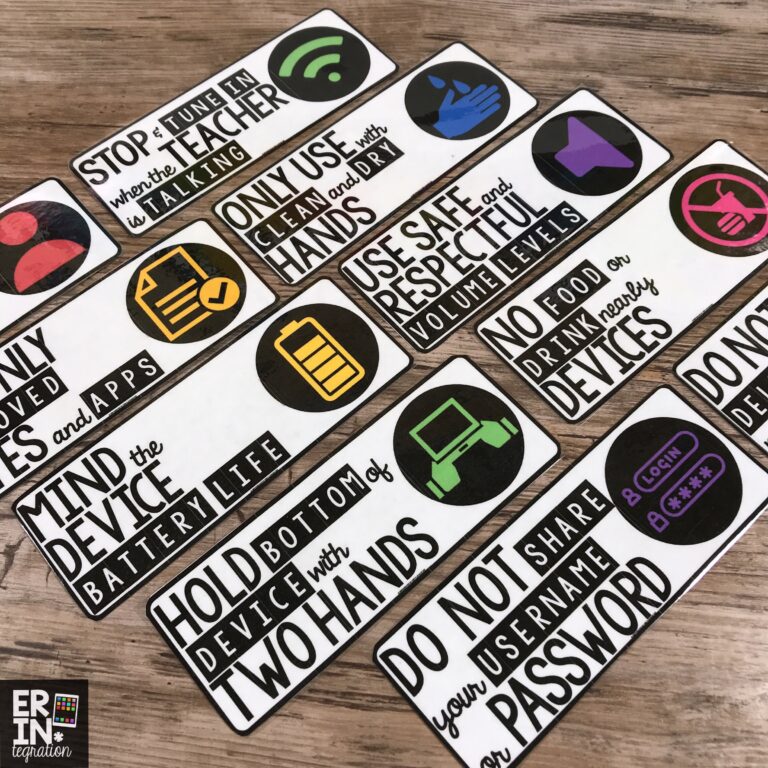 My tech rules poster sets are editable too so you can also add to them or change as needed to reflect your classroom discussion!
Editable Technology Rules Poster Sets
Looking for technology rules posters to display? I have two sets of rules posters. Sets come in color & blackline. Use the ready-made rules or edit to add your own!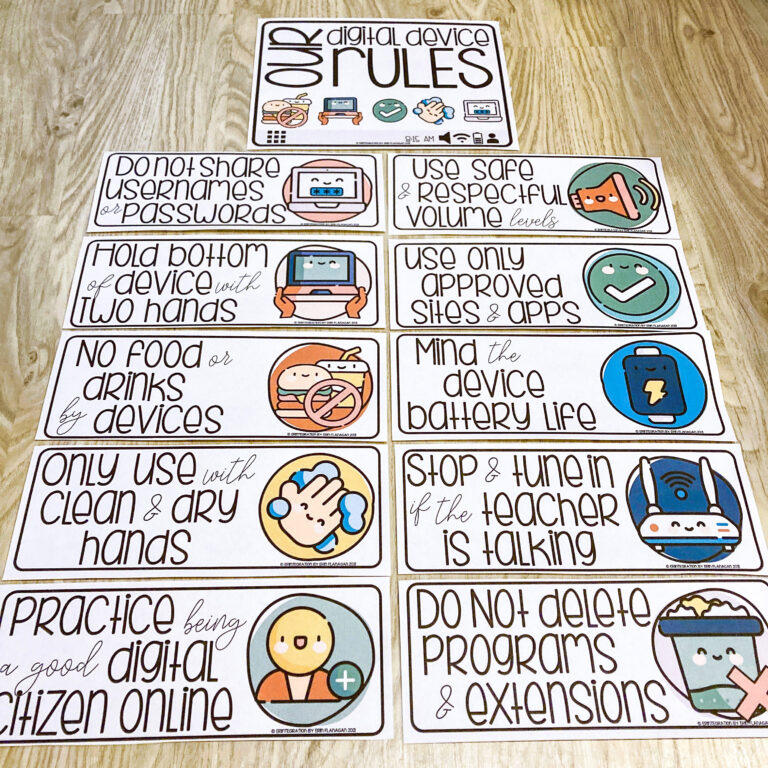 Flexible posters include sign options and iPad/Chromebook specific wording. Plus each set has a contract for students to sign and take home to share with parents.
Click the picture to learn more!
---
It's ok if you already started teaching with the rules on the wall and a quick 5 minute lesson going over them. There is no rule that says you can't stop and add in a lesson that goes deeper a few weeks into the year. If you are struggling with tech behavior management, I also recommend the information I have in this post which goes into more detail about modeling and reinforcing expectations.
The big idea is not trying to "control" your students and how they interact with technology but rather teaching them how and why to make good choices that benefit their own and their classmates' learning experience. Keep that in mind as you move forward this year. Making students your partners in the process is just one step, but it's an important one in drafting technology rules that should not be overlooked!