Are you ready to power up your classroom with some fun video game-themed activities? March 10th, also known as Mario Day is the perfect time to incorporate video game themed activities in your classroom curriculum.
What is Mario Day?
Mario Day is a day dedicated to celebrating one of the most iconic video game characters of all time: Mario! This day is celebrated on March 10th (MAR10), a play on the character's name.
This annual celebration honors the iconic mustached plumber and his adventures in the Mushroom Kingdom.
Mario Day is a fun way to recognize the impact that this character has had on the gaming world and to share the love of Mario with fans of all ages. On this day, fans often play Mario games, dress up in Mario-themed costumes, and share their favorite Mario memories on social media.
It's also the perfect opportunity to engage your students with games, puzzles, and challenges that celebrate their love for gaming.
Video Game Themed Activities for Mario Day
While you can get Mario-specific with your themed activities, I like to celebrate by focusing on more of a general video game theme. I created several activities that would be perfect for March 10th or anytime of year (hint: Video Game Day is celebrated Sept 12th).
Design Your Own Video Game Technology & Writing Activity on Google Slides
This is one of our favorites! This engaging resource allows students to develop their technology and writing skills while designing their own video games.
Design Your Own Video Game Technology & Writing Activity on Google Slides
Using Google Slides™, students will create their own unique retro-video game levels using just the copy, paste, and fill tools.
The entire slideshow is fully editable, so you can customize the text and images to fit your students' needs. Plus, the resource includes customizable items and level design decor pieces that students can copy and paste to create a huge variety of levels.
Students will practice a variety of technology skills, such as:
using text boxes, typing
cut and paste
using the fill tool
order of objects
selecting and dragging
scrolling between slides
following directions
In addition to designing their game levels, students will also create an online game shop mock-up product page for their video game and write a persuasive paragraph and tagline to sell their game. This helps students develop their writing skills by practicing how to effectively communicate their ideas and persuade others. This real-world application has students view online game shops with a critical eye and apply persuasive techniques in their own writing.
Video Games Pixel Art Magic Reveal
This digital pixel art activity features a video game theme and is designed to help students practice their multiplication skills in a fun and interactive way.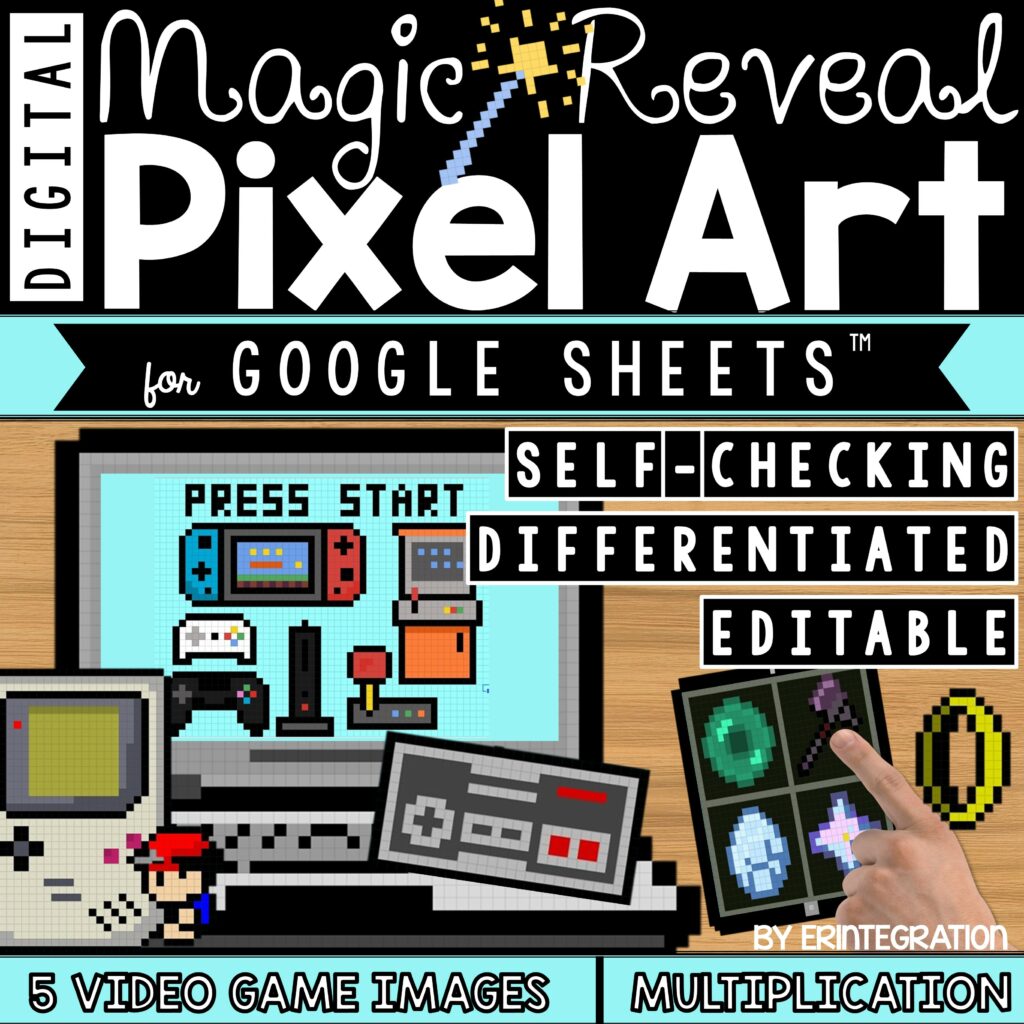 Video Games Pixel Art Magic Reveal | Multiplication & Division Practice on Google Sheets
Students will solve multiplication problems in Google Sheets to auto-generate one of seven popular video game characters pixel art images, plus a "secret message." The activity is self-checking and editable, and includes four differentiated versions to accommodate a variety of learning levels.
You can read more about creating, using, and editing Magic Reveal Pixel Art on Google Sheets in the classroom and get a freebie to try in this post.
ASCII Text Art Coding – Video Games
This is resource designed to help students develop their coding and typing skills.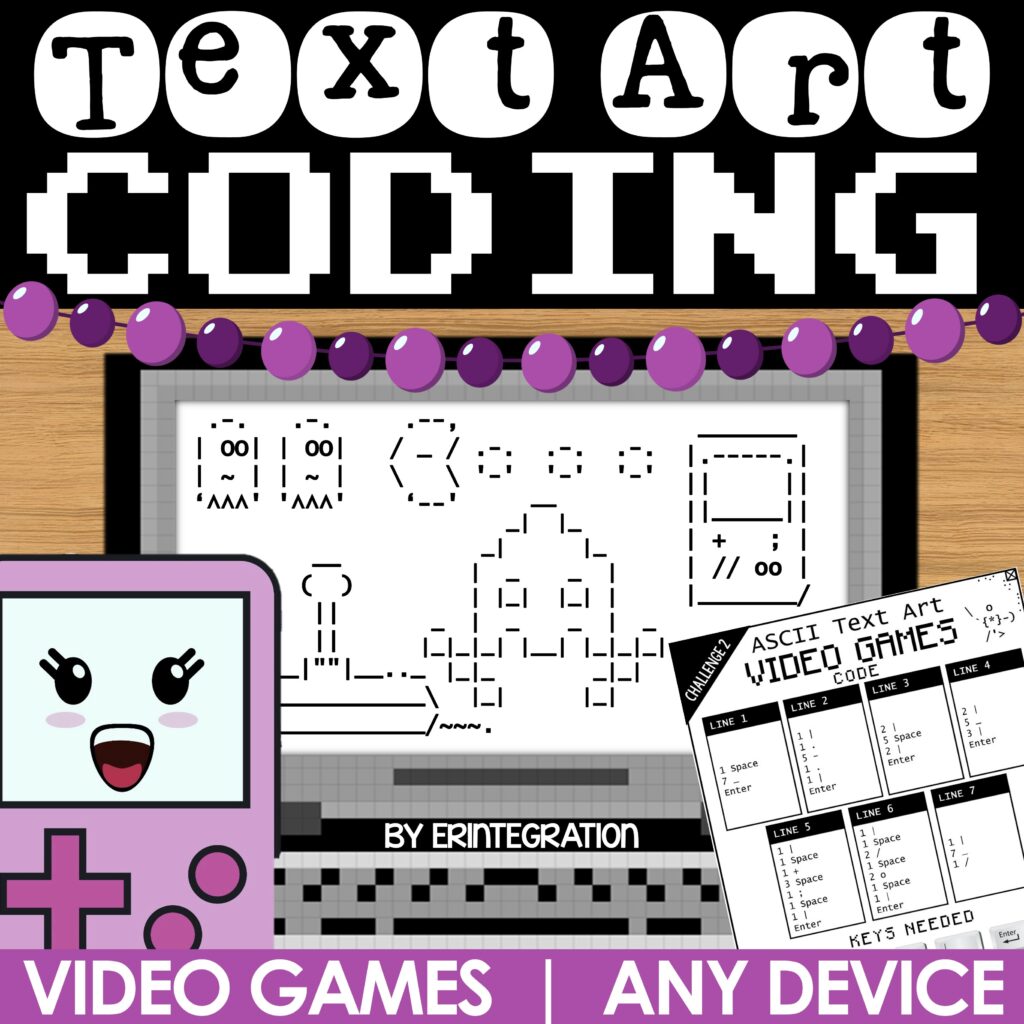 Coding Activities & Typing Practice ASCII Text Art Video Game Theme
Students follow the code to type one of 10 different video-game themed ASCII Text Art designs. In addition to helping students develop their technology skills, it's a great way to incorporate art and creativity into your classroom.
Students are always inspired to create their own text art after completing the challenges, so I also include a printable PDF booklet with design tips and ideas!
I have more information about using ASCII text art in the classroom to practice keyboarding and coding – plus a free sample in this post.
Video Game Escape Room
Super low prep video game-themed escape room that challenges students to solve a series of puzzles that help them practice their keyboarding and beginning coding skills!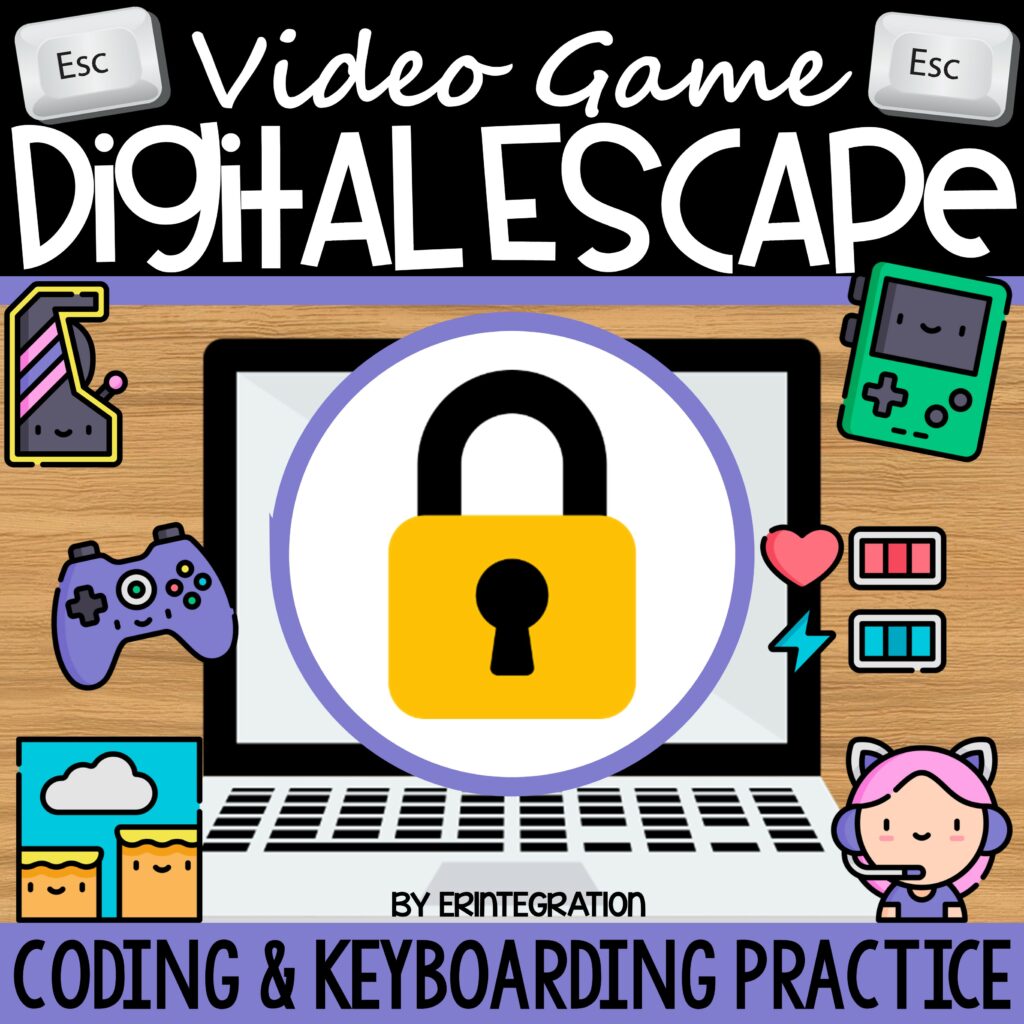 Video Game Escape Room Keyboarding & Coding Google Slides + Printable
The resource includes 5 different challenges – text art coding, mystery message, pixel art, coding maze and a coding the keyboard – that students solve in order to "escape."
Available digitally on Google Slides or print the PDF version for unplugged fun.
STEM Jerry Lawson Craft & Coding Activity – One Page Craft & Writing Prompt
This one-page craft and writing prompt activity honors Jerry Lawson, a pioneer in the video game industry who is credited with inventing the first cartridge-based video game console.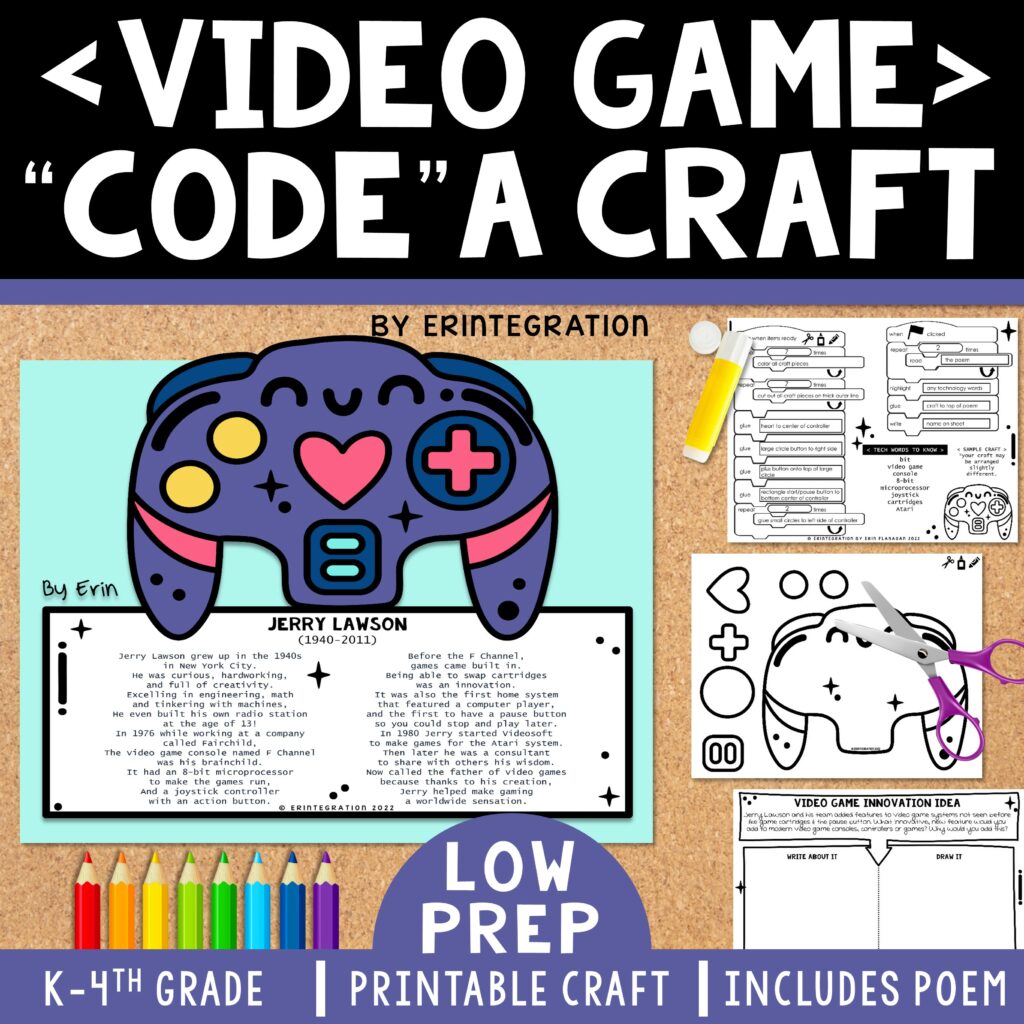 Video Game / Jerry Lawson Craft & Coding Activity: One Page Craft & Writing Prompt
It includes a brief poem biography of Lawson with tech vocabulary words for students to highlight.
Next students follow the blocking coding style directions to assemble the craft. The craft pieces print onto one page to keep this low-prep. Finally, the writing prompt activity encourages students to reflect on Lawson's life and contributions to the video game industry, helping to develop their critical thinking and writing skills.
This makes for a fun make & take art project, sub activity or bulletin board display! I shared more detail about my Code-a-Craft activities here if you want to see the process in action and learn more about how crafting helps kids with beginning coding concepts!
Mario Day Google Forms Digital Board Game
I have a free interactive Google Form Digital Board Game that is perfect for March 10th. Subscribers, you already have access to the free resource library – just log in here.
Not a subscribers, join here (it's free!) and get weekly updates, recommendations and freebies from me.
---
Celebrating Mario Day with your K-5th grade students can be a fun and engaging way to incorporate their love of video games into the classroom. From designing their own video games to practicing their coding and keyboarding skills, there are plenty of activities that can be tailored to fit the needs and interests of your students. Whether you choose to incorporate these activities into your regular curriculum or dedicate an entire day to Mario-themed fun, there are endless ways to make March 10th a day to remember!