Try these engaging Earth Day technology projects and activities for iPads, Google Chromebooks, and other digital devices when celebrating Earth Day in the classroom this year! Earth Day is celebrated on April 22nd, but many schools have various events and activities promoting environmental awareness all week or even all month!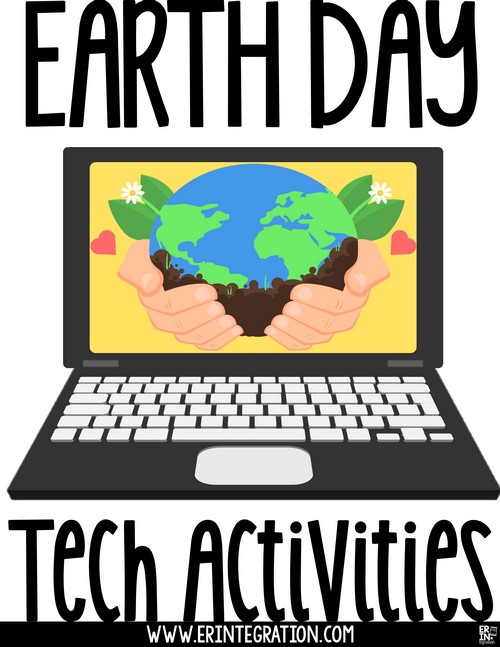 Ideally, students should complete authentic and meaningful projects and activities for Earth Day so their learning carries over into their everyday life.  You will find this is easier to do when you harness the power of technology integration to connect students with the world and allow them to create and collaborate with others.
Earth Day lends itself to many Earth Day technology projects, activities, and integration lessons that can be adapted for most classrooms and subject areas.  These versatile activities and projects can be used on Earth Day or during any environmental unit.
1. Host a paperless challenge
My former colleague started this at our school.  She had students brainstorm how to go completely paperless for one whole day.  Students planned what reusable materials worked in place of loose leaf paper, books, and workbooks across the subject areas.
Since we had access to technology, the iPads and laptops were key in pulling off our paperless day, but students also used whiteboards, plastic sheet protectors, class discussions, and other tried and true methods to swap out with paper.  Students then reflected on what they learned using Seesaw but you could also use Kidblog or Flipgrid, too!
I think it is important in the to make sure to have reflection time – especially because a lot of the substitutions may not be more environmentally friendly than a sheet of paper.  In fact, our class ended up discussing dry erase markers versus pencil and how trees are a renewable resource and the plastic that is used for markers is not!
2. Create an awareness campaign about an endangered or threatened animal.
For this project, I had students choose an animal from our local endangered and threatened animal list.  You can search your county here and learn what animals and plants are currently on the list.  I find this more meaningful for students as often these local plants and animals are not as widely known (rather than choosing a panda for example) so the campaigns they design later are more authentic in that they are truly raising awareness!
After having students research their animal, we made a video on iMovie, but you can use any visual app or program – check out my App Draft list of photo and video apps that would work great for this project.  We then shared our video with a link tracking URL (we used bit.ly – learn more here). We kept track of how many clicks our video received over time.
Here is one example of a video project the students created:
It's especially important in this project to discuss with students ahead of time the goals of a social awareness campaign.  We talked about our end goal of helping the organizations that support the animals we featured. We made sure we provided a clear "call to action" in our video with a clickable link.
Our link, in this case, went to the New Jersey Conserve Wildlife reporting form because we learned that they needed help with tracking where the animals were still residing.  Students even came up with a clever hashtag and jingle to remind people to #seeitsnapitscanitsaveit. The hashtag served to direct people to take a picture of any of the animals they observed in the wild and report it.
3. Create a digital poster, meme, or info-graphic
Other timely Earth day technology projects are for students to create a digital poster or meme about Earth Day or the environment.  Depending on the ages of the students, they can use Pic Collage to create a poster or use Google Drawings, ThingLink or Infogram create an infographic.  Older students with more points of reference can even create memes on Google Drawings using a popular image and brainstorming a clever saying.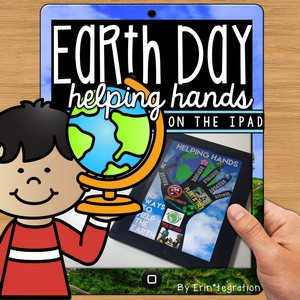 For our digital posters, we used my Earth Day on Pic Collage directions to photograph and trace a silhouette of our hands.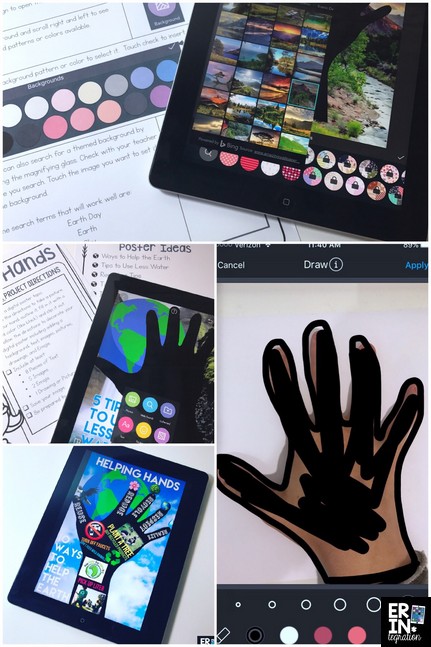 Then I had students choose a topic from the provided list to add to their Pic Collage.  Being able to mix images, Emojis, quotes, and their original text really brought out their creativity!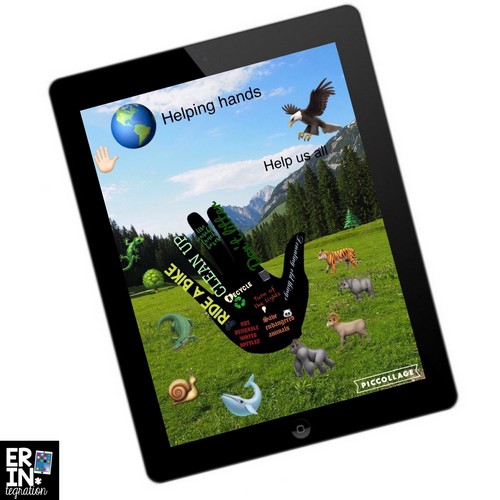 4. Using iPads? Check out Apple Education
If you are using iPads, be sure to browse the Earth Day technology projects on Apple Education's site.  This site uses excerpts from the free iBook Life on Earth by E.O. Wilson which may be too difficult for elementary students, but the various activities all suggest engaging apps and can be used a jumping off point.  I especially liked the BioBlitz lesson as it tied into our awareness campaign.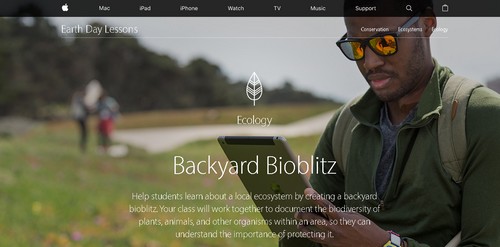 We learned some techniques for observing and documenting the species in our environment.
5. Skype with experts about conservation, climate change and ecology via Microsoft Edu
Microsoft Education has organized a variety of sessions with experts in conservation, climate change, and ecology that classrooms can connect with using Skype in the Classroom this month.  The site has various virtual field trips, guest speakers, lessons, collaborations, and mystery Skypes set up that you can sign your classroom up for.  Students can talk with a Yellowstone Ranger or visit scientists on location in the Great Barrier Reef!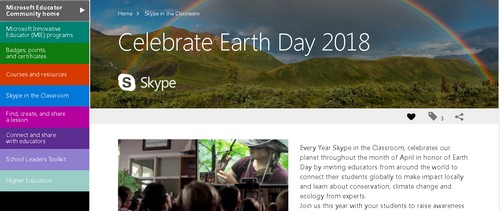 If you haven't used Skype in the Classroom before, I recommend setting up your free Microsoft account and testing it after school with a friend to troubleshoot any connectivity issues.  The link I shared also includes a free training that is very helpful in learning how it all works. The training can be used towards earning your Microsoft Innovative Educator badge if you are interested.
6. Explore Google Earth
This may be a no-brainer, but Earth Day is the perfect day for diving into Google Earth and it's Virtual Reality partner, Google Expeditions.  Anytime we have used either, students' excitement is palpable.  I have a free Google Activity using Google Earth to go on a scavenger hunt here that is a fun way to introduce the various navigation features.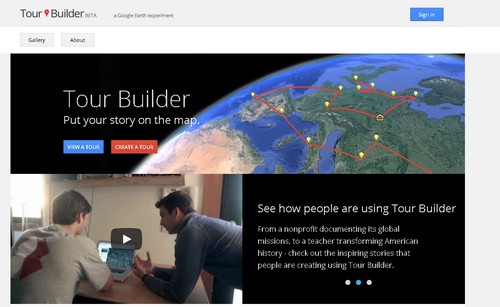 Google Tour Builder is another option that links Google Earth / Maps with video, images, and other multimedia.  You can essentially create an interactive tour of locations you select.  Learn more about how to create a Google Tour here.  For Earth Day,  students can create a tour about biomes of the world, habitats, climate change, or threatened environments.   I suggest students work in pairs since they will need to research the topic before building the tour.
7. Go on a ThingLink Virtual 360 Field Trip
ThingLink has a page of virtual 360 field trips – basically 360 images with embedded links – that would work for an Earth Day or integrated science lesson.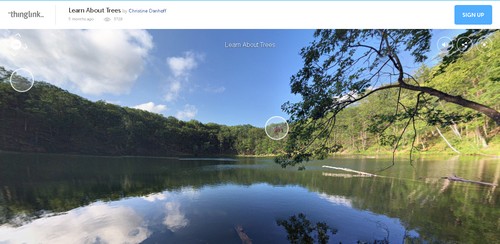 These three 360 images pair well with the lesson ideas and read aloud books I recommend (links to books are Amazon Affiliate links):
If you are learning about a specific topic in science or want to focus on a local environment or topic, you can also make your own ThingLink 360 Images.
8. Create a Collaborative Book on Book Creator or Google Slides
Students can create a live version of actions kids can take at school to help the environment.  Each student will take a picture of an action kids can do at school to help and then write a sentence or two describing it.  If you are looking for more inspiration, I love the suggestions in 50 Simple Things Kids Can Do to Save the Earth by EarthWorks because it also includes links and may give you some unique ideas you hadn't through of before.
Students can then use either Book Creator or Google Slides to create a class book.  In Book Creator, they can even record their voices reading their page.  Learn more about making a class book on Book Creator here and Google Slides here.
Next students share their books with the school community.  Since the books are digital, they can be easily shared with students in different classes as well as teachers, too!
9. Digital Scoot for Earth Day
My Earth Day Digital Scoot is packed full of survey questions, activities, and graphs that get students thinking and moving!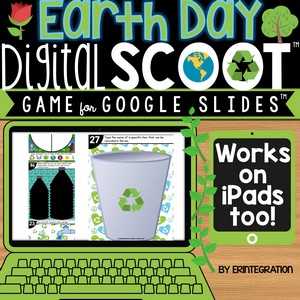 I recommend using Earth Day Digital Scoot to kick off any Earth Day plans since the results of each slide can be used to generate discussions.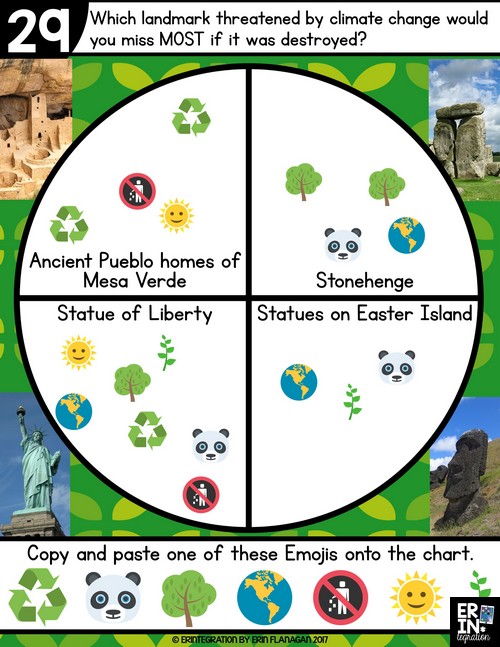 I always learn something new about students when we play Digital Scoot.  If you haven't played before, here is a breakdown of how it works but basically, the students load a premade slideshow onto their device (it works on any device with Google Slides), they display one slide at their station and when the teacher calls "Scoot," they scoot around the classroom adding to the slides displayed at each device.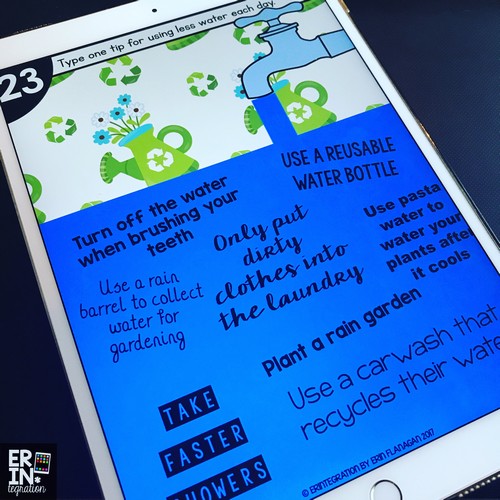 Once they end up back at their device, each slide has a class set of responses to share, discuss, and evaluate!
10. Create paperless poetry on the iPad or in Google Slides
One way to combine Earth Day with National Poetry month is to encourage students to write poems about the environment. I recommend reading some samples from Hailstones and Halibut Bones: Adventures in Poetry and Color by Mary O'Neill and/or Earth Verse by Sally M. Walker. Click on my affiliate link to purchase the books on Amazon.
Next we use the directions in my set of paperless poetry activities.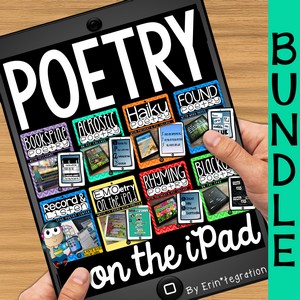 These activities use a variety of apps to create poems on the iPads. Each activity includes directions to the app as well as anchor charts and graphic organizers to plan.  Try to schedule a time for students to go outside to take pictures or even just do a quick image search for inspiration.  I set up my poetry activities as centers. Students rotated through each center creating different poems after various subjects from nature that inspired them.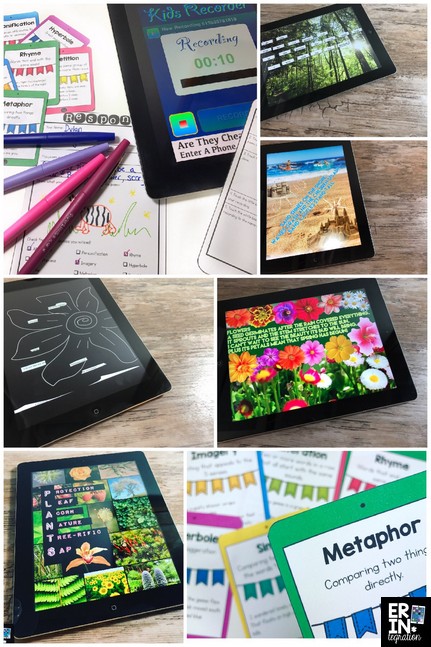 My poetry on the iPad blog post has even more poetry writing iPad ideas that can be adapted for Earth Day too!
---
Hopefully, you were able to find some Earth Day technology projects for your students to complete this April!  I try to have a mix of Earth Day activities across the subject areas so if we were doing poetry in writing, then we were working on our digital posters during science and our skype session after recess for example.  What sort of activities and projects are you doing this Earth Day?  If you try anything from this list, be sure to tag me on social media!  I love seeing what other teachers and technology coaches are up to in their classrooms and schools!